Televisions
Twitch Has More Primetime Viewers Than CNN and MSNBC
Why did Amazon buy Twitch? Just look at the numbers.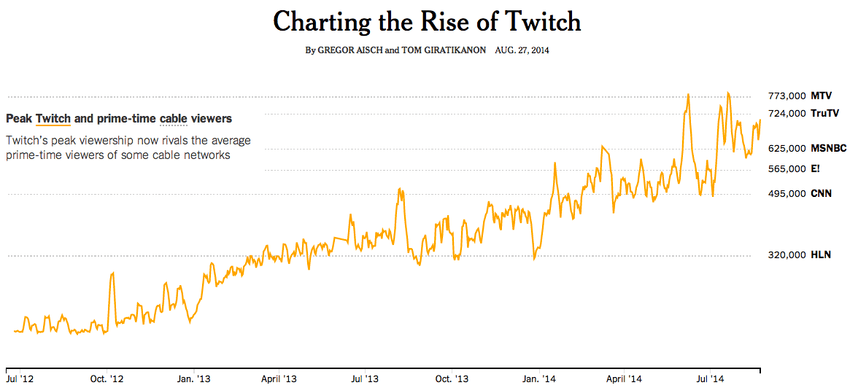 Credit:
This week's announcement that Amazon would purchase Twitch for $970 million sent ripples through the tech world, and for good reason.
It's well-documented that video games are a highly profitable business. What isn't as well-documented—at least by economists—is gaming culture. Amazon's acquisition of Twitch seems to prove that the streaming market isn't limited to big names like Netflix and HBO Go, nor are sports the only endeavor worthy of rabid fandom.
The fact is, there's a huge market for live video-game streaming, and it's only going to get bigger. Twitch seems set to do for gaming what ESPN did for sports.
On Wednesday, the New York Times dove into the numbers behind Twitch's soaring popularity. What it found is surprising, even given the huge price tag on the deal.
Twitch seems set to do for gaming what ESPN did for sports.
According to the report, Twitch is more popular during peak hours than major cable networks like CNN, MSNBC, E!, and HLN. There have even been a few days where primetime Twitch viewership exceeded that of MTV. That's right, Twitch now rivals cable viewership.
Twitch currently averages about 700,000 primetime viewers per day, and that figure has been rising steadily since mid-2012. Imagine what the bountiful resources of Amazon—what with its hosting services, cloud storage, media ventures, and retail dominance—could do for this tiny San Francisco startup.
Sounds like a good purchase on Amazon's part.
Via: New York Times