More precisely, it's Samsung's response to the Dyson DC65 Animal, a popular upright that's known for its ease of use.
Both the Dyson and the Samsung have great handling and the ability to glide smoothly around corners. Thanks to a recent Dyson price reduction, these close competitors are now equal in price, on sale for around $369.
The VU7000 adds a detachable "mini vacuum" for spot cleaning, but in general it had difficulty picking up large debris like cat hair or food particulates. Its low profile also made hard work of cleaning high-pile carpet.
Neither the Samsung nor the Dyson stood out as spectacular, but either vacuum is a good choice if handling and design are more important than pure pickup power.
Welcome to the science page, where we discuss the raw test results that led to our conclusions.
Vacuuming is one of the loudest chores you perform in your house. To see just how loud the Samsung VU7000 is, we placed it in a sound-proof chamber and measured its decibel output. This Samsung turned out to be one of the loudest vacuums we've ever tested, producing 85 dBa. According to the DOT, that's about as loud as your blender.
All onboard
The VU7000 is a bagless vacuum. Like a Dyson, its dirt holder empties from the bottom, unloads at the touch of a single button, and comes with a washable, HEPA filter.
When it comes to accessories, the Samsung VU7000's big draw is its two-in-one nature: Use it as a traditional upright, or break out the built-in hand vacuum. Using the hand vac in conjunction with the dusting and crevice tool is very convenient: The lightweight hand vac has a telescoping wand that makes it easy to suck up dust anywhere in the home, from behind the sofa to the top of your drapes.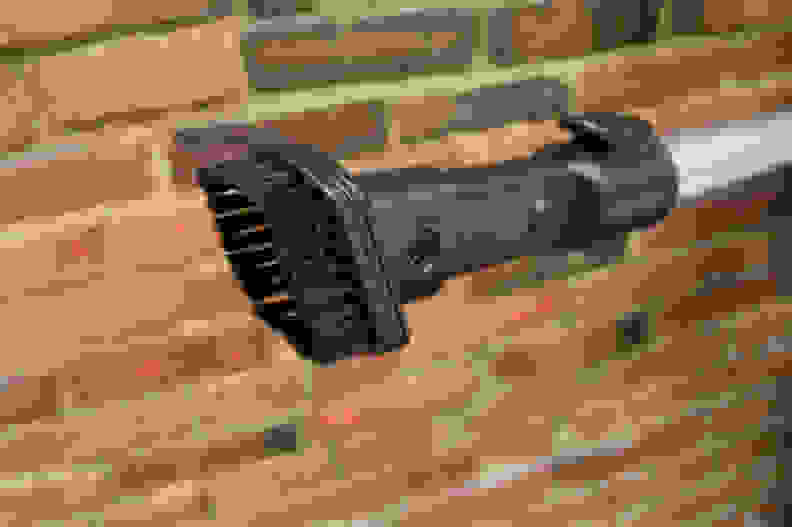 Otherwise, it may seem a bit sparse. Out of the box, it comes with a handy two-in-one dusting and crevice tool. This tool is built right into the body of the vacuum, so you don't have to worry about losing it, and you'll probably be more likely to actually use it.
More accessories are available, but they're sold separately. You'll have to shell out an extra $90 for the complete package.
Corners like a Lamborghini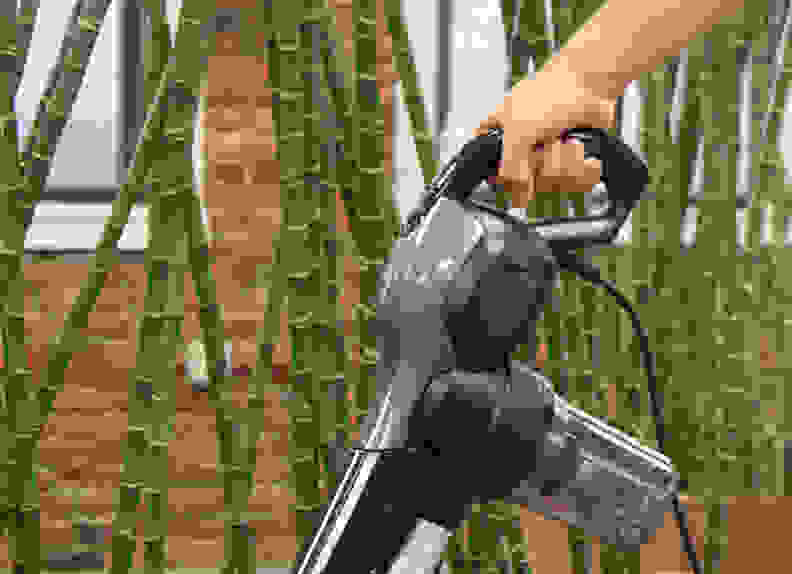 The Samsung VU7000 is equipped with Motion Sync, meaning the brush head has two large wheels that pivot the 18-pound body around with ease.
The motorized body requires just about three pounds of force to push forward, and about four pounds to pull back. That means the VU7000 is relatively easy to operate, yet still offers a sense of control. Moving from carpet to hardwood floors is seamless, moving back, however, is a bit more difficult due to the low-profile brush.
All that maneuverability means very little when it comes to stairs, where the 18-pound body quickly becomes a drag. Its height also makes it difficult to reach under couches and tables. The detachable hand unit helps, but it's not really meant for larger jobs.
Edge cleaning is defined as how close a vacuum can get to the wall from various angles. The VU7000 was able to clean flush against walls from its side, but had a quarter-inch gap when cleaning from its front.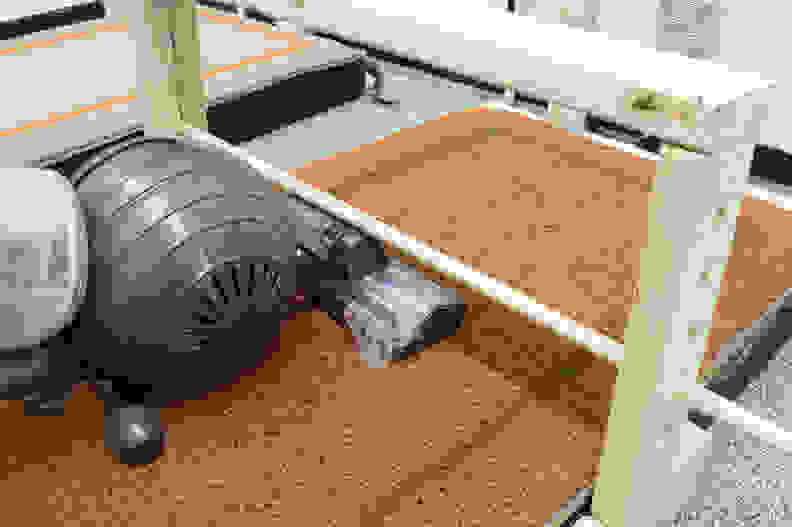 Furniture clearance scores are determined by how much space a vacuum needs before it can no longer fit under something. The less clearance a vacuum has, the more you'll have to move furniture to get your whole house clean. Even with a foot of vertical clearance, the VU7000 only had a 22-inch reach–not enough to get completely under most couches and tables.
The Samsung VU7000 had very good performance when it came to removing dirt from short carpets. Out of the hundred grams of various-sized grains of sand and talc, the Samsung picked up—on average—59.6 grams. That's about on par compared with other high-end upright models. However, the VU7000 is easily outdone by the cheaper Kenmore 31150.
However, the VU7000's performance took a nosedive when it moved onto deep-pile carpet. The puffier carpet made it difficult for the low brush head to get any purchase. It picked up, on average, just 13% of the dirt we left out for it. Relatively speaking, that's some of the poorest performance we've seen.
This poor trend continued with large debris. Our tests use uncooked macaroni and rice, as well as cat hair. The VU7000 left 5% of the rice behind and 15% of the macaroni. Again, that's the poorest performance we've seen thus far in our vacuum testing. We attribute the lack luster suction to the low brush head. It pushes large debris around rather than sucking it up.
Can't handle the big stuff
The Samsung VU7000 excelled at picking up small-grained dirt. On short carpet, it removed 59.6% of the dirt after just one pass. Most consumers tend to make a few passes before moving on to another area.
Unfortunately, the nose-to-the-ground design made it hard for the VU7000 to deal with dirt on deep-pile carpet. During our tests, it suctioned up 26 percent less dirt than any other upright we've tested. This issue carried over to large debris like uncooked rice and macaroni, where it truly struggled on high-pile carpet.
The detachable hand vac allows you to spot clean, but it's not a terribly effective solution in terms of time and energy. Plus, this is vacuum costs over $300, making these issues all the more disappointing. For that kind of money, consumers shouldn't have to deal with such a large issue with a vacuum's cleaning ability.
For in-depth performance information, please visit the Science Page.
Keep shopping
The Samsung VU7000 was once cheaper than the Dyson DC65 Animal, but still included new concepts like Motion Sync. However, now you can get the same high-end design from Dyson for around the same amount of money. Given the Samsung's poor performance with high-pile carpet or large debris, we recommend the Dyson unless you've only got low carpets or hard floors. And if that's what your house looks like, be sure to check out a canister vacuum, which can make quick work of cleaning wood floors.
The VU7000 does have some well-crafted accessories, but you'll have to pay another $90 to get them all. Despite its unique secondary vacuum, we'd still recommend passing over this Samsung for the better-performing Dyson DC65.
The bare floor test uses large debris like macaroni and rice. As with the large debris tests on carpet, the Samsung VU7000 came in dead last. It left behind 7.5% of the rice and 10% of the macaroni. The VU7000 tended to push excess debris ahead of itself rather than pick it up. For situations where there is mostly large debris, you're better off busting out the broom.
Meet the tester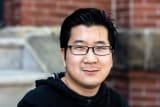 Jonathan Chan
Senior Manager of Lab Operations
@ReviewedHome
Jonathan Chan currently serves as the Lab Manager at Reviewed. If you clean with it, it's likely that Jon oversees its testing. Since joining the Reviewed in 2012, Jon has helped launch the company's efforts in reviewing laptops, vacuums, and outdoor gear. He thinks he's a pretty big deal. In the pursuit of data, he's plunged his hands into freezing cold water, consented to be literally dragged through the mud, and watched paint dry. Jon demands you have a nice day.
Checking our work.
Our team is here for one purpose: to help you buy the best stuff and love what you own. Our writers, editors, and lab technicians obsess over the products we cover to make sure you're confident and satisfied. Have a different opinion about something we recommend? Email us and we'll compare notes.
Shoot us an email