Vacuums
Shark vs. Dyson—which vacuum is best?
Which one cleans up the competition?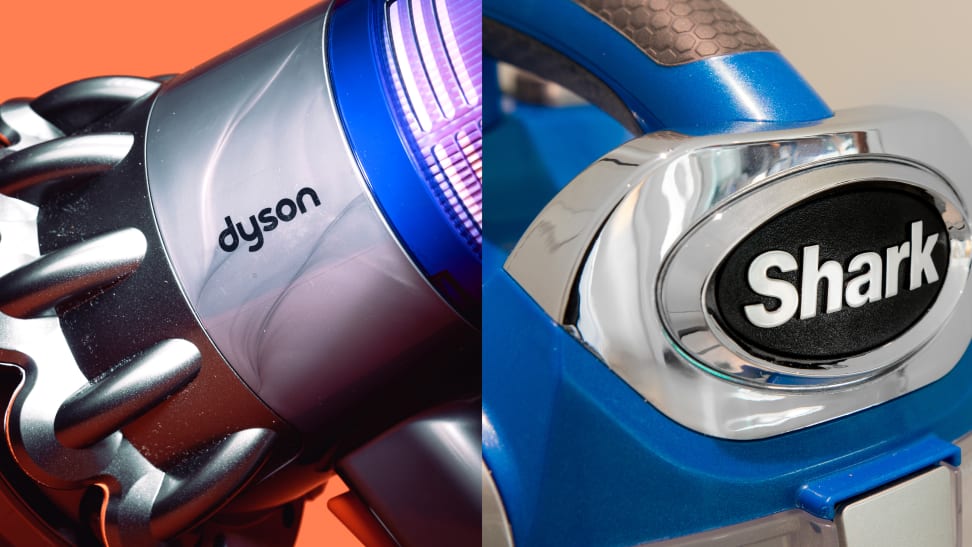 Credit: Reviewed / Jackson Ruckar, Jonathan Chan
Shark versus Dyson may sound like the title of a cheesy made-for-TV movie, but it's actually a hot topic of debate amongst vacuum shoppers. Do you spring for the Shark, a lower-cost model with a ton of features, or get a super expensive Dyson?
Over the years, Dyson has shifted its focus to making lighter and more powerful cordless vacuums. In terms of innovation, its famed full-sized models have been put on the backburner. The company's latest models are designed to be your one-and-only vacuum that can go anywhere from cleaning kitchen floors to car seat cushions.
Where Dysons are svelte and minimalist, Sharks are burly, following the everything-and-the-kitchen-sink approach. Our experience testing Shark vacuums show that they tend to be heavy, but they come with lots of attachments.
Over the past five years, hundreds of vacuums have passed through our testing labs in Cambridge, MA. We've tested everything from the latest robot vacuums to the most popular uprights. Here's a rundown of the differences between the two brands and recommendations on which one is right for you.
Design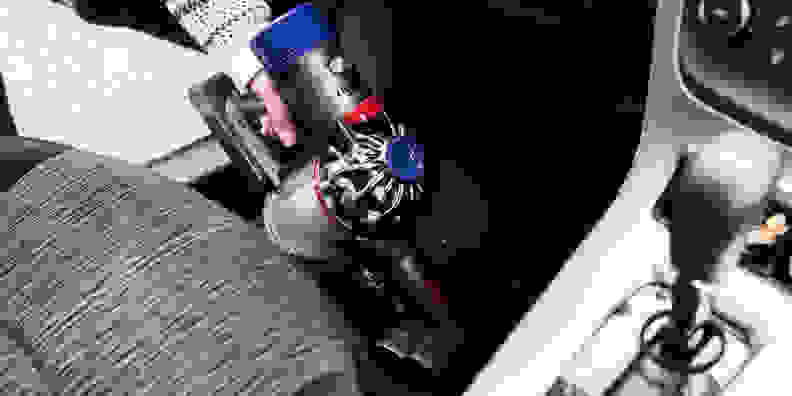 Dyson specializes in highly engineered products. If you look at the latest Dyson, the V11 Torque Drive, you'll notice those iconic ridges along the sides, which reduce the amount of noise the airflow produces. It's Dyson's philosophy not to hide any of its engineering, so they're prominent. But stripping away as much of that as possible helps create lighter weight products and minimalistic design.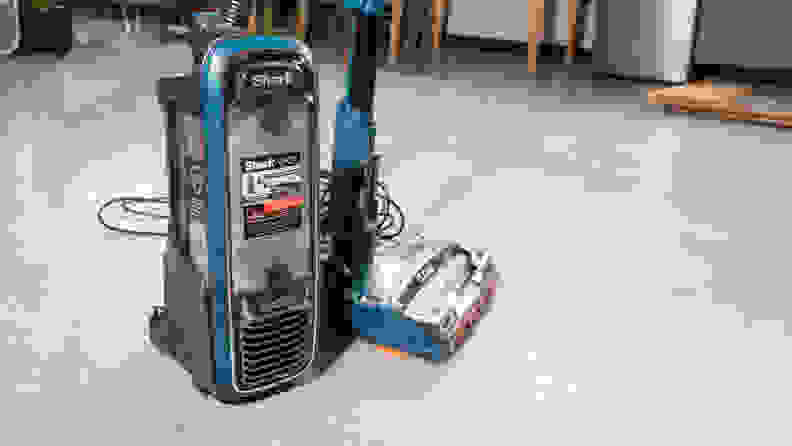 Amongst Shark vacuums, the Lift-Away design is the most iconic. You've probably seen commercials for Shark uprights that can convert into a canister with no wheels that you carry around. Lift-Aways make it easier to have an upright vacuum that can deal with stairs.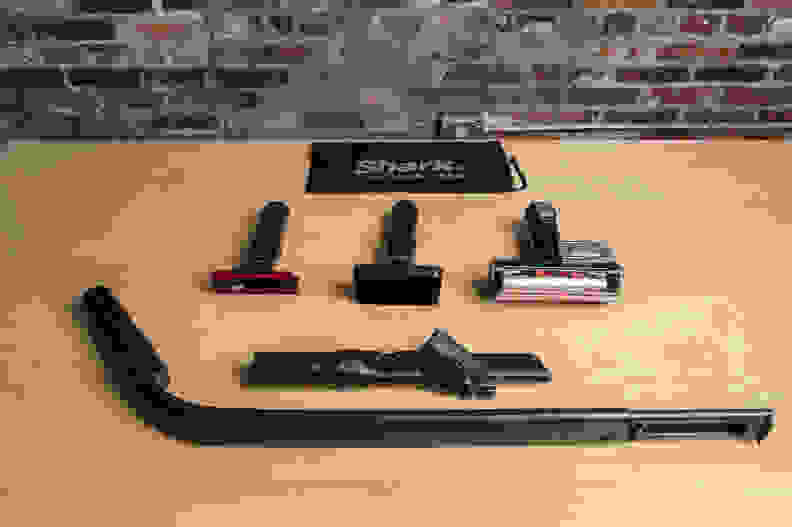 Shark also has a tendency to load vacuums with tons of features. Almost every vacuum the company makes, including stick and cordless ones, have lights on the front and at least four or five attachments in the box.
Power
When you're as deep in the vacuum world as we are, you'll notice that vacuums come on a spectrum in power. Bissel and Eureka occupy the affordable and less powerful end, while Dyson and Miele may break the bank while cleaning up.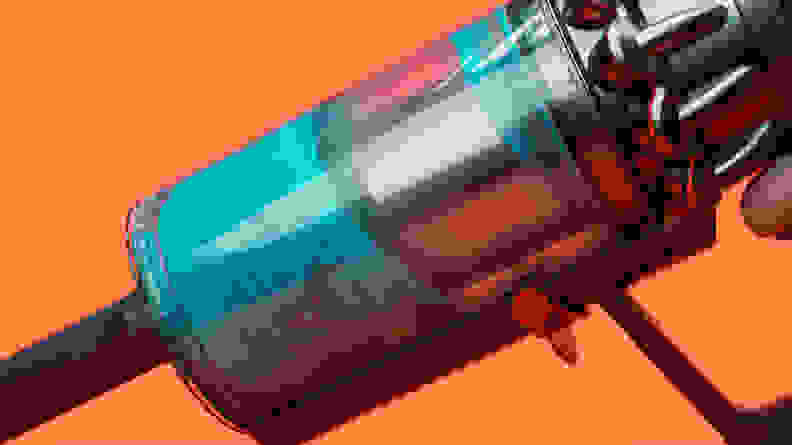 Shark vacuums tend to sit in the middle. For example, Shark Apex AX952 picked up around 33% of the testing dirt we laid out for it. The Miele Cat & Dog costs about double and picked up 70% of the dirt. Looking through the numbers, we think that Shark vacuums perform up to their price points.
Dysons tend to be lighter than the competition in the same price range. For example, the Dyson Cinetic Big Ball is around the same price and style as the Miele Kona. The Big Ball tips the scale around 15.6 pounds and the Kona is over 22. The difference in size means Dyson has to cut something. In this case, it was power. The Big Ball weighs about 30% less and consequently picked up 30% less dirt.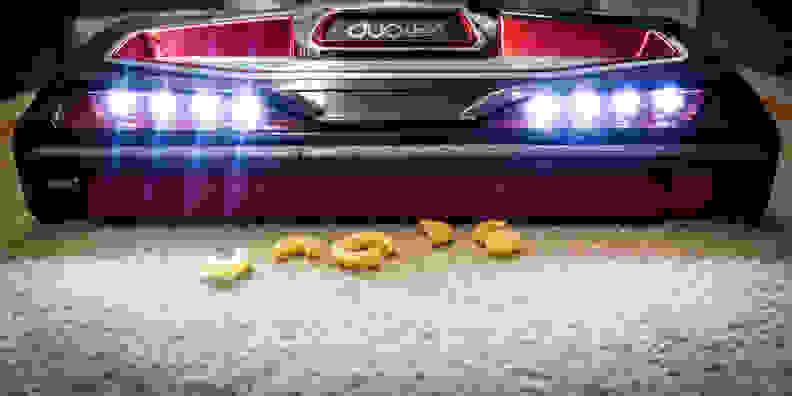 This isn't a knock against the power of Dyson vacuums. In the cordless realm, our testing shows they are, pound for pound, the most powerful vacuums. The past five iterations of their cordless vacuums, starting from the Dyson V6, have received our top awards.
When it comes to cordless and stick vacuums, Shark falls toward the back of the pack. Compact vacuums like the Rocket were too unwieldy to clean tight spaces well. The Shark Ionflex Duoclean IF251 also followed this trend. It outweighed other cordless by at least a pound, but picked less dirt than average.
Cordless battery life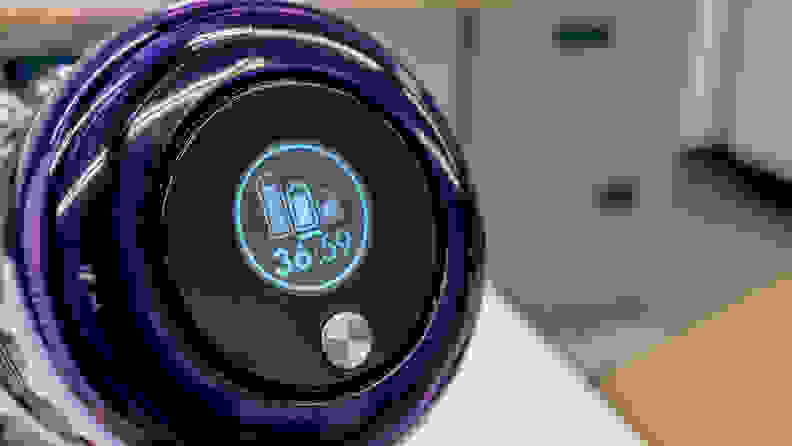 Of all the cordless Dysons we've tested, we have found they all require you to hold down the trigger. This is because Dyson wants more precision vacuuming. Our testing has shown that Dyson cordless vacuums have a battery life of between 40 and 60 minutes on low and between seven and nine minutes on high.
Our testing has shown that Shark vacuums perform up to their price point. For example, the sub-$100 Freestyle has a battery life of around 14 minutes. The IonFlex DuoClean cost three times comes with two detachable and rechargeable batteries that bring its total runtime to about 52 minutes.
Price
Shark vacuums range in price from around $150 to around $400, and they typically carry a seven-year warranty. On the more affordable end, you can expect a pretty standard upright with the lift-away feature. On the higher end, models have more power and more attachments.
It's hard not to get sticker shock when you look at the latest Dyson. The latest models will set you back over $500. Getting a really good deal usually involves buying a refurbished model. Either way, you're going to pay a pretty penny, but it's worth it if you're planning on having only one vacuum to cover all your cleaning needs.
Which vacuum should you buy?
Dyson has some stiff competition in the full-sized vacuum market. However, in the cordless department, the British company really cleans up. Our testing has found that anything beyond the V8 model is capable of replacing all the vacuums for an apartment dweller.
Sharks are for people who vacuum once or twice a month. They can hold a lot of dirt. You can get models with specialized cleaning tools like a wand for cleaning ceiling fans and one for suctioning up dust clinging to the underside of furniture.
Which you choose ultimately depends on your cleaning habits. And if you do opt for a Dyson, we recommend shopping around for the best price before buying.