Vacuums
Dyson Unveils New Vacuums and a Hot + Cool Fan Heater
The evolution of Dyson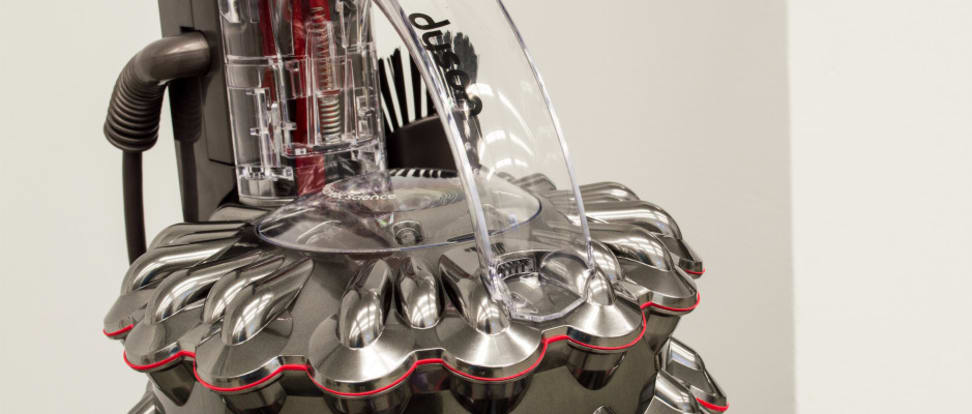 Credit: Reviewed.com / Jonathan Chan
Dyson is no stranger to innovation. When the design-forward company isn't inventing AR glasses 10 years before Google, it's busy building some of the most iconic small appliances on the market. It's no surprise, then, that Dyson events tend to attract a lot of fanfare.
Today, the company officially launched its Cinetic Big Ball Vacuum Cleaner at an event in New York, and also unveiled two new products—the V6 Absolute Cordless Vacuum and the AM09 Hot + Cool fan heater.
None of these products are as revolutionary as the original cyclonic vacuum, but you can't reinvent the wheel every year. Sometimes, evolution pays off: We've already reviewed the Cinetic Big Ball Vacuum and it's the best Dyson vacuum we've ever tested. With the V6 Absolute, Dyson tried to solve an age-old problem by designing a vacuum that sucks up both large debris and small particles, like dust and sand.
The Cinetic Big Ball Vacuum is the best Dyson vacuum we've tested to date.
To accomplish this, the V6 Absolute uses a cleaner head made of soft nylon and carbon fiber filaments. The soft nylon picks up large debris while the carbon fiber attracts smaller particles. But the Absolute also has a second, more traditional cleaner head with nylon bristles to help dig deep into carpeting.
These two cleaner heads make the V6 Absolute a pretty potent cordless vacuum, and Dyson says the Absolute lasts 20 minutes on a full charge. We'll have to wait to get it into our vacuum labs to see how it truly performs.
The AM09 Hot + Cool iterates on the popular AM05 fan heater. It's supposedly quieter than its predecessor and utilizes Dyson's new Jet Focus Technology, which allows users to adjust the size of the fan's air flow—narrow for personal use, wide for large areas.
The AM09 and V6 Absolute add to a growing resume of product categories for Dyson. A few months ago, the British company revealed a new Humidifier and the much-anticipated 360 Eye robot vacuum. Both have yet to go on sale in the U.S.
As for the V6 Absolute and the AM09 Hot + Cool, both will go on sale on March 1st. The V6 Absolute will retail for $599 and the AM09 Hot + Cool for $449.
Related Video