Unlike the V500, the HC-V520 is not available with internal memory (well, not in the US, at least). The V520 is a card-only camcorder, so you need to purchase an SD/SDHC/SDXC memory card before you can start shooting. Strangely, Panasonic also removed the flash/video light from the front of the camcorder. Maybe this was all part of Panasonic's cost-cutting plan, as the V520's current street price is veering towards a particularly cheap $359. If you're keeping tabs, that's $100 less than the V500M cost at the same time last year.

In auto mode, the V520 is a breeze, but the mediocre touchscreen makes menu-surfing a chore.
Like most budget camcorders, the HC-V520 features a simplistic design that feels compact when compared to your average high-end camcorder, but is far bulkier than your video-capable smartphone. Of course, the advantages of shooting video with a camcorder like the V520 instead of your iPhone are numerous: The V520 has more controls, better audio recording, and superior handling. Its built-in image stabilization helps keep your shots free of jitter, and the right-side hand strap offers a solid grip. The hand strap isn't ultra-plush, but at least it's adjustable to the width of your hand; getting a tight hold of the camcorder isn't much of a problem.
We're not impressed with Panasonic's menu system, which hasn't been updated in some time.
We're not impressed with Panasonic's stale menu system, which hasn't been updated in some time. The onscreen Function menu gives you access to manual exposure and focus controls, but it's difficult to access on the fly thanks to the horrible combination of tiny buttons and an unresponsive resistive touchscreen interface. But that's par for the course with budget camcorders: LCDs tend to be tiny, and accessing manual controls tends to be a frustrating exercise. If you're planning to mostly rely on auto mode with the HC-V520, then your time with the camcorder should be far less stress-inducing. For a more-positive LCD experience, check out the Canon HF R40 and its fancy new capacitive panel.
It's not the sharpest tool in the shed, but the V520 is still a reliable budget camcorder.
In our tests, the HC-V520's main improvement over its predecessor came in low-light conditions, where it ran circles around the V500M in our sensitivity test. That's great news for budget-conscious shoppers who plan to shoot a lot of video in dim indoor environments, or outdoors at night. In bright light, the camcorder didn't show any signs of improvement, but it still put up reasonably strong results for a budget model. As long as you wait patiently for the camcorder's automatic white balance to kick into gear, the V520 will get you accurate colors in good light, and you won't have to worry about distracting image noise unless you're out shooting in very dark locations.
Sharpness is the area where this camcorder struggles most. The HC-V520 is crippled by a relatively tiny image sensor that's simply incapable of capturing a tack-sharp image. Even in bright light, the camcorder's images lacked the clarity that we expect from the best HD video. Still, if you're not picky about having top-notch detail, then you probably won't mind the way the V520's videos look. Battery life was a solid two hours with the V520's provided battery pack—not bad at all for a camcorder these days. The V520's optical stabilization is quite effective, and the system offers a number of different settings for varied shooting conditions.
The HC-V520 has more manual controls than most beginners can handle, and more zoom than you'll ever need.
Panasonic is playing the zoom card with the HC-V520, so this camcorder should appeal to those looking for a ton of optical enhancement. The lens itself has optical zoom capability of 50x, which is tremendous, and this can be increased up to 80x using Panasonic's Intelligent Zoom feature. According to Panasonic, Intelligent Zoom shouldn't result in much loss of image quality, but the feature is using digital enhancement, so it's not purely optics. Either way, this camcorder has a ton of zoom.
The lens itself has optical zoom capability of 50x, which is tremendous, and this can be increased up to 80x using Panasonic's Intelligent Zoom feature.
The V520's other standout attributes are its manual controls, which are far more extensive than what you normally get in this price range. Want control over aperture, gain, and shutter speed? The V520 allows for that. Need to tweak color temperature, sharpness, or saturation? The V520 is happy to oblige. The HC-V520 has automatic controls too—like its Intelligent Auto mode—but that's true of every single other camcorder. It's the manual controls that make the V520 special.
Then there's WiFi. A couple years ago, the thought of having WiFi on a camcorder was exciting and new. Today, WiFi has lost a lot of its allure—mainly because everyone is already connected to the internet via their smartphones. But the WiFi features on the V520 do let you do some cool stuff. You can control the camcorder with your smartphone (and use your phone as a remote viewfinder), you can live-stream video on the web, and you can upload videos without connecting to a computer. Also, if your phone is NFC-capable, you can use the V520's NFC chip to easily connect the two devices.
The V520 is a feature-packed budget camcorder, but it can't keep up with Canon's latest.
The HC-V520 would benefit greatly from a larger, more responsive touchscreen, and it wouldn't hurt to offer a 24p recording mode to please cinephiles.
People love cheap gadgets, and, while the HC-V520 isn't a dirt-cheap device, it's still a lot of camcorder for the money. Thanks to improved low-light performance, the addition of built-in WiFi, and a new and improved zoom lens, the HC-V520 is a better camcorder than its predecessor—but not by much. There are still plenty of areas where Panasonic could have made further improvements. The HC-V520 would benefit greatly from a larger, more responsive touchscreen, and it wouldn't hurt to offer a 24p recording mode to please cinephiles. It's also time that Panasonic included an MPEG-4 recording option in addition to AVCHD, if only to make videos easier for the average consumer to work with.
Panasonic put forth a valiant effort here, and it's hard to be disappointed with the HC-V520. Like we said, it's a good camcorder with a low price tag. But Canon's HF R40 is a more impressive model thanks to a few key features that the HC-V520 lacks: built-in memory, MPEG-4 recording, a superior touchscreen, and a multitude of frame rate options (including 24p). Canon's redesigned touch interface and updated menu also makes the HF R40 a better camcorder for beginners, while Panasonic is stuck with stale menus that haven't been updated in years. Best of all, Canon's HF R camcorders are available in three different pricing options: the HF R40 (8GB internal memory) is the same price as the HC-V520 ($399), the HF R42 (32GB internal memory) will run you $499, and the HF R400 (no internal memory, no WiFi) is the bargain of the bunch at $299.
The benefits of the HC-V520 are clear. It has more manual controls than the Canon and its zoom lens is ridiculously long. It's a stronger camcorder in low light and it comes with a better battery. But the Canon is easier to use and it comes in a slicker, fancier package, which, in a way, makes it more fun to handle. Both are good options for low-end camcorders, but the Canon HF R40 is the better bang for your buck.
It's not a top-level performer, but the V520 is better than most budget models.
For a budget camcorder, the Panasonic HC-V520 delivers very good image quality. It's not on the same level as a high-end camcorder, and if you spend just $150 more to upgrade to the Panasonic HC-V720 you'll get much sharper video overall. But for less than $500, you won't find much better performance. Bright-light video looks very good, and low-light performance was better than average in our tests. Battery life was a bright spot, as the proprietary pack lasted for around two hours of continuous recording, and the camcorder's wide-angle lens is equipped with optical image stabilization and an extremely long zoom. The only budget camcorder to give the HC-V520 a serious run for its money is the Canon HF R40, which delivered sharper video in our tests, but wasn't quite as good as the Panasonic in low light.
If you're obsessed with sharpness, the HC-V520 will disappoint.
The bottom line: If you want a very sharp video image, you need to up your price range by a few hundred bucks.
Sharpness may be the HC-V520's biggest weakness, and it's certainly the area where you'll see the most improvement if you decide to upgrade to a costlier camcorder. Simply put, the V520's tiny 1/5.8-inch CMOS sensor can't deliver a supremely-sharp HD image. Footage still looks fine in bright light situations, but you lose a lot of detail when you shoot in less-than-ideal lighting situations. In our bright-light test, the camcorder managed horizontal sharpness of 600 lp/ph and vertical sharpness of 625 lp/ph—numbers that match last year's Panasonic HC-V500M. The direct competition from Canon (the HF R40) did a better job in this test, and the HC-V720 outperformed its little brother by a huge margin here. The bottom line: If you want a very sharp video image, you need to up your price range by a few hundred bucks.
A big area of improvement over last year's HC-V500
The V520 came out swinging in our low-light tests, showing itself to be a significant improvement over last year's HC-V500. First, there was its impressive low light sensitivity; the V520 needed just 5 lux of ambient illumination to record an image bright enough for broadcast. Even when using a bit of zoom—thereby closing down the aperture—the V520 still only needed 9 lux to get a viable image. Contrast this with the V500, which needed 40 lux to record a similar image. That's a huge improvement.
Improvements in color accuracy and noise were less significant, but the HC-V520 still produced better results than its predecessor. The image saturation level was 79%, which means those colors will still have a bit of pop in dimly lit conditions, and noise levels remained below 1.0% until we dropped the lights way down low. At 120 lux—the brightness of your average living room, lit by artificial light—the V520 registered 0.73% noise. This level increased to 0.94% at 60 lux, which is still considered very low noise. Shooting with minimal light (15 lux), the camcorder showed noise levels of around 2.0%, which is enough to distract from the image, but is still a low noise percentage for a budget camcorder.
Good results in bright light, but details get dull when the lights are dim
In bright light, the HC-V520 captured smooth motion and clear images, but the camcorder lacks the 24p recording mode needed to get you that film-like aesthetic. In low light, the V520 loses a lot of detail and its moving subjects start to show off quite a bit of blur and artifacting. You can see an example of this in our sample motion video, which was shot using three different light levels.
In addition to shooting with 60i and 60p frame rates, the HC-V520 offers a 30p frame rate, but only when using the iFrame recording mode. The iFrame setting records low-res video (technically it's not even HD), but it does so with the idea that the video is ultimately compatible with Apple's iMovie editing program.
The HC-V520 managed the same battery life as its predecessor—close to half an hour longer than the Canon HF R40.
In our battery life test we set the camcorder to its highest-quality video mode, hit the record button, and let the camcorder do its thing until the battery dies. In this case, the HC-V520 lasted for just over two hours of continuous recording (121 minutes), which is in the same ballpark as what the HC-V500 achieved last year. We typically consider two hours to be the minimum for what we'd call "good" battery life, so the V520 just gets a pat on the back here. Still, it's a better result than many camcorders in this price range can manage. For those who need longer battery life, Panasonic luckily offers a larger, optional battery pack.
The V520's wide lens lets you capture more action in a single shot.
The wide-angle lens on the HC-V520 certainly lives up to its name. We measured the viewing angle on the camcorder at 65 degrees, which is a good 12 degrees wider than the lens on the Canon HF R40. Most of Panasonic's camcorders have featured very wide lenses over the past couple years, with last year's V500M measuring a 61-degree angle of view, and the HC-V720 measuring 68 degrees. This means you can get a very wide shot with the camcorder, but it also forces you to use more zoom when you're ready for a closeup.
Meet the testers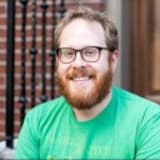 Jeremy Stamas
Managing Editor, Video
@nematode9
Jeremy is the video expert of our imaging team and Reviewed.com's head of video production. Originally from Pennsylvania and upstate NY, he graduated from Bard college with a degree in film and electronic media. He has been living and working in New England since 2005.
See all of Jeremy Stamas's reviews
Checking our work.
We use standardized and scientific testing methods to scrutinize every product and provide you with objectively accurate results. If you've found different results in your own research, email us and we'll compare notes. If it looks substantial, we'll gladly re-test a product to try and reproduce these results. After all, peer reviews are a critical part of any scientific process.
Shoot us an email