camcorders
Samsung QF30 Camcorder Review
Samsung's latest pocket camcorder goes too far in its quest for ease of use.
The low-end camcorder game is taking place on an ever-shrinking playing field. Since most people turn to their smartphones and tablets for recording HD video, it's hard to make a video device that might appeal to the masses. Canon, Sony, Samsung, JVC and other camcorder manufacturers are positioning their offerings as smartphone companions, throwing in buzzwords like "WiFi" and "app-connected" in order to cater to today's social sharing junkies. These camcorders also tend to be for novice users, with an emphasis on automatic features.
Samsung, in particular, has made great strides with their connected cameras. We were excited to check out their latest entry-level camcorder, the QF30 (MSRP $329.99), to see if their synergy had continuity across all their product lines. While we weren't holding our breaths for top-tier video quality, we had some hope for its connected features.
Design & Usability
Shaped for aesthetics, not for comfort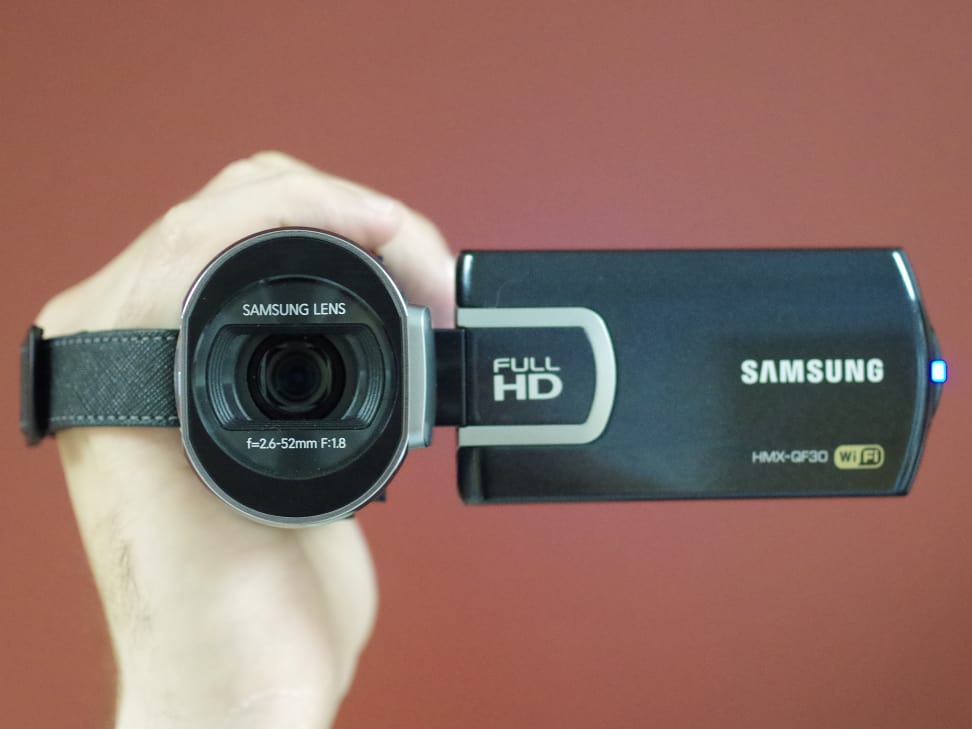 Samsung's put together a good-looking camcorder. Featuring a few different textures and materials, the QF30 has a unique look. The bulk of this camcorder is an attractive deep metallic blue, which quickly picks up dust and fingerprints. Design-wise, the QF30 is fairly symmetrical and can be used by lefties just as easily as right-handers. That's a feature worth noting, since most camcorders are set up for right handed folks. One thing that becomes abundantly clear within seconds is that there are very few buttons. There's a lens shutter switch, a 4-way control surrounding the record/pause button and a home button on the flip-out LCD panel. The majority of the camcorder's options are accessible only through the touchscreen.
That wouldn't be a terrible thing, except for the fact that the QF30's touchscreen is embarrassingly, forehead-smackingly bad. By using a resistive touchscreen layer, this camcorder responds sluggishly if at all, requiring firm taps in order to register inputs. The clumsy touchscreen is hampered further by a kludgy interface that wouldn't be out of place on a device released 5 years ago. It's rudimentary, even by low-end camcorder standards. Canon's similarly priced HF R40 has a very usable touch interface, so we know it's not asking the moon and the stars from Samsung to make something better than what the QF30's been burdened with.
The QF30's thin strap does the trick, but it isn't comfortable to use in the slightest. Even a small piece of padding would have made this standard design feature so much better, but it was clearly a cost-cutting matter to leave it out. It's a little touch like this that could have made the handling experience of the QF30 a bit better. As it stands, this camcorder is nice to look at, but awful to hold for extended periods of time.
Features
A motley assemblage of features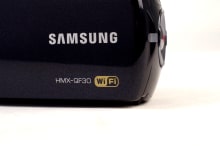 The QF30's features are as to be expected from an entry-level camcorder these days. Although it eschews built-in memory, it does come with WiFi built-in. It also has a combined optical/digital image stabilization system, dubbed OIS Duo+ by Samsung. Even though the max zoom is 40x, optical zoom is around 20x. Along with the aforementioned WiFi, the QF30 has compatibility with social network sharing and smartphone transfer, as well as wireless backup. Those features all sound good on the surface, but Samsung fails to execute any of them well.
Even though the QF30 is compatible with Samsung's MobileLink companion app, mobile connectivity isn't as good as we've seen in other, similarly-priced video cameras. MobileLink is basically only for stills and movie file transfer to iOS or Android, and there's no remote control capability. That's disappointing since we had excellent experience with using Canon's CameraAccess app, which had a ton of features. Even though the camcorder has the ability to share directly to Facebook, Picasa or YouTube, it's a pain to set up, since it means you'll have to use the QF30's frustrating touchscreen to type in your wireless network's password. Finally, the QF30 also features live streaming through UStream.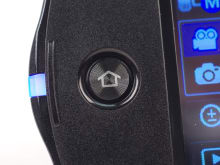 Due to the QF30's tiny 2.7-inch touchscreen, manual controls are not only limited but what is there is also hard to operate. For the users who would be most likely to buy this camcorder, it's a good move on Samsung's part. But, for people who want even just a little more input, it's inexcusable. In M mode, you have control over exposure compensation, white balance and focus. Using the QF30's manual focus mode is inadvisable since, again, the touchscreen makes things difficult to control accurately. Two other buttons in M mode allow you to switch Night C. and Backlight compensation on or off.
Other features left by the wayside include any form of accessory shoe (hot or cold) and there isn't a way to connect an external microphone or a set of headphones.
The QF30 reinforces the idea that vertical video is acceptable. It is not.
Tweet It
A painfully useless feature allows the user to record vertical HD video. Flying in the face of a century of motion picture aspect ratio wisdom (not to mention human biology), the QF30 reinforces the idea that a screen longer than it is wide is acceptable. It is not. We sincerely hope that this accidental trend fades off into obscurity.
Performance
At least the battery lasts a long time
Even though we saw decent performance from the QF30, it just wasn't enough to differentiate itself from similarly-priced competition. Most disappointing was the lack of shooting modes. There's only one full HD mode, and that's the standard 1080/60i. There are no 60p, 30p or 24p frame rates to play around with. The other mode available shooting mode(other than a web-friendly resolution setting) is 720/60p. Both are MP4, which makes quick editing and uploading a simpler process than working with AVCHD.
In every one of our tests, the QF30 just couldn't muster up enough performance in any metric. Color was inaccurate, and test footage had a ton of noise and detail wasn't resolved very well. The interlacing in the QF30's highest quality 1080/60i video mode means that details are often lost in between fields, diminishing how much is visible.
Even though this camera has a backside-illuminated CMOS sensor, low-light performance was sub-par as well. Samsung claims the minimum illumination required is 5 lux in auto mode. Since auto mode is likely pulling some software tricks in order to brighten the image, we found that the QF30 required much, much more light. When shot in manual mode, we noted a minimum required illumination of 17 lux (depending on whether the lens was zoomed in or at full wide). For comparison, Canon's similarly priced Vixia HF R40 required only 11 lux.
The QF30 will last through an entire school play.
Tweet It
One area where we didn't expect this camera to excel was battery life. Somehow, the QF30 managed to eke out a hair under 2 hours when recording continuously. Even though the battery that's included looks tiny, it packs a real wollop. This metric makes the QF30 a decent choice for parents looking for a camcorder that'll last through an entire school play. Unfortunately, because of the small battery slot built into the QF30, there seems to be no way to add a larger capacity battery.
Conclusion
Not good enough to garner a recommendation
The QF30 makes a decent enough first impression, but scratching the surface just shows how poorly thought-out the whole experience is. There's nothing to make this small Samsung camcorder a compelling choice, even for people who own other Samsung devices. It barely plays into the carefully cultivated ecosystem the Korean giant has been assembling over the past few years, unlike their terrific still cameras like the NX300. That particular camera features a great app for Android which allows for full control, and adopts a fluid, responsive touchscreen interface. The QF30 has a feature that allows for direct linkage to a Samsung TV over WiFi, but other than that, there's nothing that makes this a Samsung camcorder.
Not only does the QF30 come up short on features (even for an entry-level camcorder), its touchscreen interface was frustrating to use and the video quality we saw from it wasn't good. To add insult to injury, the QF30 sacrifices too much in the name of simplicity, making the experience feel hollow and giving users no where to grow should they get interested in video. This wouldn't be such a disappointment if we didn't know that Canon's entry-level Vixias are better performers, with more features and they also cost around the same price as the QF30. The only place where the QF30 beat the Vixia HF R40 was in battery longevity, but the lacking nature of every other facet of this camera renders that lone shining spot a moot point.
Our editors review and recommend products to help you buy the stuff you need. If you make a purchase by clicking one of our links, we may earn a small share of the revenue. Our picks and opinions are independent from any business incentives.
Our editors review and recommend products to help you buy the stuff you need. If you make a purchase by clicking one of our links, we may earn a small share of the revenue. Our picks and opinions are independent from any business incentives.
Advertisement - Continue Reading Below
Our editors review and recommend products to help you buy the stuff you need. If you make a purchase by clicking one of our links, we may earn a small share of the revenue. Our picks and opinions are independent from any business incentives.
Advertisement - Continue Reading Below
Advertisement - Continue Reading Below
Advertisement - Continue Reading Below
Advertisement - Continue Reading Below
Advertisement - Continue Reading Below
Get Our Newsletter
Real advice from real experts. Sign up for our newsletter
Thanks for signing up!