In theory, these are the kind of features that should attract more serious shooters to Sony's mid-range line, but in practice we found them to be a bit rough around the edges.
Carrying on Sony's signature party trick, the PJ650V also features a built-in projector. The new unit has a brightness of 20 lumens, up from 13 on the PJ580. The designers have even gone a step further this time and added a projector input, meaning you can play external videos through the camcorder.
For those whose primary concern is image quality, the biggest question will be whether the PJ650V can keep up with some of the hottest newcomers in the midrange market, like the Panasonic HC-X920 and Canon HF G20. That's a tall order, but it seems like Sony's latest Handycam might be ready to step up to the plate.
Solidly built all around, but the user interface needs refinement
We can't find much fault with the PJ650V's build quality, which is simply solid through and through. The camcorder has a reassuring heft and fits your palm well; as befits a $1,000-plus model, the materials all seem to be of high quality, too. The 3-inch, 921k-dot, flip-out and swivel LCD panel doesn't have any flex, and the hinge seems quite strong. The few buttons that survived the touchscreen revolution have great tactility, clear labeling, and a smart layout. Everything is where it ought to be.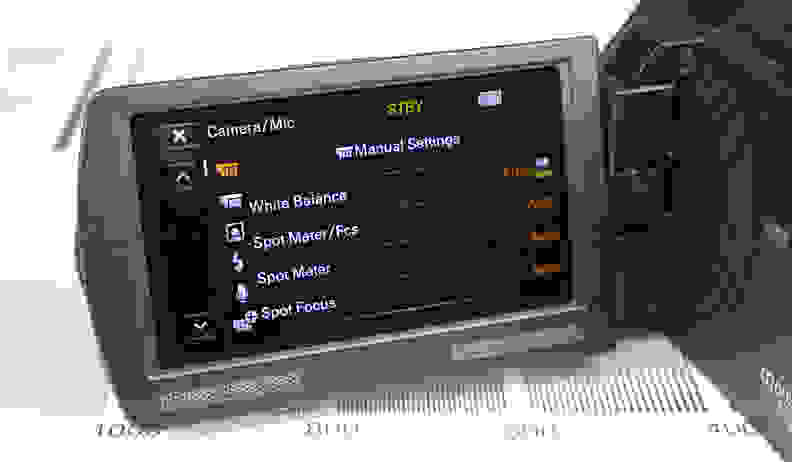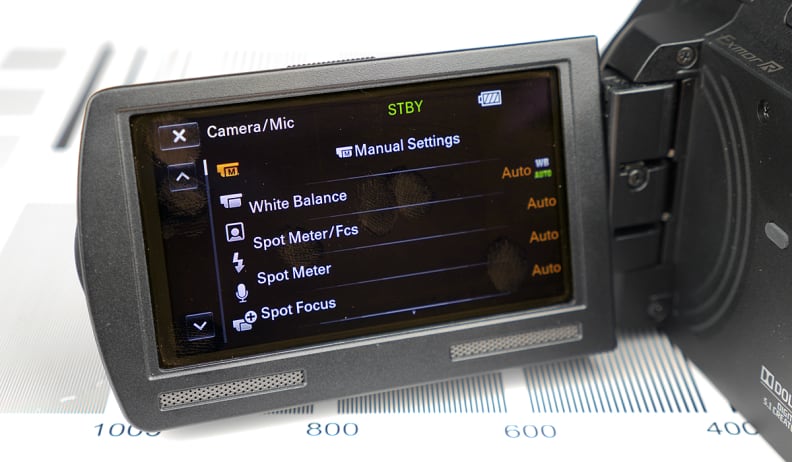 Unfortunately, we don't have such nice things to say about Sony's touch-driven user interface. Like the PJ580 before it, the new model uses a resistive touch panel; you have to apply some serious pressure when trying to navigate the on-screen menu. And speaking of the menu system... well, it looks good, but actually using it is something of a chore.
The biggest issue is that when you change any menu setting, the PJ650V kicks you out of the menu entirely. We can see how this would make sense if you're changing settings while the camera is rolling—in that case, you'd want to get back to the live view as soon as possible. What doesn't make sense is that the behavior persists even when you're just mucking about in standby.
We know Sony is capable of producing some gorgeous EVFs, but the company's camcorders remain saddled with 2007-era tech.
The PJ650V does add a very handy front manual dial and button that can be programmed to adjust manual focus, exposure, aperture, shutter speed, AE shift, or white balance shift. It's a great concept, picked up from higher-end Sony Handycams, but the dial itself is a frustratingly finnicky to use. While there's some resistance, the dial nevertheless spins a bit too freely, which makes it difficult to make fine adjustments on the fly. (The same can be said of the focus slider for the built-in projector.)
Sadly, the new electronic viewfinder is extremely small and very low-res at 201k dots. We know Sony is capable of producing some gorgeous EVFs—the ones used in the NEX-6 and NEX-7 mirrorless still cameras are some of the best on the market—but the company's camcorders remain saddled with 2007-era tech. Still, on extremely bright days the alternative view should come in handy, and shooting at eye level can improve steadiness in some cases.
Steering serenely down the middle of the road
Aside from the key new additions we've already discussed—the manual dial, improved projector, and electronic viewfinder—the PJ650V's spec sheet is full of features culled from the older PJ580. You get built-in GPS, "20.4-megapixel" still photo capability, Sony's Balanced Optical Steadyshot image stabilization, 5.1-channel surround sound, full 1080/60p recording using the AVCHD codec, and 32 GB of internal storage. Unlike many competitors, Sony hasn't bundled WiFi into the camera; to get tethering and other sharing functionality, you need to purchase the add-on ADP-WL1M1 wireless adapter (MSRP $74.99).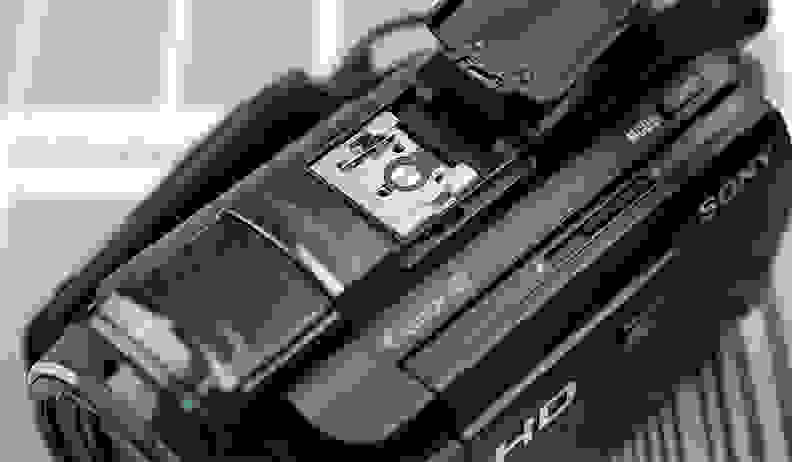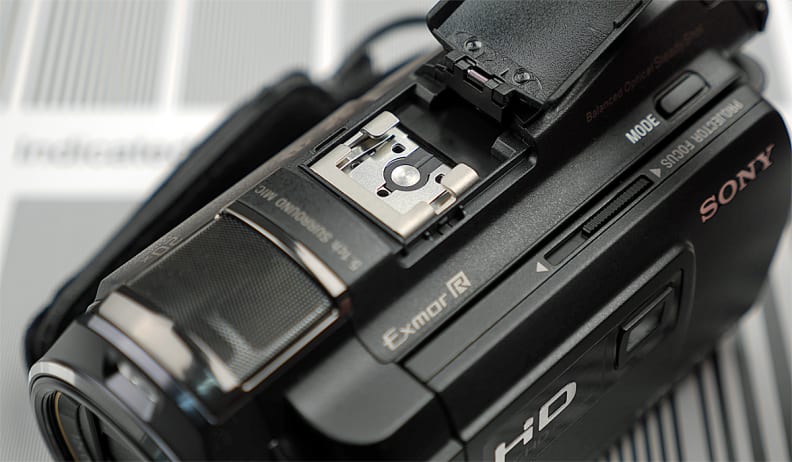 That adapter fits into Sony's Multi Interface Shoe. Despite its standard ISO 518-derived design, the new shoe is unfortunately just as proprietary as its predecessor in actual use. This is because the shoe is recessed into the top of the camcorder body, and there's not enough room behind it to slide a foot into the mount. Worse still, Sony doesn't provide an adapter for standard shoe–mounted accessories, so there's no way to use generic legacy lights, mics, and so on with the PJ650V. (Curiously, several other Sony cameras feature the same shoe but are able to use standard-fit accessories. The PJ650V's shortcoming is entirely a design choice.)
The positioning of the 5.1-channel mic has also been improved. It now sits flat atop the lens, rather than on the front of the camcorder, as it did on the PJ580. Presumably, this should give the new model better access to noises behind and to the sides of the camera.
This should be obvious, but if you're looking to create a home theater projection setup, you're going to want to buy a dedicated projector.
For the most part, Sony has steered clear of the gimmicky, cutesy features that many rivals have been piling on to their latest models. The lone exception seems to be the continued presence of the built-in projector. While that functionality might be useful in a pinch, we can't imagine there are going to be that many occasions when you'll want to hook an external device up to your camcorder rather than a TV. This should be obvious, but if you're looking to create a home theater projection setup, you're going to want to buy a dedicated unit.
Still, we can't blame Sony for sticking to its guns on the projector front. Consumers are running out of reasons to choose a camcorder over a video-capable stills camera, or even a smartphone or tablet, and the company's engineers are no doubt scrambling to come up with all the value-added features they can..
Excellent sharpness and fluidity in the 1080/60p recording mode
In our standard still-life test, we were easily able to read the tiny text on the Magic: The Gathering card and Heineken bottle, and fine details were apparent all over. We can't really ask for more.
In direct comparison with its closest rivals, the Sony PJ650V performs admirably. Like any other consumer camcorder worth its salt these days, it's capable of recording AVCHD files at 1080/60p, with the option of 24p for a more cinematic look.
Color accuracy is essentially on par with the G20 and significantly outstrips the X920. It's the best of the three when it comes to noise control—both in bright and dim light—and motion is rendered with excellent fluidity in the top 1080/60p recording mode. While the PJ650V's sharpness numbers didn't peak as high as the G20's, they were far more consistent. The camcorder resolved 775 lp/ph on both the horizontal and vertical axes; in comparison, the G20 could hit 825 lp/ph on the horizontal, but dipped to 650 lp/ph on the vertical—almost certainly because of its 60i maximum recording framerate. Both the Sony and the Canon are outdone by the X920, which managed 800 lp/ph in both axes.
What does this mean in practice? Well, in our standard still-life test, we were easily able to read the tiny text on the Magic: The Gathering card and Heineken bottle, and fine details were apparent all over. We can't really ask for more.
The PJ650V's wide-angle lens manages to capture about a 68-degree field of view when zoomed all the way out, beating both the Canon (64 degrees) and the Panasonic (62.5 degrees). Image sharpness seemed consistent throughout the 12x optical zoom range, though the aperture does close down as you zoom further in. This means that you'll lose some low-light sensitivity if you need to use telephoto focal lengths.
The zoom control is extremely fluid when using the rocker atop the camcorder, though the alternative touchscreen control is pretty awful. Focus acquisition was accurate and quick without being distractingly fast. As we've seen in the past, Sony's Balanced Optical SteadyShot stabilization is extremely effective in most shooting situations, getting rid of camera shake and jitter with ease.
For more detailed test results, check out the science page of this review.
Keeping up with the Joneses
Thus far, we've spilled a lot of virtual ink comparing the PJ650V to its compatriots from Canon and Panasonic. And what have we learned? Mostly, we've determined that there's very little difference between the three when it comes to performance or price. Probably the biggest gap worth calling out is the Canon HF G20's lack of 60p recording ability—something we're still shaking our heads over.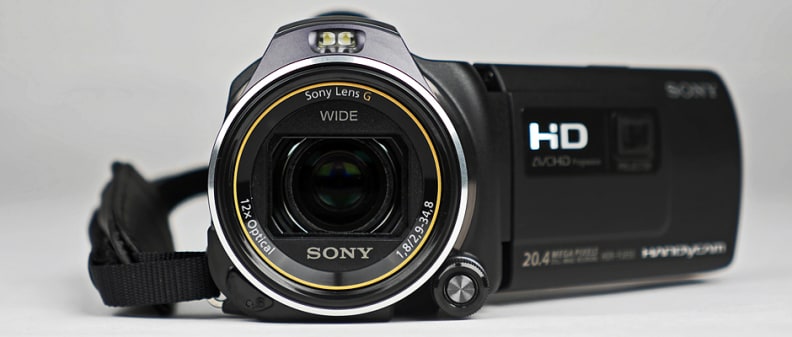 But in terms of tested performance metrics, there's not much difference to be found. The G20 is a bit better in extreme low light, and the X920 is slightly sharper than the other two, but the margins are slim. The truth is, they're all excellent high-end consumer camcorders; most users could pick up any one of the three and be very happy with the results.
The PJ650V is an upgrade, but it doesn't exceed what other manufacturers are doing.
Similarly, there are only small differences in features. The LCDs vary slightly in size and resolution, but they're all annoying resistive panels. The Canon boasts dual SDHC/SDXC card slots in addition to its internal memory, which is a pretty killer feature, while the Panasonic has just one slot and no flash storage; the Sony splits the difference. The Canon and Panasonic camcorders sport built-in WiFi, while the PJ650V opts for GPS instead. And of course the Sony has a built-in projector—something the others can't claim. The list goes on, but none of these are likely to be deal-breakers or deal-makers for average users.
We've also briefly mentioned the PJ650V's predecessor, the PJ580. Though that older camcorder never made it into our labs for direct comparison, the spec sheets tell us that there shouldn't be any notable image quality difference between the two. They use the same lens and sensor, and closely related processors—the difference appears to come entirely down to features. With the new model, Sony seems to want to elevate its mid-tier camcorder line by providing additional enthusiast-oriented features: an EVF, a front control dial, and a standard top-mounted hot shoe.
But really, all these advanced features do is put the PJ650V on a level playing field. The PJ580 was priced below the PJ650V's competition, and had specs to match. The latest PJ-series camcorder is an upgrade, but it doesn't exceed what other manufacturers are doing. Ultimately, the choice you make among these three will have a lot to do with ergonomic preferences, specific feature needs, and/or the absolute need for 60p.

After putting the Sony HDR-PJ650V through our standard battery of lab tests and real-world shooting scenarios, we came away impressed. Almost exactly as impressed, in fact, as we came away from its direct competitors: the Panasonic HC-X920 and Canon HF G20. For obvious reasons, we like the look of Sony's 1080/60p output better than the Canon's 60i, but it's virtually on par with what you'd get from the Panasonic.
Excellent sharpness, supremely fluid playback, and very competitive color accuracy and white balance make for an undeniably potent performance package. The only real disappointment we encountered came in the PJ650V's low-light sensitivity, where it fell a ways behind the Panasonic and Canon camcorders. Still, while it's not the best choice in extremely dark situations, the Sony's aggressive but fair noise control means it should do well in moderately dim lighting. Battery life was better than the competition, but still only just barely acceptable in our opinion.
Video sharpness from the PJ650V is excellent, and incredibly consistent. Using our standard CamAlign MultiBurst test pattern chart, we observed 775 lp/ph of resolution while panning on both the horizontal and vertical axes, both in bright (1650 lux) and dim (60 lux) conditions. To put that in perspective, the Canon HF G20 managed 825 lp/ph on the horizontal and 650 on the vertical (crippled here by its interlaced output), while the Panasonic X920 was capable of 800 lp/ph in both dimensions.
A still taken from a static video of Imatest SFR Plus resolution chart showed that the PJ650V uses a relatively high level of software sharpening (aka edge enhancement) when recording video, which is visible as a dark border around the edges of high-contrast objects. In video, this is less distracting than it is in stills, since the fluidity of the motion masks it to a certain degree.

We also took a look at some of the 20.4-megapixel stills the camcorder produces. For use on Facebook and webpages, they're probably fine. White balance was quite good, and they're surprisingly crisp at full wide angle. When you zoom in, resolution drops quite a bit. Noise levels and attendant noise reduction are a huge problem regardless of the focal length and lighting conditions, meaning that you won't want to use these stills for print or any serious application. The absurd level of smearing and lack of detail is likely a byproduct of the way the PJ650V upscales from its 5.43-megapixel sensor to produce a "20.4-megapixel" image.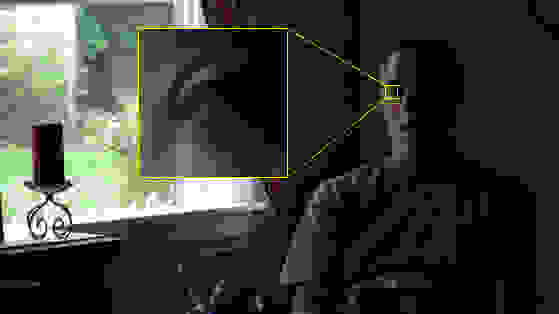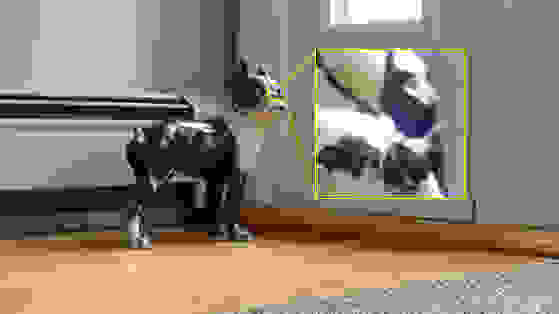 The Sony PJ650V is a decidedly schizophrenic camcorder when shooting in low-light conditions. On the one hand, it handles image noise beautifully, averaging just 0.4% noise in bright light and 0.66% noise at 60 lux ambient illumination. On the other, its small 1/3.9-inch sensor is much less sensitive than those in competing camcorders, requiring 15 lux of ambient illumination to achieve broadcast-ready image brightness when we zoomed in to fill the frame.
The Canon G20 required just 3 lux when shooting from the same position, while the Panasonic X920 needed 6 lux. When shooting at full wide angle and maximum aperture, the PJ650V managed to do the same with just 7 lux, so if you intend to shoot a lot in extreme low-light situations, use the widest field of view. Or, you know... buy a camera that's better in those conditions.
Paired with its excellent noise results, the PJ650V's relatively poor sensitivity indicates that it's doing a lot more noise reduction than its competition—not surprising, given that the X920 sports a trio of far larger 1/2.3-inch sensors, and the G20 has a 1/3-inch unit. A physically larger sensor is always able to collect more light than a smaller one, given the same lens aperture—though packing too many pixels in to even the largest sensor might take a toll on image quality.
The PJ650V has the benefit of a relatively fast f/1.8 lens at full wide angle, but so does the G20, and the X920 goes even further with a f/1.5 lens. We can see evidence of this noise reduction in 1920 x 1080–pixel stills taken from the PJ650V's 60p videos, but the fact is, it's just not that noticeable when the video is in motion.
Like most consumer camcorders, the PJ650V doesn't shoot for clinical color accuracy and unsurprisingly doesn't come anywhere close. Consumer camcorders aim for bright, vibrant colors and a lot of contrasty punch, because that's what most people want from their clips. In our bright-light test, the camcorder's chroma-corrected ∆C 00 color error was 3.49, which was significantly better than the X920's 4.15, but a little worse than the G20's 3.03.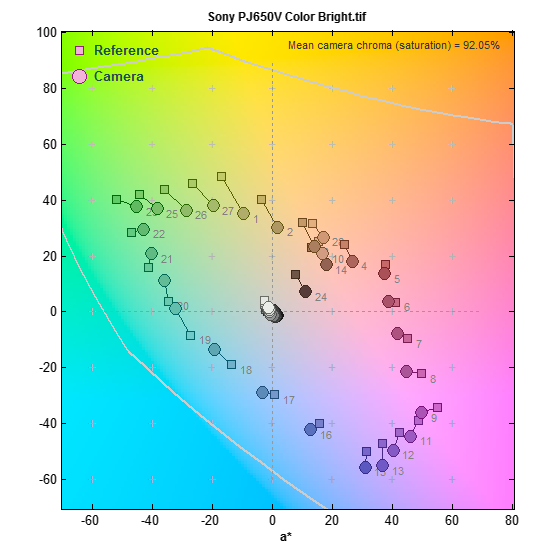 When we shot the same test chart under 60 lux ambient illumination, the PJ650V (5.16) pulled far ahead of the Panasonic (8.16), and pretty much maintained its slight gap to the Canon (4.66). Greens, yellows, and light blues account for the bulk of the worst color discrepancies, while reds and deep blues are the most accurate.
Saturation levels were a little low by default, clocking in at 92.05% in bright light and just 78.35% in 60 lux illumination. The former isn't really noticeable in everyday shooting, but the washed-out colors in low light are a serious issue. Even so, the competition doesn't fare much better. The G20 drops down to 83% saturation at 60 lux, and the X920 is even worse at 72%.

Automatic white balance is an area of strength, with only incandescent lighting posing a real challenge to the PJ650V's WB system (an average error of 1485 K). Custom white balance readings are pretty easy to take, and they're very accurate across the board. In general, you should be pleased with the color temperature results you get from this camcorder, though those looking for the most accurate rendition of whites might want to take a custom reading when shooting indoors.
In our standard battery life run-down test, we fully charge the camcorder's battery, set it to its maximum recording quality (in this case, AVCHD 1080/60p), and turn off any optional features like GPS and WiFi. We then set the camcorder to record, and let the tape roll until the battery dies and the camcorder shuts off.
With the included NP-FV50 lithium-ion battery pack (1030 mAh), the Sony PJ650V managed just a little over 119 minutes (a hair under two hours), besting both the Panasonic HC-X920 (79 minutes) and the Canon HF G20 (111 minutes). Even so, Sony shouldn't pop the champagne just yet. We consider two hours of recording time to be just good enough for general use—it's not exactly a fantastic achievement.
For those who absolutely need better longevity, there are two larger battery packs available. The NP-FV70 gives you double the capacity (2060 mAh), and the NP-FV100 nearly doubles that figure again (to 3900 mAh). We haven't been able to test these optional juice packs, but logic tells us that the largest one should nearly quadruple endurance to around 8 hours. Might be worth the expense, provided you don't mind the substantial extra bulk.

Meet the tester Ben Keough
Contributor
@ben_keough
Ben is an experienced industry journalist who formerly served as Senior Editor of News and Features at Reviewed. He now contributes as a freelance writer and editor. Most recently hailing from the vast wilds of the American southwest, he is an avid photographer who is deeply disturbed by the lack of wide open landscapes in Boston.
Checking our work.
We use standardized and scientific testing methods to scrutinize every product and provide you with objectively accurate results. If you've found different results in your own research, email us and we'll compare notes. If it looks substantial, we'll gladly re-test a product to try and reproduce these results. After all, peer reviews are a critical part of any scientific process.
Shoot us an email