We've reviewed plenty of camcorders this year, running all sorts of models through our battery of performance tests and rigorous scoring rubric. This may not have been a stellar year for the camcorder industry, but there were still a bunch of strong models worthy of praise in our Best of Year awards.

These awards not only highlight the products we consider to be the very best of the year, but they're also the camcorders we'd recommend to friends, family, as well as our loyal readers.

Camcorder of the Year
(MSRP: $1,299)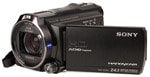 This year, Sony finally decided to hunker down and improve the low light performance of its high-end Handycams, and, as a result, the HDR-CX760V ended up as the best camcorder we reviewed all year. In addition to the enhanced low light capabilities, the Sony CX760V is stuffed with manual controls, has a beautiful new Zeiss lens, and features one of the best image stabilization systems we've ever seen. A powerfully-robust camcorder, the HDR-CX760V is the best consumer model we've seen from Sony in years, and its endless set of features and controls should appeal to pros, enthusiasts, or anyone who loves high-quality video.
Runner-up
(MSRP: $1,099)
The Panasonic HC-X900M is a strong flagship model, and, with its price dipping to below $1000 at some retailers, it's also an excellent bargain. Despite its good performance scores and solid range of controls, however, the HC-X900M offers very little that wasn't found on its predecessor last year (the HDC-TM900). Panasonic has made very good camcorders over the past few years, but the company has become complacent with its flagship models. More innovation or a boost in performance and the HC-X900M would have been a strong contender for Camcorder of the Year. But the lack of improvement allowed Sony to beat out Panasonic on its way to our top award.
Read the Full Review of the Sony HDR-CX760V
Read the Full Review of the Panasonic HC-X900M
---
Best Innovation
(MSRP: $1,599 to $3,299)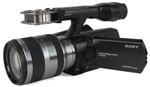 With its NEX Handycams, Sony has created a line of products that no other major manufacturer is even attempting: an interchangeable lens camcorder that is aimed at consumers. Sony started it all in 2010 with the NEX-VG10, a camcorder with the guts of Sony's NEX-5N camera, but the design and shape of a traditional camcorder. Things continued with the NEX-VG20 last year, which had some minor improvements over its predecessor. This year Sony innovated the line even more with the unprecedented NEX-VG900 that features a full-frame image sensor. The NEX Handycams hoard over an exciting space in the camcorder market, and Sony's models blur the line between cameras and camcorders like nothing else.
Read the Full Review of the Sony NEX-VG20
Read the First Impressions Review of the Sony NEX-VG900
---
Best Prosumer Camcorder
(MSRP: $1,299)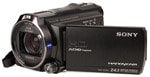 Sony wins this award for a few key reasons: excellent image stabilization, good manual controls (adjustable with a control dial), and multiple frame rate options that include 60p, 60i, and 24p. Some pros may want more from the Sony HDR-CX760V, but we think it has enough to get the job done. Professional assist options like zebra patterns, focus peaking, focus magnification, and auto exposure shift all help you fine tune your video image to your liking. There are also some decent audio controls and an external mic jack, not to mention an electronic viewfinder and a whopping 96GB of internal memory. You can't stuff much more into a package this size for this price.
Runner-up
(MSRP: $1,299)
The Canon HF G10 came out last year, but it's still one heck of a high-end camcorder. So strong, in fact, that Canon kept it on for 2012 without providing any kind of updated or replacement model to take its place. The Canon HF G10 is still good enough to compete with other top models from this year, and its large lens ring and strong manual controls are the exact kinds of features we like to see from a prosumer model. But the Canon HF G10's lack of a 1080/60p record mode is a disappointing omission, and it's the one reason the Canon HF G10 is starting to feel a bit dated compared to the competition.
Read the Full Review of the Sony HDR-CX760V
Read the Full Review of the Canon HF G10
---
Best Mid Range Camcorder
(MSRP: $549)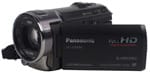 The Panasonic HC-V700M is one of our favorite camcorders of the year. It has a lot of tricks hidden in its long menu system, offers excellent performance, and comes with a very reasonable price tag. In bright light, this camcorder nearly matched the performance of the Panasonic HC-X900M, which is our runner-up for camcorder of the year. In low light, the V700M wasn't quite as good, but it was still excellent for a mid-range model. Panasonic went with a new sensor this year and the results paid off, making this the best camcorder available for less than 800 bucks.
Runner-up
(MSRP: $699)
The Canon HF M52 did well in our tests and comes with adequate video features, but, like we saw from many models this year, the HF M52 simply didn't improve much over its predecessor. Canon's one big new feature, built-in WiFi, was a bust, and the rest of the camcorder's improvements weren't anything too special. Still, the HF M52 is a strong mid-range camcorder that does capture awesome video images, and its overall performance came extremely close to matching that of the Panasonic HC-V700M.
Read the Full Review of the Panasonic HC-V700M
Read the Full Review of the Canon HF M52
---
Best Value Camcorder
(MSRP: $449)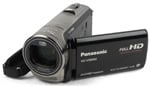 Let's face it, if you're looking for a sub-$500 camcorder, it can be difficult to find a model that will get you excellent video performance. Delivering good video in bright light and decent images in low light, the Panasonic HC-V500M may be as close as you'll get. You won't come home with top-notch video with this unit, but the camcorder does include a wide range of manual controls and features despite its budget-friendly price tag. If you want better quality, you should spend a bit more cash and upgrade to the Panasonic HC-V700M instead.
Runner-up
(MSRP: $399)
Canon doesn't make any awful camcorders, so the company's entry-level HF R30 has some strong attributes despite its low cost. Like the Panasonic V500M, the Canon HF R30 won't blow you away with stunning image quality, but its performance in our video tests was certainly passable. The R30 also sports a light and compact design, good image stabilization, and a variety of features geared towards the novice user. It doesn't have the all-around package that the Panasonic HC-V500M touts, but its sub-$400 price tag makes it worth a second look.
Read the Full Review of the Panasonic HC-V500M
Read the Full Review of the Canon HF R30
---
Best Camcorder for the Money
(MSRP: $699)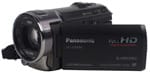 Based on performance alone, the Panasonic HC-V700M performs like a $1000 camcorder, but its MSRP falls just under $700—and the camcorder represents even more bang for your buck if you shop around. At the time of this writing, we found the HC-V700M selling for less than $400 online, which is a spectacular bargain for this mid-range model. If you can find this model for anything less than $500, we'd recommend you turn on your blinders and make an impulse purchase. It's that good of a deal.
Runner-up
(MSRP: $139)
If you're looking for a dirt-cheap camcorder, the Samsung HMX-W300 is easily your best option on the market. It's the rare camcorder that costs less than 150 bucks, but is actually capable of recording decent video. The W300's waterproof body only enhances the camcorder's value, as it makes it more likely to survive a trip to the beach or a spilled beverage. You don't get very good performance with the W300, and the camcorder is basically void of any kind of controls or features, but it's a tiny, simple camcorder that is great for anyone who doesn't want to spend too much on a video recording device.
Read the Full Review of the Panasonic HC-V700M
Read the Full Review of the Samsung HMX-W300
---
Best Connectivity
(MSRP: $329 to $899)
The new JVC Everio camcorders of 2012 didn't impress with their poor video performance and multiple design flaws, but JVC did do one thing very well on its new camcorders: the incorporation of built-in WiFi. We've seen WiFi being pushed on many products this year, but JVC is the only camcorder manufacturer that is giving this connectivity feature truly unique functions. The JVC WiFi Everios allow for live monitoring via the web, remote control operation with a smartphone, automatic photo emailing, and wireless file transfer just to name a few of the features. The setup interface to get these functions working wasn't always smooth, but the amount of WiFi-related features on JVC's camcorders was impressive.
Read about the WiFi features on the JVC GZ-GX1
Read the Full Review of the JVC GZ-VX700
---
Best Camera for Video
(MSRP: $1,299 body only)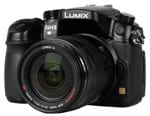 With the GH3, Panasonic doubled down on video in an effort to make a system camera with strong appeal to photographers and videographers alike. The gamble paid off, with the GH3 producing the best video results we've ever seen from an interchangeable lens camera. The camera features a killer set of recording options, including ultra-high bitrates of 72Mbps and 50Mbps, as well as a complete set of manual controls in movie mode. The rotating LCD on the back of the camera makes long periods of recording video easier, although it's still not as comfortable as a traditional camcorder. Our main point must be clear: by focusing its energy on making a camera that is great for video, Panasonic ended up with the Best Camcorder for Video in 2012—and with a $1300 price tag, the GH3 is also a remarkable bargain.
Runner-up
(MSRP: $3,499 body only)
The Canon 5D Mark III is favored by many professional videographers, and we can't say we blame them. It's a great camera for video, and if you're set on using a true DSLR to shoot your footage, the 5D Mark III is your best bet. But the Panasonic GH3 has more features for the pro videographer, including a vastly superior set of compression options, a continual autofocus system, and better handling. The Panasonic GH3 also costs roughly a third of what the Canon 5D Mark III lists for, and that price difference can't be ignored.
Read the Full Review of the Panasonic GH3
Read the Full Review of the Canon 5D Mark III
---
Best System Camera for Video
(MSRP: $1,299 body only)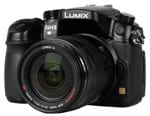 The Panasonic GH3 is the best camera for video we've reviewed this year, period. It even has stronger video features and performance than the professional cameras we compared it to (like the Canon 1D X and the Nikon D4). For this reason, it not only wins the award for this year's Best Camera for Video, but also the award for Best System Camera for Video. DSLRs and system cameras improved across the board this year in terms of video performance, but nothing approached the combination of value, features, and performance that Panasonic offers with the GH3.
Runner-up
(MSRP: $3,499 body only)
If you have more money to spend and you're weary of the Panasonic GH3 due to its Micro Four Thirds sensor and lens mount, then the Canon 5D Mark III is your next best option for video. Solely based on video performance, the Mark III didn't offer a drastic improvement over the previous 5D Mark II, but the slight adjustments made by Canon did make for a better video camera. Noise levels were lower and the 5D Mark III is nearly capable of seeing in the dark thanks to its high ISO options. You can record video with just about any amount of light with the Mark III, which is one of the cameras few advantages over the Panasonic GH3.
Read the Full Review of the Panasonic GH3
Read the Full Review of the Canon 5D Mark III
---
Best Value System Camera for Video
(MSRP: $1,149 with 18-135mm kit lens)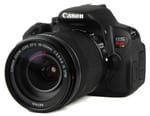 The Canon T4i is the first DSLR to feature two unique features, both of which are helpful for recording video: a silent, continual autofocus function and a touchscreen LCD. The autofocus is the more noteworthy of these features, as it enables videographers to use the T4i on the fly without having to rely on manual focus if they're in a pinch. The touchscreen may not win everyone over, but it does make for easy access to controls and options in video mode. With these two features, the Canon T4i is the first true DSLR that really competes with the mirrorless system cameras when it comes to autofocus and handling in video mode. This, combined with the camera's strong scores in our video performance tests, make it the best value option for those who want to shoot video with a DSLR.
Runner-up
(MSRP: $749 with 18-55mm kit lens)
Sony's line of NEX system cameras all are capable of recording excellent video, but the NEX-5R offers the best value of the bunch. Like the Canon T4i, the NEX-5R handles autofocus very well, and, although the camera doesn't have a fully rotatable LCD, it does have a screen that tilts up and down to accommodate various shooting angles. In terms of performance, the NEX-5R basically matched the Canon T4i in our video tests, but we gave the Canon an edge in handling thanks to its better grip and easier access to video controls.
Read the Full Review of the Canon T4i
Read the Full Review of the Sony NEX-5R
---
Best Point-and-Shoot for Video
(MSRP: $599)
There are some point-and-shoot cameras out there with the capability to record video that looks as good, if not better, than many dedicated camcorders. The Panasonic FZ200 is certainly one of them, with its Full HD 60p video mode producing smooth video with impeccable sharpness. Strong manual controls in video mode, most of which are adjustable during recording, gives this camera a clear edge over the competition when it comes to video. If you have the FZ200 in your mitts you probably won't ever need a regular camcorder, unless you specifically want more video controls, better audio, and handling that is more suited for shooting video.
Runner-up
(MSRP: $349)
Sony isn't too shabby when it comes to the video features on its point-and-shoot cameras either. Deciding on this runner-up award came down to a judgment call between three Sony models: the RX100, the HX200V, or the HX30V—all of which did a good job in our video tests, ranking in just behind the Panasonic FZ200. We ended up choosing the HX30V because of its design, figuring that it is small enough to fit in your pocket, but also packs a decent zoom lens, which is a necessity when shooting video.
Read the Full Review of the Panasonic FZ200
Read the Full Review of the Sony HX30V
Our editors review and recommend products to help you buy the stuff you need. If you make a purchase by clicking one of our links, we may earn a small share of the revenue. Our picks and opinions are independent from any business incentives.