When it comes to capturing sports and action on video, there are a few qualities that are particularly important in a camcorder. Probably the most essential is a decent zoom range, to make sure you can get close-ups of players across the field, court, or rink. But there are a number of lesser features that can be pivotal in getting the footage you really want.
Slow-motion modes can add drama to crucial plays, a good pre-recording buffer can make the difference between getting and missing the action, and a good wide-angle is necessary if you want to capture the broader picture. Oh, and good video quality probably won't hurt. Rarely do all of these wishlist features come together in a single model, but there are many camcorders that present an attractive, sports-friendly package.
Sony HDR-CX760V ($900-$1,299)
The HDR-CX760V (our 2012 Camcorder of the Year) might not be cheap, but it's one of the best camcorders currently available, and would be a great investment for anyone who spends a lot of time shooting sports. The 10x zoom isn't the biggest out there, but it's plenty for most purposes. More importantly, it provides great optical quality in glorious 1080/60p. Extremely effective image stabilization will help with quick panning, and improved low-light sensitivity means it should be as comfortable shooting indoor sports as outdoor ones.
It also has a hefty 96GB of internal memory, meaning you can shoot for a good, long while without having to go through the hassle of changing memory cards. However, you can always add more capacity through the SD/SDHC and Memory Stick PRO Duo slots.
While this model does have some slow-motion capability, it's fairly limited compared to some competitors. Essentially, Smooth Slow Record lets you record three seconds at 240 frames per second; it's then played back at 60fps, giving you 12 seconds of slow-motion footage. Useful for one brief burst of action, but not much else.
---
Panasonic HC-V700 ($348-$599)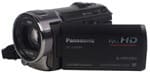 Though not quite the equal of the Sony when it comes to pure image quality and features, the Panasonic HC-V700 is a fantastic value at its asking price. Excellent manual controls, fluid 1080/60p recording, good stabilization, and an extremely useful 21x zoom range will help potential sports shooters. Another useful feature is Pre Record, which continuously buffers three seconds of video; when you hit record, the camcorder has already captured the three seconds before you pressed the button.
The V700 does have its foibles. There's no slow-motion shooting mode, for one, and it doesn't offer the best low-light performance either. But it's still the best bang-for-the-buck proposition on the market today, making it our 2012 Mid-Range Camcorder of the Year. If you want high-end video performance and expansive zoom range at a comfortable price, this is the way to go.
---
JVC GZ-GX1 ($649-$699)
What JVC's camcorders lack in all-around quality, they tend to make up for with a slew of special features. Sure, sometimes they're gimmicky, but they're fun to have around. The GZ-GX1 doesn't have great handling, impressive battery life, or the best user interface, but it does have one of the best slow-motion modes available today, with no time limit and 300fps (5x slow) recording.
It has some other neat tricks up its sleeve, too. WiFi might not seem all that useful in a camcorder—especially for sports purposes, because soccer fields don't have WiFi—but if your local hockey rink has a router you could conceivably use the GZ-GX1 to live-stream your kid's hockey game. Then there's the camcorder's Auto Record function, which automatically begins rolling when a new subject comes into view. Imagine setting this up at the goal line of a football field or the finish line of a foot race and you'll begin to see the possibilities.
---
Samsung HMX-W300 ($100-$159)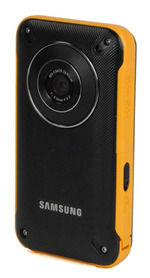 We'll just say this right up front: The Samsung HMX-W300 is not a very good camcorder, certainly not in the same league as any of the other models mentioned in this article. Video quality is actually pretty good, even in low light, but there's no zoom whatsoever, manual control is pretty much nonexistent, and it lacks any of the other handy features we've talked about.
So why are we recommending it? One simple reason: It's waterproof down to 16.4 feet, and it costs less than $150. If you're into water sports, it's a handy thing to have poolside, or even in the pool. More serious videographers will probably invest in a video-capable DSLR with a waterproof housing, but such a setup will easily put you into four-figure territory. If you want to get it done on the cheap, no current model will do water footage better.
Our editors review and recommend products to help you buy the stuff you need. If you make a purchase by clicking one of our links, we may earn a small share of the revenue. Our picks and opinions are independent from any business incentives.