The Best Portable Photo Printers of 2018
By Keith Shaw
While most of our photographs now reside comfortably inside our smartphones or live in the cloud via social media or online storage sites, it's still nice to have a physical photo you can hang on the refrigerator or put in a photo album. Many options exist for printing photos–from large multifunction printers to kiosks at the pharmacy, but there's a third option that can produce great images on the go.
After testing, we found that the Prynt Pocket (available at Amazon) is the best portable photo printer offering quality images and the best portability. However, if the printer's mobility and size is less important to you, we discovered that the Canon Selphy CP1300 creates even better quality prints.
Most of the new printers are so small that they can fit in your hand. They produce smaller prints—2x3-inches rather than the standard 4x6-inch or 5x7-inch prints you see on a desktop printer.
For today's selfie-obsessed population, the smaller prints are meant to be shared with friends rather than placed in a photo album. Most of the prints include a sticker backing, so you can stick them to a wall, inside a locker, or other non-adult location. In addition, you can add things like borders, text, and funny stickers—just like you would with Instagram or Snapchat. My kids got mad when I wanted to just print a plain photo.
Our list of printers to choose from came down to six models from Canon, HP, Kodak, Polaroid, and Prynt. We included two printers that produce 4x6-inch images since they're still smaller than the standard-size photo printers.
Here are the best small photo printers, in order:
Prynt Pocket
Canon Selphy CP1300
Kodak Mini 2 Instant Photo Printer
Fujifilm Instax Share SP-3 SQ
Polaroid ZIP Mobile Photo Printer
HP Sprocket 100
Kodak Photo Printer Dock
Updated October 18, 2018
Advertisement - Continue Reading Below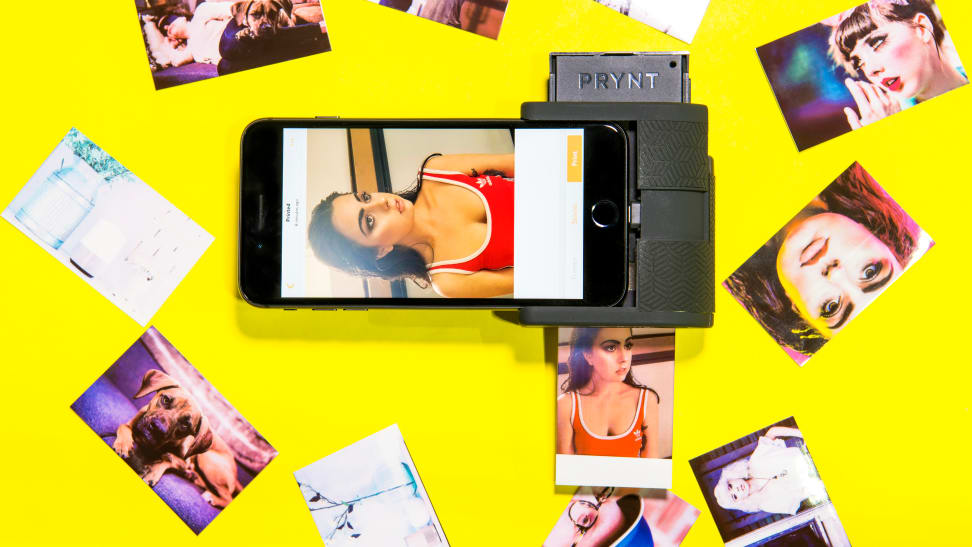 Prynt Pocket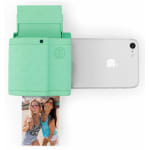 Prynt Pocket
Best Overall
The Prynt Pocket looks like a stout miniature docking station for your smartphone, but instead of giving the phone extra battery life, it will print photos which come out from its side (about 90 degrees from the direction of your smartphone). The main benefit about this direct connection from the phone to the printer is an increase in speed. Other mobile printers we tested required a Bluetooth connection, which slowed down the printing process.
The Prynt produced good quality color photos, and even better black-and-white images, although some of the other printers we tested produced better images. But the speed and portability of the Prynt Pocket put this at the top of our list.
The company recently launched an unlimited paper subscription plan if you really like printing photos – for $35 every two months, you get an unlimited supply of paper. When the paper supply gets low, the app notifies the company to send you more. If you don't like that plan, you can buy packs with 20 ($9.99), 40 ($19.99) or 60 ($29.99) prints.
Right now, Prynt is only compatible with the iPhone, but the company has begun accepting pre-orders via a kickstarter for an Android version.
How we tested
We tested each printer with two smartphones—an iOS iPhone 7 and Google Pixel 2 (Android) by printing both color and black-and-white photos. The phones and printers were connected via Bluetooth. For each test, we noted how long each print took, using up as much photo paper as provided (usually the starter packs had about 10 prints).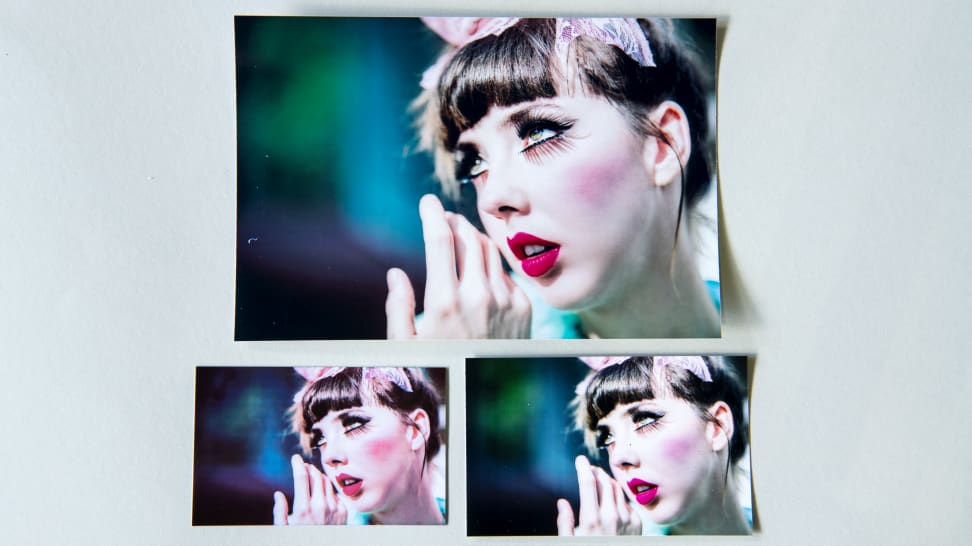 We attempted to print the same photos for each of the printers tested, but in some cases, we needed to print different photos. For example, when printing an image with sticker options or borders, it had to print from that vendor's app—not all borders and stickers are the same across printers. After all 10 images were printed, we had several judges look at the images and choose their favorites for photo quality.
As part of the test, we tried two models (a Canon and Kodak) that could produce 4x6-inch prints, but what you gain in image size, you lose in portability. All of the really small printers would print images with a smartphone app (connecting to the printers via Bluetooth), but the two larger models could also connect to a Wi-Fi network or print via storage device (SD memory card or USB stick).
What to know about the ink
The best part about these new printers is that they don't require separate ink bottles. Instead, most of them use the Zero Ink (ZINK) system—developed by ZINK Holdings and licensed to printer makers—which prints in a single pass onto thermal paper. The Kodak and Canon printers, however, use dye sublimation cartridges, which also don't require separate ink canisters.
Who am I?
I'm Keith Shaw, and I've reviewed consumer technology products for more than 15 years, including several photo printers both large and small. I still own a scrapbook filled with some really bad instant photos I took as a child—the beauty of today's technology is that you can retake photos with your phone before printing them.
---
Other portable photo printers we tested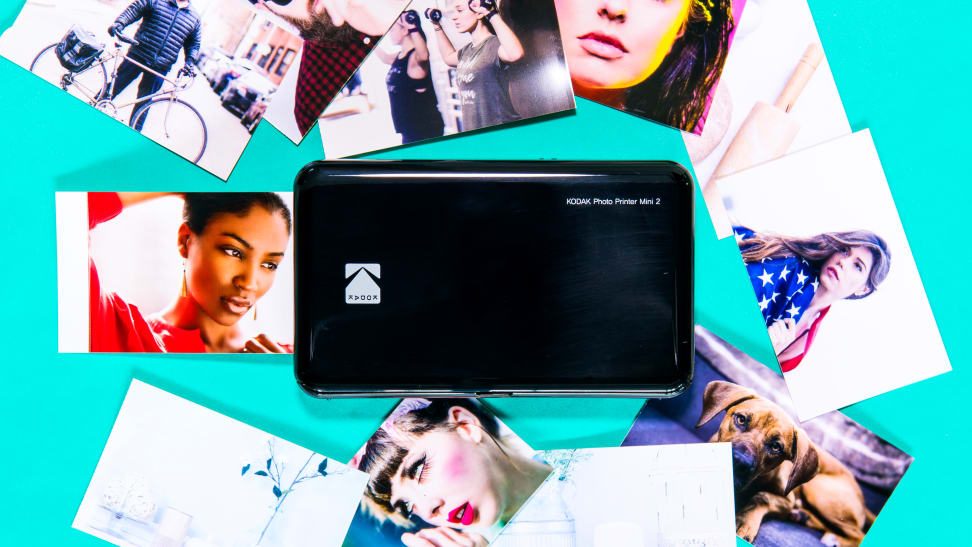 Kodak Mini 2 Instant Photo Printer
Kodak Mini 2 Instant Photo Printer
This small unit doesn't use the ZINK system, but rather relies on a small dye sublimation ribbon cartridge, similar to the Canon Selphy printer, but at a smaller size. It prints 2x3-inch images and connects to smartphones via Bluetooth or near-field communication (NFC) technology. Kodak sells the ribbon and paper in bundles of 20, 30, and 50 sheets.
In our tests, it produced the best quality images of all the smaller printers, but this quality came at the price of speed—the printer was a lot slower compared with the others we tested. In some cases, the app stalled when processing a photo or sending it to the printer. We also enjoyed the apps from the other printers more than the Kodak app.
Fujifilm Instax Share SP-3 Mobile Printer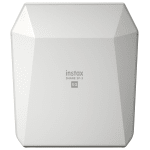 Fujifilm Instax Share SP-3 Mobile Printer
If you're older than 30, the photos produced by the Fujifilm Instax Share will remind you of Polaroid instant cameras from the 1970s and 1980s. Photos print somewhat quickly, in general under a minute, and its quality for colors was pretty good. Like some other modern portable photo printers, this mobile printer doesn't require ink. Instead it uses special paper and film that you buy separately.
The app features Instagram-like filter options for modifying the images, such as changing something to black-and-white or sepia tone, or if you choose the "Intelligence filter," it will automatically adjust the image to the best possible quality. Unfortunately, the app lacks features that let you do more with your prints, like add fun borders or draw onto the image like with other apps/prints.
The smartphone only connects to the printer via Wi-Fi. This is good and bad: On the good side, it's generally easier to connect to the printer's own Wi-Fi network, but you can't do anything else with your smartphone while connecting to the printer. On several occasions, the printer powered down and my smartphone re-connected to my home Wi-Fi network, requiring me to change my phone's Wi-Fi settings once the printer came on again.
Polaroid ZIP Instant Photoprinter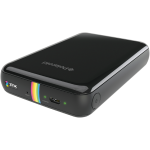 Polaroid ZIP Instant Photoprinter
It's not surprising that the company that invented instant photo printing also has a mobile photo printer. What surprised us was how average the prints looked. The 2x3inch prints looked darker or flatter than those from the Kodak or Prynt device. Polaroid sells ZINK paper in packs of 20, 30, or 50 prints.
Like the Kodak Mini 2, we experienced some stalls during the photo processing portion of printing, requiring us to restart the app and try again. Battery life was also an issue – the printer required a recharge before we could print our 10th photo—it felt like the printer would last longer than just nine photos before needing more power.
On the plus side, the Polaroid app was fun to use—it was very intuitive and let us add fun things like borders, stickers and other designs to our photos before printing.
HP Sprocket Photo Printer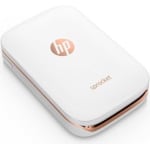 HP Sprocket Photo Printer
The HP Sprocket looks almost exactly like the Polaroid ZIP model—it would be hard to tell them apart if you didn't see the company's logo on the printer. Since both use the ZINK paper system, they have the same loading procedure, and in theory, the same photo quality.
The difference between HP and Polaroid came down to the apps—the HP was a bit more difficult to use than the Polaroid app. However, HP required a firmware update that also gave me additional borders and stickers to use. We didn't experience any photo stalls and most of our photos printed in about a minute. Regarding image quality, however, there were better options from the other printers we tested.
4x6 photo printers
These printers are more likely to stay on your desk, but are still smaller than a standard photo printer.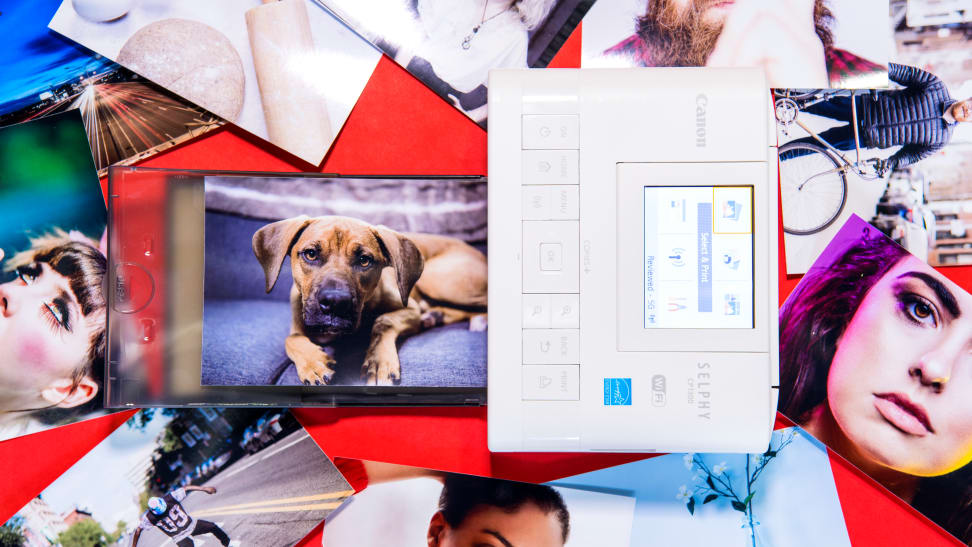 Canon Selphy CP1300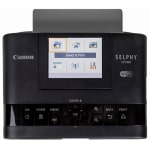 Canon Selphy CP1300
The color and black-and-white prints produced by the CP1300 were outstanding. If you're willing to sacrifice some portability to print 4x6-inch images of higher quality, this unit is worth a look. In our tests, it out-performed the Prynt Pocket in every category except portability.
It's still much smaller than a standard desktop photo printer or multifunction unit, but it requires a power outlet, which means you won't be able to print photos while hiking or boating. (Although Canon now offers a bundled printer and battery, which we did not test for this review.)
This printer doesn't use the ZINK system for printing, instead choosing a cartridge style that can produce a limited number of photos before it needs to be replaced. One cartridge produces all of the color images, so you don't need to buy separate cyan, magenta, yellow, and black, like for a regular printer.
The CP1300 can connect to your Wi-Fi network, or print from an SD memory card or USB memory stick. One downside—there's no app to print from your phone, so you would need to transfer those images to a memory card or your computer before printing.
Kodak Photo Printer Dock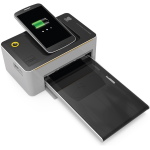 Kodak Photo Printer Dock
This printer, which prints 4x6-inch photos, also requires a power source. It's more likely to sit on your desk or an end table rather than inside a backpack. A cool feature of this printer is its ability to dock your smartphone—similar to the Prynt Pocket, but without the portability.
Like the Mini 2, this model uses the dye sublimation ribbon cartridge when printing photos, and you can connect to a Wi-Fi network if you want to print images from a computer instead of a phone.
Two things doomed this printer—first, our photos took a long time to print, the longest of all those tested. Second, we were unhappy with the Kodak app to print the photos. Similar to the Mini 2, it stalled a few times when trying to print, which shouldn't have happened since the phone was directly connected to the printer.
Advertisement - Continue Reading Below