Others wondered whether there was even room for another camera in the Olympus lineup. With a spread of only $400 between the bottom-rung E-PM2 and the flagship OM-D E-M5, and with all three cameras using the same sensor, the company's customers were already spoiled for choice.
As it turned out, the E-P3 replacement was just a little slow in coming. And as for space in the lineup? Well, Olympus doesn't seem too worried about that. The PEN E-P5 (MSRP $999 body-only, $1,449 w/ 17mm lens and VF-4 viewfinder) is identical to the OM-D in terms of sensor, image stabilization, and—most importantly—price.
So the only remaining question is: Why?
Why would you choose this camera over the OM-D? Why would Olympus release two very similar cameras at the same price? Why, for that matter, would you buy a $1,000 Micro Four Thirds camera when you can get a great APS-C mirrorless or DSLR for south of $700 these days? We put the E-P5 through a veritable gauntlet of lab tests and real-world shooting scenarios in the pursuit of answers.
Video Review
## Features #### A mini OM-D, more or less (but mostly less) Both the E-P5 and OM-D are enthusiast cameras, packed with plenty of manual controls and advanced features. So where do they differ? Well, the E-P5 lacks the OM-D's built-in electronic viewfinder, weather sealing, magnesium alloy build, and optional add-on grip. Sounds like a lot's gone missing, right?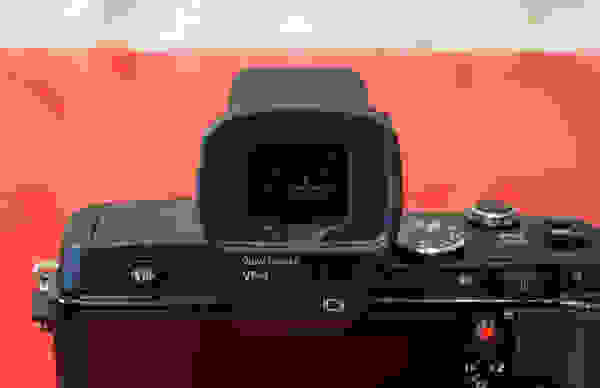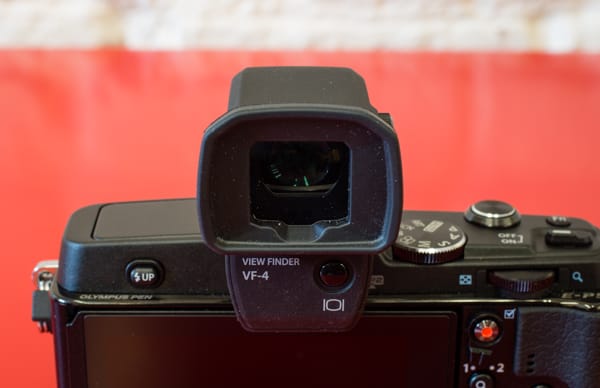 Yep, that's true. But the E-P5 also has a few notable advantages. Its maximum shutter speed (1/8000 sec), faster flash sync speed (1/320 sec with the on-board flash), focus peaking (long-awaited), and enhanced control options (via a unique dual-position switch) are real plusses. The image stabilization system has been improved to detect panning and disable IS on that axis, and Olympus claims that the E-P5's autofocus system is the fastest on the market—even quicker than the already blazing OM-D. In our experience, the claim holds water.
While the E-P5 doesn't have an EVF by default, Olympus has a fix for that. The new hot shoe–mounted VF-4 accessory finder (included when you purchase the prime lens kit) is much bigger and higher-res than the OM-D's, which was already very good. It works incredibly well even in dim light, and provides a magnificent 1.48x image magnification. Along with the tilting 3-inch rear LCD (downgraded from an OLED panel on the OM-D), it allows for a lot of creative framing possibilities.
Need more? How about built-in WiFi? Okay, we yawned too—and the feature flat-out doesn't work on Android (yet, we assume). But it did function pretty well on our iOS devices, once we got it working. [Editor's note: The updated Android app was released on June 28th, but unfortunately we no longer have an E-P5 to test it with.]
Sadly, the E-P5's new QR code–based setup process isn't any more convenient than older WiFi pairing solutions.
Sadly, the E-P5's new QR code–based setup process isn't any more convenient than older WiFi pairing solutions, since you still have to manually select the camera's WiFi network if you're in range of another network your phone is familiar with. (And when aren't you, these days?) The Olympus Image Share app, meanwhile, provides remote viewfinder functionality, image transfer, and Art Filter post-processing, all of which is just lovely.
Video is limited to 1080/30p, though Olympus gives you plenty of control over recording parameters. You can set shutter speed, aperture, ISO, and white balance (though only before you start recording); you can use any color profile or Art Filter (though they may reduce the recorded frame rate); and you can take advantage of the camera's 5-axis image stabilization during movie recording.
Continuous shooting capability is top-notch for an M43 camera. Olympus quotes it at a maximum of 9 frames per second, but we recorded up to 11.5 fps over a five-shot burst. The buffer will give you plenty more before slowing down, and the max frame rate can be achieved when shooting JPEG, RAW, or RAW+JPEG.
Design & Handling
Swings and roundabouts
While we were big fans of the OM-D, we weren't entirely sold on its handling. The buttons were unsatisfying, the dials awkwardly placed, and the eye sensor a little finnicky. The grip could have been bigger, but at least Olympus gave you the option of buying a separate two-part battery grip to get some real purchase. In comparison, the E-P5's design makes some gains in key areas, but gives just as much away.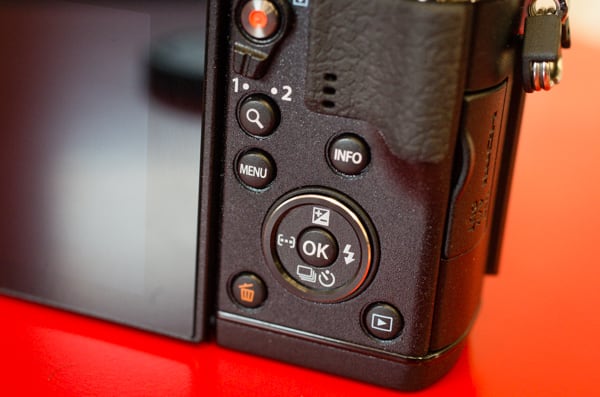 The first thing we noticed was the undersized and oddly proportioned front grip, which left our fingertips in a weird no-man's-land between the lens mount and raised grip area. It's nearly identical to the grip from the E-PL5, and it's no better here. The key difference is that the E-P5's grip isn't removable (and thus isn't potentially upgradeable) like the E-PL5's is, and there's no first-party battery grip option like there was on the OM-D.
Good news: The E-P5's button feel is generally more positive and less of a mushy mess than the OM-D's, probably due to the lack of weather sealing. Bad news: The shutter button—the one place where it's good to have a little mush—doesn't feel nearly as nice. But that's the extent of the bad news on the handling front. Everything else is gravy.
For example, the E-P5's dual control dials are positioned more naturally than they were on the OM-D, directly under your index finger and thumb. This camera also has the benefit of a nifty lever around the video recording button, which can be mapped to provide alternative functions for the front and rear dials, the movie button, or the lever itself. The mode dial has been moved over to the right side of the hot shoe, which means you can just about use the E-P5 single-handed.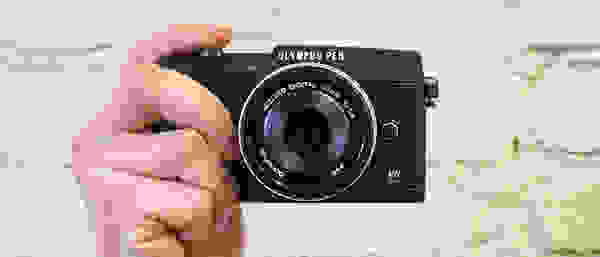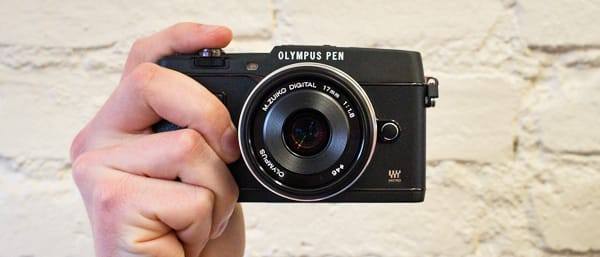 Those who have used an OM-D may recall one particularly annoying quirk: If you took a shot with the EVF to your eye, there was no way to get instant review to transfer to the rear display. We're happy to report that the behavior has been corrected with the E-P5/VF-4 combo. And the VF-4 itself, as we've already mentioned, is brilliant. If you're going to buy the E-P5, do yourself a solid and buy it with the lens/finder kit; even if you don't want the 17mm lens, you can flip it and essentially get the finder for free.
The VF-4 finder is brilliant. If you're going to buy the E-P5, do yourself a solid and buy it with the lens/finder kit.
The E-P5's menu system is bog standard Olympus M43, which is to say that it's deep and confusing in equal measure. If you can think of a setting you want to adjust, you can probably do it. The only problem is finding the right needle in the haystack of enigmatically named options.
(One classic example is the Super Control Panel, a take on the now-common Quick Menu. One of the best features of the Olympus interface, it's inexplicably deactivated by default. What's more, in order to turn it on you need to dive into the custom menu, then the incomprehensible "D. Disp/(speaker icon)/PC" sub-menu, then "Control Settings," and then the shooting mode you want to adjust. Once there, you need to enable "Live SCP." Because that means anything to anyone.)
Image Quality
A typically potent performance package
We tested the E-P5 with the bundled 17mm f/1.8 prime lens. Though it's not the sharpest prime we've ever used, it still has a significant resolution advantage over the Olympus 14-42mm and 12-50mm kit zooms, almost by default. As usual for a M43 lens, the 17mm peaks in resolving power from f/2.8 to f/4, after which diffraction begins to take its toll.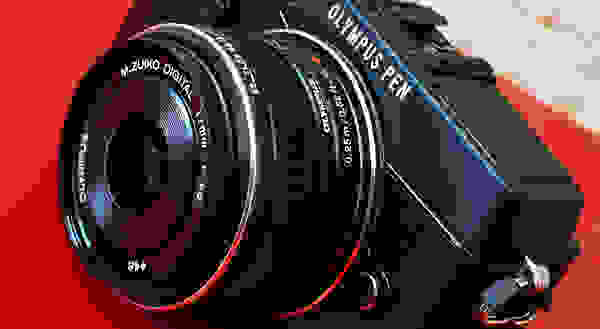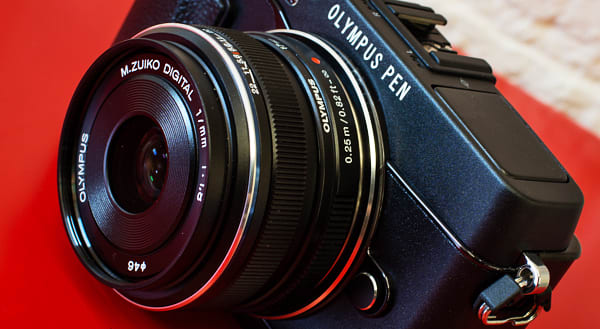 Barrel distortion is severe in RAW shots, but it's automatically corrected in JPEGs and in most RAW developers, so it's essentially a non-issue. We did observe plenty of chromatic aberrations (purple and green fringing) in high-contrast shots, though.
The E-P5 controls image noise quite well through ISO 800, where noise levels remain below 1%, even with noise reduction turned completely off. Noise doesn't top 2%—typically our cutoff for a print-quality photo—until ISO 6400; with NR turned on, you can use ISO 12800 in some cases as well. Our advice is to avoid ISO 25600 unless you have no other choice. Noise reduction is applied pretty tastefully at the Low and Standard settings, but High was too smeary for our tastes.
The E-P5 produced extremely accurate colors—among the best we've seen from a compact system camera, and very similar to what we saw from the E-PL5.
In its most accurate picture mode, Muted, the E-P5 produced extremely accurate colors—among the best we've seen from a compact system camera, and predictably very similar to what we saw from the E-PL5. Saturation was near perfect at 102.9% of ideal. Even so, most shooters will prefer the Natural picture mode, which amps up saturation to 108.2% but keeps color errors very low, producing a more vibrant but still accurate image.
Videos from the E-P5 were very sharp, and benefited in terms of smoothness from the highly effective 5-axis image stabilization. Still, movies weren't as smooth as what you'd get from some competing models since the camera doesn't offer 60p recording. At 1080/30p, video is clear and reasonably fluid, though there's some visible trailing on moving objects and some minor artifacting even in good light. Sharpness drops slightly in low light, and artifacts become more severe as the sensor ramps up the ISO setting.
For more detailed test results, check out The Science.
Conclusion
Why can't you be more (or less) like your brother?
The Olympus PEN E-P5 is an excellent camera, and in the aggregate it's probably just as capable as the company's reigning flagship—particularly once you factor in the optional VF-4 finder. But why should you pick it over the identically priced OM-D?
Beyond looks, there are really very few convincing arguments in favor of the E-P5. On the other hand, there are plenty of reasons to choose the OM-D.
It may sound silly, but we think that for many buyers, the choice will ultimately come down to looks—because otherwise there's so little to set them apart. The PEN E-P5, as its name suggests, recalls the rangefinder-style PENs of the '60s and '70s, right down to the iconic font above the lens mount. The OM-D, on the other hand, reaches back to the OM-1 SLR for aesthetic inspiration, keying off its pyramidal viewfinder hump.
Both cameras are decidedly "retro," but their different shapes evoke different psychological associations. The OM-D wants you to think that it's a lightweight, go-anywhere replacement for a professional DSLR, while the E-P5's styling suggests it be used for street photography and candid reportage. It's an odd distinction, since the two are all but identical on the inside; you can obviously shoot anything you want with either camera, but how you view yourself as a photographer may determine which one you gravitate toward.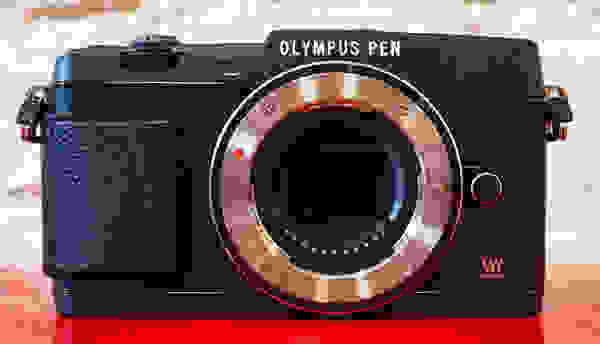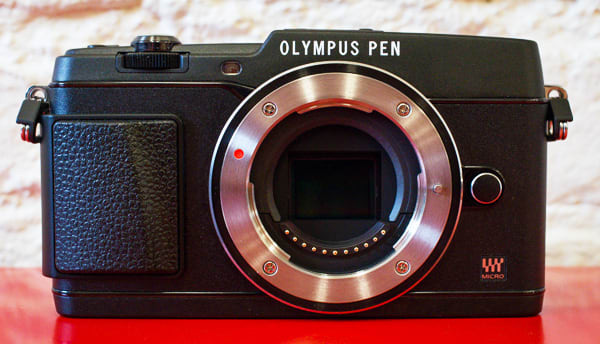 Beyond looks, there are really very few convincing arguments in favor of the E-P5. On the other hand, there are plenty of reasons to choose the OM-D: weather sealing, an integrated (if marginally less useful) EVF, and the option to add a secondary battery grip.
One question from the beginning of this review hasn't yet been addressed: Why buy either of these cameras when you can get a great APS-C body for nearly half the price?
We find ourselves in an odd position: We love the E-P5, but can't wholeheartedly recommend it.
There are only two legitimate answers: size and weight. The OM-D and E-P5 shave a little in each category, but the greatest savings come from Micro Four Thirds lenses, which are all smaller than their APS-C and full-frame counterparts and can drastically reduce the bulk of your overall kit. A M43 camera with a pancake lens can easily fit in a jacket pocket, while a DSLR will have to hang around your neck or slot into a bag.
As for image quality, the 16-megapixel Olympus M43 sensor—now a year and a half old—is remarkably good, but it's no match for the latest Sony and Toshiba-produced APS-C designs. If ultimate image quality is your goal, you can get a lot closer to perfect with a cheaper camera.
So we find ourselves in an odd position: We love the E-P5, but can't wholeheartedly recommend it. This is undoubtedly a camera capable of producing great images, but it doesn't do enough to move out of the shadow of its older sibling. If the distinctive PEN design and advanced feature set appeal to you, we have no doubt that you'll be happy with the E-P5. But if you want to get the best image quality for your money, or even the best Micro Four Thirds camera for your dollar, you'll need to look elsewhere.
By the Numbers
Since the Olympus E-P5 (MSRP $999–$1,449) shares a sensor with two cameras we've already reviewed, we had certain well-founded expectations for its color accuracy, white balance, noise performance, and dynamic range. We also expected the camera to score quite a bit better in sharpness than its stablemates, since it's only available in kit form with the highly regarded Olympus M.ZUIKO 17mm f/1.8 prime lens. In each case, our expectations were borne out by the lab data.
Sharpness
Prime lenses make life easy for us camera testers. You only have to deal with one focal length, and as a rule they tend to be superb performers.
We wouldn't call the 17mm f/1.8 "superb," exactly, but it's definitely very good. When shooting wide open at f/1.8, the extreme corners and borders show some softening (probably due to field curvature), but the center of the image is very sharp from the get-go. All areas of the test chart show some pretty heavy green chromatic aberration, however. You can easily correct it in a good RAW developer like Adobe Lightroom, but it's annoying that you'll need to take that step.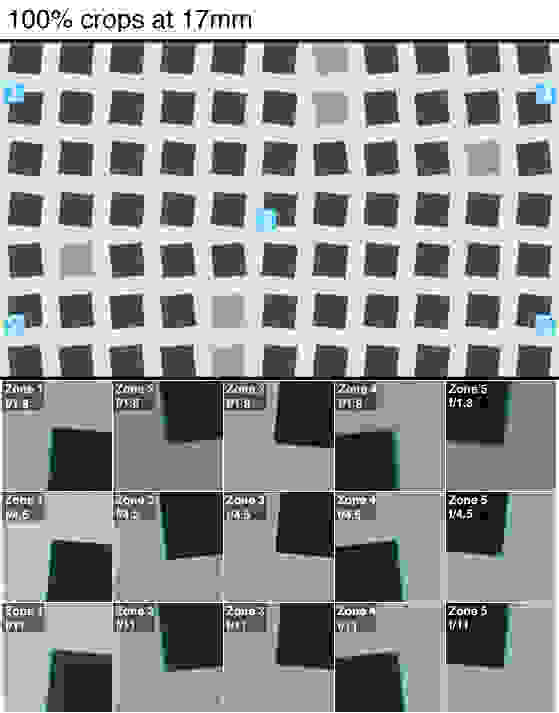 The lens is sharpest at f/2.8 to f/4, after which the resolution gradually trails off due to diffraction. That said, it's still plenty sharp all the way down to f/11, if you need the extra depth of field. Vignetting is noticeable at f/1.8, but by f/2.8 it's mostly gone.
Noise & Noise Reduction
Like other Olympus Micro Four Thirds cameras, the PEN E-P5 offers four JPEG noise reduction settings: Off, Low, Standard, and High. With noise reduction turned completely off, we found that noise levels didn't top 1% until ISO 1600, and didn't cross the 2% barrier until ISO 6400.
Cranking up the noise reduction gets you about a stop of noise per level of NR. In other words, ISO 1600 with NR tuned to Standard looks like ISO 800 with NR tuned to Low, and so on. When it's turned all the way up to High, you never get more than 2% noise, even at ISO 25600.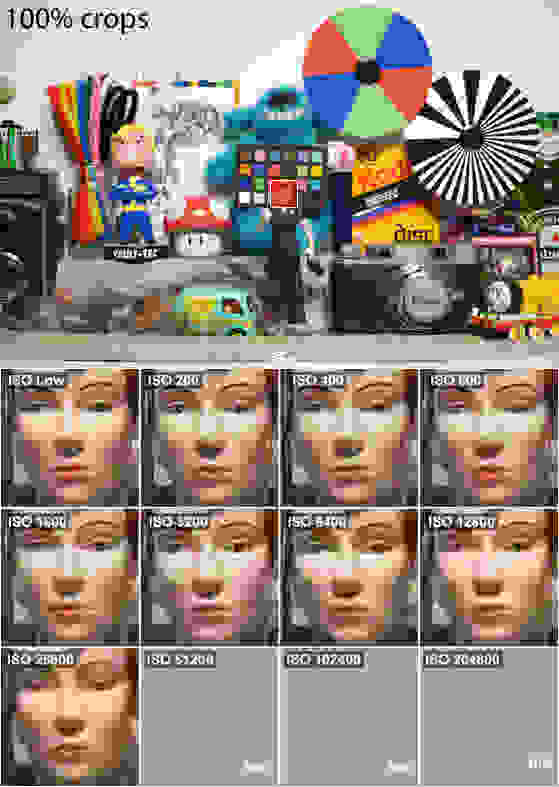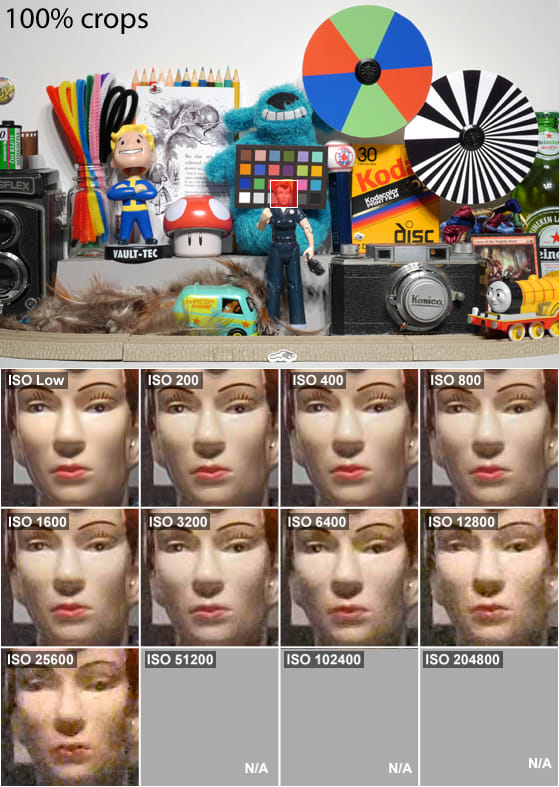 Of course, images shot at high sensitivities with High NR look pretty awful. All detail gets smeared away and the whole shot ends up looking like a watercolor painting. (Actually, that might be a great time to use the Watercolor Art Filter.)
In general, we would recommend sticking to shooting RAW and applying your own noise reduction in the editing suite of your choice. But if you're dead-set on shooting JPEG, don't go with more than Standard NR, and don't shoot above ISO 3200 if you can avoid it. ISO 6400 and 12800 are ok in a pinch, but ISO 25600 should be verboten.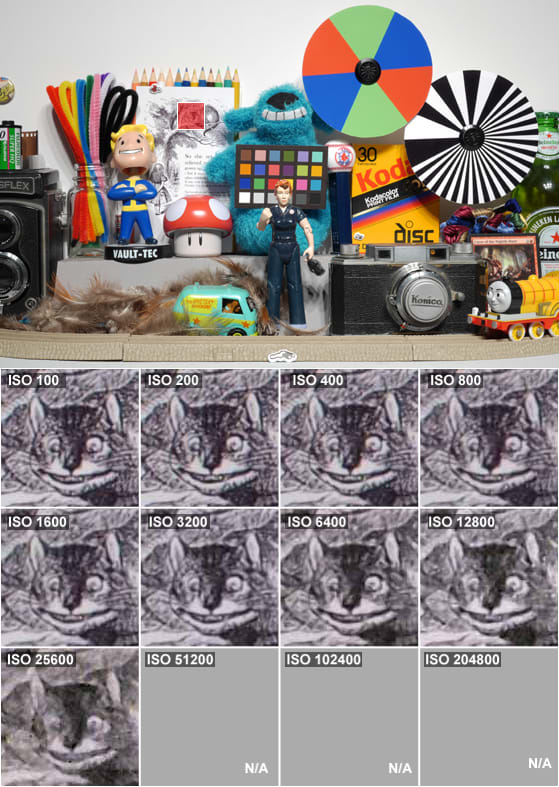 Color & White Balance
In recent generations, the majority of Micro Four Thirds cameras have excelled at JPEG color accuracy; the E-P5 carries on that tradition. In our standard color test, the camera produced an average ∆C 00 corrected color error of just 2.29 and saturation of 102.9% when shooting in its most accurate color mode, Muted. Typically, anything under 2.5 is considered very good, and the best we ever see is around a 2.0, putting the E-P5 firmly in the "excellent" range.
The largest errors were in reds and blues, though light greens also showed a little variance. Really, though, performance was very consistent across the board. The Natural color mode was also quite accurate, with an average error of 2.51, but it pushed saturation to 108.2% for a punchier, more vibrant look. If you want to take your colors way overboard, use the iEnhance or Vivid color modes, which amped saturation to well over 120%.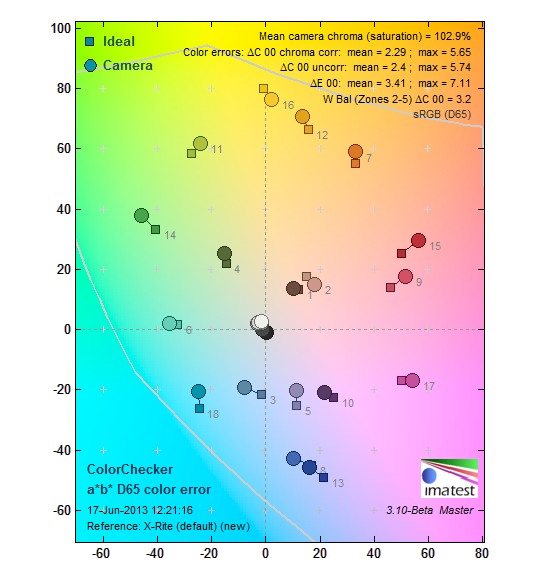 The E-P5's automatic white balance was surprisingly accurate under incandescent light, with an average temperature error of 1188 K. While this did lend a slightly warm tone to indoor shots, it's also a lot better than many competing cameras could manage in the same conditions. (Historically, an average error of 2000+ K is more common.) AWB readings under compact white fluorescent (off by 225 K) and simulated daylight (70 K) were just as good as custom settings. That last one is particularly impressive, and means that your outdoor shots should look spectacular.
Manual white balance accuracy was perfectly acceptable, if not outstanding. Color temperature errors ranged from 218 K in simulated daylight (yep, worse than the AWB reading), to 113 K for CWF, to 89 K for incandescent.
Video Quality
While most system cameras today produce competent full-HD clips, they usually aren't the best choice if video shooting is your priority. There are exceptions—like the Panasonic GH3—but the E-P5 definitely isn't one of them.
The camera's 1080/30p video was quite sharp, but there's no 60p recording mode for silky-smooth output and you won't find a 24p option for that cinematic look. Clips are encoded in the MP4 H.264 codec and saved in a standard .MOV container—easier to work with but not quite as space-efficient as the newer AVCHD.
In good light, the 1080/30p footage showed plenty of detail and just a bit of trailing on moving objects. When 5-axis image stabilization was turned on, there was just the tiniest hint of rolling shutter when we panned quickly from side to side, but on the whole it was incredibly effective.
In poor light, sharpness dropped slightly and noise and compression artifacts became more apparent. That said, the results still looked quite good compared to many competing models. (The Samsung NX300, for example, had some of the best video we've seen in bright light but dropped off terribly in dimmer conditions.)
The E-P5 probably got a big boost in this tougher scenario from its highly sensitive CMOS sensor, which was capable of producing a broadcast-quality image (50 IRE) with just 5 lux of ambient illumination.
Meet the tester Ben Keough
Contributor
@ben_keough
Ben is an experienced industry journalist who formerly served as Senior Editor of News and Features at Reviewed. He now contributes as a freelance writer and editor. Most recently hailing from the vast wilds of the American southwest, he is an avid photographer who is deeply disturbed by the lack of wide open landscapes in Boston.
Checking our work.
Our team is here for one purpose: to help you buy the best stuff and love what you own. Our writers, editors, and lab technicians obsess over the products we cover to make sure you're confident and satisfied. Have a different opinion about something we recommend? Email us and we'll compare notes.
Shoot us an email