Cameras
Fantasea Introduces Underwater Housing for Nikon Coolpix S510
Fantasea Line, an underwater digital camera accessory manufacturer, this week introduced the FS-500 underwater housing case for the Nikon Coolpix S510 point-and-shoot. The external camera housing, priced at $200, features a new design and a depth rate of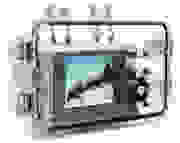 Oct. 10, 2007 - Fantasea Line, an underwater digital camera accessory manufacturer, this week introduced the FS-500 underwater housing case for the Nikon Coolpix S510 point-and-shoot. The external camera housing, priced at $200, features a new design and a depth rate of up to 200 feet (60 meters).
Geared for outdoor and underwater use, the new design promises improved durability with a double O-ring seals on controls, an anti-glare hood over the LCD screen, built-in diffuser, and an optional 46mm port ring thread for users to attach lenses and filters.
"The FS-500 is ideal for outdoor and underwater photographers, who can now quickly access all Nikon Coolpix features for capturing fast action pictures easily and creatively," according to a Fantasea Line press release.
Features on the Nikon FS-500 camera housing include controls for the following features: exposure compensation, flash, self-timer, macro, anti-shake, one-touch portrait, and D-lighting.
Fantasea Line claims the new housing will protect the Coolpix camera from water, dust, and other damaging elements. In the event of water leakage, Fantasea Line offers a free one-year flood-insurance policy on the Coolpix S500 digital camera.
For more information on the Nikon Coolpix S500 housing or other Fantasea Line products, visit www.fantasea.com.