Free content is an inevitable byproduct of a world in which anyone can quickly snap, edit, and share a photo over the internet. But there's an unfortunate side-effect: The photographers (and illustrators, and journalists) tend to get screwed. It's simply getting harder and harder to make a living as a photographer, and while social media makes it easier to get exposure for your work, the signal-to-noise ratio is ever-diminishing.
Bottom line: If you put your stuff up on Instagram, Twitter, or Facebook, it doesn't matter how many likes or retweets it gets—it's still not likely to make you any money. More likely, it's going to make money for someone else.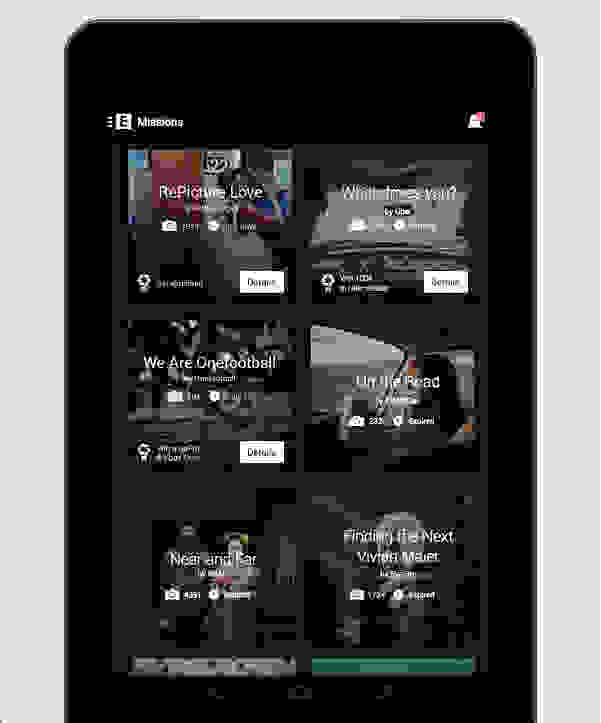 But one new photo-sharing app wants to put the photographer back in the picture: EyeEm promotes itself as both a community and a market for photographers.
Like Instagram, it's both a camera app (available for iOS, Android, and Windows) and a social network. The app includes the same kind of filters, settings, and sharing options found on Instagram, Twitter, and VSCO Cam. But it's the marketplace and "Missions" features that really set EyeEm apart from the pack.
Photographers simply select and approve the photos they want to sell, while buyers—be they editors, art directors, brands, or designers—search the EyeEm Market for images they'd like to use.
Revenues are split 50/50 between photographer and EyeEm. That's a lot less than you'd make from a private sale, but better than any other major social network can offer. It affords amateur and hobbyist photographers a venue to promote and sell their work in a community that's more visible and interactive than, say, a personal website or Twitter feed.
---
---
In addition to its marketplace, EyeEm operates a "Missions" program that allows brands to tap the community to crowdsource photographic content. For example, last December, Uber launched a "Discover Your City" Mission that challenged users to take photos of their hometown's hidden gems and undiscovered locales. Winners received an Uber voucher, publicity, and the possibility of selling their work.
Since its first Mission in 2013, EyeEm has drawn more than 370,000 images from over 220,000 contributors, according to TechCrunch. The company has also partnered with Getty Images, a leading stock image marketplace, to create an EyeEm-specific collection for Getty customers.
Ultimately, while EyeEm might not be the most lucrative promotional tool for established photographers, it's a viable solution for aspiring shooters looking to get their foot in the door.