Cameras
Nikon Coolpix P330 Digital Camera Review
Nikon's answer to the Powershot-S falls short of greatness.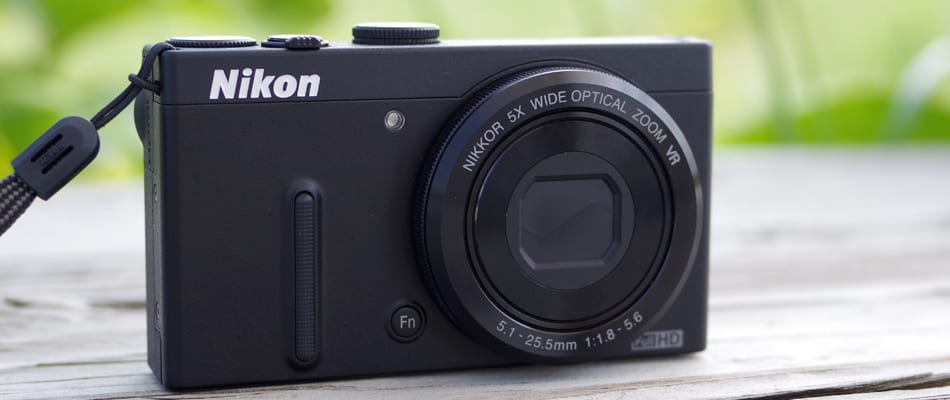 Credit:
Today's high-quality pocket cameras are more powerful than ever before. But, that presents a dilemma for manufacturers: it's harder than ever to differentiate a product when they're all pretty darn decent. For a long time, Canon had the high-end compact market figured out with its Powershot S-series—from the S90 onwards, the marque delivered performance and control in a teeny weeny package.
Nikon's Coolpix P330 (MSRP $379.99) shamelessly borrows from the winning formula that has kept the Powershot S relevant. First off, it's easily pocketable and designed for one-handed operation. Secondly, it has 5x optical zoom with a relatively bright lens. Finally, its CMOS sensor is on the larger end of the point-and-shoot scale, clocking in at 1/1.7". On paper, at least, it's got the right ingredients for success. But as any chef will tell you, a recipe is a starting point—you won't end up with a tasty dish unless it's cooked with care.
Design & Handling
Angular—but not in the endearing Volvo way.
The Coolpix P330 doesn't bring anything new or exciting to the table in terms of design. That's unfortunate, because this is somewhere Nikon could have separated itself from Canon. Instead, the P330 is a rectangular, boxy little camera with a better-than-average set of controls. The P330 is available in the speckled black we tested, as well as bright white.
The front grip in particular could have been quite a bit bigger.
We had no major complaints about using the P330 in the field; its handling was little different from most other point-and-shoots on the market today. Nikon has made a couple of design choices that add a little bit of ergonomic comfort, namely rubber bits on the front and back to provide some traction. The front grip in particular could have been quite a bit bigger, since it's still shallower than the lens ring. Those squared-off edges that look so sharp in press photos actually detract from the way the camera sits in the palm of your hand. A rounded camera simply fits your hand more snugly, lending a greater feeling of security when shooting one-handed.
Laid out on the back and top of this pocket cam are a greater number of dials and buttons than most point-and-shoots. There's even a function button on the front of the P330—a rarity on a smaller-bodied camera like this. There are two selection dials—one on the back and a horizontal one on the top. We were disappointed to find that they're preassigned depending on what mode you're using. The zoom rocker works as expected, with variable zoom speed depending on how far it's pushed. If we had one gripe with the control layout, it's that everything on the top is scrunched together, with little apparent thought put into spacing. The mode dial, top selection dial, and shutter button crowd around the flat, small power button, making it harder to press than it ought to be.
One baffling design decision involves the faux-ring around the lens. As we've seen with the Powershot S110, Olympus XZ-2 and even Panasonic's Lumix LF1, a functional lens ring can add yet another handy control. At first blush, the P330's beveled ring looks ready for action. It has an inviting texture that practically begs to be twisted and turned—except it doesn't budge. Pity.
Features
Bare-bones—but not in the Kate Moss way.
The most modern feature the P330 has to offer is GPS, which is handy for your memory when you're on a long vacation. Nikon makes a big deal about WiFi on this camera, but it's a mirage. You'll either need to equip an EyeFi card or shell out $60 for Nikon's WU-1a wireless dongle. There are smartphone apps for Android and iOS devices, allowing for image transfer and remote shooting. The WU-1a plugs into the USB port on the side of the camera, and appears to stick out a bit when mounted. It seems to defeat the very purpose of WiFi—why bother, when you still have to plug something in to something else?
The user interface is, for better or worse, completely button driven. Touchscreens have become popular, undoubtedly due to the ubiquity of smartphones and tablets, and they've become commonplace on many cameras, too. As we've seen on Micro Four Thirds cameras, a well-executed touchscreen can really legitimately improve things like selective focus (On the other hand, a bad touchscreen can kill the experience, too). Nikon has decided to do without on the P330, going with a fairly straightforward menu system. It's a little plain looking, but it's easy to navigate and has a shallow learning curve.
All the Instagrammers out there will be disappointed to find that you can't shoot with creative filters on the P330 (what you can do is choose from seven filters after a shot's been captured) There are only four color modes to choose from, which was a little disappointing. "Serious" photographers turn up their noses at some of the cheesier stylistic options out there, but for the regular shooter (i.e. a person who won't ever touch Adobe Lightroom), creative filters are a must.
Performance
Slow—but not in the Crock Pot way.
We were pleased by the photos we captured with the P330. Skin tones look right, autofocus was quick, and macro mode worked well. The major fly in the ointment wasn't anything involving image quality, however. It's that this camera is doggone slow.
It's slow starting up, taking a full five seconds from pressing the power button to being ready to capture an image. It's slow when poking around playback mode. It's slow changing options in the menu. It's slow to finish shooting a long-exposure shot, too. It gives you no feedback as to when it might be done processing the image. The camera seems frozen, with no indication that anything is going on, the screen showing black and nothing else.
It's difficult to recommend this camera to parents or pet owners because it's so slow—any cuteness you might want to capture with this camera will be long gone by the time the P330 is ready.
The lens/sensor combination is capable of producing some sharp shots. We found that the P330 was sharpest at its widest focal length (24mm), losing sharpness as we zoomed in. At its widest, the fast f/1.8 aperture provides decent shallow depth-of-field effects. We noticed a little oversharpening, no doubt thanks to this camera's overly aggressive JPEG engine. Finally, the P330 did an admirable job applying noise reduction. Even with the least aggressive NR mode, noise was kept below 2%, a benchmark we often use to represent an overly-noisy photo. The P30 is limited to a top ISO of 3200, and you lose a bunch of detail at that sensitivity. We recommend shooting between ISO 80 and 800 for the best results.
Video looked surprisingly clear. Thanks to the P330's native 1080/30p shooting mode, HD video is well-rendered and shows plenty of detail, with only a little bit of noticeable trailing around action. In lower light, we did notice quite a bit of graininess and some artifacts, but that's to be expected with such a small sensor.
Conclusion
Disappointing— at least at this price point.
Canon can relax: their Powershot S has nothing to worry from Nikon's P330. Despite its promising specs, the P330 just doesn't come together in a way that makes a lot of sense. In other reviews, we've made a big deal of the way smartphones have all but killed point-and-shoots. This camera seems to ignore that important fact, and feels like it's a relic from a bygone era because of it. There are no advanced sharing features, WiFi is a non-trivial add-on, and, it doesn't have any of the new-school creative features found in competing cameras.
The only place where Nikon is close to getting it right is with the P330's price tag. But, seeing how you could pick up a Powershot S110 for under $400 right now, the $25 you might save on the Nikon isn't worth it, given how much functionality you give up. If Nikon were to price this little camera at $299, it could be a halfway decent bargain based on image quality alone.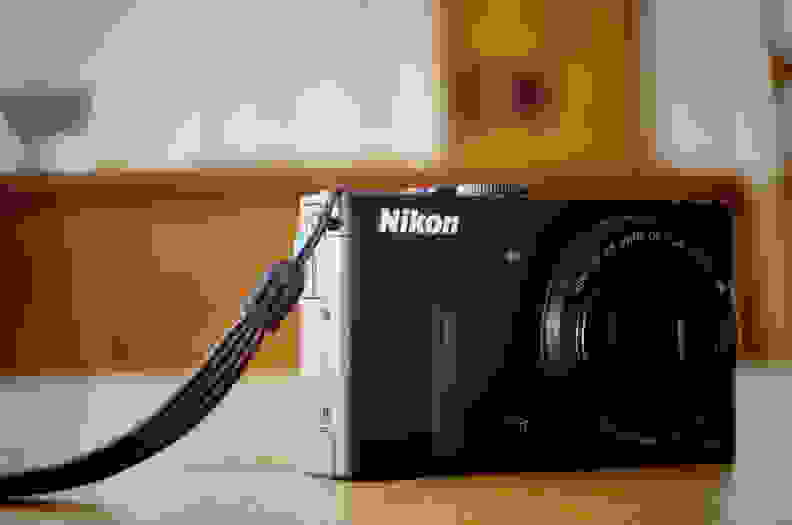 ...emphasis on halfway, though. The P330's such a lethargic performer that we'd be hesitant to give it a full-throated recommendation even at a lower price. This is a camera designed for spur-of-the-moment shooting; but the P330 loses the plot immediately when it takes such a long time to turn on. As a device designed for speedily capturing special moments, it fails. You'd be able to accomplish the same thing with a modern smartphone—a verdict that no camera manufacturer should think is acceptable.
By the Numbers
Each camera that graces our fine facilities is put to the test. In our labs,we evaluate cameras for a number of factors that can make or break the photographic experience. In our testing, we saw that the P330 is an above-average performer. We were most pleased with its video performance, which can be attributed to its default progressive 30 frames-per-second shooting mode.
Sharpness
In our sharpness testing, we saw nice, high numbers from this camera when it was used at its widest focal length. Using zoom makes sharpness drop off significantly, but that's the tradeoff you'll see with many compact zoom lenses. At its widest, we measured average resolution of 1957 lw/ph at MTF50. In the middle of its range, the P330 fell to 1696 lw/ph, and at its maximum focal length of 25.5mm, we saw an average of 941 lw/ph. Some of this sharpness is, undoubtedly, the result of some very aggressive JPEG sharpening. At the wide end we measured as much as 18% oversharpening in the most drastic of cases.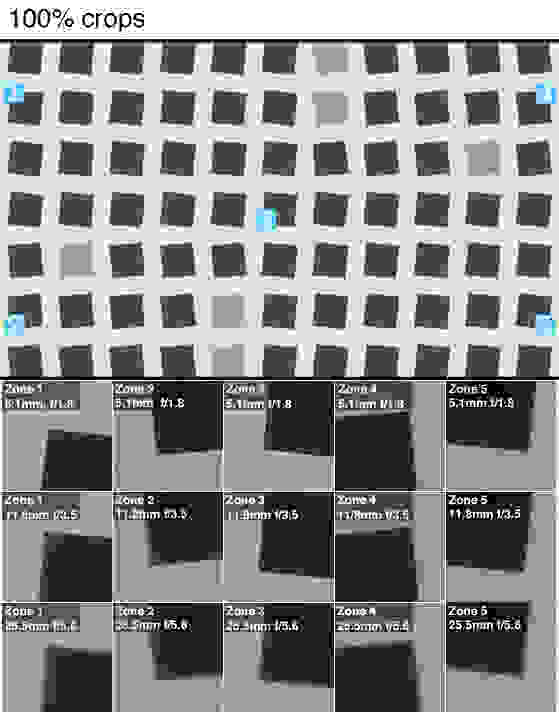 Color & White Balance
The P330 delivered fairly accurate color. We found that the most accurate mode was, unsurprisingly, Neutral. We measured a ∆C color error value of 2.60, a pretty spot-on score for a point-and-shoot. The other two color modes available to users are Vivid and Standard, and both were less accurate and oversaturated in different ways to achieve a certain look.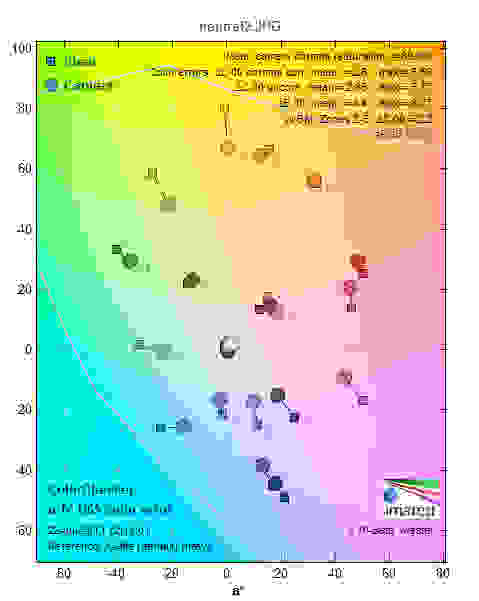 The always-tricky white balance test turned up some interesting results. Most cameras have a really hard time with incandescent lighting, and the P330 wasn't any different there. If we compare the custom and auto results we saw under incandescent light, the P330 left an obnoxiously orange cast over everything. Across the board, auto white balance messed up incandescent light, showing an error of over 2000 K. Check out the exaggerated incandescent results below.
Under different lighting types, the P330 did an acceptable job. Both daylight and fluorescent lighting were handled well, showing some error but way closer to the ideal than when we tested incandescent light.
Noise & ISO
The P330 allows for ISO sensitivities from 80 to 3200 (with two as far as enumerated settings go. We were pleased with the balance of noise and detail in most ISOs, and would recommend using the camera's capping to top off the auto range at ISO 800. We just don't think you'll be happy with the two highest ISO settings unless it's absolutely called for in a dimly-lit scene.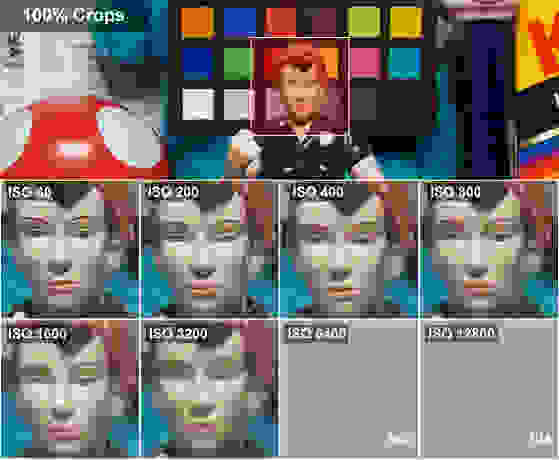 Nikon's noise reduction software is programmed to be pretty aggressive. We didn't see any noise numbers over 2%, even when using the camera's weakest setting. That aggressive NR makes for a big loss of detail when shooting at ISO 1600 and 3200, the penalty for the extra gain in sensitivity you get.
Video
Video shot with the P330 was exceptionally sharp, thanks in part to its 1080/30p default shooting mode. It's sharp and shows plenty of detail when used under bright light. In our bright light sharpness test, we measured 700 lp/ph horizontally and 675 lp/ph vertically. After we dimmed the light for our low-light test, we measured a reduced resolution of 657 lp/ph horizontally and 600 lp/ph vertically. It's surprising how little the resolution fell off in dim light.
Even though the P330 had no issues picking up detail in dim light, it does need quite a bit of light to produce an acceptable image. The minimum light needed to properly expose a scene is 18 lux, not the worst we've seen, but not the best by any means. It's a surprisingly good camera for recording HD video. Check out our sample videos below.