The LF1 is a more travel-friendly sibling to the flagship Lumix LX7, stuffing an optically stabilized 7.1x zoom lens, an electronic viewfinder, and a reasonable assortment of manual shooting controls into a body that's remarkably compact. It also comes equipped with some of the features that make smartphone cameras appealing, like WiFi and NFC connectivity. In short, it's a lot of camera in very little space—a device that is just as pocketable as your smartphone, but a far more flexible photographic tool.
Panasonic hopes that's enough to justify putting a second camera in your pocket, alongside the iPhone. But we have a couple qualms right out of the gate. For one thing, this newest Lumix asks $50 more than the better-spec'd (if slightly bigger) LX7, yet comes up short in image quality. And for another, it's not nearly as convenient as your phone, despite all the wireless wizardry.
The battle for pocket-camera supremacy rages on, but our gut tells us the LF1 is on the wrong side of history.
Another boring black box, with a few flourishes
Photo enthusiasts sometimes make a seemingly arbitrary distinction between camera companies and electronics companies. The implication is that pureblood camera manufacturers (like Canon, Nikon, and Olympus) have a natural understanding of what photographers want—a pedigree that the mongrel TV and mobile phone pushers (like Sony, Samsung, and Panasonic) can never hope to claim.
Despite its nondescript appearance, the Lumix LF1's build quality is impeccable; in your hand, it really feels like a $500 camera.
In some ways, the Lumix LF1 might as well be Exhibit A for the prosecution. Like many mid- to high-end Lumix models before it, the LF1's design is virtually devoid of character. In recent years we've seen Fuji and Olympus bring retro back with great success, and Canon has made a few stabs at unique, modern styling. But Panasonic seems happy to stick with a boring black box.
That said, the LF1's mostly matte finish looks pretty sleek, and its build quality is impeccable. The camera proudly bears a "Made in Japan" label on the bottom plate, and you can sense the solidity in your hand; it really feels like a $500 camera. That feeling extends to the buttons and dials, which are actually more substantial and pleasantly tactile than the keys on some of Panasonic's Micro Four Thirds cameras.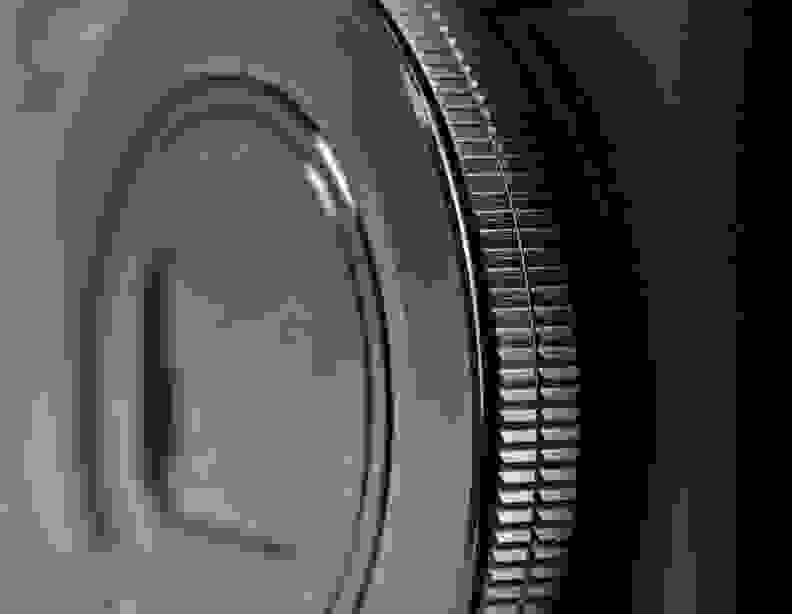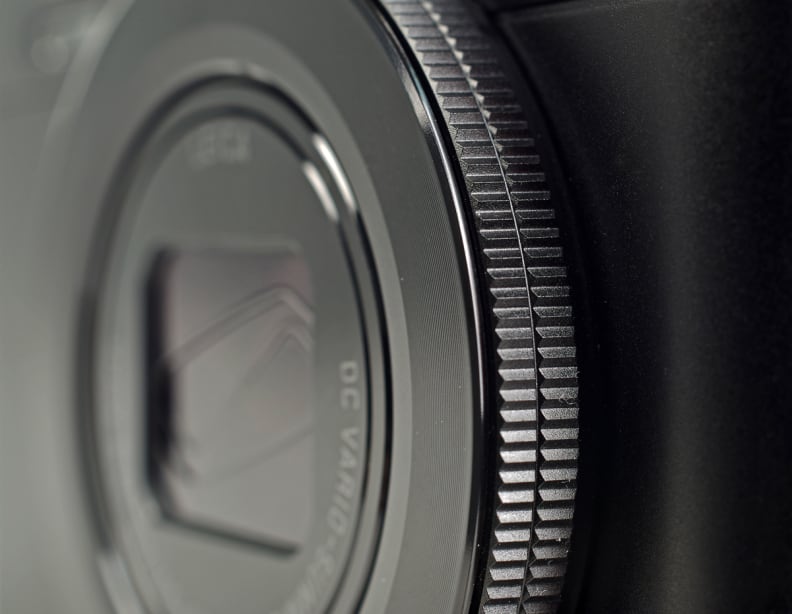 Around front, a multi-purpose ring with click-stop feedback surrounds the telescoping lens. This ring's function depends on the shooting mode you've selected, but it sadly can't be customized. Up top is a full physical mode dial with PASM and dual custom settings. You'll also find options for creative control (filters), scene modes, panoramas, and Panasonic's usual Intelligent Auto mode.
On the back are the LF1's electronic viewfinder (more on that later), WiFi and display toggles, and a traditional control cluster off to the right-hand side. Included are direct-access keys for exposure compensation, focusing mode, drive mode, and flash settings. There's also a customizable Fn button, though we were surprised to find that some obvious candidates—like ISO and filters—weren't included in the list of selectable functions.
A series of half-steps
The LF1 takes much of what made the LX series so successful and shrinks it down, from the body to the controls and even the aperture of the lens.
For most of the last decade, the Panasonic LX name guaranteed a top-shelf compact digital camera. The series' combination of bright lenses, relatively large sensors, and extensive manual controls resulted in cameras good enough that Leica could get away with rebranding and selling them at a 100% premium.
The LF1 takes much of what made the LX series so successful and shrinks it down, from the body to the controls and even the aperture of the lens. Like the LX7, the LF1 uses a 1/1.7-inch CMOS sensor, though it bumps the resolution to 12.1 megapixels. Where the LX7 boasts a bright f/1.7-2.3 lens, the LF1 settles for f/2-5.9. On the wide end that's bright enough to get some decent background blur, but shots look pretty pedestrian at full telephoto. Of course, the LF1's telephoto reach (200mm equivalent) is far more powerful than the LX7's (90mm).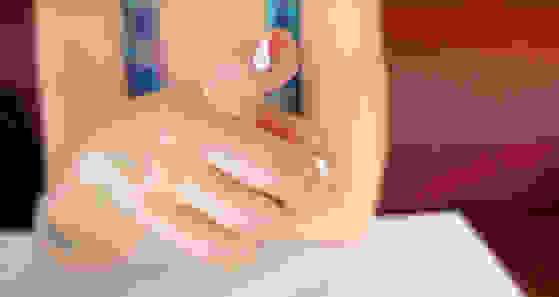 When it comes to point-and-shoots, electronic viewfinders have been restricted to DSLR-style superzooms. That makes the LF1's EVF its most surprising addition, even if it's awfully tiny (0.2-inch) and disappointingly low-res (200k-dot). Looking through it is a slightly psychedelic experience, with blurred edges and color shift if you're not at a perfect perpendicular angle. The lack of an eye sensor also means you have to manually toggle between the EVF and rear LCD, which is a minor annoyance. Even so, it was occasionally a real lifesaver when shooting outdoors in bright light.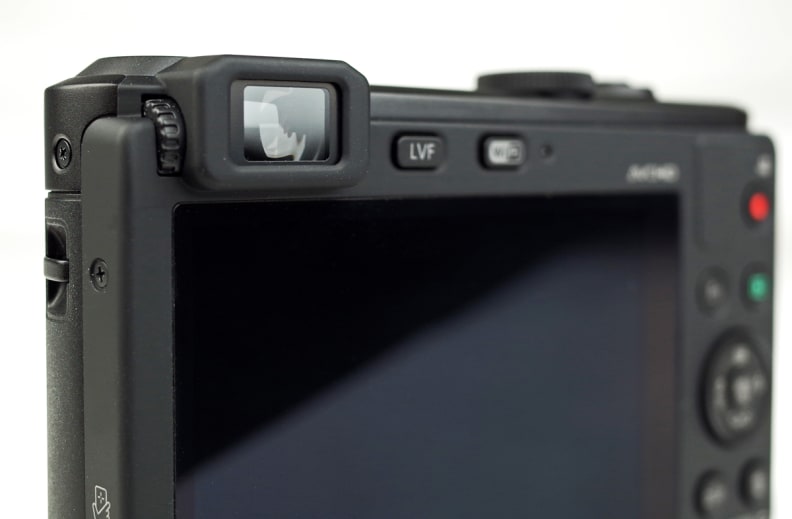 The addition of a lens ring means that the LF1 is nicer to shoot in non-auto modes than most compacts; you even have proper dual-dial action when shooting in manual. But we were annoyed that the LF1's default dial rotation is backwards (at least compared to what we're used to) and there's no option to reverse the directionality.
Long-time Panasonic users will find the LF1's menu slightly dumbed down compared to the LX7 and the company's system cameras. Menu functions are divided neatly into four sections (Rec, Motion Picture, Setup, and Wi-Fi), and each section contains a vertically scrolling list of options. You can also pull up a Quick Menu by hitting the trash button while shooting; this brings up a row of icons overlaying the live view image, letting you adjust eight different settings (ISO is included here, at least) using either control dial.
WiFi functionality was a mixed bag. NFC never worked properly on our Android devices, while a direct WiFi connection paired flawlessly. Using a phone to control the camera was a surprisingly fluid experience (you can even use the quick menu!), but the Panasonic Image App was something of a clunky mess—unintuitive to navigate and ugly to boot.
Above-average isn't good enough anymore
The Lumix LF1 is an above-average performer for a compact camera, but it's no LX7. The Leica-badged 7.1x zoom lens is plenty sharp at the center of the image at full wide angle, but falls off drastically toward the edges; we got the sharpest results at this focal length shooting wide open at f/2. Zooming in or stopping the aperture down produced softer images overall, but more even resolution performance across the entire frame. On the plus side, the LF1 mostly eschews software-based oversharpening, which leaves its photos with a far more natural appearance than what you'd get from many other compact cameras.
When shooting in bright daylight, or with bright areas in an otherwise dark frame, we noticed a consistent issue with ghostly flare around specular highlights (again, mostly toward the edge of the frame). Under the right circumstances, this optical flaw can give your shots an ethereal kind of beauty, but more often than not it just looks ugly.
Unlike many enthusiast-oriented compacts, the LF1 doesn't let you adjust noise reduction settings. You can shoot RAW to (presumably) turn it off entirely, but otherwise it's simply on auto. In our lab tests, we found that the LF1's JPEG engine effectively balanced noise reduction and detail retention up through ISO 800. ISO 1600 is still usable in a pinch, but the highest three ISO options (3200, 6400, and especially) 12800 don't look very good at all.
Bucking another trend, the LF1 offers only two color modes: Standard and Vivid. In the more accurate Standard mode, the LF1 produced very pleasing colors, with only reds and deep blues showing notable divergence from the ideal shade. Saturation was just a hair over perfect at 105%. Automatic white balance was not as impressive as what we've seen from other Panasonic cameras, but was still reliable enough for the average user. As usual, only incandescent light proved troublesome, lending a slight orange cast to whites. Switching to a custom white balance setting is a quick fix for that issue.
We've come to expect great things from Panasonic's video, but the LF1 is merely average in this department. The camera records in either 1080/60i (AVCHD) or 1080/30p (MP4). As you'd expect, 60i video looks more fluid but shows ugly interlacing issues when played back on a computer. The MP4 footage isn't quite as smooth and displays plenty of image artifacts, along with obvious trailing. Sharpness was good, if not great, in bright light and didn't drop off at all in our 60 lux low-light test.
For a detailed discussion of the LF1's performance, visit the Science page.
A camera without a cause
Like most high-end compact cameras these days, the Lumix LF1 tries hard to carve out its own niche. We've seen many rivals that replicate some parts of its feature set, but none that matches it spec for spec.
The Nikon Coolpix P7700, for instance, offers a 7.1x zoom and a 1/1.7-inch sensor, but the LF1 forsakes its comfy grip and flip-out screen to make the combo pocketable. The Sony RX100 is pocket-friendly and features a similar lens control ring, but the LF1 shaves $150 off the price tag thanks to its smaller sensor.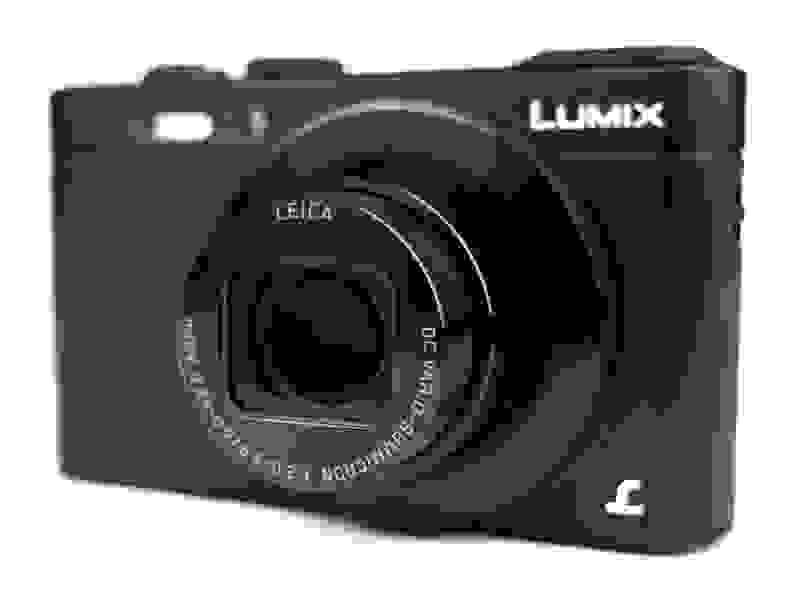 Perhaps the closest match is the Canon PowerShot S110; its zoom is a little shorter and it lacks the built-in EVF, but it adds a touch-sensitive screen. Unfortunately for the LF1, it's also $150 cheaper at current prices. Given that the two cameras provide comparable image quality and a very similar user experience, it seems likely most buyers will opt for the market-leading brand name.
Unfortunately, the only thing that's truly unique about the LF1 is its electronic viewfinder, and even that is a pretty poor effort.
The LF1 takes very nice photos, as you can see from our sample gallery, but they're not good enough to set it apart from the crowd. The fact is, smartphones and ever-cheaper system cameras have compacts in a vise. In order to survive, compacts need to do something different.
We've seen a few recent models that do that. The RX100 put a large sensor and fast lens in a tiny camera, and the Ricoh GR finally brought DSLR image quality to your pocket. Samsung's recent Galaxy Camera crossovers have brought Android convenience to "real" cameras, and the Fujifilm X20 put renewed focus on the photographic experience. Unfortunately, the only thing that's truly unique about the LF1 is its electronic viewfinder, and even that is a pretty poor effort.
If you absolutely need a sub-$500 pocket cam, save some money and pick up the S110. If you can splurge a little, get the RX100. And if you want the best image quality you can get in a portable form-factor, go for the GR. Don't get us wrong... we like the Lumix LF1. It's just that there's just not much of a case to be made for picking the little guy, in any scenario.
Any way you slice it, the Panasonic Lumix LF1 (MSRP $499.99) is an above-average compact digital camera. Really, its only major failing is an above-average price relative to its direct competition. In our standardized lab testing, we found that the LF1 produced reliably good, pleasantly natural sharpness at the center of the frame, though resolution dropped off toward the edges and at longer focal lengths. Color and white balance were solidly above average, noise control was decent, and dynamic range was very solid for a camera of this type. Even videos were just a tick better than what we typically see from compacts, if not spectacular.
In short, the LF1 produces images and video that are going to be good enough for most target users, but it's possible to get better image quality for less.
The Lumix LF1 isn't the sharpest tool in the shed, but we were able to record some relatively high resolution figures at the center of the frame, particularly when shooting at full wide angle. At the 6mm (28mm effective) focal length, we got the sharpest results wide open at f/2. Stopping down further only leads to softening from diffraction. That means that the longer focal lengths, which have maximum apertures smaller than f/2, are already diffraction-limited when shooting wide open.
The highest resolution figures we saw from the LF1 were around 2510 lw/ph at MTF50, which occurred at the center of the frame at 6mm f/2. At that same focal length and aperture, the corner resolution was as low as 786 lw/ph, which is a massive falloff. Stopping down to f/4 lowered the center resolution slightly but sharpened the corners to 1136 lw/ph. Zooming in only reduced sharpness across the frame; the best we saw at medium and full telephoto focal lengths was about 1280 lw/ph. That said, at these focal lengths sharpness remained very consistent across the frame—the corners were just as good (or bad) as the center.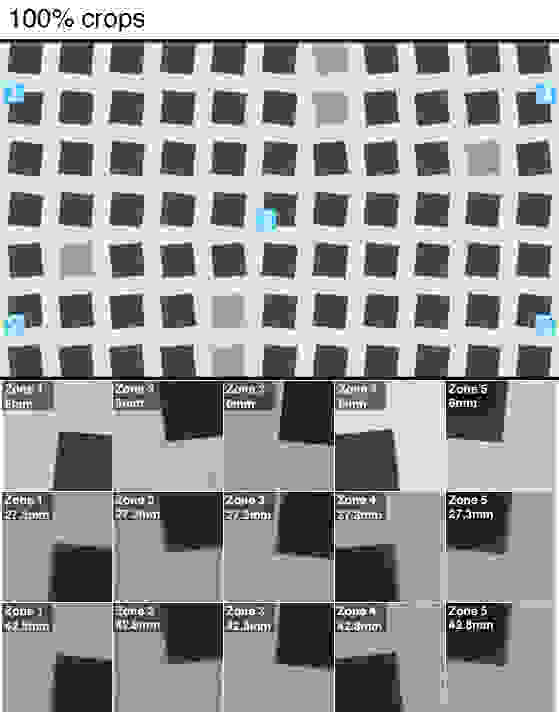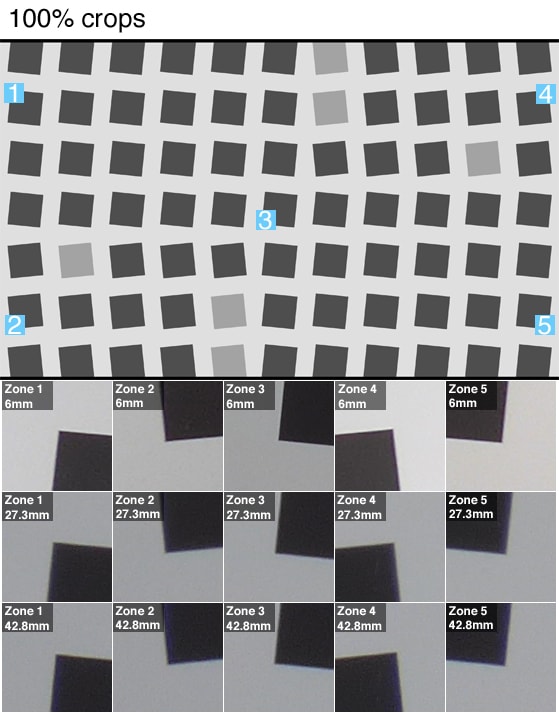 Ultimately, this might be the worst lens Leica has ever put its name on. Beyond issues with sharpness, there are some visible aberrations when there are bright areas in the frame—ghosting and flare around specular highlights that can become quite distracting in many situations.
The LF1 offers only one noise reduction setting, which is Auto. You can't turn it off, except by shooting RAW (and even then, we're not convinced the camera isn't doing some tweaking). Images look pretty smooth and show a reasonable amount of detail up to ISO 800. ISO 1600 is still pretty useful, though details are starting to be wiped away due to NR smoothing, and 3200 might even be usable in a pinch. We wouldn't recommend using ISO 6400 and especially 12800, except in cases of direst need.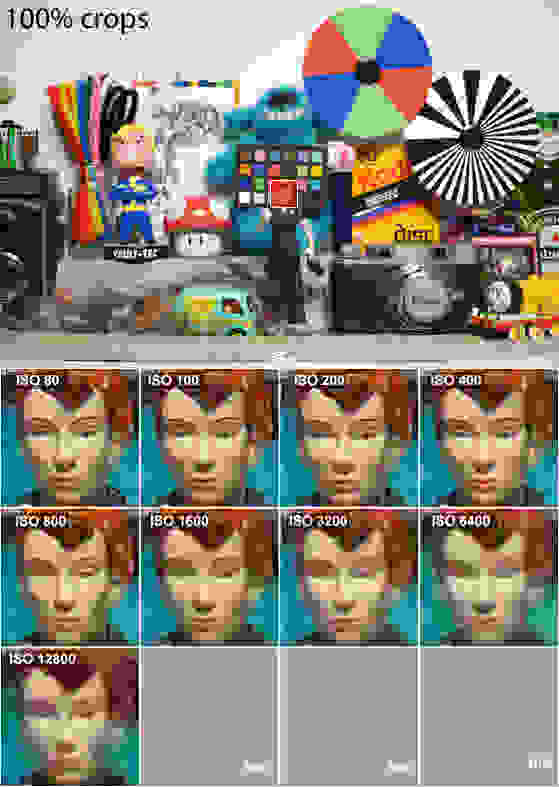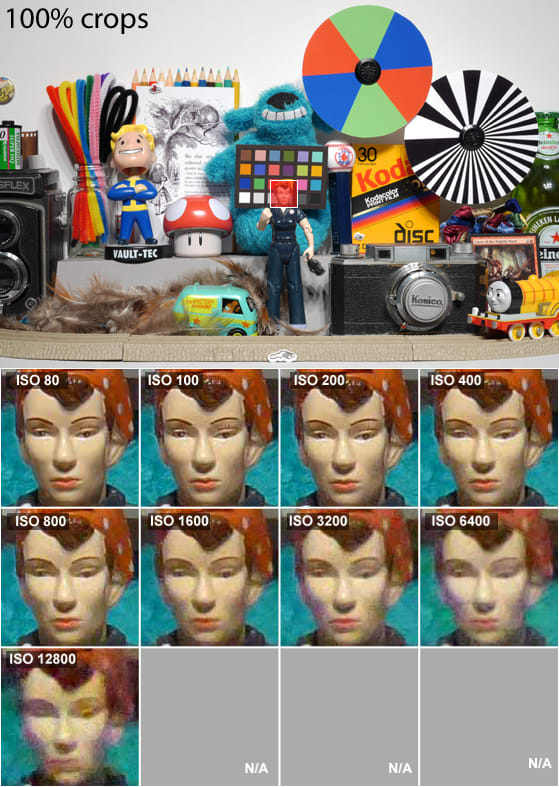 Our crops from the line drawing of the Cheshire Cat show the noise reduction characteristics even more dramatically than Rosie the Riveter. The fine detail of the penwork is already disappearing at ISO 800 and mostly blurred by 1600. At ISO 6400 and 12800, the cat crops look like blurry, color-splotchy watercolor paintings.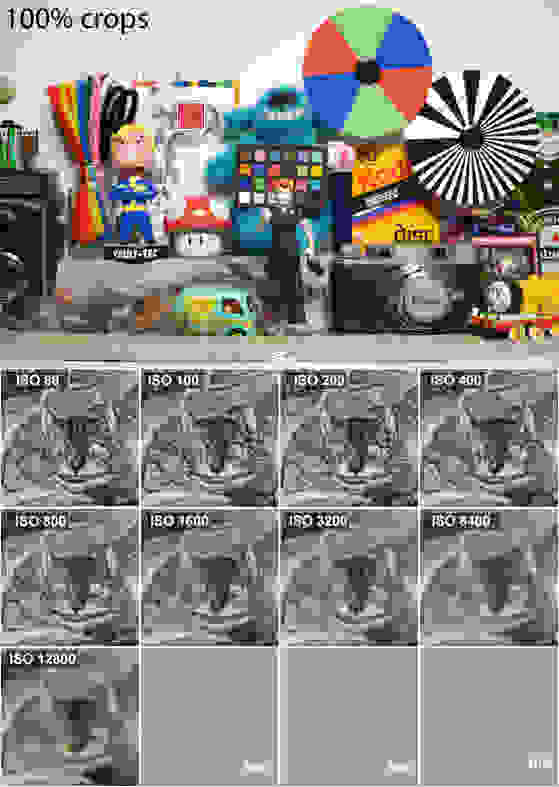 Color and white balance have historically been strong suits for Panasonic, and the LF1 is certainly above-average (there's that descriptor again) in these categories. In the camera's most accurate color mode (no surprise, it's Standard!), the LF1 cranked out a ∆C 00 corrected color error of just 2.54, which is darn good. (The best cameras we've tested produced errors of around 2.2, while the average is around 3.0.) The biggest errors came in the red and deep blue shades, while yellows and deep greens had lesser issues.
White balance was excellent when using custom settings, off by an average of between 56 and 163 K, depending on lighting type. When set to automatic white balance, the LF1 performed well under compact white fluorescents and simulated daylight, but predictably stumbled under incandescents. In this toughest of lighting scenarios, it was off by about 1880 K on average, lending whites a distinct orange cast.

The Lumix LF1 isn't a video powerhouse, but it should be a capable go-everywhere companion for slice-of-life clips. You can choose between 1080/60i AVCHD and 1080/30p MP4 recording, but there's no 60p option at full resolution (you can step down to 720p for that silky smooth effect). We prefer the MP4 mode because the files are easier to work with, but in the end the quality is pretty similar.
Sharpness was acceptable in both bright and dim lighting, averaging about 600 lp/ph on both the horizontal and vertical axes. The LF1 was also relatively impressive with regard to video sensitivity, needing only 11 lux of ambient illumination to record an image that achieved 50 IRE on a waveform monitor. That means it should be able to record a reasonably bright image in very dim circumstances.
Meet the tester Ben Keough
Contributor
@ben_keough
Ben is an experienced industry journalist who formerly served as Senior Editor of News and Features at Reviewed. He now contributes as a freelance writer and editor. Most recently hailing from the vast wilds of the American southwest, he is an avid photographer who is deeply disturbed by the lack of wide open landscapes in Boston.
Checking our work.
We use standardized and scientific testing methods to scrutinize every product and provide you with objectively accurate results. If you've found different results in your own research, email us and we'll compare notes. If it looks substantial, we'll gladly re-test a product to try and reproduce these results. After all, peer reviews are a critical part of any scientific process.
Shoot us an email