Fuji should be complimented for its quick response to those issues and willingness to add significant features through firmware updates, but cameras need solid hardware to take advantage of firmware no matter how refined. And that's where the Fujifilm X20 (MSRP $599.99) comes into play. Even though it sports some intriguing new features, it's largely the same as its predecessor in most user-facing ways— the big changes are all under the hood.
Why mess with a good thing?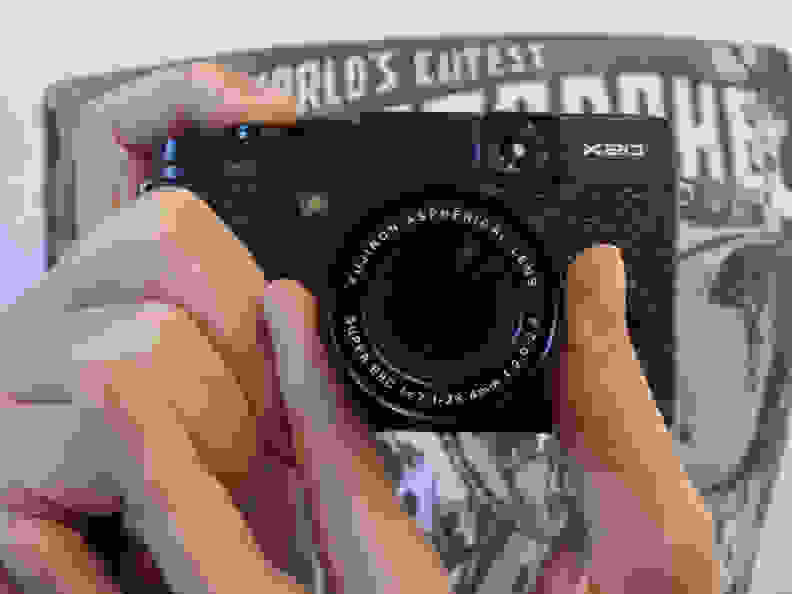 Even though it's a compact camera, the X20 isn't cheap— in terms of price or build quality. Every part of its design screams "premium", and the camera feels more or less worth its $600 price tag. From the sexy metal lens cap to pleasing knurled dials, every detail has been considered. Fujifilm manufactures the X20 in Japan, and the camera proudly bears the mark under its Disp/Back button.
If you yearn for the all-metal cameras of the 60's and 70's, when cameras were made predominantly of metal, get ready for a flashback (no, not an acid flashback). The X20 apes the late 20th century's film cameras in all the right ways, using metal for the exterior and a molded plastic for the wrap-around grip. A well-loved copy wouldn't look out of place at a flea market or an antique store. And it's not just about looks,either.
The camera's controls echo the hands-on shooting style of classic rangefinders. Even though you won't find a knob for shutter speed, or an adjustment for ASA/ISO, there are two control wheels as well as dedicated exposure compensation and mode dials.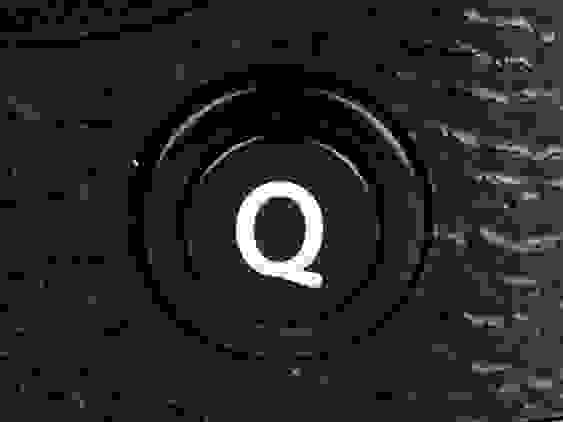 Late in its life, the X10 received an update that allowed the RAW button to access the Q menu, a neatly arranged way to change most settings. The X20 drops the RAW button entirely and instead has a Q button in its place, making the Q menu easier to discover. Fuji has given this special button a flatter profile, making it easy to find by touch alone, since the surrounding buttons are all domed. That said, because of the considerable array of manual controls at hand, you probably won't find yourself using the menus as much as you would on a competing compact camera like the Sony RX100.
Although we loved the tactile feedback of many of the X20's controls, especially the shutter button, the rear selection wheel was a weak point. It felt terribly unresponsive and you might even be forgiven for thinking it was broken. Ultimately, this flaw undermines the otherwise excellent control scheme. The X10 had the same issue, so it's a little weird to see it hasn't been corrected in the new model.
One final note—the X20 is available in ninja-like black (like the X10), as well as a silver-and-black variant.
Tweaks in the right places
Everything praiseworthy about the X10 remains in the X20. That said, there are some changes to both the software and hardware, mostly as a result of the new 12-megapixel 2/3" sensor. The X20 takes after more recent X-series cameras, utilizing an X-Trans color filter. Fuji says that its X-Trans technology "minimizes generation of both moiré and false colors, eliminating the necessity for an optical low-pass filter." In our testing, we did find that the X20 was sharper than the X10. Moiré wasn't a noticeable issue in still shooting, which was nice to see.
It's nice to see Hybrid AF trickle down to a less expensive Fujifilm.
The most surprising aspect of the new sensor is the addition of new autofocusing technology. The X20 uses both contrast- and phase-detection methods, speeding up focussing quite a bit. While the X10 never felt sluggish, the X20 certainly feels more snappy in real-world usage. This feature was one of the star additions to Fujifilm's X100S, and it's nice to see Hybrid AF trickle down to a camera that's less than half the cost.
Even though it's unchanged from the X10, attention still deserves to be drawn to the X20's excellent 28-112mm equivalent lens. Unlike most compact camera lenses, the X20's zoom action is manually controlled; while that might be a turnoff to those used to power zoom, we appreciated its precision and found it to be more engaging. Twisting the lens brings the X20 to life, and if you keep turning the it you'll quickly go from wide to full telephoto. If you notice a distant subject you want to shoot, you can easily turn the camera on and zoom in one motion. We'd be remiss if we didn't mention how bright this lens is, too. It's f/2-2.8, which is rare to find in a compact zoom camera. We noticed some serious softness when wide open at full telephoto, but that's not uncommon with compact zoom lenses.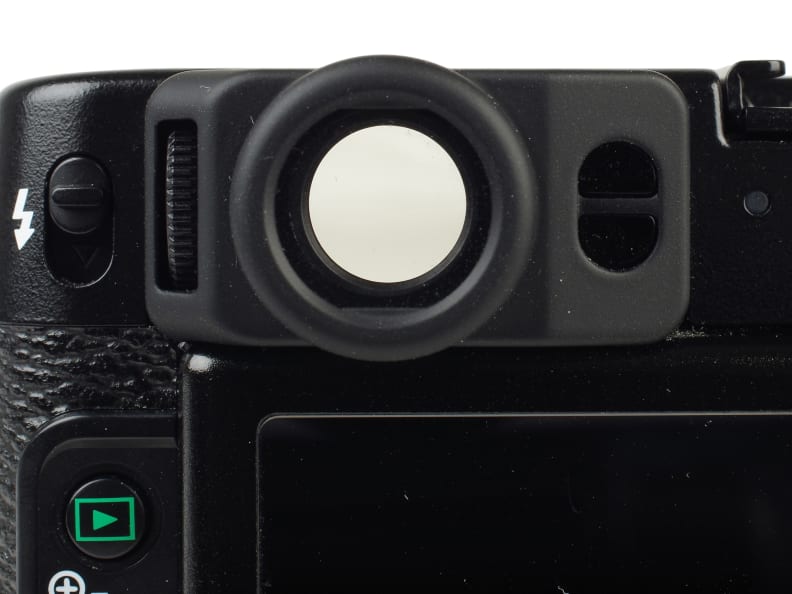 Another unique feature of the X20 is its optical viewfinder. It doesn't involve a true rangefinder focusing system, but at least you get around 85% frame coverage. New in the X20 is an LCD overlay, giving users live autofocus, aperture, shutter speed, and mode information. While the LCD overlay was a much-needed addition, the OVF itself remains less than useful. Even though it's executed well, parallax error will throw off your composition every time— and learning to compensate takes practice. Also, part of the frame will be taken up by the extended lens barrel from about 28mm to 50mm, making it even harder to accurately frame subjects. Although we've been skeptical of the quality of electronic viewfinders in the past, they've made great strides in the past few years; equipping the X20 with an EVF similar to one from the X-E1 (or the X-Pro1's hybrid finder) would be a great improvement.
Poor battery life is still a buzzkill.
Like the X10, the X20 is an above-average performer in its class. Its bright, sharp lens and improved X-Trans sensor make for a powerful combination. We recorded excellent resolution figures throughout the zoom range, acceptable noise performance and color that was pleasing to the eye, if not technically accurate. For one, color wasn't quite as accurate as what we saw from the X10 in late 2011. If you're only concerned with stills output, we can assure you that the X20 is a fine choice.
That is, unless you're planning on shooting all day. Even though the X20 has the same exact battery as the X10, and, even though they're rated for the same number of shots, we found that the X20 seemed to die more quickly. We were often left stranded after just a few hours of sporadic shooting. It doesn't help that the on-screen battery meter seemed to drop from "plenty left" to "ohmygodwhereismycharger" way too quickly. It's a good thing secondary batteries are inexpensive, because you're going to need one. Or two.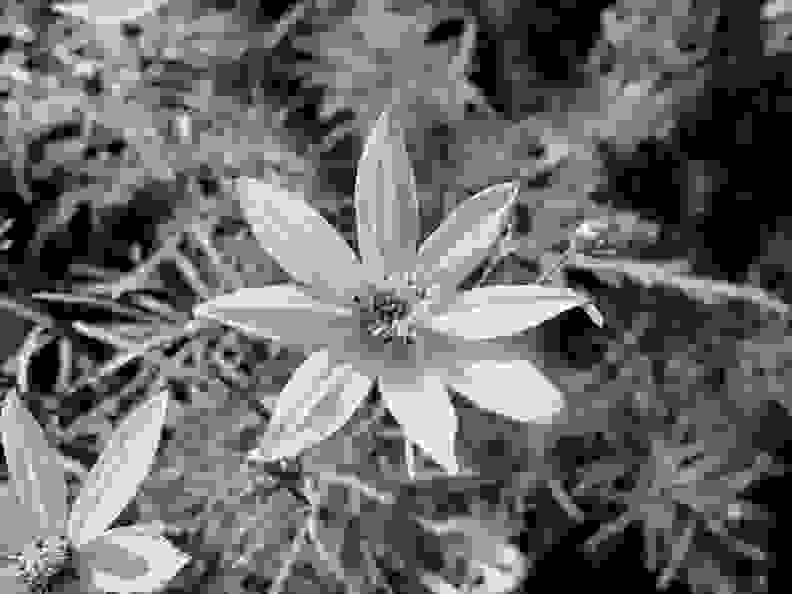 The X20 feels a lot snappier to use than the X10, in large part because of the new Hybrid AF system. We found that the X20 did a good job locking onto the desired subject. The optical viewfinder's focus confirmation was a great help, too, since the most feedback the X10 granted the user was the illumination of a green autofocus light their peripheral vision—with that OVF, you knew the camera had locked on, but had no idea what was going to be in focus. Macro mode remains a strong point for the X20. You can choose between either regular or super macro settings; choosing the latter option will let you focus on objects that are almost touching the lens, revealing detail you wouldn't see otherwise.
A 1080/60p upgrade is the biggest news on the video front. That's double what the X10 could output, making for fairly smooth video with excellent detail under bright light. Under low light, the X20 lost detail but not significantly. Where we saw the most disappointing video was in our sharpness test. Even though detail was visible in this lab test, the X20 showed some really ugly moiré, transforming our black-and-white test chart into a psychedelic experience. While the X20 doesn't have a microphone jack, Fujifilm is now selling an accessory mic that uses the USB port instead, although given the ugly moiré we saw, we don't exactly think it's a worthwhile investment.
While the competition may be stiffer than ever, the X20 wins on raw charisma.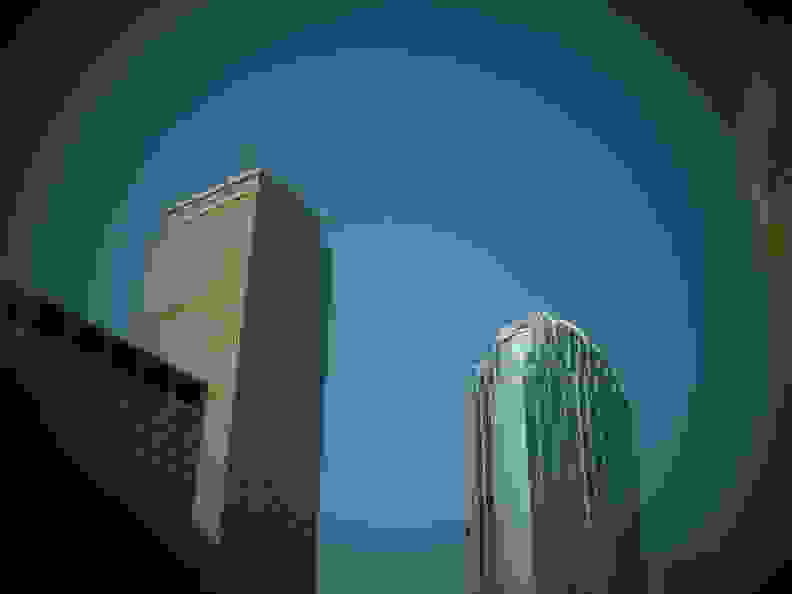 When the X10 was released in 2011, it had a lot of interesting things going for it. Not only did it have second-to-none build quality, it also sported a larger-than-average sensor for a compact camera and impressively bright lens. Since then, compact camera sensors have gotten even bigger. Cameras like the Ricoh GR and Nikon's Coolpix A even have DSLR-sized chips inside. The top fixed-lens camera in the mid-range is undoubtedly the Sony RX100, whose 1-inch sensor is bigger than the X20's 2/3" unit.
But, unless you have a major case of sensor-size envy, the X20 is cheaper, sexier, and has better manual controls to boot. While it can't compete on sheer image quality and it isn't nearly as pocketable as the RX100, the X20 is a more emotionally engaging device—as sentimental as that might sound. It's not be a a product you would buy based on its spec sheet, but rather one that speaks to the head and heart.
The X20's differentiators are numerous and compelling, especially for enthusiasts. The optical viewfinder, while not as useful as it could be, is nice to have on bright days. Compared to poking around the menus of point-and-shoots like Canon's Powershot S110 or the aforementioned RX100, the X20's manual controls make it an involving camera to use. Finally, the X20's manual zoom lens is fast, feels great to use and along with its new sensor, it makes for pleasing images. All of these elements add up to one unique, high-quality offering.
Each camera that we review is subject to a battery of laboratory tests, including sharpness, color accuracy, noise reduction, video quality, and white balance. In general, the Fujifilm X20 (MSRP $599.99) was a competent performer, but there were a few standout results. For instance, color accuracy was far from perfect, for reasons we'll detail below. And while we were pleased with the camera's noise control (and especially its wide range of noise reduction settings), we were disappointed by its video and white balance performance.
The X20 bombed our color accuracy test. But, frankly, we expected as much—this little camera's mission isn't to be a cold, technically precise imaging machine. Instead, Fujifilm has tuned the X20 for maximum nostalgia, trying to give your photos the look of the company's own classic film formulations. In that vein, the X20's film simulation modes are named after Velvia, Provia, and Astia—some of Fujifilm's most famous 35mm stocks. While Velvia and Provia are both tuned to boost and exaggerate color, Astia is best suited for portraits because of its softness.
The X20's most accurate film simulation mode is Pro Neg High, which is designed to mimic professional color negative film. We found this mode was slightly undersaturated from ideal at 98.3, and it registered a ∆C saturation-adjusted average error of 3.56.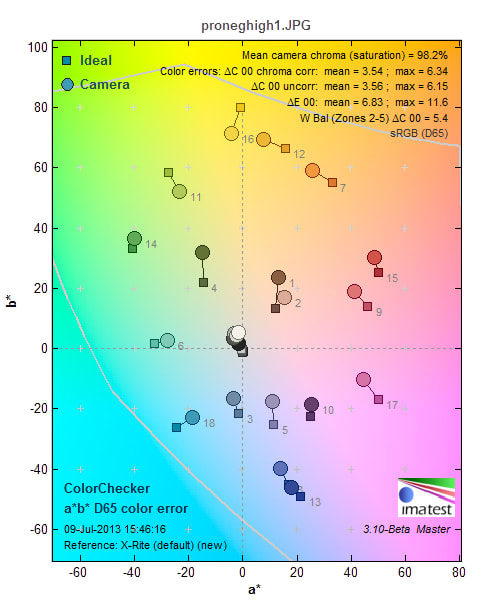 The X20 brings a wide range of full-resolution ISO settings, unlike the X10. While the X10 doubled up sensor sites to extend sensitivity, that trickery came at a resolution penalty. With the X20's new X-Trans sensor, we finally get full shooting all the way up to ISO 12800. That's good and all, but there's still a pretty big catch. Higher ISOs are essentially unusable, obliterating detail and exhibiting heavy banding as early as ISO 6400. It's better to set the X20's auto-ISO cap at 800 unless you're shooting in some really dark places.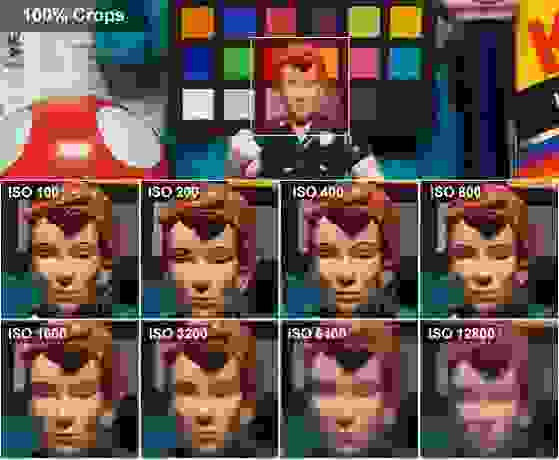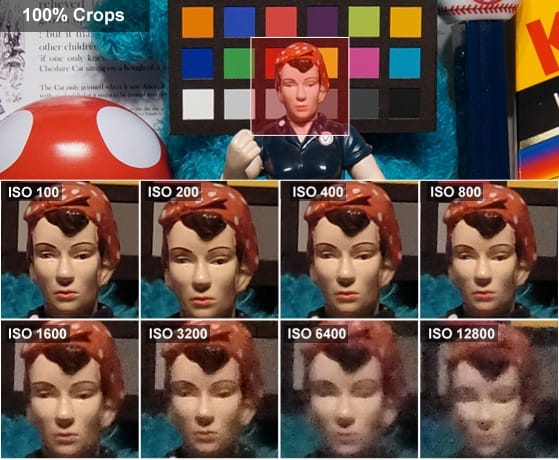 In our noise test, the X20 did a reasonable job of controlling noise. The X20 offers five noise reduction settings—two stronger and two weaker than the default. We use a benchmark of 2% noise to signify a printable image. The two stronger options are quite aggressive keeping noise under 2% all the way across the ISO spectrum, while the default allowed for 2.60% noise at 12800. When the lowest NR setting is used, noise tends to balloon to way over 2%, reaching past 3% at max ISO.
White balance wasn't a particularly strong suit for the X20. Auto white balance performance in daylight and under florescent lighting was acceptable, if nothing to write home about. But, the X20 fell victim to the more difficult incandescent light test where auto white balance produced an ugly orange cast. We saw an average color temperature error of -2203 K under these conditions.


It's a good thing that this camera also comes armed with a full suite of manual white balance features. Not only can you fine-tune the auto white balance setting yourself, but you can also set your own color temperature and custom profiles. That's way more than what you get on many compact cameras, but just what we'd expect from an enthusiast-aimed model like this. Manual white balance settings were as accurate as you'd hope, with an average error of 233 K in the same tricky incandescent light.
When we first got our hands on the X20, we were excited to try out its new 1080/60p default shooting mode. After some extensive testing, we can report that normal video playback looks plenty smooth. But, the X20 has a tendency to capture distracting moiré. We saw a similar phenomenon from the X100S, and we think it has something to do with the camera's downsampling algorithm. If you can ignore the moiré, there's tons of detail present in footage recorded under both bright and low lighting.
Low-light performance was a bit of a disappointment, as the camera required around 20 lux to create an acceptably bright (50 IRE on a waveform monitor) image. All in all, we'd not recommend choosing this camera for video; you're better off thinking of it as a freebie added to sweeten the pot.
Meet the tester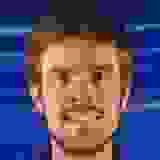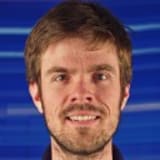 Brendan Nystedt
Contributor
@bnystedt
Brendan is originally from California. Prior to writing for Reviewed.com, he graduated from UC Santa Cruz and did IT support and wrote for a technology blog in the mythical Silicon Valley. Brendan enjoys history, Marx Brothers films, Vietnamese food, cars, and laughing loudly.
Checking our work.
Our team is here for one purpose: to help you buy the best stuff and love what you own. Our writers, editors, and lab technicians obsess over the products we cover to make sure you're confident and satisfied. Have a different opinion about something we recommend? Email us and we'll compare notes.
Shoot us an email