Kitchen & Cooking
13 grills and accessories for a great Canadian cookout
You've got the veggies and meat—you just need the heat.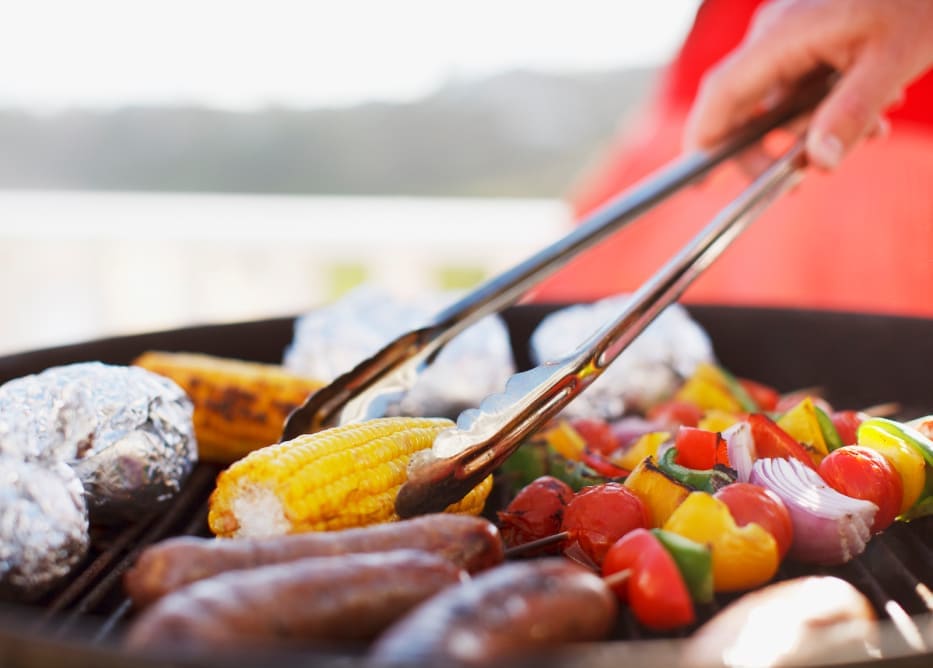 Credit: Getty Images
Grilling purists may scoff at the idea of using anything other than a charcoal BBQ to grill up a perfect burger, but it's hard to beat the convenience of a gas grill—especially if you're just looking to cook a quick meal after a busy day's work. While they can't duplicate the distinctive, smokey taste that a charcoal grill can impart, gas grills start up instantly, heat up quickly, and can offer more precise temperature control.

One thing that gas grills do have in common with charcoal grills is that choosing a great one is no easy task. They can range in price from impulse buys to serious investments, and vary considerably when it comes to features and overall build quality.

To narrow your choices, we've put together a list of our favourite grills available to Canadians to buy, right now. And, since no grill is complete without the right accessories, we've also included some of our favourite tools and utensils to go along with your new gas grill.
1. Weber Spirit II E-310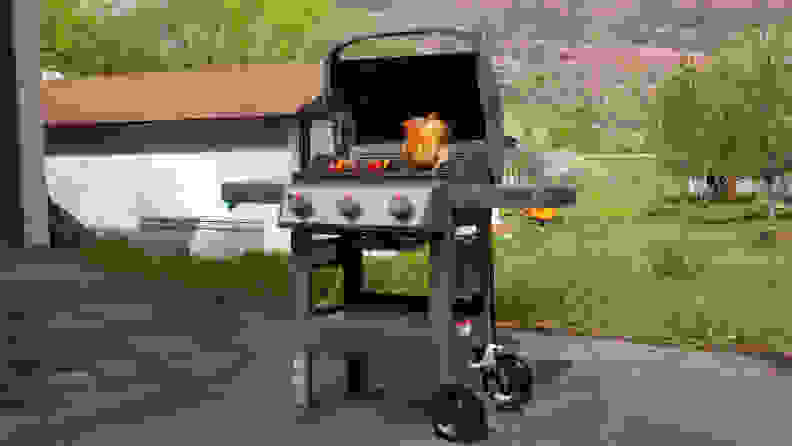 Weber's grills are consistently among the most popular and well-reviewed options around, and the company's entry-level Spirit II E-310 impressed us in every test we put it through. Easy to assemble, it features an easily accessible side-mounted propane tank (complete with gas meter), side tables, and hooks for hanging grilling tools. With its excellent build quality, this grill should serve you well, for years to come. What's more, the grill is compatible with Weber's iGrill3 (sold separately), allowing you, via Bluetooth, to receive grilling alerts and monitor temperatures on your smartphone.
If you're serious about grilling, though, you'll find this model easily worth its price, and better than many grills that cost even more.

Get the Weber Spirit II E-310 from Amazon Canada
2. Weber Genesis II E-310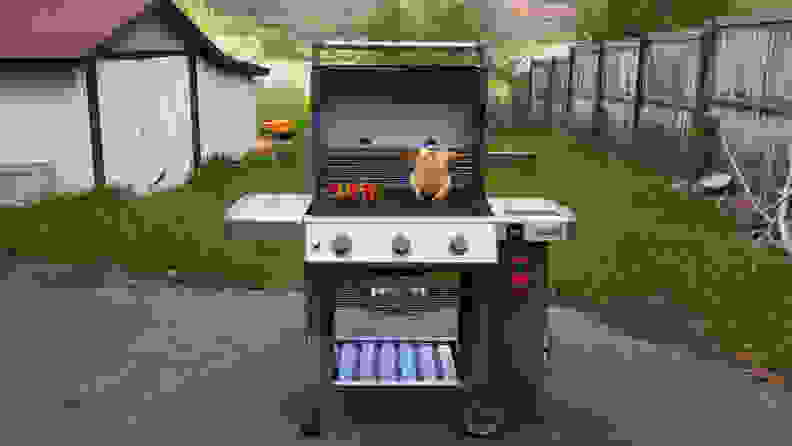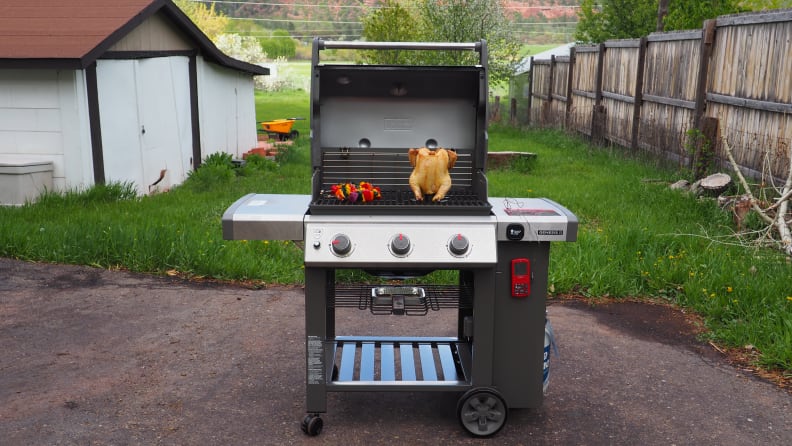 If you need a larger cooking surface than the Weber Spirit II E-310 offers, the Weber Genesis II E-310 is a great option. It offers the same BTUs and similar performance to its smaller sibling but has enough space to grill up to 24 burgers at once, compared to 18 on the Spirit II.
In addition to this extra cooking space and Weber's typically outstanding build quality, you'll also get a few additional perks from the Genesis II that the Spirit II can't match: a protective shield for its propane tanks, a foldable warming rack, and four wheels instead of two for easier maneuverability. Like the Spirit II series, the Genesis II E-310 is compatible with Weber's iGrill3 Bluetooth thermometer.

Get the Weber Genesis II E-310 from Amazon Canada
3. Embers 4-Burner Gas Grill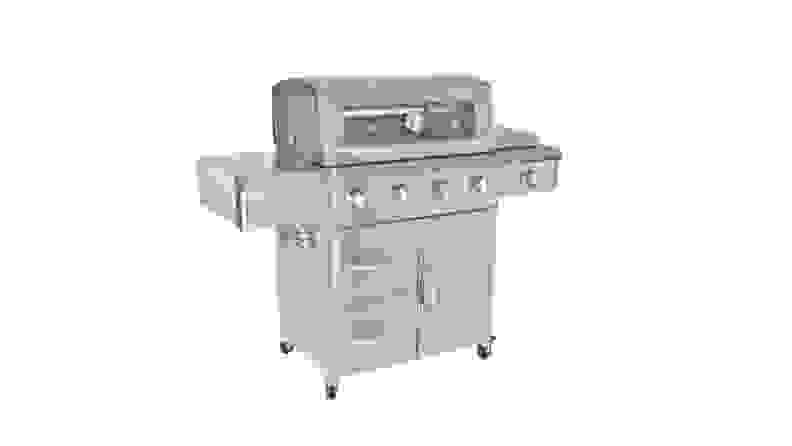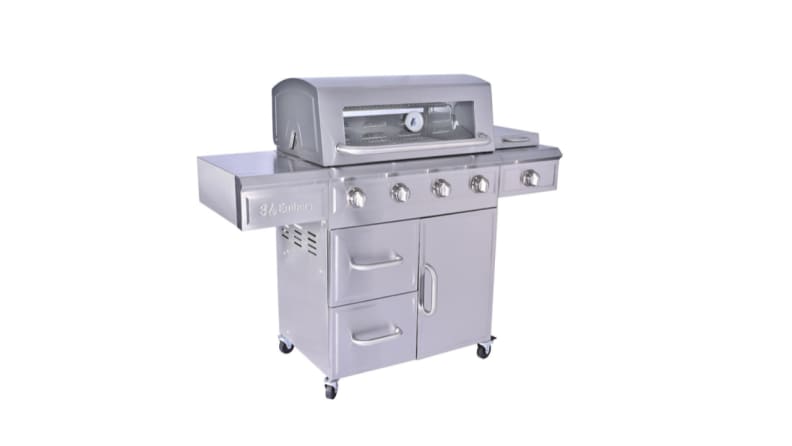 The 3 Embers 4-Burner Gas Grill is a serious piece of grilling equipment. Decked out in stainless steel and with stainless steel grates, it features a large glass viewing window and illuminated burner controls—it's designed to look impressive while also cooking up some impressive food. As with the Weber Genesis II E-310, the 3 Embers GAS7480BS large grilling surface can accommodate up to 25 burgers at a time.

Get the 3 Embers 4-Burner Gas Grill from Home Depot Canada
4. Char-Broil Performance 5-Burner Gas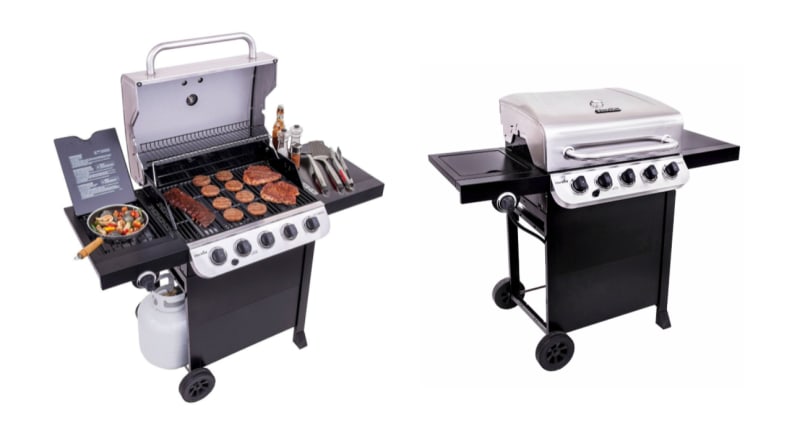 Like our top pick Weber Spirit II E-310, the Char-Broil Performance 5-Burner Gas Grill doesn't have the highest BTUs of the grills we looked at (40,000 BTUs in this case), but can still provide plenty of heat. That's helped by the grill's smaller cooking area and, while it did take a bit longer to heat up in the first place, it had no problem cooking food evenly across all five burners in our tests. While we weren't thrilled with its build quality, We liked the amount of temperature control and cooking options that its five-burner setup provides.

Get the Char-Broil Performance 5-Burner Gas from Lowes Canada
5. Nexgrill 5-Burner Gas Grill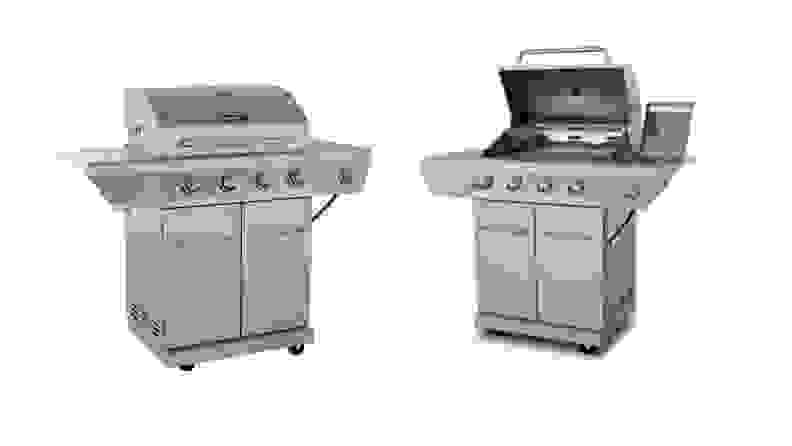 The budget-priced Nexgrill 5-Burner gas grill has a lot going for it, not the least of which is an impressive 55,000 BTUs. Unfortunately, it let us down during testing. While its lower price makes the Nextgrill a tempting buy, we found that it had difficulty cooking food evenly, as one its back burners proved to be far hotter than the rest. Additionally, while it can produce high temperatures, we had trouble keeping the heat inside of the grill, where it belongs: its lid refused to close securely, letting heat escape in the process. Still, for those looking for an inexpensive gas grill, it could be a win.

Get the Nexgrill 5-Burner Gas Grill from Home Depot
6. Broil King Signet 320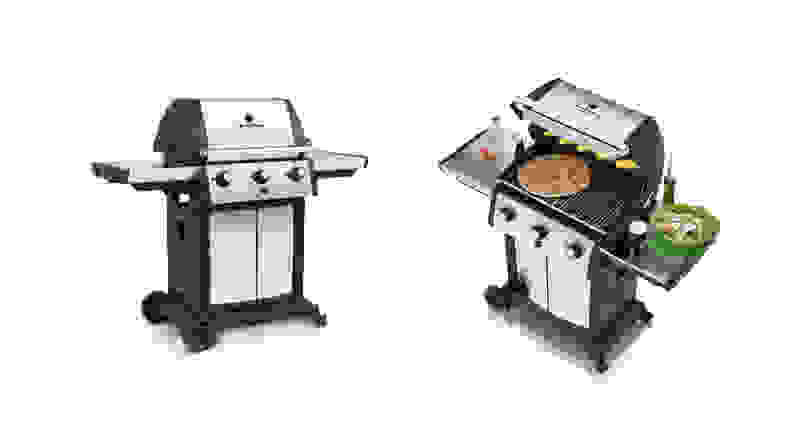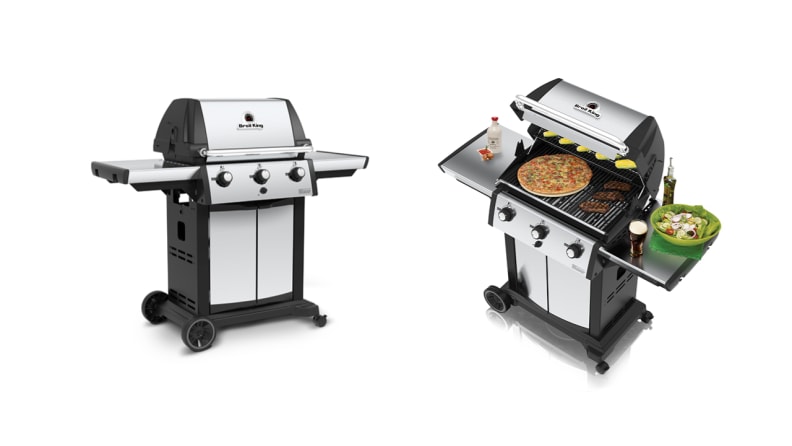 While we haven't tested this grill yet ourselves, the Broil King Signet 320 gets consistently high ratings from hundreds of customers at online retailers and is comparable to our top pick, the Weber Spirit II E-310, at a slightly more affordable price. All of Broil King's Signet series BBQs are made in Canada, and both The Spruce Eats and AmazingRibs.com were especially impressed with the 320's build quality, as well as its ability to heat up fast and cook evenly with its three 40,000 BTU burners. A number of customer reviews do also echo AmazingRibs.com's complaint about the grease tray, which needs to be placed just right to avoid unwanted dripping, but relatively few had any major complaints otherwise.

Get the Broil King Signet 320 from Lowes
7. Weber 22" Original Kettle Grill
If you still prefer the unbeatable smokiness of a charcoal grill to the convenience of gas, consider the iconic Weber 22" Original Kettle Grill. It's been in production since 1951, and more than 60 years later we think it still offers a great combination of price, convenience, and performance, having aced all the tests in our best charcoal grill roundup.
It's about as simple as they come, constructed from two curved sheets of steel, but the iconic kettle shape isn't just for looks: The lack of weld points also prevents unwanted heat loss. Quick to set up, quick to heat up, and impossible to break, this Weber is also covered by the company's limited 10-year warranty. While the Napoleon NK22K-LEG-2 is our new favourite charcoal grill overall, this Weber is both cheaper and currently more widely available.

Get the Weber 22" Original Kettle Grill on Amazon Canada for $229
8. OXO Good Grips 16" Locking Tongs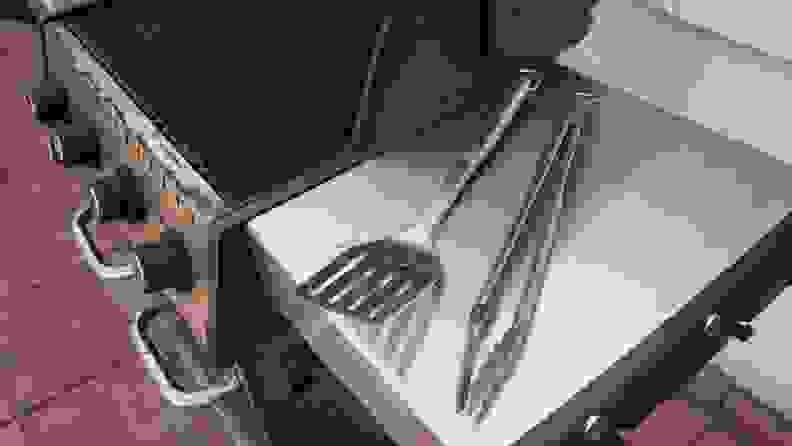 OXO's utensils and other kitchen gear are always a solid bet, and these 16" grilling tongs are no exception. They have a scalloped design that makes them ideal for grabbing a wide range of food of all shapes and sizes from your grill. Thanks to their non-slip grips, you can be assured that you'll have a comfortable hold on whatever food you're flipping, no matter how heavy it might be. A locking design makes them easy to store when not in use. While they cost a little more than some tongs, their quality will pay dividends, over time.

Get the OXO Good Grips 16" Locking Tongs from Amazon Canada
9. OXO Good Grips 16" Grilling Turner with Serrated Edge
You can buy OXO's grilling tongs separately, but our favourite grilling spatula from the company is only available in a bundle that includes the tongs and spatula. That makes it an even better value if you happen to need both, but less ideal if you already have some grilling tongs you like.
The Grilling Turner has a wide head with a beveled edge that will easily slip under even the largest pieces of food, and a serrated edge on one side that can be used to cut into or separate meat to make sure it's cooked. Like the tongs, the turner has a soft non-slip grip, and it's an affordable option when bought in the bundle.

Get the OXO Good Grips 2-Piece Grilling Utensil Set $29.99 from Bed Bath & Beyond
10. ThermoPro TP20 Probe Thermometer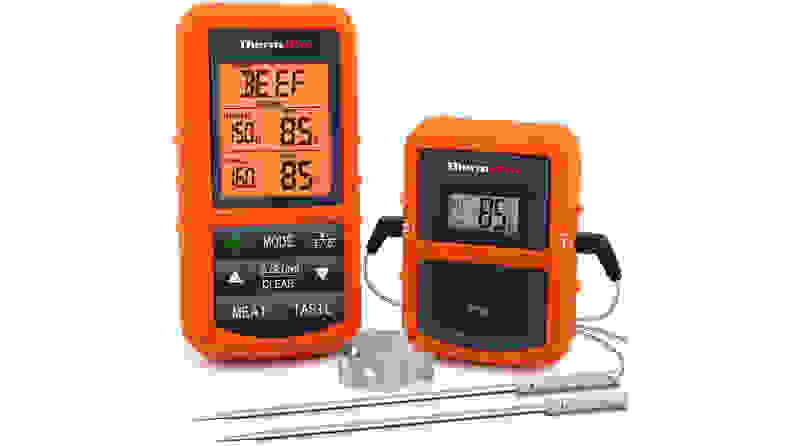 It's not cheap, but if you're serious about grilling and looking to get the most accurate temperature readings possible from a probe thermometer, you could do far worse than the ThermoPro TP20. It has two probes, a large backlit display that's easy to read, and a separate wireless transmitter so you can keep an eye on your food up to 100 feet away. The only downside of this thermometer was its middling battery life.

Get the ThermoPro TP20 from Amazon Canada
11. Thermoworks ThermoPop TP03B Probe Thermometer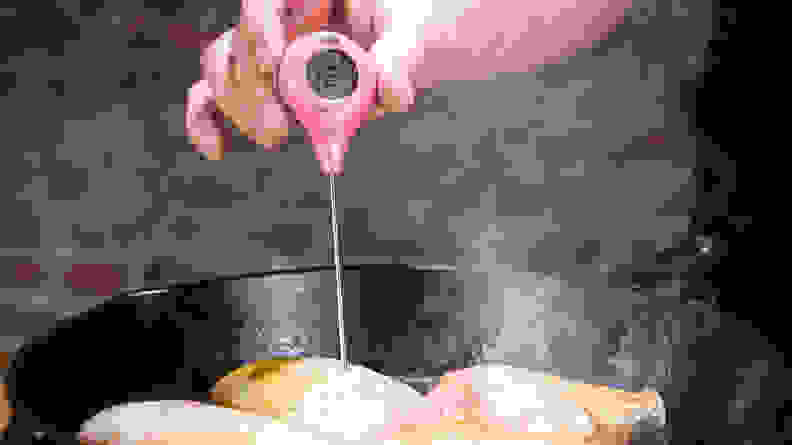 While this device can't deliver temperature readings quite as fast as ThermoWorks' well-regarded Thermapen, the ThermoWorks ThermoPop TP03B is far more affordable for everyday use and just as accurate. It's also convenient to use, with a long probe and a rotating display that'll let you easily read the display without getting too close to a hot grill.

Get the ThermoWorks ThermoPop TP03B from Amazon Canada
12. Lodge 12-Inch Cast Iron Skillet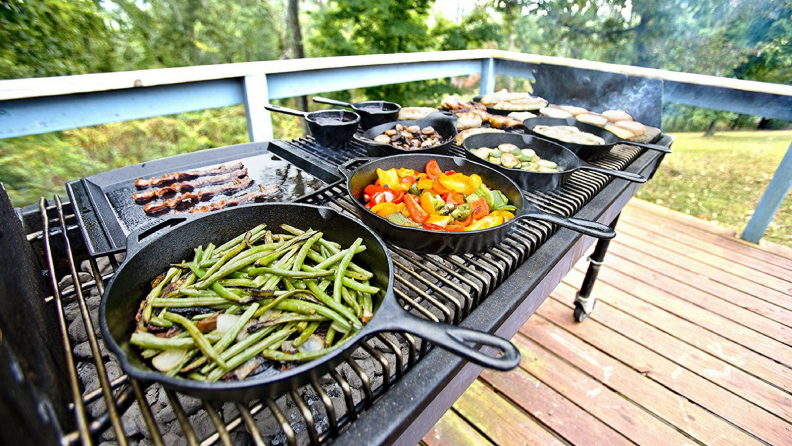 Cast iron skillets are amazing because you can go from the stovetop directly into the oven. But, did you ever think you can use it on your grill too? This is great for cooking side dishes and smaller foods without risking them slipping through the grates and into the coals. This cast-iron skillet from Lodge is our absolute favourite.

Get the Lodge 12-Inch Cast Iron Skillet from Amazon Canada
13. RAPICCA BBQ Gloves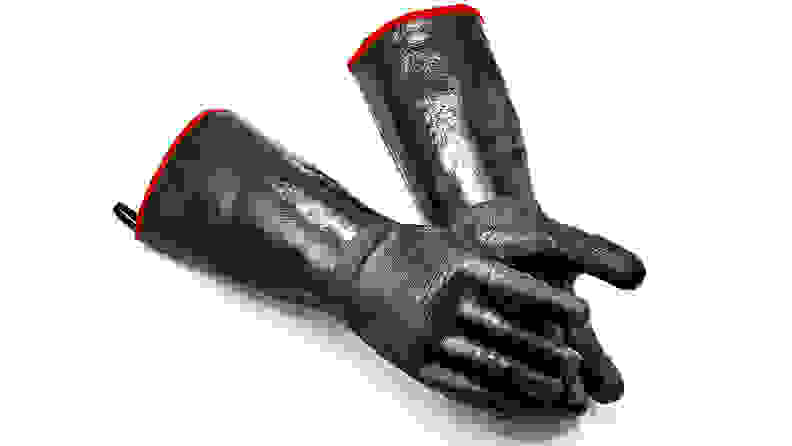 This pair of heat-resistant gloves from RAPICCA have thousands of favourable reviews on Amazon saved hundreds of grillers from burned fingers and dropped plates of food. They're heat resistant up to 932°F (500°C) and If you're messing with non-gas grills and fire pits, these are essential.

Get the RAPICCA BBQ Gloves from Amazon Canada
The product experts at Reviewed have all your shopping needs covered. Visit Reviewed Canada for all the latest reviews, recommendations, buying guides, and coverage of all the best products available in Canada.
Prices were accurate at the time this article was published but may change over time.