Canada
8 great stand mixers to consider for your kitchen
We put several stand mixers to the test.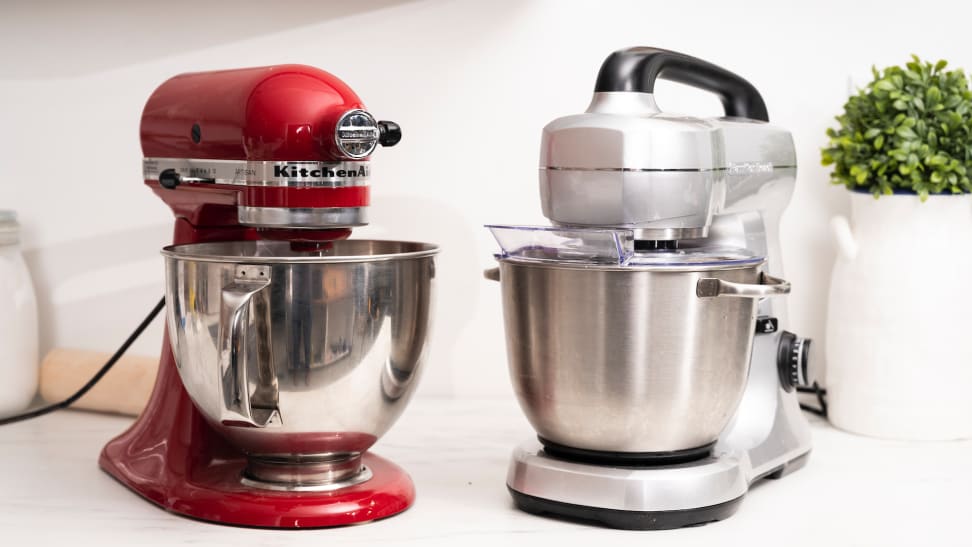 Credit: Reviewed / Betsey Goldwasser
One of the most essential small kitchen appliances for any avid cook or baker is a stand mixer. And while most people gravitate to KitchenAid, a trusted brand with a 100-year legacy, do they really make the best mixers?
Our colleagues in the U.S. set out to find out, testing a selection of stand mixers from various brands, KitchenAid included. All have various speeds and attachments to make everything from comforting cookies to healthy breakfast muffins and indulgent birthday cakes (with whipped cream, to boot.) The reviewer put these mixers to the ultimate test, whipping egg whites, mixing cake batter, beating chunky cookie dough, and kneading bread dough. What they found was that most of the mixers did a more than adequate job. However, some were faster, more efficient, quieter, and easier to use than others. Here's how they all fared.
1. Most Versatile: KitchenAid Artisan 5-Quart Stand Mixer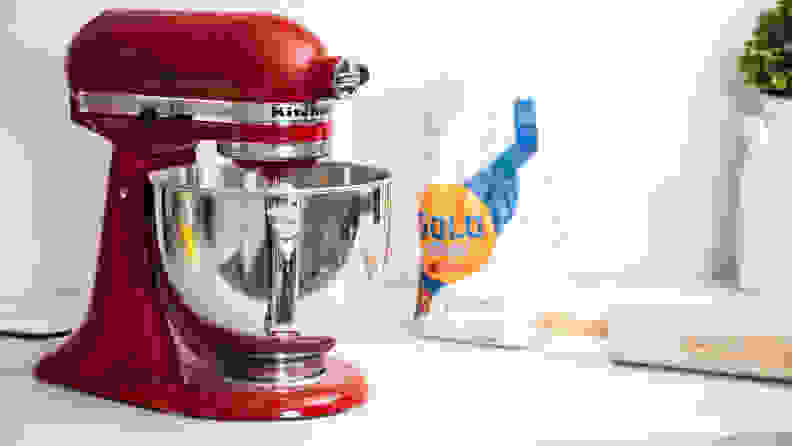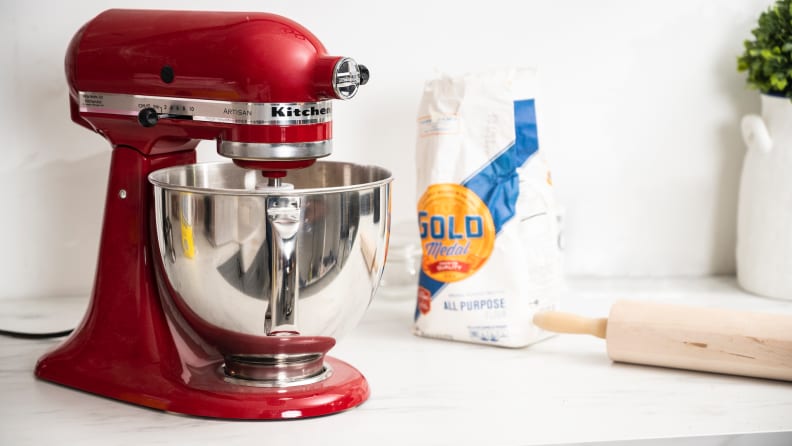 Available in 47 different colours and compatible with a wide range of accessories, the KitchenAid Artisan Five-Quart Stand Mixer was the most versatile of all models we tested.
Easy to set up, durable, reliable, and quiet, we were pleased with the performance of this 325-watt mixer. The tilt lever lock works well when you need to raise the top part to add more ingredients. The bowl has a handle and installs smoothly. Meanwhile, the splash guard fits the bowl nicely and can slide on whenever you need it without having to take apart the mixer first.
In addition to the five-quart (4.7-litre) mixing bowl that can hold enough batter for 72 cookies or dough for up to four loaves of bread, it comes with various useful attachments, including a wire whisk, wire whip, flat beater, and dough hook. It's also possible to buy additional attachments, depending on your needs. Each attachment clips on easily and all of them are dishwasher safe.
The Artisan 5-Quart Stand Mixer was a pleasure to use and passed every test we threw at it, mixing and blending quickly and efficiently. It can whip egg whites with ease into a meringue, beat chunky cookie batter, or knead a double batch of bread dough into a perfectly smooth ball, ready for proofing.
The only thing we didn't like was the 10-level speed lever that, while durable and works well, isn't as nice to use as the dials found on most other brands. It has sharp edges, and because of the resistance, it's easy to push too hard and end up setting the mixer at a higher speed than intended.

Get the KitchenAid Artisan 5-Quart Stand Mixer from Best Buy Canada
2. Excellent Mixing: Hamilton Beach Seven-Speed Mixer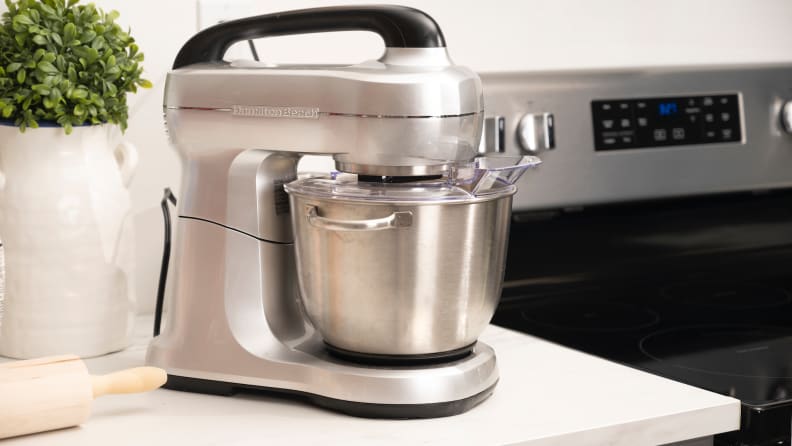 The Hamilton Beach Seven-Speed Mixer is a 300-watt machine that can get the job done just as well as pricier models.
Available in silver, black, or blue (depending on where you buy it), this mixer ships with a dough hook, flat beater, and whisk as well as splatter shields, all of which are dishwasher-safe. Its 4.2-quart (3.97-litre) bowl is easy to hold and move using its built-in handles. Additionally, we liked how smoothly its tilt mechanism worked and its well-marked, seven-speed control dial. The fact that it's compact enough to be stored in a kitchen cupboard is the icing on the cake.
However, it wasn't the sturdiest stand mixer that we've tested: We noted that its head bobbed a bit when we kneaded enough dough for two loaves of bread, which is the maximum amount recommended by the manufacturer. Additionally, you should know that the mixer can't be used with accessories other than those it ships with.

Get the Hamilton Beach Seven-Speed Mixer from Best Buy Canada
3. Extra Handy Features: Breville the Bakery Chef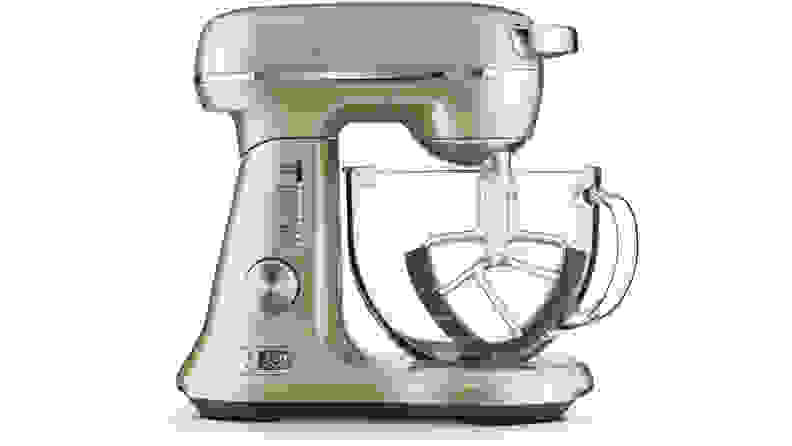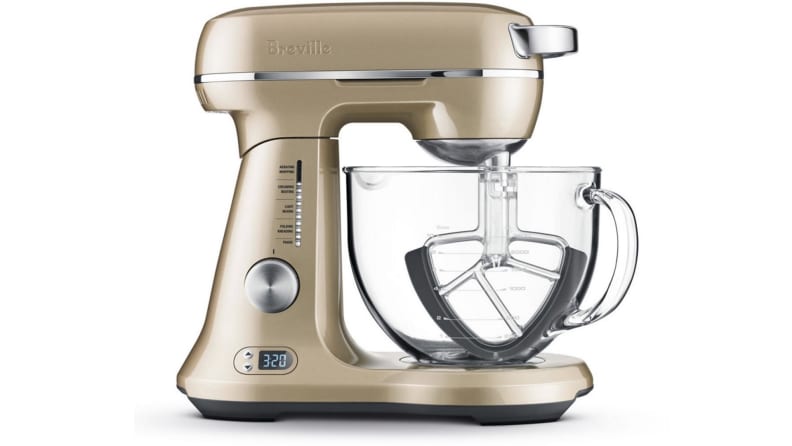 The powerful 550-watt Breville the Bakery Chef mixer is a well-made piece of hardware. It comes with a splatter shield, flat beater, dough hook, whisk and a scraper beater. When the time comes to proof your bread dough or chill sugar cookie dough in the refrigerator, the Bakery Chef's lid will help protect your work until you're ready to move along to the next step in your recipe.
This mixer comes with 4-quart (3.79-litre) and 5-quart (4.7-litre) stainless steel bowls, each of which has stamped measurements on its side. The Bakery Chef gets the little things right: a built-in timer aids in following recipes that require adding ingredients during the mixing process. There's also a lamp that shines into the mixing bowl so you can clearly see when your whipped meringue is showing soft peaks. The mixer's speed is controlled by a dial and is indicated by a lighted bar that displays which mixing task corresponds with each of the 12-speed levels.
Unfortunately, very few additional accessories are available for the Bakery Chef, so don't expect to grind meat or cut homemade pasta.

Get the Breville the Bakery Chef from Breville
4. For Serious Bakers: Wolf Gourmet Stand Mixer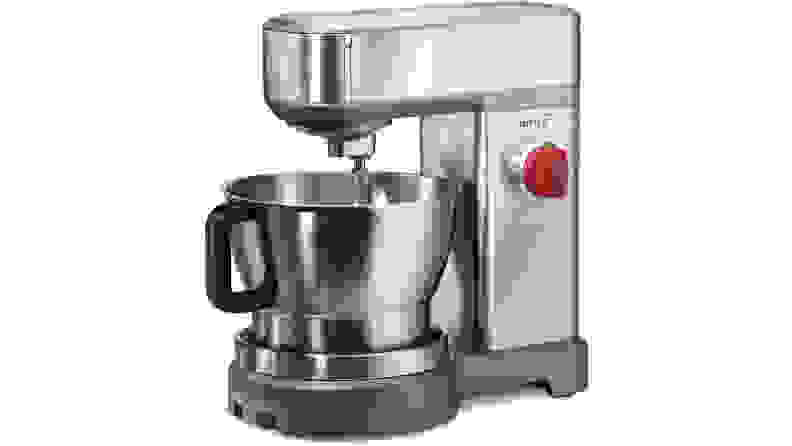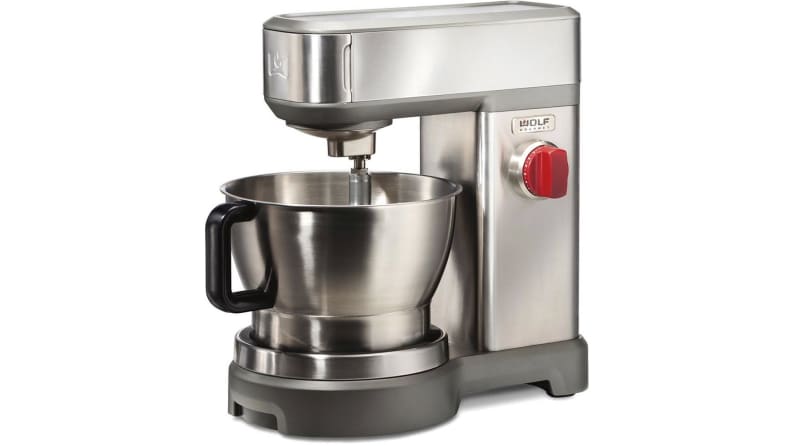 Solidly constructed of brushed stainless steel, the Wolf Gourmet Stand Mixer wouldn't look out of place in a commercial kitchen. Its large, heavy design all but disallows it to be stored anywhere else than on a countertop.
The Wolf Gourmet comes with several accessories, including a 7-quart (6.6-litre) bowl, flat beater, wire whip, dough hook, and a combination splash guard/pouring shield. It's also possible to purchase specialty attachments for this mixer, such as a food grinder.
With a powerful 500-watt motor and the generously sized bowl, you can easily mix batter for up to 14 dozen cookies or eight one-pound loaves of bread at a time. We found that it rivalled the KitchenAid Artisan 5-Quart Stand Mixer when it comes to speed and effective mixing. We were also fond of the Wolf Gourmet's soft start function that helps prevent splattering on start-up. A pulse button also helps to prevent overmixing, which proved ideal when working with delicate batter.
We were disappointed that, to raise or lower the Wolf Gourmet's mixing bowl, it needs to be spun in place on the mixer—being able to raise a mixer's head is a much less complicated solution for this function.
In the end, The Wolf Gourmet is not for everyone. Its cost makes it best suited to enthusiasts or pro bakers who make large quantities of baked goods regularly and need a large capacity. If you only bake occasionally, you'd be better off with one of the other models in this guide.

Get the Wolf Gourmet Stand Mixer from Amazon Canada
5. Good For Small Spaces: KitchenAid Artisan Mini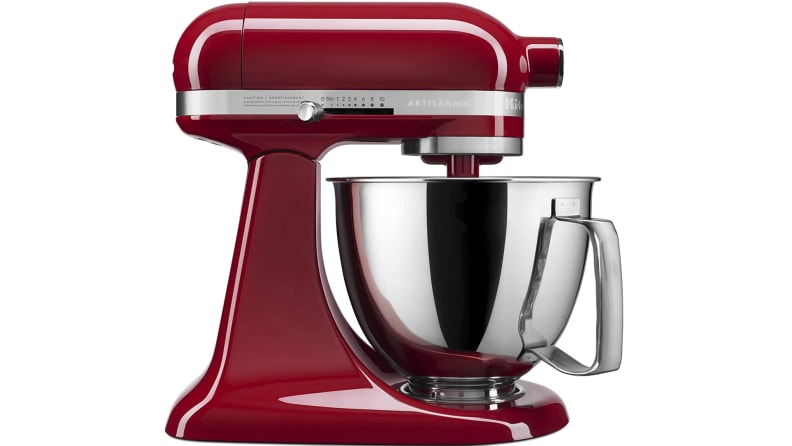 While smaller than the other models in this guide, the KitchenAide Artisan Mini can still be counted on to complete any baking task you throw at it. It's a perfect option for occasional users who make small batches or live in homes with small kitchens and minimal counter space.
Featuring a solid, durable build, the Artisan Mini typically comes with an ice blue or cast-iron black finish. This mixer ships with a 3.5-quart (3.3-litre) bowl, flat beater, dough hook, and wire whip. Unfortunately, it doesn't come with a pouring shield to prevent splatters. Still, it can be used with all of the same optional attachments as a full-sized KitchenAid mixer, including everything from ice cream makers to meat grinders.
Its smaller size does make for a few drawbacks, however. Due to less power at 250 watts, it does take a few minutes longer than the other models we tested to whip, mix, and knead. That said, the Artisan Mini proved capable of whipping up 60 cookies or enough batter for a single loaf of bread with ease. We were disappointed that to fit in all of its controls, they had to be shrunk down. The mixer's speed control lever is smaller than what you get with the Artisan 5-Quart Stand Mixer, for example. This makes it easy to set the mixer to the wrong setting if you're not careful.

Get the KitchenAid Artisan Mini from KitchenAid Canada
6. Great for Bread: KitchenAid Professional 600 Series 6-Quart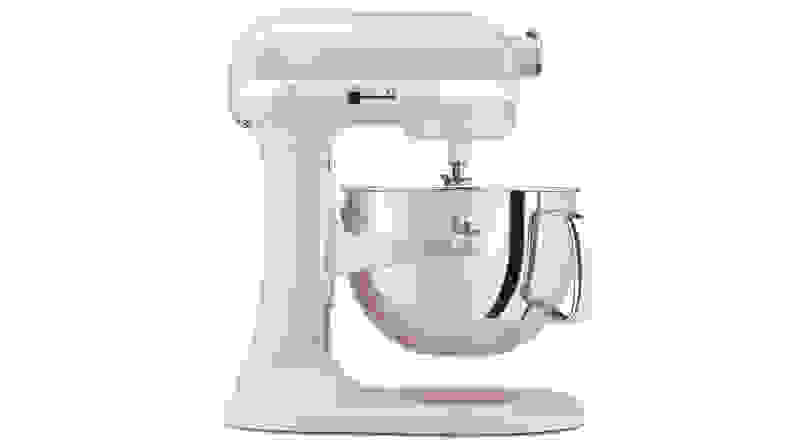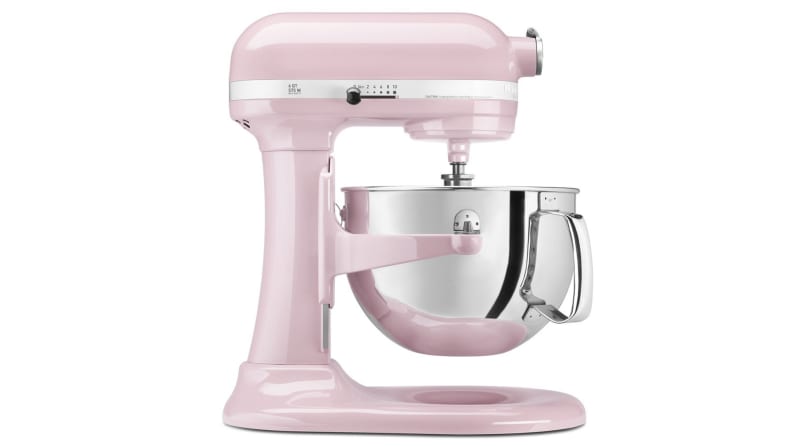 With the most powerful motor of all the mixers we tested, the KitchenAid Professional 600 Series 6-Quart (5.67-litre) stand mixer is great for heavy-duty home baking needs.
Its powerful 10-speed, 575-watt motor allowed us to perform any task we threw at it. Featuring a solid mechanism for locking its mixing bowl in place and an easy-to-use splatter shield, the Professional 600 Series comes with a dough hook, flat beater, and wire whip attachment. As with other KitchenAid mixers, it can be equipped with optional attachments, as well, making this mixer as versatile as you need it to be. Available in finishes like empire red, dark pewter, and white, this is a beautiful machine right out of the box.
Unfortunately, it does come with some drawbacks.
We didn't like how hard the mixer's paddle attachment was to mount. We also notice that while solidly built, there were some build-quality issues: When the speed dial is placed in the "off" position, a piece of metal trim noticeably stood out from the body of the mixer. Frustratingly, the bowl-lift handle and speed controls are placed on opposite sides of the machine. This meant that the mixer has to have a fair amount of space around to operate, which is bad news for anyone with limited counter space.
Finally, while it was hands-down the best mixer we tested for kneading bread dough, it was pretty slow to whip three egg whites. Go figure.

Get the KitchenAid Professional 600 Series 6-Quart from Best Buy Canada
7. Make a Statement: Smeg SMF02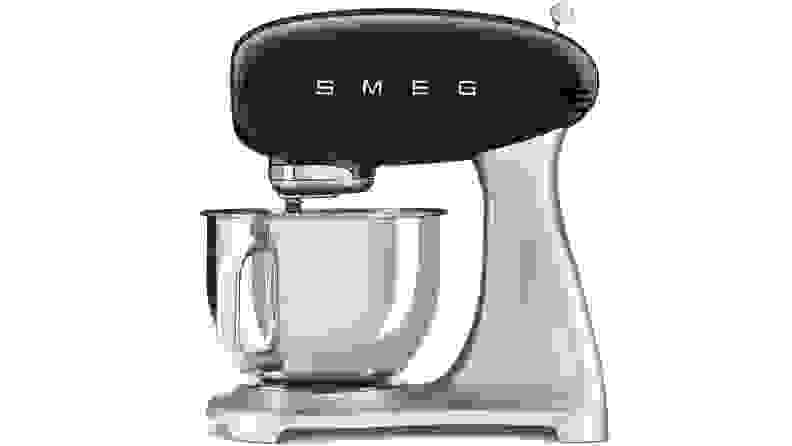 Smeg appliances are famous for their retro mid-century styling. However, this mixer has more than good looks going for it. During testing, SMF02 yielded wonderful results, provided you only want to bake small batches at any one time.
Despite its quiet, 10-speed, 500-Watt motor. The SMF02 is only capable of mixing enough dough for a single loaf of bread at a time. However, the dough that it produced during testing was some of the best we were able to make: The ball of bread dough produced by the SMF02 required no additional shaping by hand and enjoyed an exceptionally high rise during proofing.
Along with its 5-quart bowl, the SMF02 also ships a wire whisk, flat beater, dough hook, and plastic bowl cover. You can also use optional accessories with the mixer via its hub, including a pasta roller and cutter, grinder, slicer/shredder, and even ice cream maker.
That said, this beautiful machine does come with a few issues. We found that switching between speeds was difficult: While the selection lever moves smoothly, it's labelled with small, hard-to-read numbers. That the speed settings are positioned on the top of the mixer, which can be awkward to see, left us feeling a little frustrated.

Get the Smeg SMF02 Stand Mixer from Amazon Canada
8. Affordable Alternative: Cuisinart Precision Master SM-50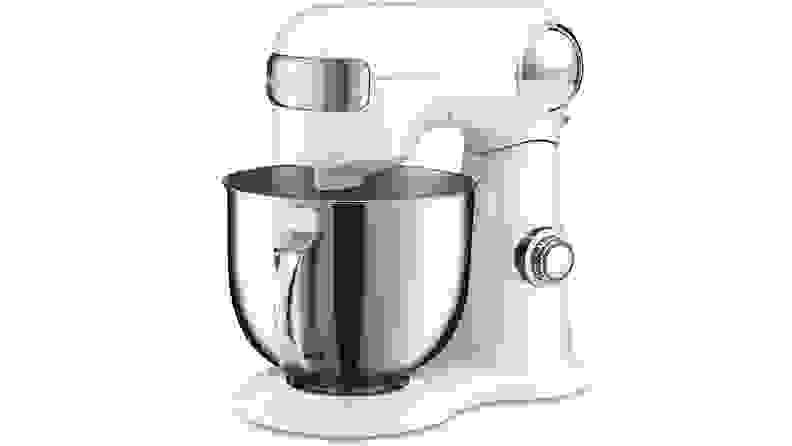 The Cuisinart Precision Master SM-50 is a 12-speed, 500-watt mixer that excelled at whipping egg whites and cake mix. However, it's not the best choice for creating heavier batters or doughs: When we added flour and sugar to creamed eggs as part of a cookie dough recipe, it slowed down significantly. Its 5.5-quart (5.2-litre) bowl is suitable for kneading enough dough for up to two loaves of bread at a time, producing a nice, smooth, satiny ball. But overall, the SM-50 did a better job when it came to batters for cakes.
The SM-50 is available in several colours and comes with a whisk, dough hook, flat mixing paddle, and a splash guard with a pour spout. It's possible to purchase optional accessories, including a pasta roller and cutter, pasta extruder, meat grinder, frozen dessert maker, and spiralizer.

Get the Cuisinart Precision Master SM-50 from Amazon Canada
Prices were accurate at the time this article was published but may change over time.