I'd wager a guess that almost everyone owns a cheese grater. It was one of the first tools I learned to use in the kitchen, and they're so commonplace that you'll probably find one in a vacation rental property. You might not think too much about your cheese grater, and honestly I didn't, either. But, after using our winning grater—the Microplane 4-Sided Stainless Steel Multi-Purpose Box Grater (available at Amazon for $32.54)—I'm definitely planning to upgrade my old one as soon as possible!
You see, these graters work by moving your food over tiny little blades, transforming a large block into a pile of perfectly shredded pieces. In addition to taking down the obvious (cheese), graters are ideal for shredding potatoes for hash browns or transforming carrots into cakes and coleslaws. Like most blades, the holes on a grater can wear down over time, and unfortunately, they can't be sharpened. If you find yourself buying bags of pre-shredded cheese just to avoid the grater, that may mean it's time to pick up a replacement (especially if you're like me and you still have the same box grater you bought when stocked your kitchen way back when).
So, we picked up eight top-rated graters and put them to the test by creating mounds of cheese, carrots and potatoes. Most people only use the coarse setting, but we find that the other sides come in handy from time-to-time, so we chose mostly four-function graters. After putting them through a series of tests we found one we love and a few we think are just great (sorry, I had to).
Here are the best graters we tested ranked, in order.
Microplane 4-Sided Stainless Steel Multi-Purpose Box Grater
Cuisinart CTG-00-BG Boxed Grater
Cuisipro Surface Glide Technology 4-Sided Boxed Grater
KitchenAid Gourmet Box Grater
Prepworks by Progressive 5-Piece Grater Set
Utopia Kitchen 6-Sided Cheese Grater
OXO Good Grips Box Grater
Rösle Stainless Steel Coarse Grater
Updated January 02, 2019
Advertisement - Continue Reading Below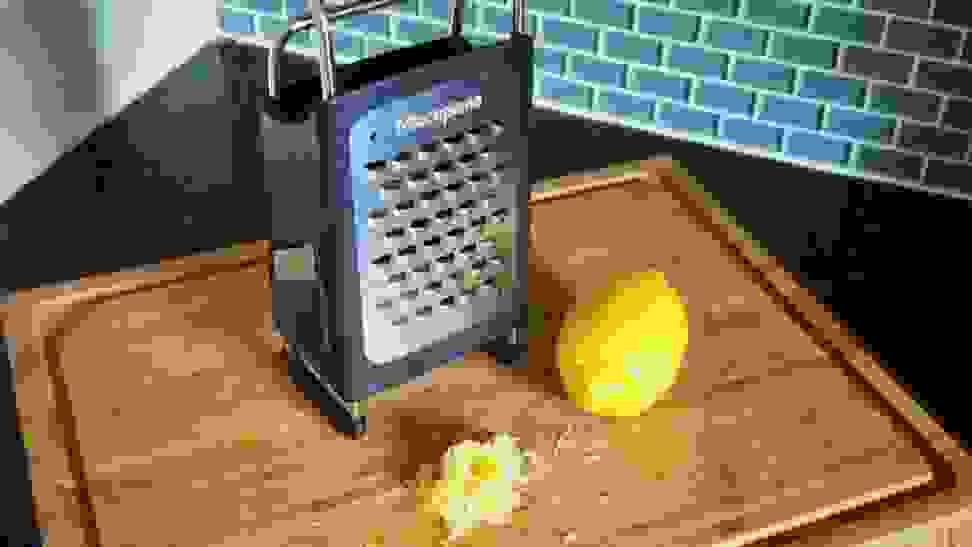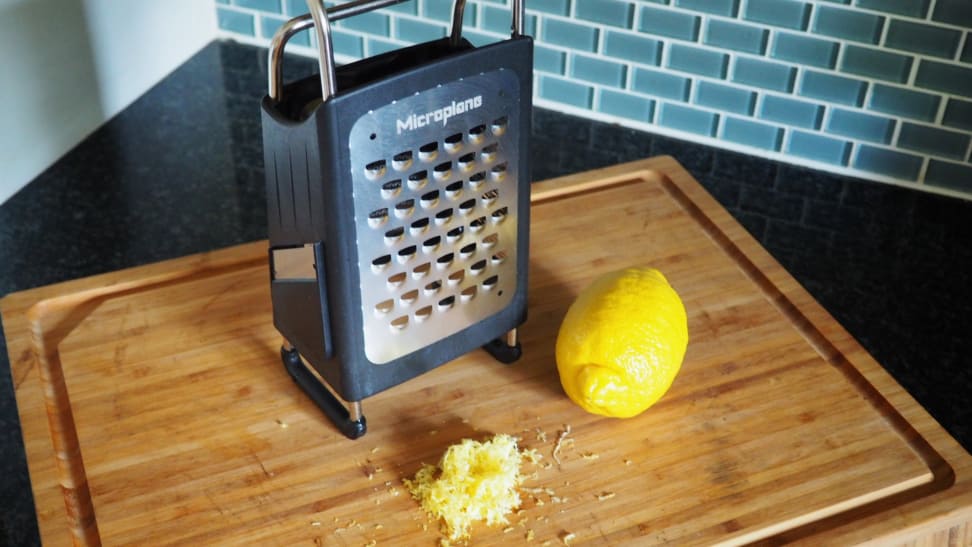 How We Tested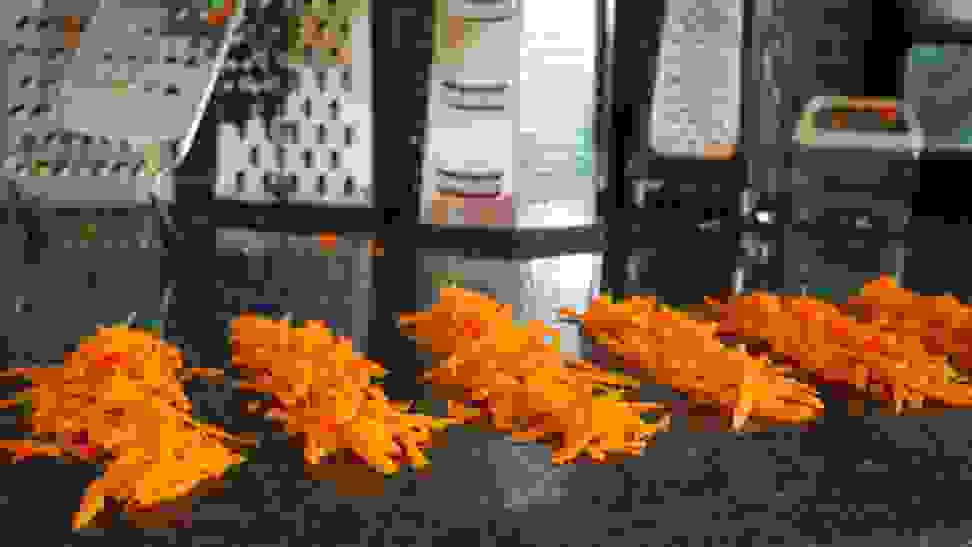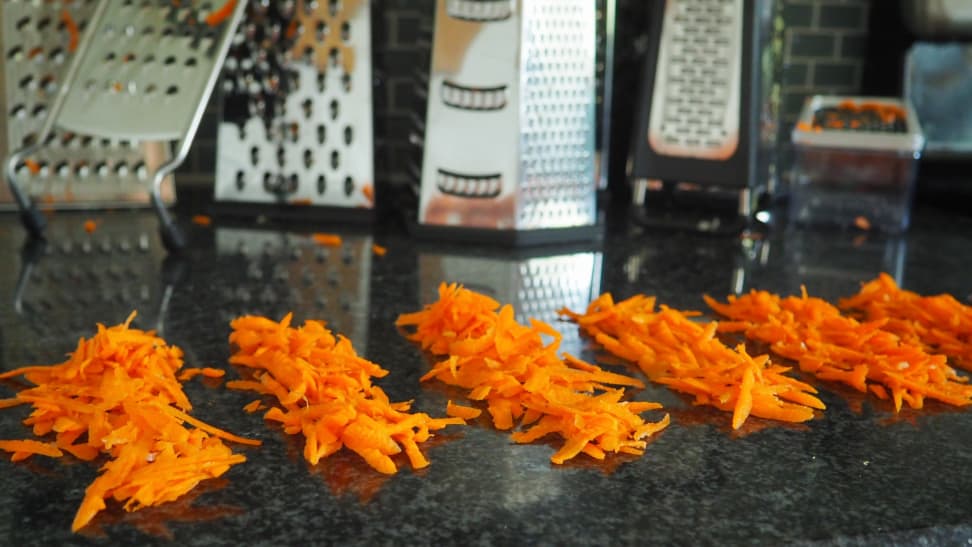 The Tester
Hi, I'm Lindsay Mattison, a trained professional chef and a total cheese addict. As kids, my brother and I used to grate huge piles of cheddar cheese and melt them in the microwave, fighting over the cheesiest part of the pile. The grater was the first kitchen tool I learned to use, and I was amazed when I got to college and found out that pre-shredded cheese was a thing! I'll buy the convenience bags from time to time, but a good grater creates long, thick strands of cheese that simply melt better than the alternative. Since I use my grater all the time, I'd love to help you find one that's easy to use and even easier to clean.
The Tests
We chose eight graters (six box models, one flat grater, and one boxed multi-grater) and put them to the test. Our tests were designed to assess the overall usability of each grater, with specific attention to blade sharpness, efficiency, and ease of use.
To get a good feel for each grater, we shredded potatoes, carrots, and mozzarella cheese on the coarse side. On the fine side, we tackled Parmesan cheese and lemon zest. We were looking for a grater that was sharp enough to create long, intact shreds on the coarse side and delicate piles from the fine side. To see how much waste each grater created, we measured the foods before and after shredding them.
Finally, we paid attention to the grater itself as we used it. Was the handle comfortable? Did it slide around as we used it? Did product get trapped in the grates itself, or did the feet prevent us from easily removing the shreds? And, since those blades are sharper than you think (I actually have a few scars to prove that!), we also made sure each grater was free from any safety concerns.
What You Should Know About Graters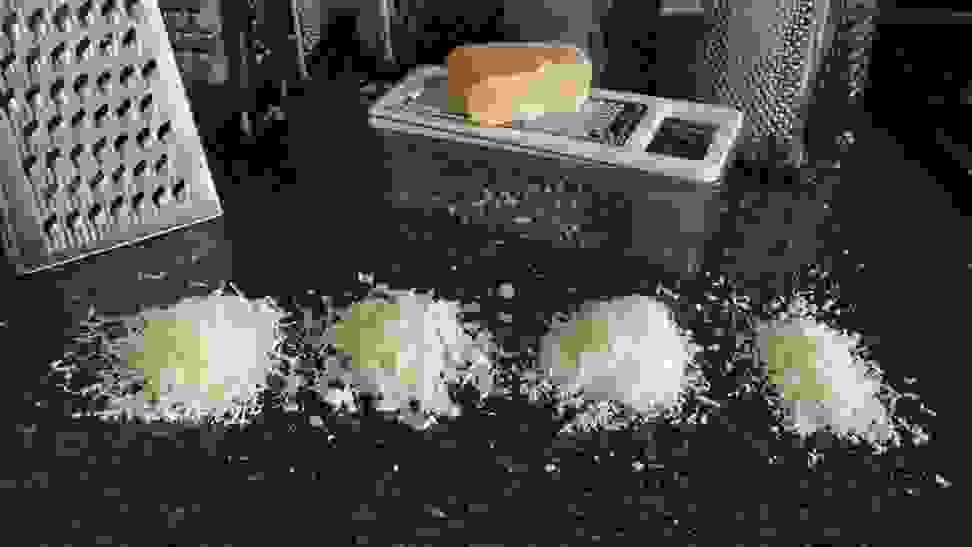 You might only use your grater for cheese, but they're actually incredibly helpful tools. The coarse holes are perfect for taking down everyone's favorite melting food, but they're also useful for grating carrots for cake or coleslaw, as well as potatoes for latkes and hash browns. The medium-sized holes work the same way as the coarse ones, just with a smaller shred. And the fine holes are designed for grating parmesan, zesting lemons, or reducing ginger to a paste. While I admit that I almost never use the slicing side of a grater, it's available for making uniform slices of cheese for appetizer platters or vegetables for gratin dishes if you don't have a mandolin slicer.
In addition to the multiple sides, graters also come in two styles: stamped and etched. The stamped models represent the graters of our childhood, with rigid grating surfaces stamped into steel. These holes protrude out from the side of the grater, catching food in their wide holes and forcing them over the cutting surface. They're generally very efficient on the coarse side and horribly annoying on the fine side. Etched graters, on the other hand, are created by using a chemical process that corrodes teeth into the side of thin metal. It creates a tiny opening that's just large enough to grab onto your food, making it ideal for fine grating. The metal used for these types of graters is thinner, though, so they will flex in and out when being used with heavy-duty foods.
---
Other Graters We Tested
Advertisement - Continue Reading Below