If you want to gain a real appreciation for mixing bowls, try cooking in a rental vacation home. Not too long ago, I found myself preparing dinner for a crowd in one such kitchen. My mixing bowl slipped and slid around on the counter as I whisked up a vinaigrette, sloshing the salad dressing all over the counter in the process. As I yearned for my home kitchen setup, I realized that a good set of mixing bowls–like our favorite Cuisinart Stainless Steel Mixing Bowls (available at Amazon for $25.99)–are often taken for granted.
Most mixing bowl sets can be found for $20-$30 (available as a set or purchased individually), so we narrowed down our criteria to look for ones that nested for easy storage. Then, we looked at sizing–smaller bowls are perfect for whisking up dressings and scrambling eggs, but you also need medium and large bowls (for preparing cakes, mixing batters, and holding marinating ingredients). Finally, we threw out ceramic and plastic options (the former are heavy and chip easily, and the latter can warp from heat and tend to absorb odors) and narrowed down our selection to microwave-safe glass bowls and lightweight stainless-steel bowls.
After we had the bowls in hand, we set about whisking, mixing, and melting until we found a few bowls that fit all our specifications.
Here are the best mixing bowls, in order:
Cuisinart Stainless Steel Mixing Bowls with Lids, Set of 3
Pyrex Smart Essentials Glass Bowl Set, 8-Piece
Fox Run Stainless Steel Mixing Bowls (purchased individually)
Finedine Stainless Steel Mixing Bowls, Set of 6
Duralex Lys Stackable Glass Bowl Set, 10-Piece
Vollrath Stainless Steel Mixing Bowls (purchased individually)
Tramontina ProLine Stainless Steel Mixing Bowls, 3-Pack
Anchor Hocking Glass Mixing Bowls, 4-Piece
Updated March 27, 2018
Advertisement - Continue Reading Below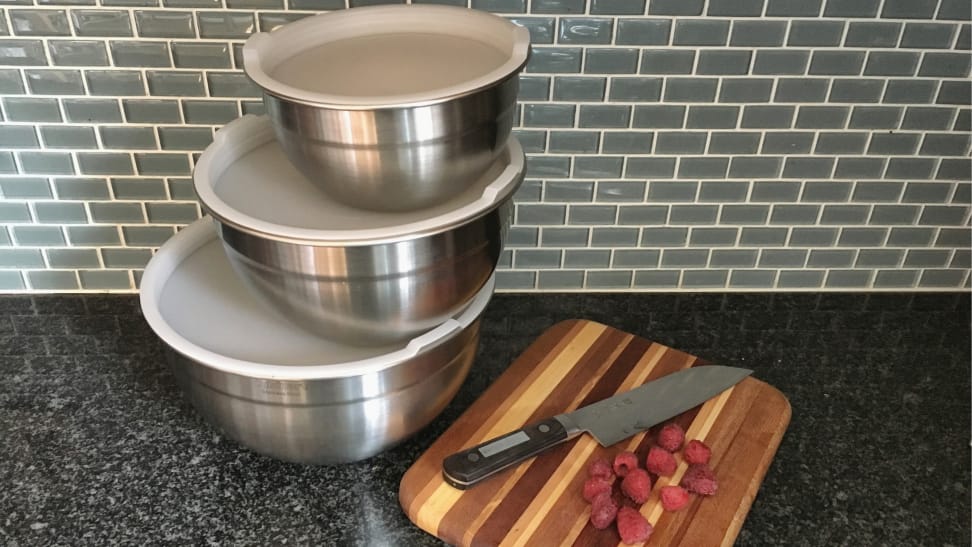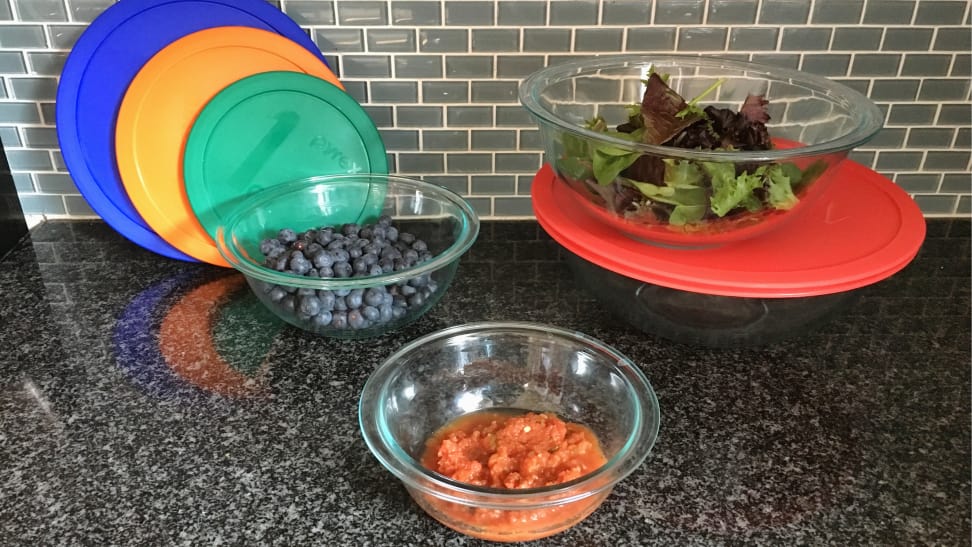 How we tested
The tester
Hi, I'm Lindsay Mattison, a trained professional chef. You know that I've cooked a dinner in your home if all of your bowls are dirty! I find myself using mixing bowls for all kinds of uses, from storing chopped ingredients for mise en place to mixing together sauces and marinades. I've learned the hard way that my job as a chef is more difficult without a good set of mixing bowls, so I'm determined to find the best of the best to make your life easier.
The tests
We chose eight bowls–five stainless-steel sets and three glass models. In addition to mixing, stirring, and combining ingredients, we looked for an all-purpose bowl that could be used as a double boiler. It earned bonus points if it was nice enough to use as a serving dish or could be used as storage. Our tests were designed to assess size and shape, stability, and whether it was comfortable and easy to use.
Mixing bowls come in a variety of sizes and shapes, so we looked at sets that had at least three bowls. We whisked vinaigrette in the small 1- to 1.5-quart bowl, prepared pancake batter in the medium 2.5- or 3-quart bowl, and tossed salad in the large 4- or 5-quart bowl. We wanted gentle, sloping sides that were deep enough to prevent splashes but shallow enough to make it easy to mix and fold in ingredients.
Next up, we needed each bowl to have stability without compromising weight. Bowls that are super heavy (like ceramic bowls) may stay put, but they're uncomfortable to hold and clean. We whisked up marinades three different ways–as we held the side of the bowl, placed it on a towel, and let it sit directly on the countertop–to see if the bowl moved around or tipped over during the mixing process.
Finally, the bowl had to be comfortable and easy to use. It should be lightweight enough to clean and scrape out batter without hurting your wrists. It's also nice if it has a rim to help you hold the bowl, both as you whisk and as you pour.
---
Other mixing bowls we tested
Advertisement - Continue Reading Below