The Best Oven Mitts of 2019
By Kori Perten, November 30, 2018, Updated January 02, 2019
Oven mitts fall under the category of kitchen products that are entirely unsexy but utterly essential. Sure, they don't have the wow factor of a sleek stand mixer, but oven mitts perform an arguably more important function: Protecting your hands from burns. And our favorite Big Red House Oven Mitts (available at Amazon) protect your hands better than most.
Whether you're an occasional baker or experienced chef, your oven mitts are the sole protective layer between your sensitive fingers and a brutally hot pan—which means that mediocre quality really isn't going to cut it. That's why we tested nine of the top mitts on the market to find out which ones could actually handle the heat.
We held onto hot trays, moved scalding oven racks, and picked up kitchen utensils, paying careful attention to things like how quickly heat moved through each glove to our hands, general comfort, and whether we were still able to perform simple kitchen tasks while wearing each mitt. And after a comprehensive workup, we finally found an oven mitt that just plain protects our hands without getting in the way. Perfect.
These are the best oven mitts we tested ranked, in order:
Big Red House Oven Mitts
Homwe Silicone Oven Mitts
Grill Armor Gloves
RedLantana Silicone Oven Mitts
Cuisinart Oven Mitts with Non-Slip Silicone Grip
The 'Ove Glove' Hot Surface Handler
San Jamar Cool Touch Flame Mitts
Mastrad Orka Kitchen Silicone Mitt
Williams Sonoma Oven Mitt
Updated January 02, 2019
Advertisement - Continue Reading Below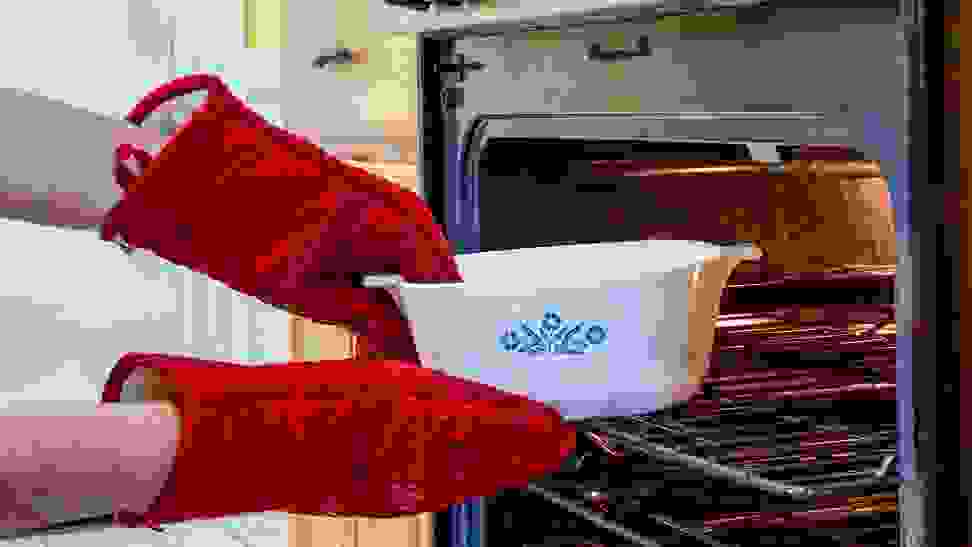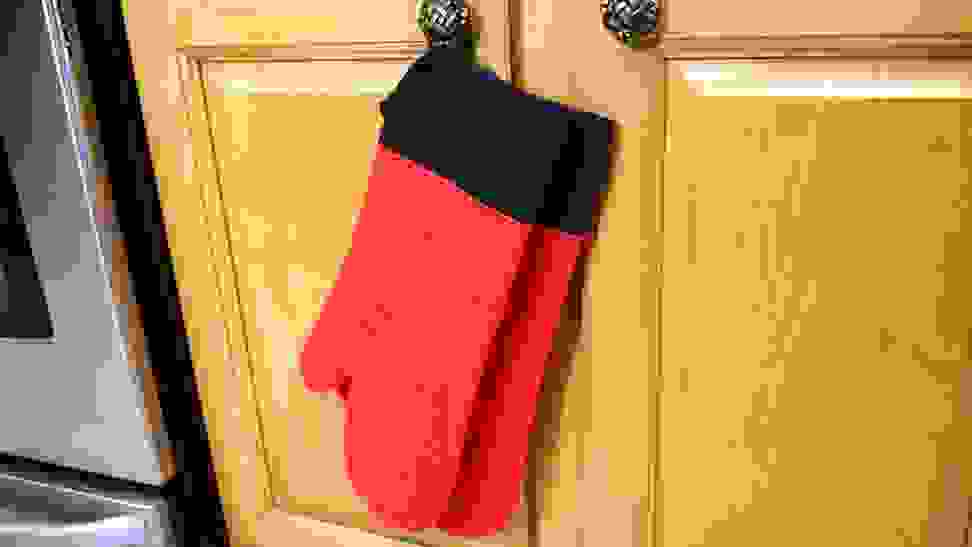 How We Tested
The Tester
Hi, I'm Kori. I used to be a Home and Outdoors Editor at Reviewed, which means I've done a great deal of cooking both professionally and personally. This also means I've burned my fingers while cooking—a lot.
From bear paw shaped novelty oven mitts, to the oven gloves commonly used in the Reviewed test labs, to the more traditional gloves I typically don at home, I've tried all kinds. Some worked OK, like Reviewed's oven gloves. Others, like the bear paw mitts, were thrown out in a fit of anger after hot bakeware singed my hands through the fabric. Until I began testing for this review, I'd never actually tried an oven mitt that felt as protective as it should. And now that I've seen what's out there, I refuse to use subpar oven mitts in my home again.
The Tests
Testing oven mitts is a tricky business, so each test I performed was carefully designed to provide important information without requiring me to burn my fingers in the name of data. In order to check how effectively each mitt protected my hands from heat, I placed a sheet pan in a 450°F oven for half an hour. I then used each mitt to hold the pan, measuring the length of time I was able to do so before it got uncomfortably hot. Four minutes was the maximum length of the test, but only one mitt (the Big Red House) made it that far. To further test heat protection, along with dexterity, I also ran the oven at 350°F for one hour, then used each mitt to move an oven rack to a new position.
Moving racks isn't the only kind of kitchen task you might need to take on with a mitt on your hand, so I also wanted to try a few more precise operations, I used each mitt to pick up and use both a large wooden mixing spoon and a normal metal dinner spoon. It wasn't a deal breaker if I struggled a bit with dexterity, but I took issue if I struggled a lot.
I checked each mitt to ensure that it was machine washable, easy to store, and easy to put on or remove. Finally, I noted whether the mitts were comfortable to wear.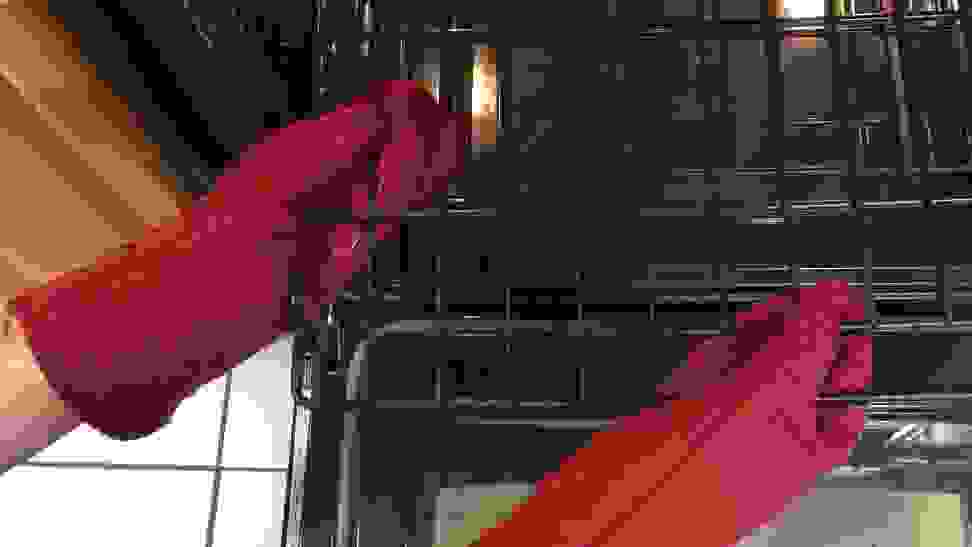 What You Should Know About Oven Mitts
Most oven mitts are made of either fabric (usually cotton) or silicone. Some are made of a combination of the two, like a cotton-lined silicone mitt or a cotton mitt reinforced with silicone. Cotton is generally softer to wear and easier to wash in a machine, but silicone can be more durable and provide a better grip and easier spot clean situation. I tested one mitt made of a different material entirely—the kevlar San Jamar mitt—but a kevlar mitt is an outlier.
Oven mitts come in three major styles. The most common (and most traditional) is shaped like an oversized mitten, which is an easy one-size-fits-all style that allows your hand to fall naturally open but has the downside of limiting your hand movement. An option that allows for better dexterity is the mitt that is shaped like a glove, though a glove shape is tougher when it comes to fitting all hand sizes comfortably, not to mention it just plain looks unattractive. You're also unlikely to find a silicone glove, which is only a negative if you specifically want silicone. Some oven mitts choose to separate your thumb from the rest of your fingers but are shaped more like a hand puppet than a mitten. This provides a natural grabbing shape, but it situates your thumb directly below the rest of your fingers, which can feel uncomfortable.
There's really no hard and fast rule about which material and style make better oven mitts. Some of the silicone mitts did a great job at heat protection, while the worst mitt at the job was cotton. However, the winning mitt was also cotton—layered cotton, that is, with silicone striping for grip. Ultimately it comes down to what style you find the most comfortable and which specific mitts happen to do a better job at protection, regardless of the type of fabric—and that information is luckily readily available because I tested all these mitts myself.
---
Other Oven Mitts We Tested
Advertisement - Continue Reading Below