Ok, so, you've been told that you need a roasting pan for the holidays. You simply can't cook up a Thanksgiving turkey or a Christmas prime rib roast without one! But why should you buy an expensive roasting pan–like our winner, the Viking 3-Ply Stainless Steel Roasting Pan with Nonstick Rack (available at Amazon for $149.95)—if you're only going to use it twice a year? Let me tell you why: Because a roasting pan can do so much more than just cook your holiday dinner.
You see, a good roasting pan can sear meats like short ribs, chicken thighs, or pork chops on the stovetop and finish cooking them over a bed of vegetables in the oven. But, as we found out in our testing, not all of them are created equally. Thankfully, the majority of them proved to be a worthy purchase, even if you only use them once a year. If spending $200 on a roasting pan isn't in your budget, never fear. Our runner-up nearly bested our top pick in many of our tests and it's regularly on sale for less than $40.
Here are the best roasting pans we tested ranked, in order.
Viking 3-Ply Stainless Steel Roasting Pan with Nonstick Rack
Circulon Nonstick Bakeware with U-Rack
Anolon Tri-Ply Clad Stainless Steel Large Rectangular Roaster with Nonstick Rack
All-Clad E752C264 Stainless Steel Large Roaster with Nonstick Rack Cookware
Cuisinart MCP117-16BR MultiClad Pro Stainless Rectangular Roaster with Rack
KitchenAid KC1T16RP Tri-Ply Stainless Steel Roaster with Rack
Calphalon Classic Hard Anodized Roasting Pan with Nonstick Rack
Tramontina 80203/005DS Gourmet Prima Rectangular Roasting Pan with Basting Grill
Updated January 02, 2019
Advertisement - Continue Reading Below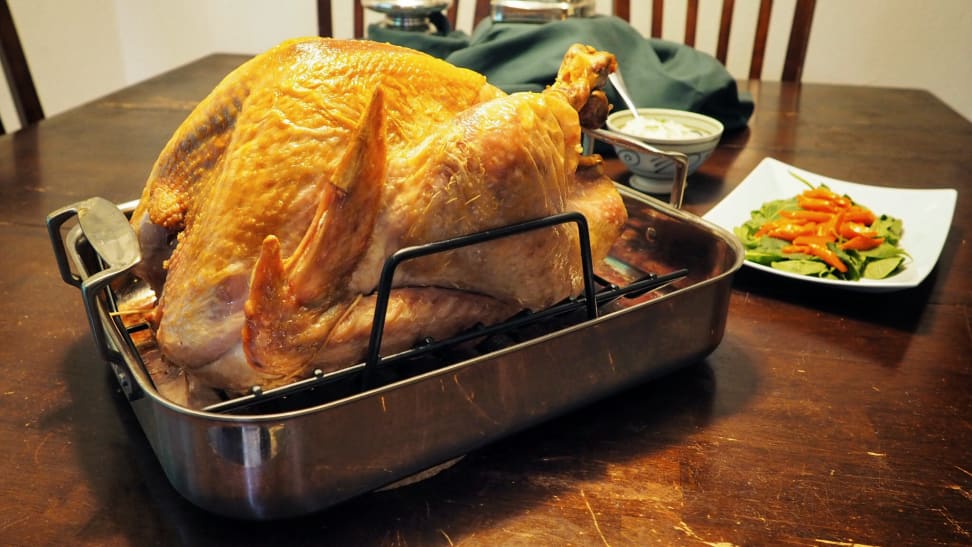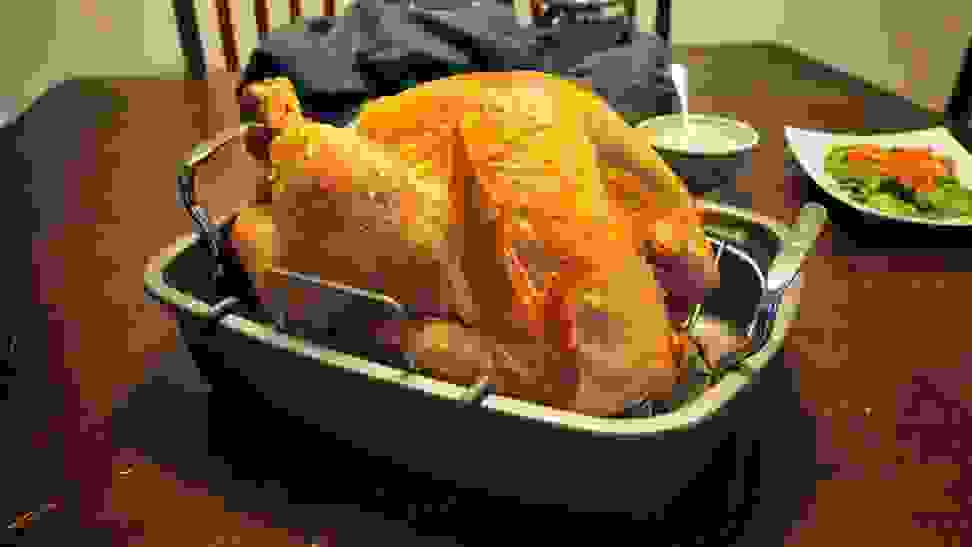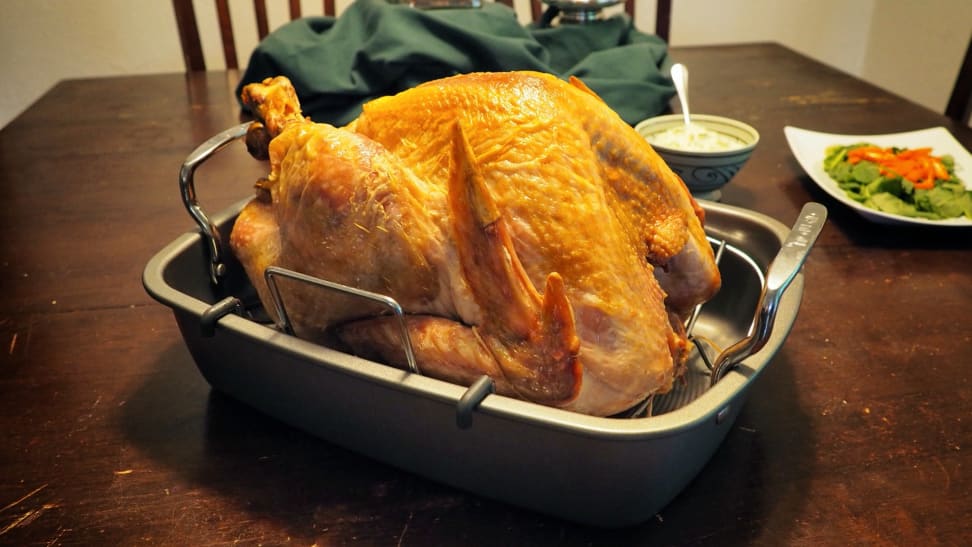 How We Tested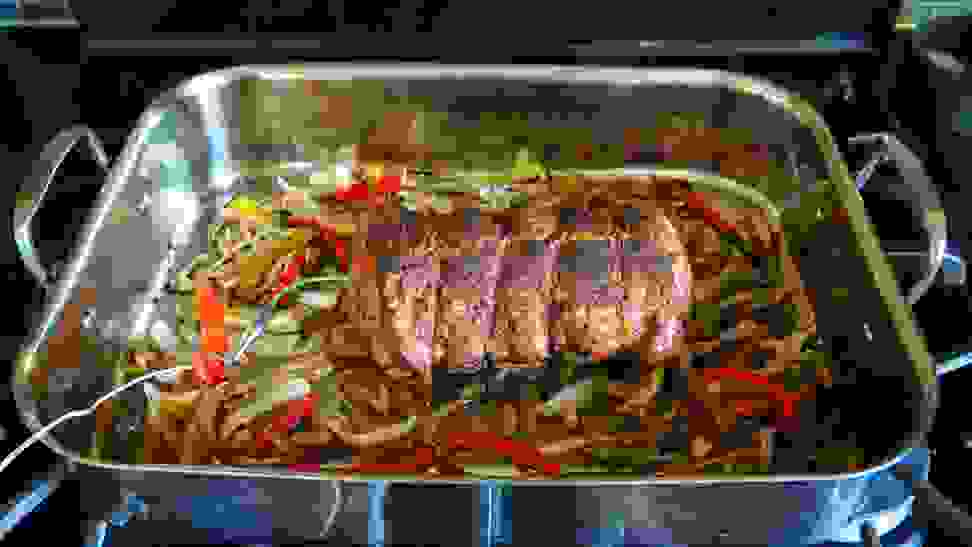 The Tester
Hi, I'm Lindsay Mattison, a professional chef and a big believer in the dinner party. There's nothing I love more than inviting eight or ten people over to share a meal around my (sometimes too-crowded) table. Because I always invite more people than I intend, I've gotten used to super-sizing the entree! That's where my roasting pan comes in handy: I can use it to sear and braise a ton of short ribs, cook a roast over a bed of vegetables, whip-up an extra-large casserole, or make a larger-than-life batch of lasagna. I use it all year long, and I'd love to help you find one that you'd use that often.
The Tests
We chose eight stainless steel and nonstick roasting pans and put them to the test. Our tests were designed to evaluate a few things, most notably the pan's performance in the oven, on the stovetop, and overall ease of use.
A roasting pan is essentially a very, very large casserole dish. Like the casserole, it has tall sides which can prevent proper heat circulation if the pan's not well-designed. The material used to make the pan can either cause excellent heat distribution or leave you with less-than-stellar results. To see how these pans stood up, we roasted a chicken in each pan to see if the skin browned evenly, and we cooked a pork loin over a bed of vegetables. If the vegetables were burnt around the pan's edges, we took away points.
Once we were satisfied with oven performance, we moved onto the stovetop. Your pan should be able to straddle two burners on the cooktop and heat evenly without warping or causing burned spots. We deglazed the chicken drippings and made a batch of gravy (where we also discovered that pans with flat bottoms are much easier to work with). Then, we cranked up the heat and seared all four sides of a pork loin, hoping for an Instagram-worthy, golden-brown crust on each loin.
It's not all about performance, though, when it comes to something as heavy and bulky as a roasting pan. It has to have comfortable handles that help distribute the weight as you carry around a 20-pound turkey. And, those handles have to be well-designed so they're just as easy to grip when you're gloved-up with potholders! We also put the pans through other ease-of-use tests, like how easy it was to clean off those burned bits, whether the rack moved around wildly as it held a turkey, and if it was easy to pour the gravy out of the pan.
What You Should Know About Roasting Pans
There are a few considerations to keep in mind when looking for a roasting pan. First, let's talk size. For these tests, we focused on 16-inch roasters because they're large enough to hold a 20-pound turkey but small enough to fit inside a regular home oven. You might not regularly roast a turkey that size, but it's a good benchmark of the largest thing you might cook in this kind of pan. With that size, you'd have no problem roasting vegetables for a crowd without overcrowding the pan.
Next, materials: Our favorite pans were made from try-ply stainless steel. They have an aluminum core for excellent heat conductivity but stainless-steel linings for durability. These pans worked best both on the stovetop and inside the oven. But, our runner-up is made from carbon steel—similar to baking sheets—and it aced our tests. The worst performing pans were made from hard-anodized aluminum and stainless steel alone. They just weren't able to distribute the heat in a way that satisfied.
Finally, there's the rack. About half of them were stainless steel, while the other half had nonstick coatings. While the nonstick racks were significantly easier to clean after we let the chicken drippings cake-on overnight, we know that nonstick coating eventually wears off. There are inexpensive rack replacements available if that happens, and we weren't too concerned since all the racks were removable. Most of the time, I don't even use that rack: I prefer to cook my roasts on a bed of vegetables to get a two-for-one meal!
---
Other Roasting Pans We Tested
Advertisement - Continue Reading Below