The Best Popcorn Poppers of 2019
By Cassidy Olsen, December 20, 2018, Updated January 25, 2019
Whether you're snuggling up for a movie night at home, preparing some gourmet treats for your next party, or just trying to snack lighter, knowing how to pop fresh popcorn can be a very useful skill to have in your kitchen repertoire. And while you can pop popcorn in the microwave or using a speciality device, we learned from popping over 40 batches that nothing quite beats the taste and simplicity of the pot-on-the-stove method using regular cookware you already own.
But if popping popcorn is something you like to do all the time, a faster and simpler method is probably a smart idea—whether it's using a stovetop popper, air popper (or another electric model), or microwavable popper. Those microwavable bags can also get the job done, but who needs fake butter and chemical-coated paper when it's just as easy to have the real thing?
To find out which poppers you should buy (and not just the best-selling popcorn makers on Amazon), we tested and compared 10 of the best against the stovetop method. Each time, the stovetop method excelled in our testing, but the microwavable Cuisinart Pop and Serve (available at Amazon) was a close second. It's faster, safer, and can be used with or without oil. If you prefer an old-fashioned Whirley pop for camping or special occasions, the Franklin's Gourmet Original Whirley Pop is the way to go—and you'll have a lot of fun using it, too.
Here are the best popcorn makers we tested, ranked in order:
Cuisinart Pop and Serve
Hotpop Silicone Microwave Popcorn Marker
Franklin's Gourmet Popcorn Original Whirley Pop
Colonel Popper Microwave Popcorn Maker
Great Northern Popcorn Company Original Stovetop Popcorn Popper
Cuisinart CPM-100MR Hot Air Popcorn Maker
Nordic Ware Microwave Popcorn Popper, 12-Cup
Presto 04821 Orville Redenbacher's Hot Air Popper
Lekue Microwave Popcorn Popper
West Bend Stir Crazy Electric Hot Oil Popcorn Popper
Updated January 25, 2019
Advertisement - Continue Reading Below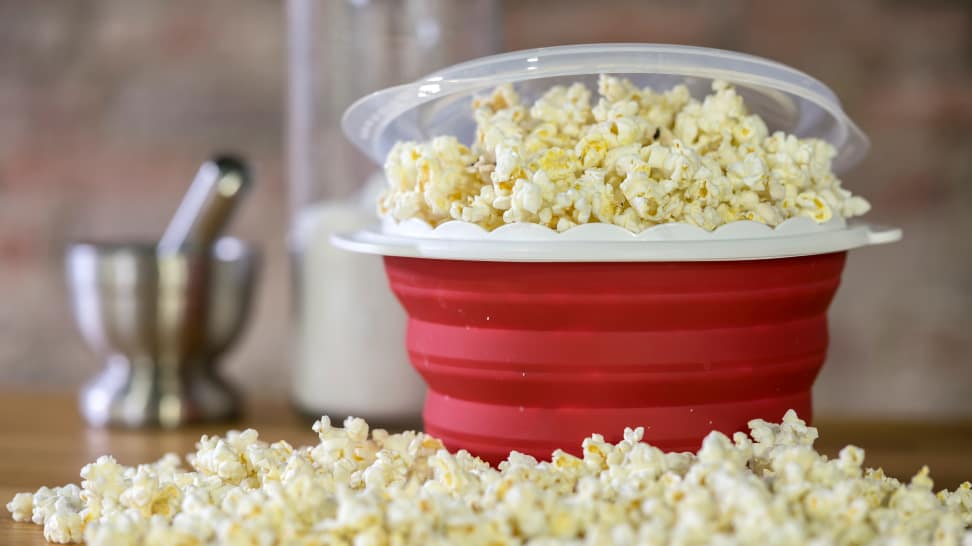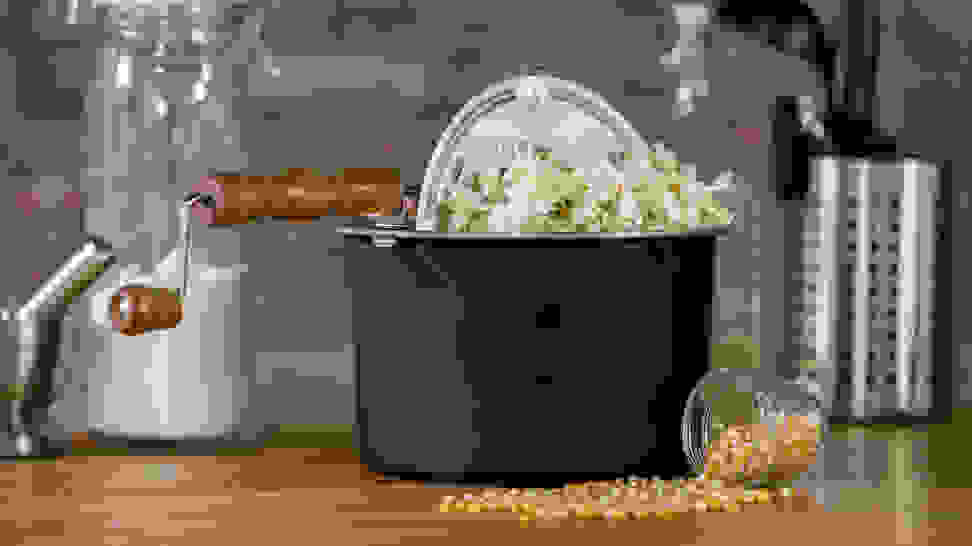 How We Tested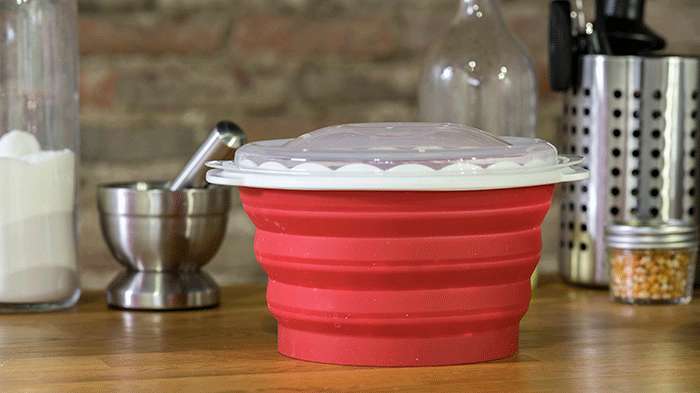 The Tester
Hi, I'm Cassidy, Reviewed's kitchen writer who happens to be a film critic on the side. Why is that relevant, you ask? Let's just say I've spent a lot more money on movie-theater popcorn this year than your average American. Plus, I used to operate a novelty popcorn maker for my college movie club and lived with a friend who was addicted to her air popper, so I would confidently call myself a popcorn tasting connoisseur. Before testing, I wanted to know which method and device produced the crispiest, fluffiest kernels without burning (or requiring a ton of effort), and I suffered through smelling like popcorn for days to find out.
The Tests
Because popcorn poppers are single-function tools, my testing methods were simple—I popped four batches of popcorn using each device, two with vegetable oil and two without. For those that weren't compatible with oil, or alternatively needed oil to be used safely, I only made two batches. I followed all manual directions regarding time and temperature, and I used the same amount of kernels (one half cup) for each batch. After the popcorn was popped, I evaluated the batch and took note of its texture and flavor, as well as the number of kernels left unpopped and any burning or suspicious non-popcorn smell coming from the popcorn or device itself. I added salt to one batch per product to see how it faired (okay, and because I wanted salty popcorn).
I also noted how difficult the product was to use, clean, and store, how much time it took to make one batch, and whether results were consistent across batches. These factors were often dependent on the type of product I was using—microwavable poppers will always be faster than stovetop ones, for example—and I also took that into consideration in the final scoring.
All of these devices were tested against a control method—a regular pot on my gas stove with a glass lid. I placed a half cup of kernels in a nonstick pot with one tablespoon of vegetable oil, put the lid on, and heated it through on medium-high until the popping slowed significantly, shaking the pot to toss the kernels periodically.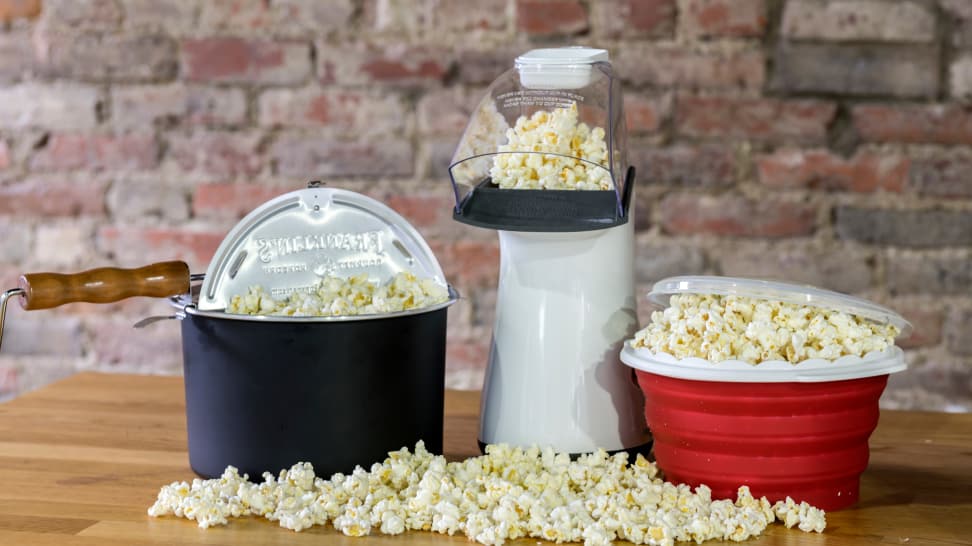 Electric (Air Poppers), Microwave, or Stovetop?
With so many different ways to pop the same kernels, it's useful to know what to expect from each method so you can choose which is right for you. Most household electric popcorn makers are air poppers, meaning they blow hot air directly onto the kernels without any oil. While air poppers can be great for those trying to snack healthier, they're often loud and cumbersome devices, and the kernels they produce are light and fluffy, lacking the crisp outer crunch that comes from contact with hot metal and oil in other methods. There are electric popcorn poppers that do work with oil, but they're the most difficult to clean and store of all the options.
Microwavable popcorn makers, however, are the easiest to clean and store of the bunch. Most of the microwavable poppers we tested are made of near-identical collapsible silicone bowls with venting lids that rise as the popcorn pops within. These can be used with or without oil, depending on your desired outcome, and while they tend to leave more unpopped kernels than the other methods, the popcorn it makes comes out crisp. The risk of burning is high if you don't set your microwave timer correctly, just like it is with the bagged stuff.
The classic, Whirley Pop stovetop devices are simply large aluminum pots with crank handles that disturb the kernels within, helping them pop quickly without burning. They can be used on most stovetops (not induction!) or over an open flame, such as a campfire. Because stovetop poppers require oil to operate safely, the kernels they produce are crisp and flavorful but clean up and storage can be a pain if you don't have time and room to spare. If you want to feel like you're popping popcorn for a Christmas market in 19th-century Paris or a camping trip through the great American wilderness, these are the products for you. If not, stick to shaking a regular pot on the stove.
A note on butter
Because of dairy butter's low smoke point, none of these products are designed to be used with butter directly—and if you try to, you'll just wind up burning something. We recommend you melt butter in the microwave or on the stovetop and toss it with finished kernels, or alternatively, cook with a different flavorful fat like coconut oil. Movie theater butter isn't really butter, but typically butter-flavored oil. The more you know!
---
Other Popcorn Poppers We Tested
More articles you might enjoy
Advertisement - Continue Reading Below