The Best Probe Thermometers of 2019
By Lindsay D. Mattison, December 13, 2018, Updated January 02, 2019
We should all be aware how important it is to own a quick, accurate, and easy to use digital meat thermometer. It's the only way to really know whether your meat is finished cooking. The only problem with a digital thermometer? You need to open the oven or smoker door to check the temperature, letting out precious heat or smoke in the process. It would be so much easier to stick a probe into the meat before you start cooking and let it do all the work for you. Our top pick for probe thermometers—the ThermoWorks ChefAlarm (available at ThermoWorks for $64.00)—does just that.
A probe thermometer is incredibly helpful when cooking large cuts of meat. It will prevent you from overcooking your Thanksgiving turkey, Sunday roast, or pulled pork on the smoker, by alerting you when the meat reaches the right temperature. But, it can do so much more than that. If you're a cheesemaker or dabble in candy making, you can dangle the probe over the side of the pot when heating milk or sugar, keeping your hands safely far away from those dangerously hot temperatures.
We wanted to find the best overall probe thermometer—good for meat and more—so we ordered seven top-rated digital probe thermometers and put them through a series of tests. In the end, there was only one model that we don't recommend.
Here are the best probe thermometers we tested ranked, in order:
ThermoWorks ChefAlarm
ThermoWorks DOT
ThermoPro TP20 Wireless Remote Digital Meat Thermometer with Dual Probe
ThermoPro TP-16 Large LCD Digital Meat Thermometer
Polder 362-90 Digital In-Oven Thermometer/Timer
MEATER | The Original True Wireless Smart Meat Thermometer
Anpro Touchscreen Digital Meat Cooking Thermometer and Timer
Updated January 02, 2019
Advertisement - Continue Reading Below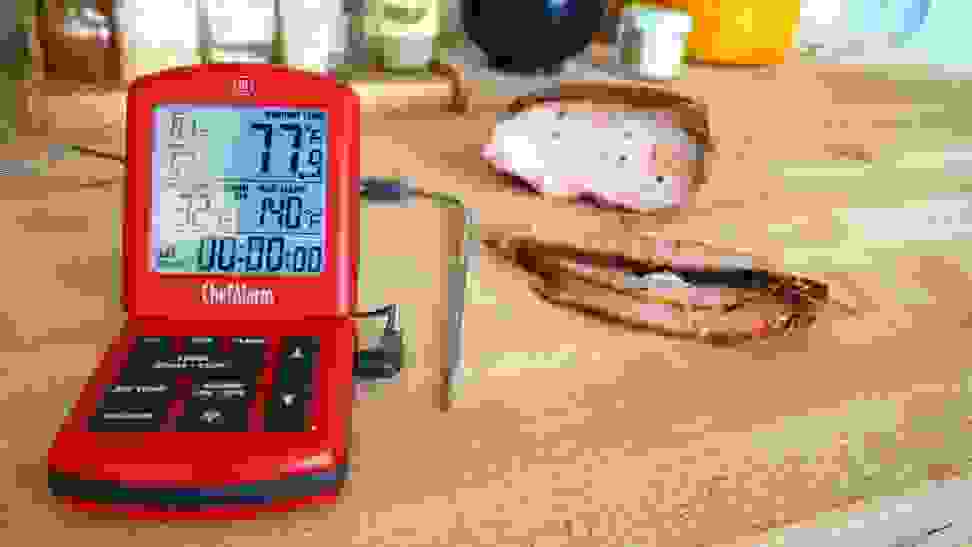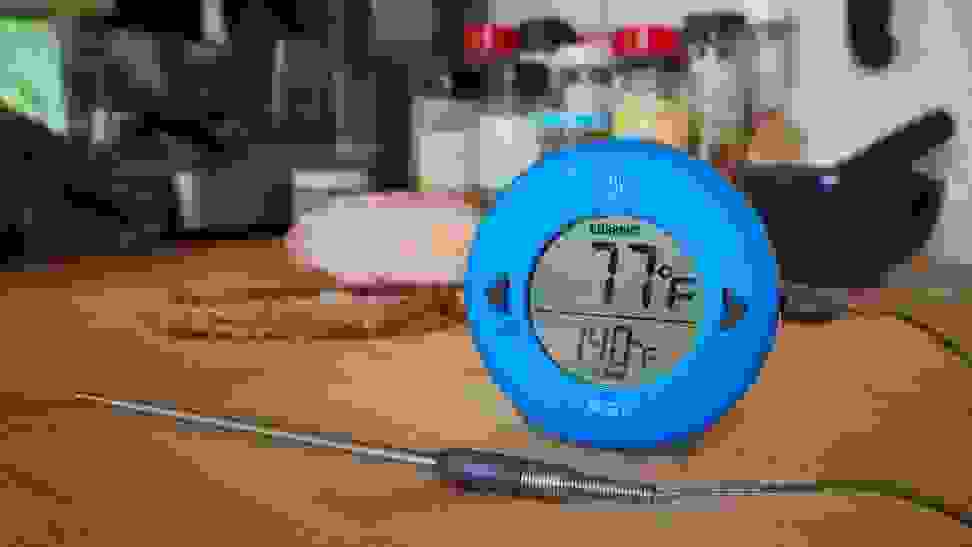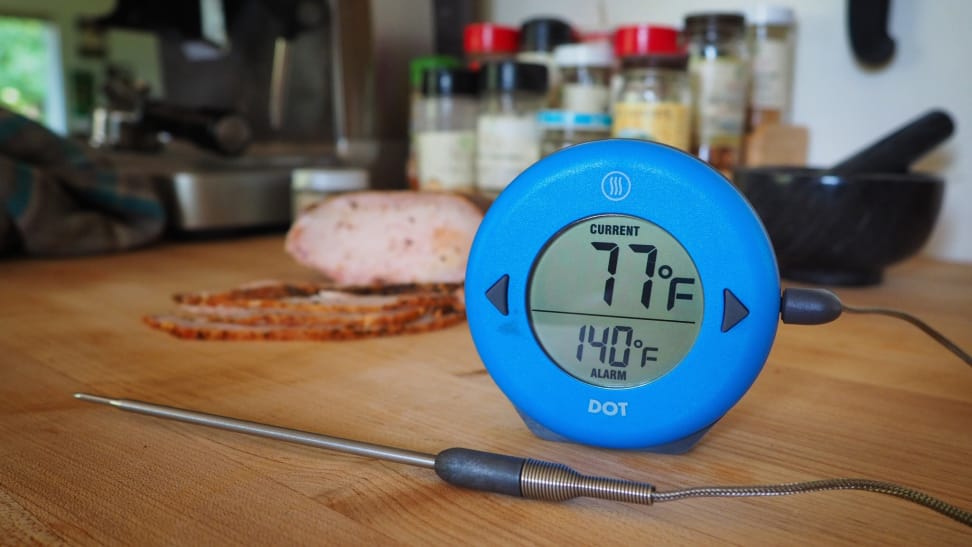 How We Tested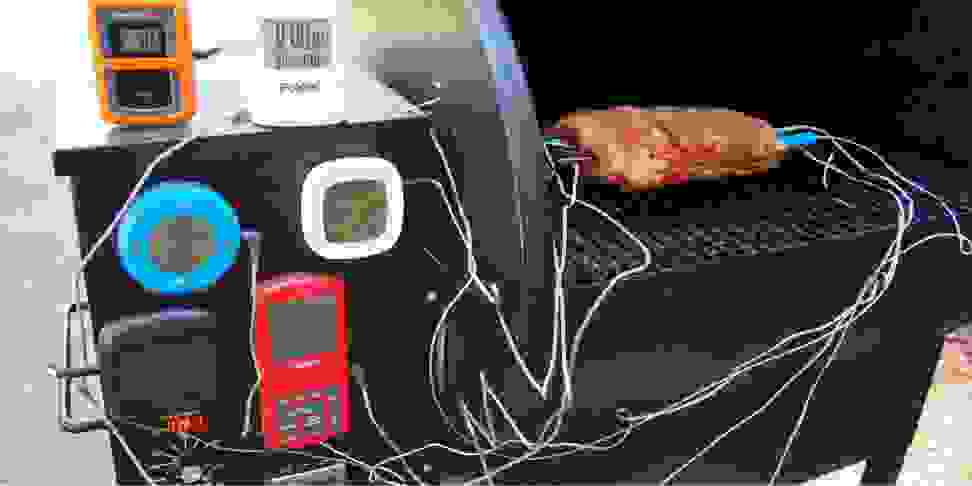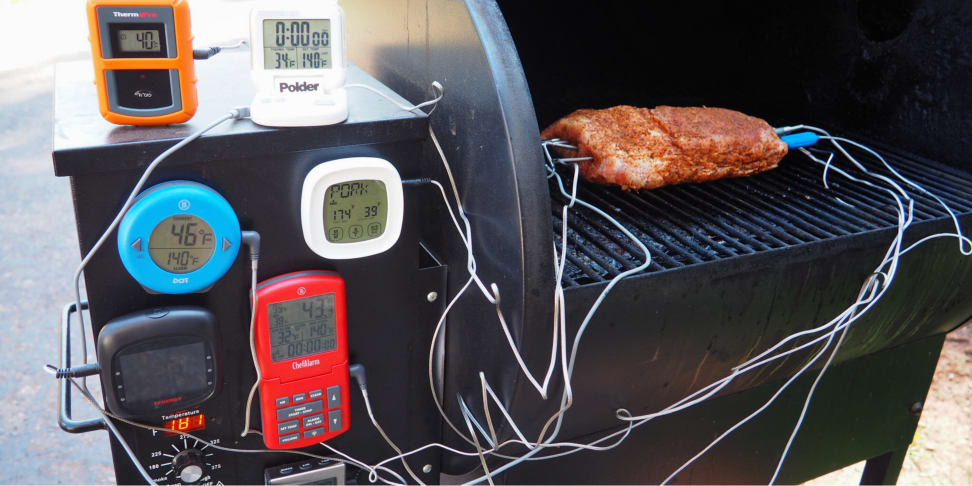 The Tester
Hi, I'm Lindsay Mattison, a trained professional chef and barbecue enthusiast. There's nothing I love more than throwing a tough cut of meat like pork shoulder or brisket onto the smoker and watching the transformation. All it needs to do is hit the right temperature and it magically turns into a shreddable, melt-in-your-mouth tender meal. I gained the confidence to cook these kinds of meats because of a good probe thermometer that precisely and accurately alerts me when the meat is finished. I'd love to help you do the same!
The Tests
After selecting seven top-rated wired and wireless probe thermometers, we put them through a series of tests to see if they would earn our seal of approval. We were looking for thermometers that were accurate, fast, and easy to use.
Accuracy is the most important aspect of any thermometer. You need to be able to trust that your food is the temperature it says, otherwise there's no point in using a thermometer at all! We dropped the thermometers in ice water to make sure they read 32° F before testing them in boiling water (which should register 212° F at sea level, or 200.5° F at my elevation).
Next up were our speed tests. Speed isn't as important for a probe thermometer as it is for an instant-read thermometer, but it still gives us a good indicator at how well-constructed the product is. We clocked the speed at which each probe measured ice and boiling water and averaged the results.
Finally, a probe thermometer is no good if it's not easy to use. We stuck the probes in a pork loin and threw it in the smoker. We tried to set the target temperatures without consulting the manual and listened to make sure the alarm was loud enough to hear. If the probe was a wireless model, we assessed whether the sync was intuitive and how far it would work away from the probe itself.
---
Other Probe Thermometers We Tested
More articles you might enjoy
The Best Digital Meat Thermometers
The Best Alexa-Friendly Smart Home Devices
Advertisement - Continue Reading Below