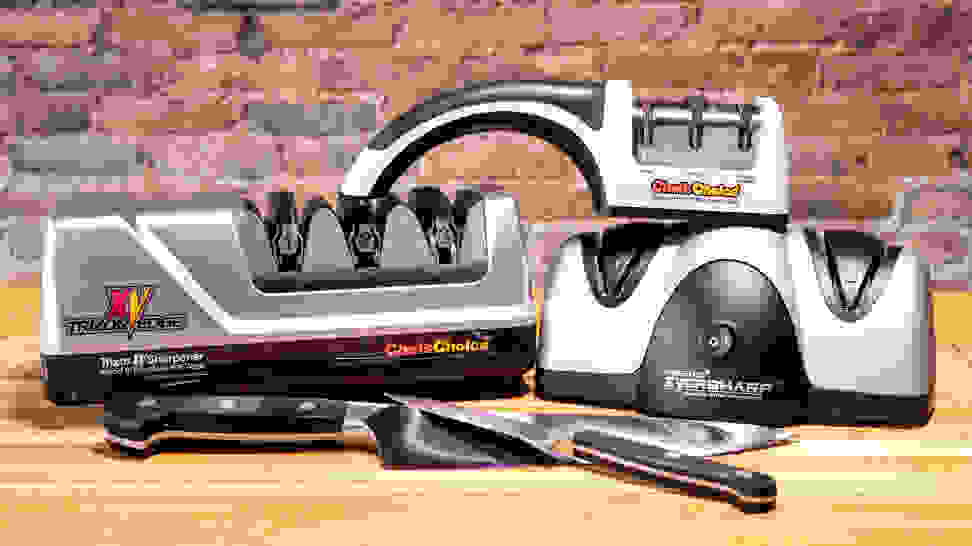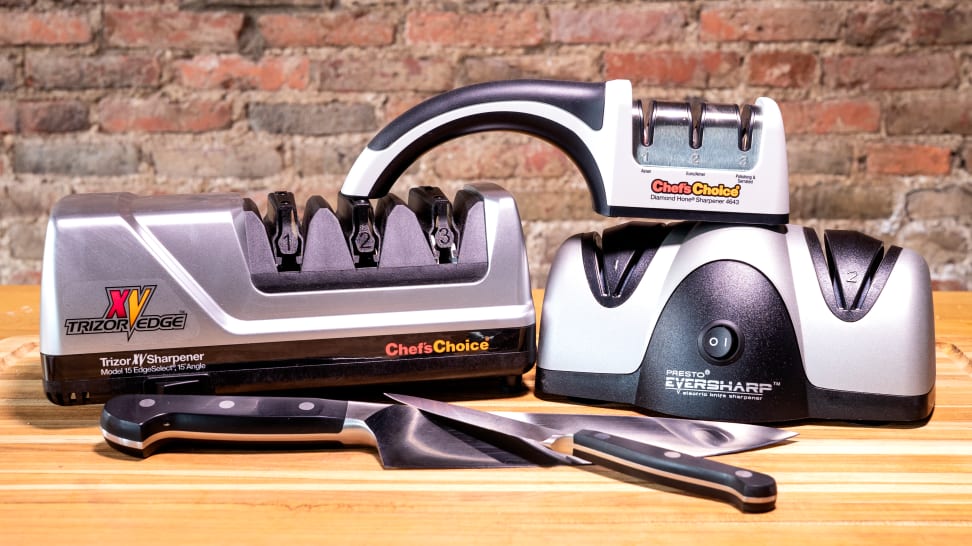 Credit: Chef's Choice
Ask any chef for advice and it's likely the first thing they'll say is to keep your knives sharp. That's because a dull knife is a dangerous thing, requiring more force. It's also more likely to slip. Yet go into just about any home kitchen and you'll find a drawer full of dull cutting utensils. Why?
Part of the problem lies in the murky, myth-filled practices of "proper" knife sharpening. Do a quick Google search and you'll find people swearing by whetstones, metal rods… even the back of a ceramic plate—all while condemning the other methods as wrongheaded and harmful. It's no wonder that most people will let their knife slowly go dull rather than risk its ruin.
Fortunately, it doesn't have to be that complicated. There are a number of sharpeners—electric and manual—that can hone your knives quickly, easily, safely, and affordably. Our winner, the Chef's Choice 15 Trizor (available at Amazon for $112.79) is the most expensive and clearly the best at producing a very sharp blade. If you're looking for a less expensive electric model, the Presto EverSharp (available at Amazon) will also make cutting and chopping a whole lot easier. For a small, handheld model, our top choice is the Chef's Choice Pronto Pro (available at Amazon).
To help you spend wisely, we chose ten highly rated knife sharpeners and put them to work sharpening very dull chef knives. Here are the best knife sharpeners in order:
Chef's Choice 15 Trizor XV EdgeSelect Professional Electric Knife Sharpener
Kitchen IQ Angle Adjust Adjustable Electric Knife Sharpener
Chef's Choice Pronto Pro
Zwilling J. A. Henckels 4-Stage Knife Sharpener
Presto EverSharp
Kitchen IQ Edge Grip 2-Stage Knife Sharpener
AnySharp Pro Metal
Miyabi Sharpener
AccuSharp Knife & Tool Sharpener
Brod & Taylor Professional Knife Sharpener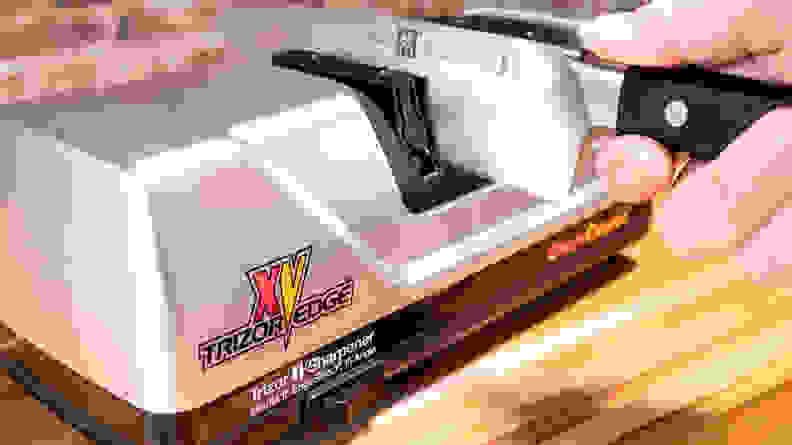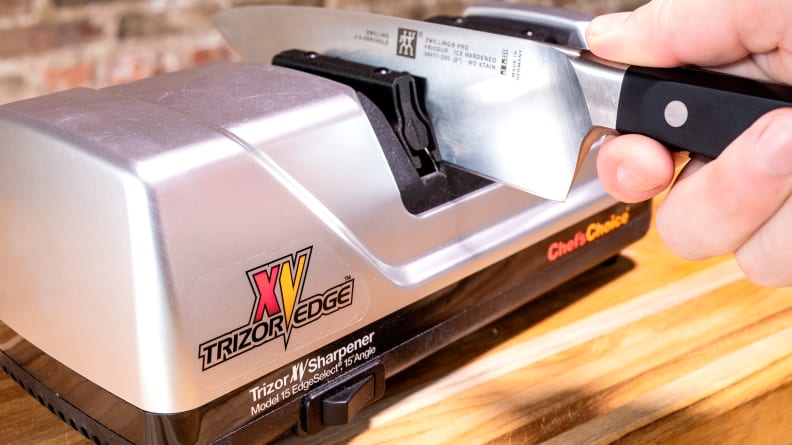 Best Overall
Chef'sChoice 15 Trizor XV EdgeSelect
If you have a serious collection of pricey knives, this is the sharpener you want. The Trizor XV EdgeSelect (yes, it's a very silly name) has three stages of sharpening which gradually build up a smooth, even, incredibly sharp knife edge that glides right through a ripe tomato and will stay that way longer than blades sharpened by other methods. Because it's electric, the diamond abrasives in each stage move very quickly. That means they not only work faster but do a better job of fine honing. It's just about impossible to use the Chef's Choice incorrectly because guides hold your knife at the correct angle. The manual that comes with this sharpener is extremely thorough; if you're a real knife geek, you'll appreciate all the info about customizing your blade. You can also use the Trizor to sharpen serrated knives. While not large for an electric appliance, you will need to find some room for it in a cabinet or deep drawer.
Pros
Three-stage sharpening ensures a smooth, sharp edge

Holds knives at perfect angle

Can sharpen serrated knives
Cons
Takes up a good deal of counterspace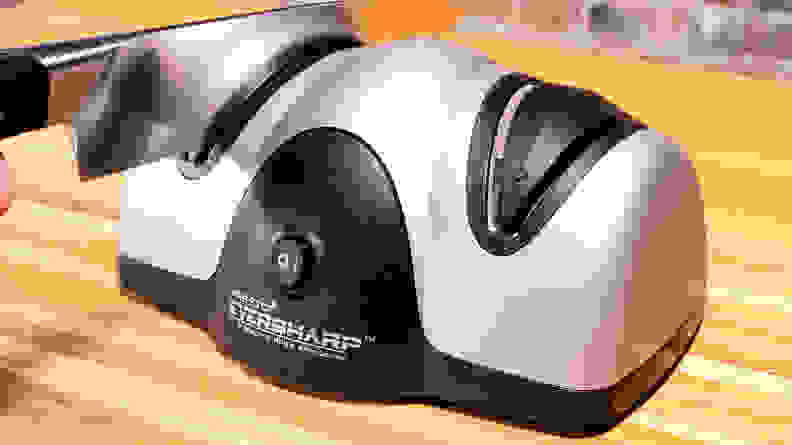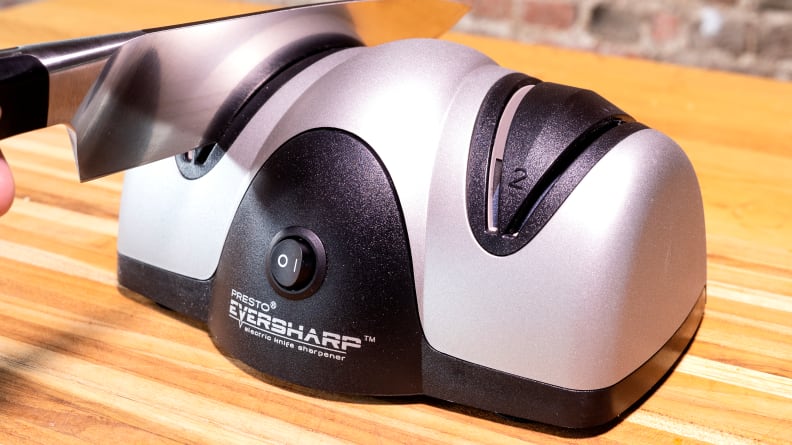 Best Value Electric Sharpener
Presto EverSharp
Using the Presto EverSharp, we created a smooth, even knife edge. Perhaps because it only has two stages of sharpening, it didn't leave the blade quite as sharp as the Trizor XV EdgeSelect, but at less than a quarter of the price, it's a very good option. You can also use it to sharpen your serrated bread knife. While it's operating, the Presto sound is a bit irritating. It'll take up about as much room as a small loaf of packaged bread.
Pros
Sharpens serrated and non-serrated knives

Good value for the money
Cons
Not as capable as Chef'sChoice 15 Trizor XV EdgeSelect

Irritating level of noise while running

large: roughly the size of a loaf of bread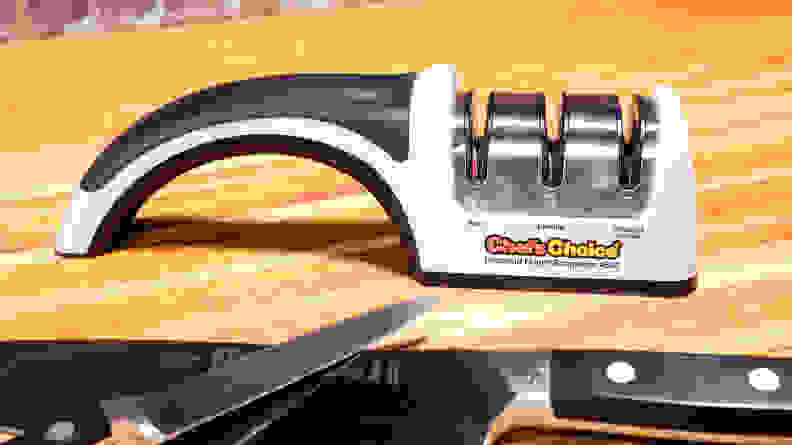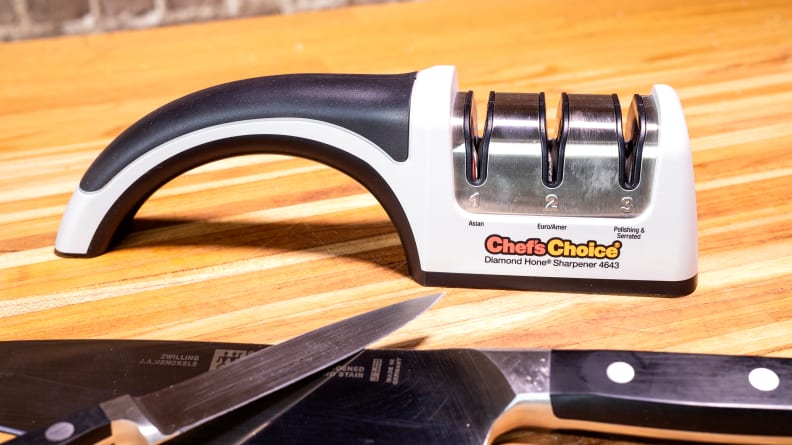 Best Hand-Held
Chef'sChoice ProntoPro
In a matter of minutes, this handheld model brings a totally dull knife back to life. There are trade-offs when compared to the Trizor XV EdgeSelect, however. It didn't produce as even an edge and, as you cut, the blade "bites" a little rather than glides. That said, the two-stage ProntoPro gave us a more refined and sharp edge than any other manual sharpener that we tested. And because you sharpen your knives in a back and forth sawing motion, it's also the fastest. Although the ProntoPro can be used by lefties, they'll find it somewhat inconvenient because the numbers on the slots are only visible when it's held in the left hand and the right hand is swiping the knife. It can be used for serrated blades as well and is small enough to stash in a kitchen drawer.
Pros
More compact than countertop models

Fast

Small enough to slip into a kitchen drawer
Cons
Finished blade edge is uneven
How We Tested
Hi, I'm Sharon Franke, and I've been reviewing kitchen equipment for more than 30 years. Before that, I wielded a knife in NYC restaurants for seven years. My number one cooking tip is always, keep your knives sharp. But come to my house and you'll find I tend to favor one knife and that's because it's the newest and therefore the sharpest. You heard it here: I have no more excuse for not keeping my knives sharp because after this review, I now know definitively how easy it is.
We tested 10 knife sharpeners, using 10 brand-new samples of our top-recommended chef's knife, the Zwilling Pro 8" Chef's Knife. First, we dulled the blades on a chunk of concrete. Then we used each sharpener as directed by its manufacturer to sharpen one of the knives until it could slice cleanly through a piece of paper. In each case, it's worth noting, this took more swipes through the sharpener than the companies recommended.
Next, we tested the knife on a ripe tomato to see if we could cut paper-thin slices without exerting much pressure or using a sawing motion. In addition, we considered how easy each sharpener was to use, including whether the instructions were thorough and easy to understand, how much noise it made, and if any effort was required to clean it. We downgraded models that didn't feel totally safe to use. Although we certainly encourage you to use your knife sharpener as soon as your knives begin to lose their edge, we realize you may not want to leave it out on the counter, so we also evaluated how much space each would take up in your kitchen.
What to Know About Knife Sharpeners
A good knife is the single most important piece of equipment in your kitchen. However, regardless of how well-crafted and expensive it is, a dull knife is a bad knife. Not only does a dull knife make it harder to cut precisely and quickly, it's less safe to use as it's more likely to slip and cut you. It's a lot more important to sharpen your knives with any sharpener than to worry about whether the one you use is going to ruin your knife. You hear a lot about the angle and the architecture of the edge but these are things that are microscopic and matter most if you're slicing sashimi, filleting fish, or breaking down a side of beef. It will take many, many sharpenings before you'll notice that a blade has gotten smaller.
The first thing—and in some cases the only thing—a knife sharpener does is file down your knife to a sharp point. Better sharpeners will then hone the point, leaving a fine, smooth, and more durable edge. Think of a knife sharpener as an emery board. First, you use the rough side to file down your nails, then the finer side to smooth and polish them. When you use a knife that hasn't been honed, it may bite rather than glide as its unrefined surface cuts into food. Still, a roughly sharpened knife is a lot easier and safer to use than a dull one.
What About Sharpening Steel and Whetstones?
You'll notice that we haven't included sharpening steels or stones. Steels, those long rods that come with a knife block, won't sharpen a knife. They may hone the edge a bit if held properly. However, in order for them to be effective, you need to run your knife along them at a precise, steady angle which is not easy to do. Many knife experts don't bother with them. Keep your knife in good shape by running it through the fine stage on your sharpener. When that no longer seems to keep your knife sharp, you know it's time to resharpen.
Stones, when used correctly, will sharpen knives. If they have a honing side, they'll also give you a smooth even edge. But with these, too, you need to master the art of holding your knife in an exact position and develop technique. All of the sharpeners in our guide take out the guesswork and help you position your knife correctly.
---
Other Knife Sharpeners We Tested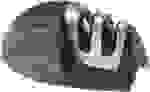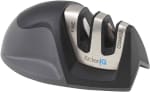 Kitchen IQ Edge Grip
This little guy is even smaller than your computer mouse, making it super convenient to store or even carry with you. In spite of its tiny size and low price point, it has both coarse and fine slots so will refine the edge a bit once it sharpens it. Plus, it can restore your serrated bread knife to working order. The Kitchen IQ Edge Grip comes in red, green, and black.
Pros
Course and fine slots help to ensure a refined edge

Compact size

Can restore a serrated bread knife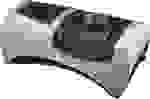 Kitchen IQ Angle Adjust
Calling all knife nerds! With the Kitchen IQ Angle Adjust you can adjust the angle to which you sharpen knives from 10 to 30 degrees. In the manual, you'll find pages of charts detailing to how many degrees each side of each type of knife should be sharpened at as well as each brand. This means if you use very thin sushi slicers or hefty hunting knives you can fine tune your blades for the tasks for which they're intended. Like the other electric models we tested, the Angle Adjust left our all-purpose chef's knife with a smooth and sharp edge. Also included is a brush for sweeping metal dust off the fine ceramic wheels. It can also sharpen serrated knives. It's pretty large, about the size of a small shoebox, so plan on making some room in your cabinet.
Pros
Allows for the sharpening of a wide range of blade thicknesses

Can sharpen serrated blades
Cons
Large: around the size of a shoebox


Zwilling J.A. Henckels 4-Stage Pull Through
This handheld sharpener is small enough to stash in a drawer. You'll find coarse and fine sharpening slots for two different angles, the sturdier 20° angle that used to be standard on European knives and the thinner 15° degree one (once was only found on Asian blades) that predominates now. Like other manual sharpeners, it creates tiny little teeth on the edge of the blade which will leave a knife seeming quite sharp but without the smooth gliding feeling you get from an electric-sharpened knife. Whether you're a righty or a leftie, you'll find the Zwilling convenient to use because the markings are clearly displayed on both sides.
Pros
No power required

Good for righties and lefties
Cons
Produces sharp blades, with uneven edges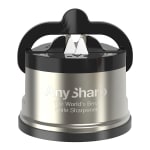 AnySharp Pro Knife Sharpener
Hardly bigger than a spool of thread, the AnySharp Pro has a little suction-cup to keep it firmly and safely in place as you work. On top there are guides that keep your knife at a correct angle as you pull it over the carbide sharpening rods. There is only one stage here, however, so although it sharpens well enough, the edge is noticeably rough. The resultant knife edge tends to saw rather than cut smoothly. But you can't beat the AnySharp for cuteness and it comes in eight bright colors. Also works for serrated blades.
Pros
Very Compact

Suction cup holds it in place while sharpening
Cons
Blade edge produced forces sawing instead of gliding through foods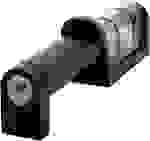 Zwilling J.A. Henckels / Miyabi Handheld
Originally designed for Asian knives and made in Japan, this handheld sharpener has abrasives that left a very smooth edge on our knife, equivalent to the ones we got from the electric models. However, it didn't seem to sharpen as well as the others we tested. The product itself is small and lightweight. It also can't sharpen serrated blades.
Pros
Leaves a smooth edge on sharpened knives

no power required
Cons
Finished edge is not as sharp as other models can provide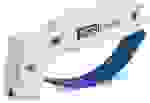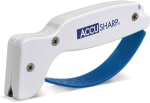 AccuSharp Knife Sharpener
The AccuSharp is a bit of an outlier in our roundup because of how you need to move the blade across it: holding your knife with the blade facing up and toward you, and then running the sharpening surface along the blade. As long as you keep your wits about you and both hands steady, there's no danger of cutting yourself, but the process is definitely unnerving. It's a one-stage sharpening device so it leaves a rough-feeling blade. But one convenient benefit of this gadget is that you can wash it with soap and water or even toss it in the dishwasher. It's also easy to store in a drawer or even carry in a pocket. It can also sharpen serrated blades.
Pros
Small enough to stash in a pocket

can sharpen serrated blades

Dishwasher safe
Cons
Dangerous blade orientation during sharpening

finished blade edges not smooth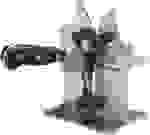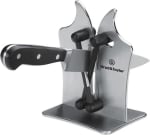 Brod & Taylor Professional KS-500
If looks are all you love then that's what you'll receive from Brod & Taylor—because it sure won't get you a sharp, smooth blade. This stainless-steel model definitely makes a design statement—you might even want to leave it out on display as a conversation piece. However, how well it sharpens is dependent on how you position the knife and how much pressure you exert on the movable carbide rods, so there's definitely room for error. While the manufacturer claims there are three stages of sharpening, each is done on the same rods by changing the position of the knife, so you're never really refining the blade. We found it left a noticeably bumpy edge. The positioning of your hand for the final polishing stage is awkward and brings your fingers frighteningly close to the knife.
Cons
Carbide rods and no guides leave plenty of room for user error

sharpening results in bumpy blade edge
Up next
Get Reviewed email alerts.
Sign up for our newsletter to get real advice from real experts.