Kitchen & Cooking
The Best Pasta Makers
All you need to make homemade pasta is this machine and a little patience!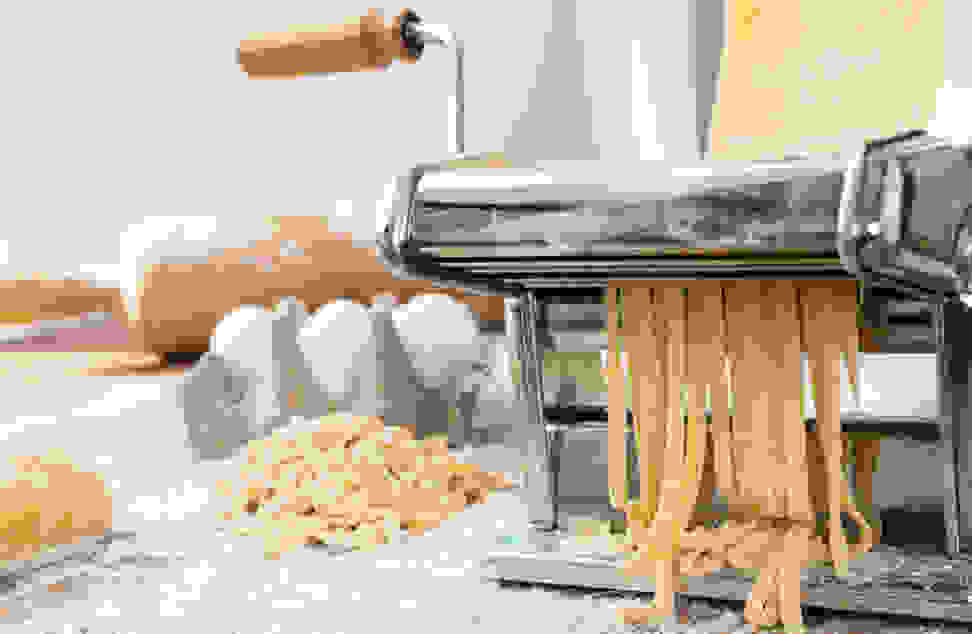 Credit: Getty Images
If you're looking to amp up your home-cooking game, making homemade pasta is a great way to take your culinary skills to the next level. Once you get the hang of working with the dough, pasta is surprisingly easy to make at home! You don't need a pasta machine to get started; you could roll out pasta with a rolling pin and painstakingly cut it with a knife—but we'd suggest saving yourself the frustration. A pasta machine makes the process faster and easier while also creating perfectly uniform noodles. Electric pasta machines can be expensive, so we wanted to find out if the budget-friendly hand-crank pasta makers—like our winning model Marcato Atlas Pasta Machine (available at Amazon for $59.95)—would work just as well.
We took our go-to pasta recipe and put six of the top-rated manual pasta machines to the test. How were we qualified to judge such an event? Well, I was the chef of a from-scratch pizza and pasta restaurant for four years, so I've made (and, eaten) a lot of pasta over the years! After rolling out and cutting sheet after sheet of regular pasta on each machine, we made delicate gluten-free pasta with the top two models. Then, we compared them to my beloved KitchenAid KPRA attachment to see if they could hang with their expensive competition. Whether you're in the market for a pasta machine yourself or looking for a gift for a foodie friend, we think you'll be pleased with our top pick.
These are the best pasta machines we tested ranked, in order.
Marcato Atlas Pasta Machine
Imperia Pasta Maker
OxGord Pasta Maker Machine
VonShef Pasta Maker Machine
CucinaPro Pasta Maker Deluxe Set
Gourmia GPM9980 Pasta Maker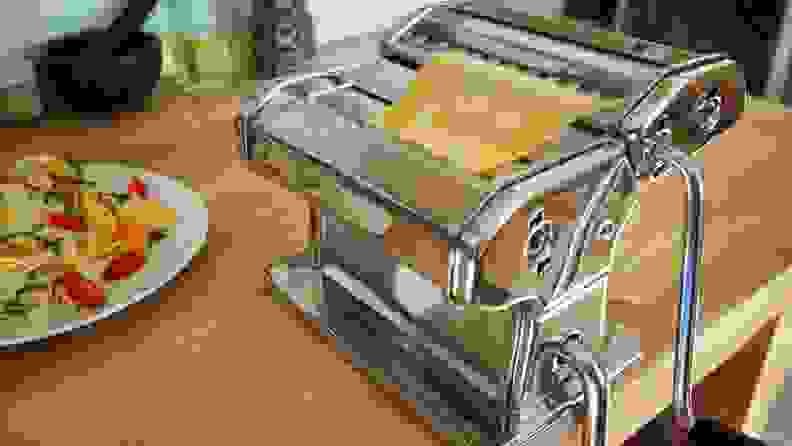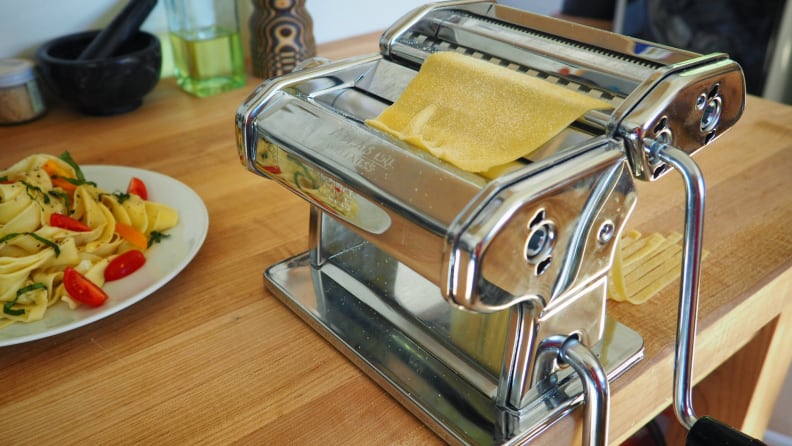 Best Overall
Marcato Atlas 150
While it's significantly less expensive than electric pasta machines, the Marcato Atlas Pasta Machine was the most expensive manual pasta maker we tested. In this case, the adage "You get what you pay for" is certainly true. The Italian-made Marcato 150 is mindfully constructed, and that attention to detail was evident as the machine aced every single one of our tests. As we fed the dough into the rollers, we effortlessly held the sheet in one hand while cranking the handle with the other. It was the only pasta machine we tested that had a "0" setting, which was so wide that we barely had to flatten our dough to fit it through the rollers. In between rolls, the easy-to-operate knob could be adjusted with one hand, so we didn't have to put the dough down (a serious time saver!). To cut the sheet, all you have to do is clip on the included fettuccine and spaghetti attachment, which created restaurant-quality pasta every time. It's as easy as that!
This machine was really just a joy to use. It was wide enough to clamp down on my thick Boos Block table, and it didn't budge at all as we cranked away. When we put it up against the KitchenAid KPRA attachment in a gluten-free pasta roll-off, you could barely tell the difference between the two noodles. The KitchenAid is definitely faster, but it's also more than twice the price. If you're looking for a hand crank pasta machine that's easy and effortless to use, this is definitely the one to get.
Pros
Well constructed

Easy to operate

Wide clamp
How We Tested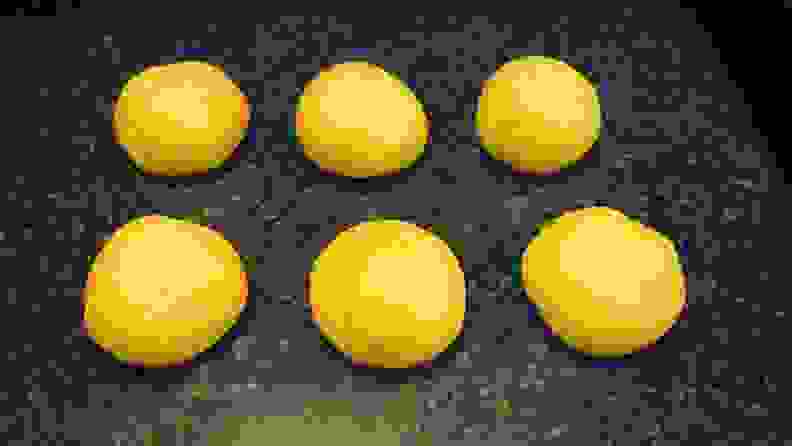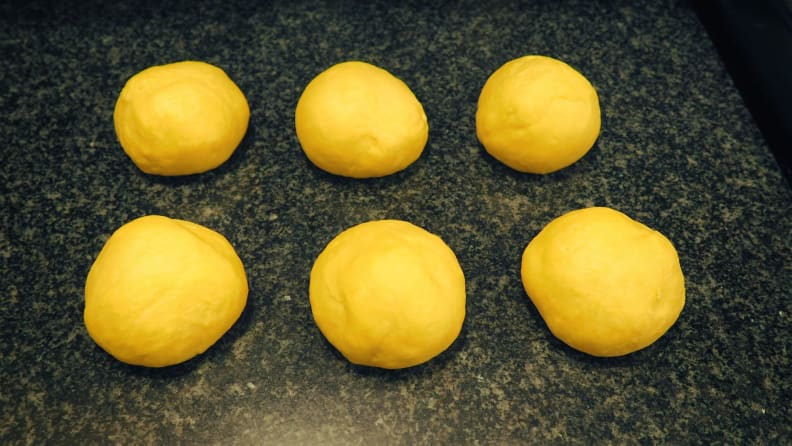 The Tester
Hi, I'm Lindsay Mattison, a professional chef, and self-proclaimed noodle geek. There isn't a single type of pasta that I don't completely adore. I'll slurp down traditional Italian spaghetti before downing a bowl of ramen; fill me up with agnolotti right before serving me a plate full of pad thai. And don't even get me started about hand-formed pasta: I've definitely conned more than a few friends into shaping hundreds of bow-tie farfalle pasta for catering events! There's nothing better than homemade pasta, and I couldn't do it without my trusty pasta machine. Once you learn how easy it is to make homemade pasta, you won't want to live without yours, either!
The Tests
We chose six hand-crank manual pasta machines and put them to the test. The whole point of a pasta machine is to make it faster and easier to roll out (and cut) fresh pasta, so our tests were designed to see if each machine could accomplish that. Some machines came with a variety of cutting shapes, but each one had a spaghetti and fettuccine cutter, so those were the shapes we focused on for our tests.
First, we wanted to know if each machine could create uniform sheets, so we rolled multiple sheets of pasta on various thickness settings to see if the dough crinkled, tore, or became lopsided as it moved through the rollers. Then, once they were thin enough, we ran the sheets through the cutting attachments to verify that the blades could fully perforate each strand. There's nothing more annoying than having to pull the noodles apart by hand after they're cut!
Then, we looked at the usability of each machine. Hand-crank pasta makers are designed to clamp onto your countertop with a vice, and we awarded bonus points to the two models that were wide enough to clamp onto my thick Boos Block table. Once anchored into place, we were looking for a machine that didn't move around as we used it (and had a handle that didn't fall out of place as we turned it 'round and 'round, either). Finally, we wanted a roller knob–which controls the thickness of the pasta sheet—that was a cinch to turn and effortless to tell which setting we were on.
What You Should Know About Pasta Machines
Electric pasta machines are generally free-standing, but manual pasta machines work by clamping onto the side of your countertop. To use one, you simply anchor it to the counter, insert the handle into the rollers, and crank away! You always start at the widest roller setting—usually 0 or 1—and gradually roll the sheet on thinner settings until it's perfect. Personally, I like the second-to-last setting for most pasta, but you may prefer it thinner or thicker. Then, you can use the sheet as-is for a lasagna, fill it to make ravioli or agnolotti, or cut it into the desired shape using the cutter attachments.
Another cool thing about pasta machines? They're not just for homemade pasta! You can roll crackers or flatbread in them, and most of them have thin enough settings to roll homemade wonton wrappers. I've even heard of people using them to roll fondant for cake decorating!
Manual vs. Automatic Pasta Makers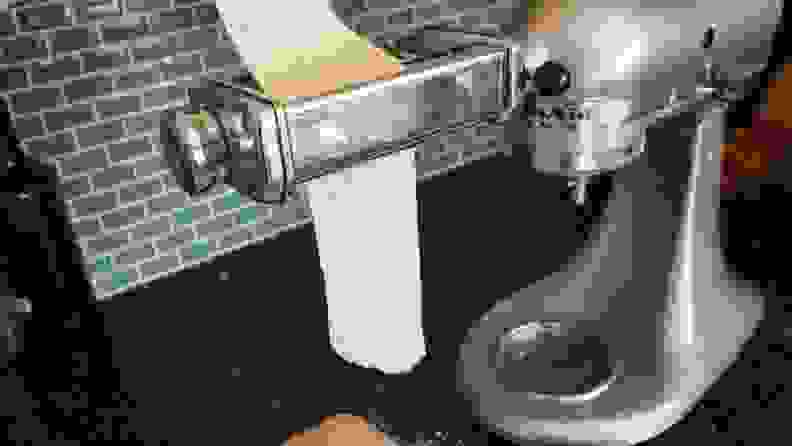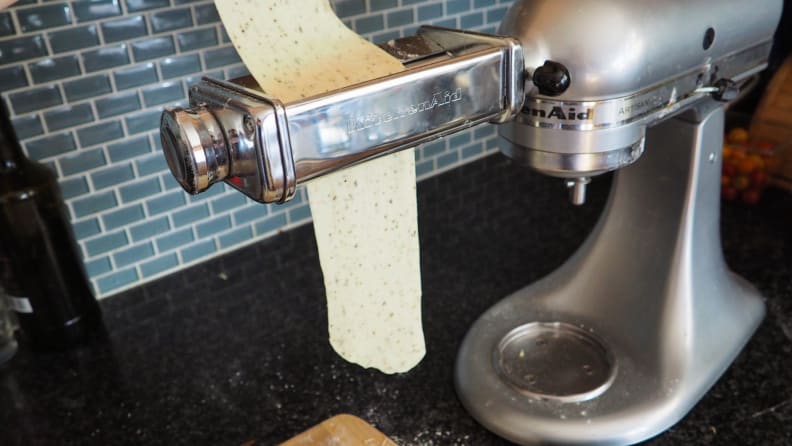 I mentioned earlier that I love my automatic KitchenAid pasta attachment, so you might be wondering why you'd want a manual, hand-crank pasta machine. Really, it all comes down to personal preference and budget. First, automatic pasta machines (like the KitchenAid attachment) can run you upwards of $200. The higher-priced models feature extruder attachments instead of a roller-and-cutter design, and some of them will even mix and knead the dough for you! You might pay more for these machines, but they're quick and efficient. The main benefit of the automatic machines is that you have both hands freed up, so one hand can feed the dough through the roller while the other catches it as it comes out.
Why might a manual pasta machine be a better purchase? If pasta-making is a new hobby, you might want to make sure you even like it before you invest a few hundred dollars in a machine. Hand-crank pasta makers also feature a lower profile than most automatic machines, allowing you to easily store them in a kitchen cabinet while they're not in use. But the best advantage of a manual pasta machine? The fun! Sure, it takes some practice to feed the dough in with one hand while cranking with the other (and, also, figuring out how you'll catch the pasta as it comes out). Once you get the hang of it, you'll find this time-tested tradition super rewarding and a fun way to make pasta with the whole family. Plus, these traditional machines have no electronic parts to break, so they'll practically last forever.
Tips for Making the Perfect Pasta
The key with using a pasta machine is getting your pasta recipe down. If the dough doesn't have enough flour, it will stick to the machine and create holes or gaps. Alternatively, if it has too much flour, it won't have enough moisture to hold together and it will tear apart as it moves into the thinner settings. This is really one of those trial-and-error types of deals, but my go-to pasta recipe is 300 grams of AP flour, 3 eggs, 1 tablespoon olive oil, 1 tablespoon water, and a pinch of salt. Mix it in a stand mixer (our favorite is the KitchenAid) with a dough hook until a ball forms around the hook. If it doesn't form within a few minutes, add a tablespoon of water at a time until it does. If it sticks too much to the sides, add a tablespoon of flour! Knead it in the mixer for about 5 minutes, until the dough is super smooth. Then, wrap the ball in plastic wrap and let it rest for at least 30 minutes before moving on to the next step. You can make the dough ahead and store it in the refrigerator, but I've found it's easiest to work with at room temperature, so pull it out an hour before using it.
Once you've gotten the hang of the dough, the best advice I can give you is to laminate it. Start by cutting the dough ball into four or six manageable pieces. Keep the pieces you're not using under plastic wrap to prevent them from drying out. Flatten the first piece and run it through the widest setting two or three times. Then, fold it in half and run it through twice. Finally, fold it into thirds (like you're folding a letter), flatten it, and run it through two more times. Finish by turning the dial to the next setting, running it through twice before changing the setting again. Continue turning and rolling until the sheet has reached the desired thickness. You may have to cut it in half at some point if it becomes too long to be manageable!
---
Other Pasta Machines We Tested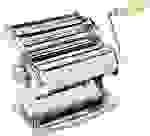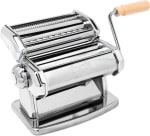 Imperia Pasta Maker
The Imperia Pasta Maker had one major flaw that kept it from becoming the winner: The roller knob required two hands to move. Unlike the other models which use a pull-and-turn mechanism, you have to push down a button before turning the knob on the Imperia. That means you have to put down the pasta sheet before continuing, slowing down the process. This didn't cause major problems with the regular pasta, but it was a deal breaker for the delicate gluten-free pasta dough.
Other than that, we loved the Imperia. It made thin, even sheets and fully perforated the fettuccine and spaghetti shapes. The clamp was large enough to accommodate my thicker-than-normal Boos Block table, and the machine didn't move around as we used it. It did have a slight squeak as you turned the handle, but that's a small price to pay for perfect pasta.
Pros
Makes thin, even sheets

Large Clamp
Cons
Knob requires two hands to move

Makes a squeaking noise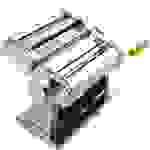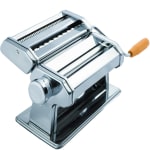 OxGord KAPM-01
The OxGord Pasta Maker Machine was pretty comparable to the VonShelf Pasta Maker Machine, but it beat out the latter because of its attractively low price. At the time this article was written, the OxGord was available for less than $20! It's a simple, no-frills model, but this budget-priced pasta machine got the job done. It didn't wow us like our top two picks (and some of the fettuccine noodles stuck together) but, all-in-all, it was easy to use and made presentation-worthy pasta.
Pros
Budget-friendly price

Easy to use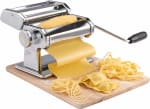 VonShef 07/252
The VonShef Pasta Maker Machine came with a few extra cutting attachments—spaghetti, linguine, tagliatelle, fettuccine, and ravioli—making it quite the value-priced bundle. Our major complaint with this model was that the handle squeaked loudly as you turned it and the cutting attachments were difficult to place onto the unit. Other than that, we were pretty happy with the results of this pasta machine.
Pros
Includes extra cutting attachments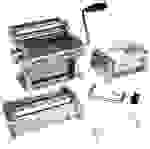 CucinaPro 178
You're certainly getting some bang for your buck with the CucinaPro Pasta Maker Deluxe Set. In addition to the standard fettuccine/spaghetti cutter, you also get angel hair and ravioli cutting attachments. Unfortunately, the roller created slightly lopsided sheets and the cutters didn't fully perforate the shapes. The knob settings weren't as standard as the other machines, either, and we had to roll out sheets a few extra settings to get it to be as thin as the other machines.
Pros
Extra cutting attachments
Cons
Poor knob settings

Roller creates slightly lopsided sheets
Gourmia GPM9980
Compared to the other models, the Gourmia GPM9980 Pasta Maker just couldn't compare. It was significantly lighter than the other machines, which gave it a cheap feel, and the handle felt flimsy and kept falling out as we turned it. The numbers on the roller knob were super close together, so it was hard to tell which setting we were on. While the pasta sheets looked nice enough, the fettuccine and spaghetti shapes were still stuck together after cutting, forcing us to hand pull them apart. All in all, we'd rather use another pasta machine.
Cons
Felt cheap and flimsy

Difficult to determine settings

Pasta stuck together
More Articles You Might Enjoy
Up next
Get Reviewed email alerts.
Sign up for our newsletter to get real advice from real experts.