Kitchen & Cooking
The Best Waffle Makers
Whether you need an iron for classic or Belgian style waffles, these are our top picks.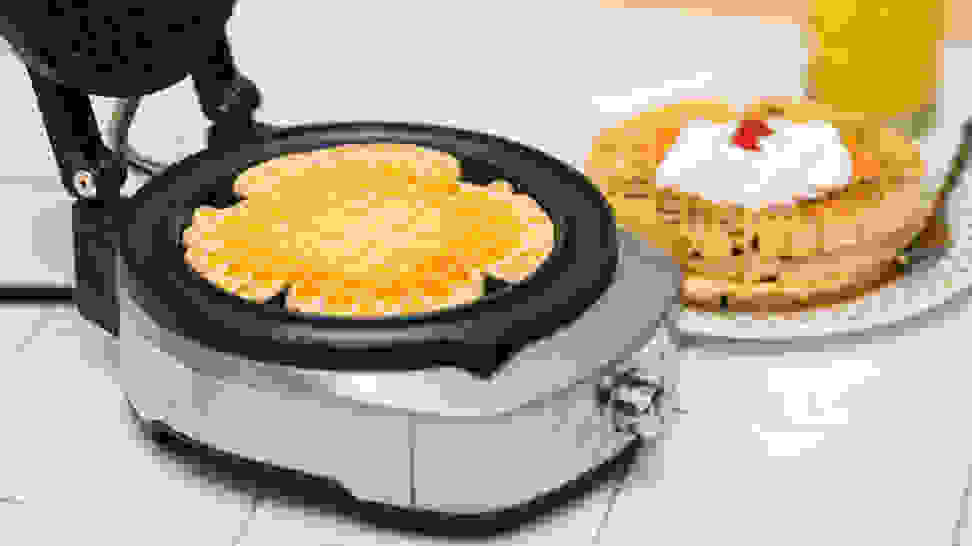 Credit: Reviewed / Jackson Ruckar
Nothing is more delicious than a crunchy, crispy, tender waffle. But this is one item that you simply can't make without a special piece of equipment—a waffle maker! A good one will churn out perfect waffle after waffle until the whole crew is served.
Our favorite waffle maker for regular waffles, the Breville No-Mess Waffle (available at Amazon for $129.25), doesn't come cheap, but it makes the crispiest waffles and lives up to its name, making it a pleasure to use. For thick fluffy Belgian waffles, we recommend the Cuisinart Double Belgian Waffle Maker (available on Amazon) which bakes up two at a time. For great waffles at a more reasonable price, we like the Cuisinart Round Classic Waffle Maker and the Presto Flipside Belgian Waffle Maker.
To help you spend wisely, we chose 10 highly-rated waffle makers and used each one to bake a whole lot of waffles both from mixes and from a recipe.
Here are the best waffle makers we tested, ranked in order:
Breville No-Mess Waffle Maker
Cuisinart Double Belgian Waffle Maker – Round
Cuisinart Round Classic Waffle Maker
Dash Mini Maker Waffle
Presto FlipSide Belgian Waffle Maker
Black and Decker Belgian Flip Waffle Maker
Hamilton Beach Flip Belgian Waffle Maker
Calphalon Intellicrisp Waffle Maker
All-Clad 4 Slice Belgian Waffle Maker
Krups 4 Slice Belgian Waffle Maker
[Related Story: 8 Foods You Didn't Know You Could Make in a Waffle Iron]
Best Classic Waffle Maker
Breville BWM520XL No-Mess Waffle Maker
You can depend on the Breville the No Mess Waffle for thin crispy waffle rounds, one after another, after another. The other great thing about this brushed stainless-steel waffler is that it has a moat around the waffle grid that catches any excess batter so there's never any runover on the counter or the machine itself making it truly no mess. It lights up and beeps when it's hot enough for baking and again when your waffle is ready, but we wish the beeps were louder—they would be easy to miss in a noisy kitchen. After breakfast, you can latch the grids together and store it on its side to have more room to prep for the next meal.
Pros
Reliable

A moat to catch excess batter

Storage-friendly
Cons
The timer could be louder
Best Belgian Waffle Maker
Cuisinart WAF-F20 Double Belgian Waffle Maker
If you love waffles, it's worth giving the large Cuisinart Double Belgian Waffle Maker some of your precious counter real estate. It makes the waffles dreams are made of thick, fluffy, and tender on the inside, and crunchy on the outside. Plus, it bakes two at a time. After you add batter to one chamber, you rotate it in its frame, fill the other side, and rotate it again. Lights and tones signal when each one is done. Unlike less expensive flip machines, this one feels solid and well built. It also comes with a ¾ cup measure for batter.
Pros
Makes the best waffles

Affordable

User-friendly
Cons
The timer could be louder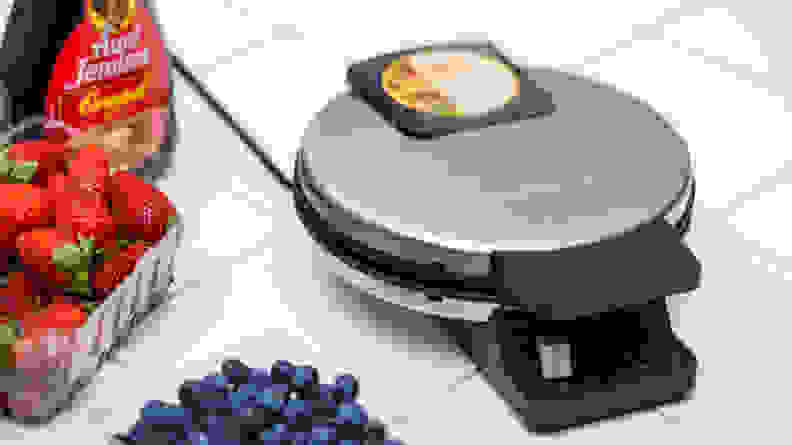 Best Value Classic Waffle Maker
Cuisinart WMR-CA Round Classic Waffle Maker
There's a lot to love about the Cuisinart Round Classic Waffle Maker. It heats up and bakes faster than any other in our test. And it was one of the few that gave a very distinct range of shades from light to dark—although it's beyond me why anyone would want their waffles pale and flabby. Not only is the appliance itself small and thin, it stands up for storage and the cord can be wrapped in the bottom. While there's a light to indicate that it's ready for batter and that waffles are fully baked, there's no sound so you have to keep an eye on it. We think that's a small drawback for a waffle maker this good and this inexpensive.
Pros
Heats up and bakes faster

Can give a range of colors to the waffles

Storage-friendly
Cons
The timer doesn't have sound
Best Value Belgian Waffle Maker
Presto 03510 FlipSide Belgian Waffle Maker
Unlike most flip waffle makers, the Presto FlipSide Belgian Waffle Maker doesn't take up a lot of space when it's not baking waffles. Its slim and sits low on the counter and it can easily be locked into place so it can stand up for storage. However, you do need to make sure you have room on the countertop to flip it completely over on its side after you fill it with batter. Rather than settings, the Presto has a timer which you set by pushing a tiny button. It is designed to beep with only two minutes remaining, but often, at that point, it didn't beep and stopped counting down. Nonetheless, it produced evenly browned, crispy waffles one after another and it is among the less expensive Belgian waffles.
Pros
Affordable

Produces crispy, evenly-browned waffles
Cons
The timer could be improved
How We Tested
The Tester
Hi, I'm Sharon Franke, and I've been reviewing kitchen equipment for more than 30 years. Before that, I cooked and baked professionally in New York City restaurants for seven years. I've been eating waffles a whole lot longer. Some of us are pancake people and others waffle people. All my life, I've been in the latter category because I'm a pushover for anything crispy. Much as I love a perfect waffle, I've eaten my share that are just as soft as a flapjack. However, now I know that there are machines out there that can make my day!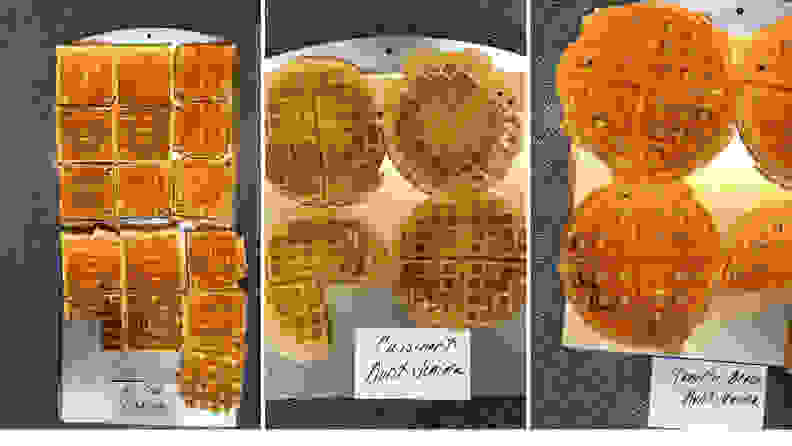 The Tests
We tested 10 waffle makers including ones that make thin classic waffles and others that bake up deep-pocketed Belgian ones, some of which flip over halfway through waffling. In each appliance, we baked up four waffles from each of two different mixes (Aunt Jemima and Bisquick), and four waffles from a made-from-scratch batter, checking for even browning, crispness, and tenderness. We also looked for consistency after baking three waffles in a row.
In our search for the perfect waffle iron, we took into consideration whether there were settings and if they really produced varying degrees of doneness as well as how easy it was to set the controls, open and close the grids, and clean up and store the machines. As we waffled, we noted if the machines beeped and/or lit up to signal that they were preheated, and again when waffles were ready, and if we could easily see and/or hear these alerts.
---
Other Waffle Makers We Tested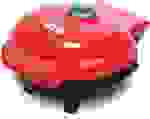 Dash Mini Maker Waffle
It doesn't get more adorable than this! Both the Dash Mini Maker Waffle machine and the baby cakes it turns out are super cute. We think it would be perfect for making yourself or a junior waffle lover a small treat. It preheats and bakes up quickly so you can easily churn out a short stack. For the price, you don't get any fancy features—there are no settings, just a blue light that goes off when the iron is preheated and again when waffles are done; you might want to give it another minute or so if you prefer your waffles extra crispy. It's available in seven colors.
Pros
Compact

Good for individuals

Preheats quickly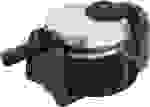 Black & Decker WM1404S Belgian Flip Waffle Maker
Although the Black and Decker Belgian Flip Waffle Maker is definitely not a status appliance, it consistently makes great waffles without setting you back a bundle. This is a large but lightweight machine that you rotate after filling it with batter. As there are no settings, if you like your waffle lighter or darker you have to remove it early or leave it in after the ready light glows. With the Black and Decker you get a handy removable tray to place under the grid to catch any runovers.
Pros
Lightweight

Consistently crispy waffles

Drip tray to catch excess batter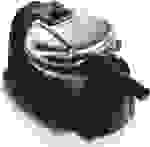 Hamilton Beach 26030 Belgian Waffle Maker
Flipping over a waffle maker is supposed to make for evenly browned waffles but unfortunately, this wasn't always the case with the Hamilton Beach Flip Belgian Waffle Maker. But even when our waffles had a few pale spots, they were crispy and absolutely delicious. This machine will need some counter space and is not impressive looking but it comes at a moderate price. For thorough cleaning, you can remove the grids and pop them in the dishwasher. The Hamilton Beach also includes a drip tray to catch excess batter.
Pros
Makes crispy and delicious waffles

Parts are dishwasher-safe.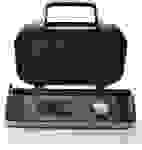 Calphalon CKCLWF1 IntelliCrisp Waffle Maker
The Calphalon Intellicrisp Waffle Maker has some unique features. To start with, on the outside, it's trendy black stainless steel which is a lot easier to keep clean than the shiny variety. It's the only one we tested with a digital screen that shows when its preheating, ready for batter, which setting you've selected, and the remaining cooking time. On the medium setting, we found it delivered two golden brown rectangular Belgian waffles with deep pockets just waiting to be loaded with syrup. However, we had a few glitches and for the big bucks we think you should get a pretty much perfect product.
On a few occasions, the machine didn't seem to realize we had added batter, so it never started counting down. Also, regardless of which setting we chose and how long the waffles cooked, we didn't see much difference in the color of our waffles. You can easily lock the grids together and then store the Calphalon standing up.
Pros
Digital screen with different settings

Trendy look

Evenly-crisped waffles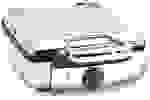 All-Clad 4 Slices Belgian Waffle Maker
Big, shiny, and heavy, the All-Clad 4 Slice Belgian Waffle Maker is an impressive machine that doesn't disappoint when it comes to waffle making. It consistently bakes up 4 crispy squares with melt in your mouth centers. And you can depend on it to deliver lighter or darker waffles if you so desire. With the All-Clad you get a little drip tray to hook onto the back and it's obvious why. Inevitably batter drips out the back, and unfortunately the tray doesn't catch all the leaks and if you make more than one batch you have to empty it in between batches.
After a while, we just put a pile of paper toweling under the rear of the machine to catch the mess. In the manual there is no recommendation for how much batter to use nor a sample recipe. This appliance is definitely for a family that makes waffles so often that it's willing to spend a good deal of change on an iron and sacrifice some counter space to it. Even locked and standing up, the All-Clad is not small and it's so heavy you won't want to be lifting it in and out of a cabinet very often.
Pros
can consistently make crispy square waffles

a drip tray to catch the batter
Cons
expensive

not storage-friendly
Krups GQ502D51 4 Slice Belgian Waffle Maker
In our waffle bake-off, the Krups 4 Slice Belgian Waffle Maker yielded disappointing results. The top grid just didn't seem to brown as well as the bottom one and the problem was particularly pronounced when we made our waffles from a homemade batter rather than a commercial mix. When this machine is baking, the latch engages, but and we found it often gets stuck, so we had to pry open the grids to remove the waffles. On a positive note, this is one of the few machines we tested that has removable plates that can be cleaned in the dishwasher.
Pros
Has dishwasher-safe plates that are removable
Cons
Hard to open the latches

Cooks unevenly
More Articles You Might Enjoy
Up next
Get Reviewed email alerts.
Sign up for our newsletter to get real advice from real experts.