A properly stocked kitchen will change your life for the better. Chances are you already own a few nonstick, aluminum, and maybe even cast iron pots and pans, but are you confident about when to use each piece? Do you know which pieces you should purchased together or individually?
There are a variety of factors to consider when buying cookware sets—so much so that it can be a downright confusing task. Here, we'll break down the basics of buying cookware and take a look at which materials will work best for your needs and budget.
Essential cookware pieces: 5 must-have items
Before we dive into the differences between cookware materials, it's important to know which cookware items you should have in your kitchen cupboards. Whether you're stocking your kitchen for the first time or finding the best recommendations for your registry, you'll want to make sure you have the following essentials covered.
1. A 10- or 12-inch nonstick skillet
A nonstick skillet will be the cornerstone of your kitchen cookware. Depending on how many people you're cooking for each night, you'll want to purchase either a 10-inch skillet, which is perfect for two large pieces of meat, or a 12-inch skillet, which can fit three or four smaller pieces. If you prepare a lot of complex meals, you may want to invest in both sizes.
2. A sauté pan
Sauté pans are great for cooking one-pot dishes, as they have higher sides than skillets, allowing for more food and more movement like stirring and sautéing. When you're cooking stir fries, pasta, stuffed meat, or steamed veggies, you'll find yourself reaching for a sauté pan, so this is undeniably an essential in the kitchen. Look for a product that comes with a lid, as this is called for in many recipes.
3. Small and large saucepans
Everyone needs a saucepan or two in their kitchen. Personally, I prefer having a small 2- or 3-quart saucepan for rice, gravy and single-serve pasta meals, but you'll want to make sure you also have a saucepan large enough for group dishes. Sometimes you can use a Dutch oven for these larger recipes, but if you aren't ready to invest in one of those, a large 4-quart (or bigger) saucepan will get the job done. Again, you'll want to make sure these pans come with lids.
4. A stock pot
Yes, it will take up a fair bit of room in your cabinet, but sometimes, a ridiculously large stock pot is the only thing that can get the job done. From creating your own broth to brining your Thanksgiving turkey, there are a multitude of ways to use stock pots that you'll suddenly discover after purchasing one. Plus, you can stack other cookware inside it to condense storage.
5. A Dutch oven
While not a complete necessity, we're willing to bet you won't ever regret buying a Dutch oven. This large, heavy piece of cookware may be intimidating, but its thick walls, tight lids, and ability to go in the oven make it an essential for any serious cook. Other pots and pans may be great for preparing individual parts of a meal, but a Dutch oven is perfect for one-pot dinners, soup, pasta, and even deep frying.
How to choose the best cookware material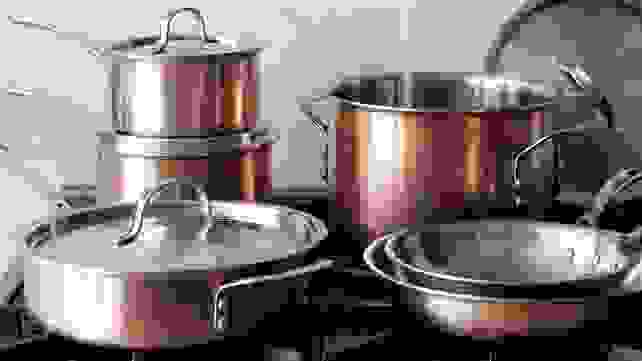 Now that you know which pieces you need in your kitchen, it's time to start comparing cookware materials. You'll want to consider these four factors as you decide which option is best for your needs: heat conductivity, durability, maintenance, and price.
Stainless steel cookware
This is a classic choice for cookware. Stainless steel is commonly used to make pots and pans because it's both widely available and affordable, and it's a great option for beginners.
Heat Conductivity: Not the best on its own, but if you opt for stainless steel cookware with an aluminum core, you'll definitely be pleased. The top pick in our guide to the best cookware sets is an array of stainless steel pots and pans with aluminum cores.
Durability: Medium to high. Stainless steel doesn't warp easily, and it can go from stove to oven and vice versa. As long as you take care of your stainless steel pans, they'll likely serve you well for years to come.
Maintenance: Moderate. Stainless steel is scratch-resistant, which is a bonus, but depending on what type you get—nonstick or standard—you may be doing a lot of scrubbing to get braise marks and brown spots out.
Price: Low to medium.
See our list of the best budget-friendly cookware sets.
Aluminum cookware
This is another widely available material, and you'll often find it in cookware sets combined with other materials, such as stainless steel pots with aluminum cores.
Heat Conductivity: Aluminum has great heat conduction, which makes it a superior choice for meals where an even temperature is essential.
Durability: Not great. Cookware made from aluminum only can warp easily. For this reason, it's best to get aluminum combined with another metal, or aluminum that has been treated. Aluminum cookware can also scratch easily, which may cause food to taste slightly metallic.
Maintenance: Moderate. If you scratch up your aluminum pans, they'll be a pain to wash. However, if you opt for nonstick aluminum pans, cleanup will be much easier.
Price: Low
Nonstick cookware
Nonstick pans are the best way to brown meat, cook eggs and whip up sticky sauces without having to labor through cleanup after. The cookware itself is generally made from a combination of metals like aluminum and stainless steel, but the nonstick coating is a chemical known as polytetrafluoroethylene—more commonly called Teflon.
Heat Conductivity: The heat conductivity will depend on what metal the pans are made from. For instance, heat conductivity will be high on an aluminum nonstick pan.
Durability: Moderate. Despite their reputation for easy cleanup, caring for nonstick pans can be a fair bit of work. If you follow best practices, they'll last a long time, but if you're careless and, for instance, scrape the surface with metal utensils, you'll be replacing them pretty quickly.
Maintenance: Low. Nonstick pans are a breeze to clean. Since the coating prevents foods from sticking, you won't have to soak and scrub like you would with other dishes.
Price: Low to moderate. High-quality nonstick pans can be pretty pricey, but you can also find individual pieces for a low price.
See our list of the best nonstick cookware sets, including budget-friendly options.
Copper cookware
Copper can be quite expensive, but there's a good reason—it's excellent at conducting heat and is a breeze to clean, and aesthetically, it's absolutely gorgeous. All this considered, it's really no surprise die-hard chefs consider copper cookware a must-have.
Heat Conductivity: Copper is the best material for temperature control. It heats quickly and cools down easily, making it perfect for sautéing and frying.
Durability: High. If you take care of it properly, copper will last a long time. However, it's high-maintenance, so you need to make sure you follow the care instructions carefully.
Maintenance: High. Copper needs to be cared for precisely. What does this entail? Avoiding metal utensils, periodic polishing and drying pots immediately after they get wet, just to name a few. If you handle this metal improperly, it can lead to tarnished cookware or metallic-tasting dishes.
Price: High. Because it's such a well-regarded cookware material, copper pots and pans are generally quite expensive.
Cast iron cookware
Most chefs will tell you that everyone needs at least one cast-iron skillet in their collection. This heavy material is an unbeatable choice for cooking meats, like burgers and steaks, but takes a lot of maintenance to maintain.
Heat Conductivity: Cast iron heats evenly and withstand high temperatures, which allows it to be put in the oven, unlike many other materials.
Durability: High. This is the sturdiest metal on the list. Cast iron can last decades if you treat it properly, and even if you don't, you've probably seen videos of people restoring decades-old cast iron skillets. These pans can bounce back from practically anything.
Maintenance: High. Uncoated cast iron, like what you typically see on a skillet, requires gentle cleaning and has specific care instructions, including regular "seasoning." Coated cast iron, like you'll find on a Dutch oven, is much easier to maintain and clean, as these surfaces are smooth and often nonstick.
Price: Moderate. You can get a single pan without breaking the bank, but your wallet will feel a lot lighter if you want a full set.
See our list of the best cast iron pans
Our editors review and recommend products to help you buy the stuff you need. If you make a purchase by clicking one of our links, we may earn a small share of the revenue. Our picks and opinions are independent from any business incentives.