The Best Cookware Sets Under $200 of 2019
By Lindsay D. Mattison, May 31, 2018, Updated March 26, 2019
If you're looking for a cookware set but don't want to break the bank, you might encounter some difficulty. The average set costs between $300 and $400, with some clocking upwards of $800. A good set of pots and pans don't come cheap. The good news, however, is that you're not just buying a product: you're making an investment. A good set can last for up to a decade (depending on how much you use your pots and pans). That's why we went looking for the best budget cookware sets—like the T-fal C561SC Nonstick (available at Amazon for $80.99).
High prices don't necessarily guarantee quality, but they usually provide a durability indicator. With less expensive cookware, over time, the pots and pans often develop warped bottoms, scraped coating, loose knobs, and rickety handles. That doesn't mean it's impossible to find a quality, inexpensive set—so we put a few less expensive sets to the test next to their more expensive counterparts to find some great starter sets. Many of them come in well under budget, and they include a few bonus items, too.
Here are the best budget cookware sets, in order:
Cuisinart The Cuisinart TPS-10 10-Piece Cookware Set
T-fal C561SC Titanium Advanced Nonstick 12-Piece Cookware Set
Farberware Classic Stainless Steel 17-Piece Cookware Set
Vremi 15-Piece Nonstick Cookware Set
Cook N Home 12-Piece Stainless Steel Cookware Set
Updated March 26, 2019
Advertisement - Continue Reading Below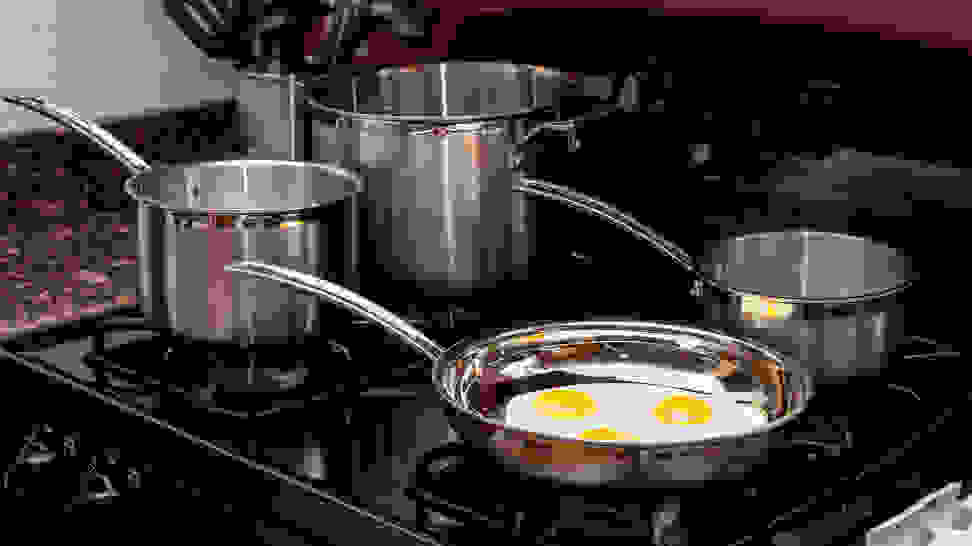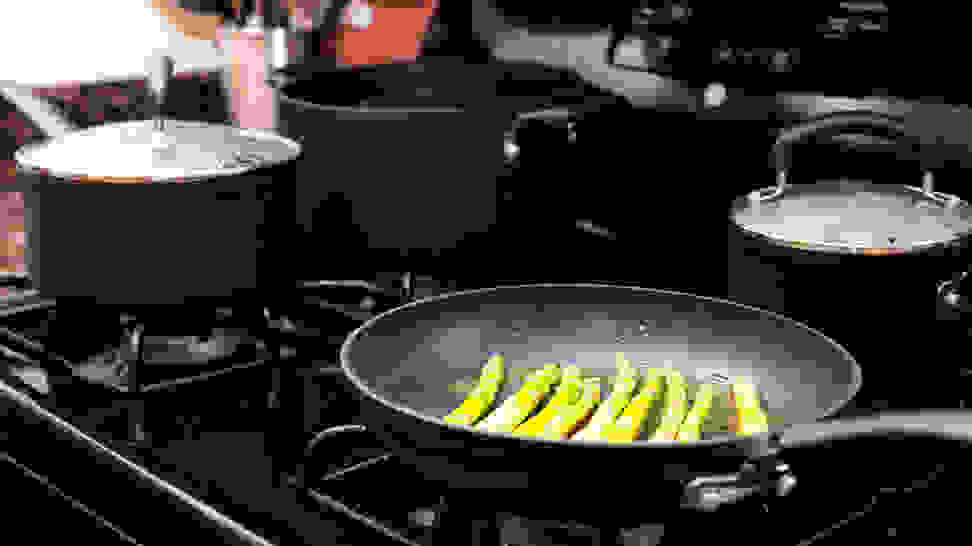 How We Tested
The Tester
Hi, I'm Lindsay Mattison, a trained professional chef and dinner party enthusiast. I'm the type of person that uses every single pot and pan in the house when I'm cooking dinner (and, I'll probably dirty up all the tasting spoons and mise en place bowls, too). So, I definitely understand the importance of having the right set of pots and pans to get the job done! It wasn't easy testing all these cookware sets (and my house was quite cluttered for a few weeks), but it was well worth it to help you find the best cookware set for the value.
The Tests
After selecting 10 top-rated cookware sets (half stainless steel, half nonstick and at all different price points), we decided to cook a multi-component meal using each set. To function for everyday life, the pots and pans had to be sized appropriately to cook dinner for one, but we also wanted to know if you could easily cook a larger dinner (like Thanksgiving) using the set. To earn our seal of approval, at least two saucepans, one sauté pan, and a stockpot had to fit on a standard cooktop range at the same time.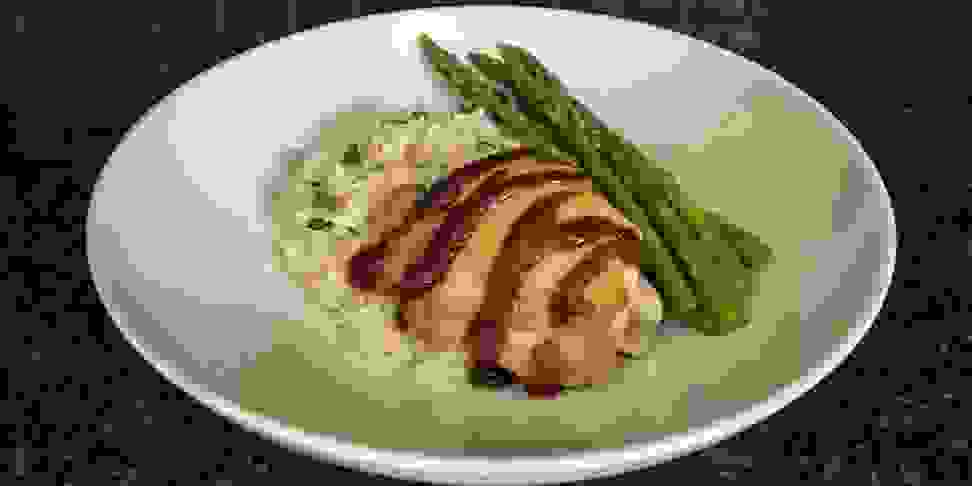 Keeping that in mind, we designed the tests to evaluate performance, ease of use, and value. We seared chicken thighs in the sauté pan, tossed vegetables in the skillets, simmered sauces and cooked rice in the saucepots, and blanched vegetables in the stockpot. If the set came with nonstick gear, we fried a few eggs without oil to see how well the coating worked. Finally, we measured any noticeable hotspots and maybe did a little taste testing to see if one set made a tastier meal than the others. In the end, none of the sets completely failed but we did have a few favorites.
Things to Know When Buying a Cookware Set
Although I wish it weren't true, there is no such thing as a one-size-fits-all pot or pan. Each cooking task requires a specific size. For example, you wouldn't want to boil pasta in a small, one-quart saucepot because it won't all fit. And, it certainly wouldn't make sense to cook up one-cup of oatmeal in a large, 8-quart pot. (For those of you who opted out of culinary math: one quart = 4 cups)
So, cookware sets try to anticipate your needs by providing small, medium, and large pots and pans. Before you jump into a set, consider your cooking style: Do you usually cook for one or for a crowd? The former means you can opt for smaller cookware. Do you cook mostly soups and sauces, or are you a fan of scrambles, stir-fries, and pasta? The answer determines whether you want a selection of saucepots or if having a large skillet is more important in your set.
In the end, it's best to look for a set that has at least two small saucepots, one large stockpot, a small egg pan, and a larger skillet or sauté pan. Anything extra, I consider a bonus! Most sets come with a lid for every saucepan, stockpot, and sauté pan. Sets count these lids as extra pieces to increase the count, so the above set would have five pots and pans but will be called an 8-piece set. While we're on the topic, try to look for metal lids. Yes, that means you can't see what's going on inside the pot, but those glass lids always fog up anyway! The metal lids will never drop and shatter, giving them a longer lifespan than the glass variety.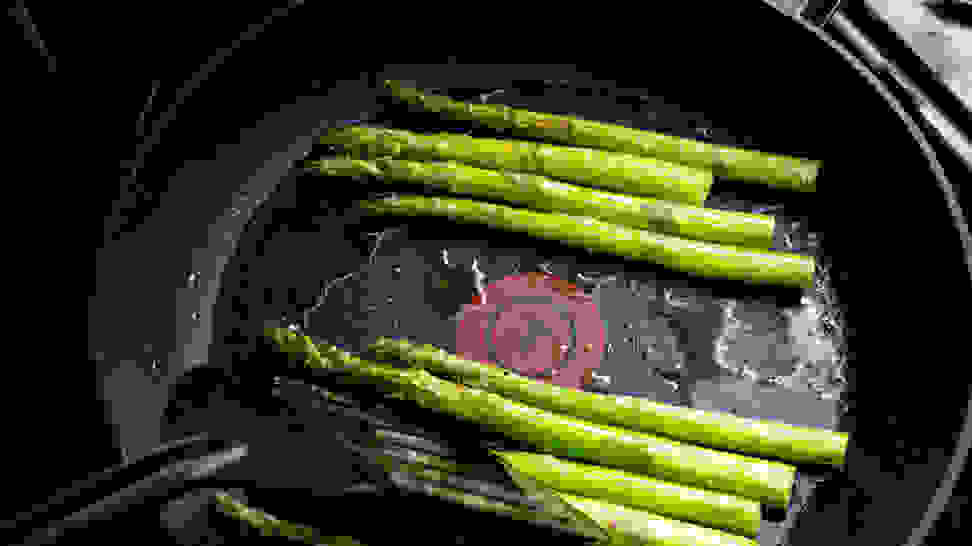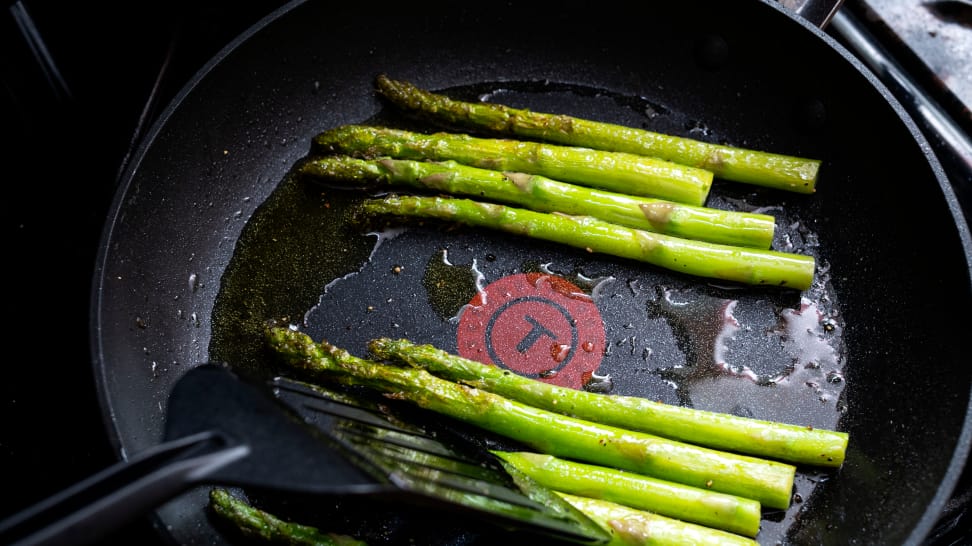 A quick note on choosing nonstick or stainless steel
Again, this goes back to your cooking style. Stainless steel is great for searing meat, leaving behind those delicious fond bits that make the perfect start to a pan sauce. They also tend to last longer than the nonstick varieties, which can be easily scratched and generally can't go into the dishwasher. That being said, nonstick is easy to cook on and even easier to clean. Many people find themselves attracted to nonstick pans when they start out because it's a low-cost investment that can be upgraded in the future. When looking at nonstick, keep in mind there are two material types: The hard anodized pans are Teflon-free and tend to be heavier (and more durable) than the coated varieties.
---
Other Cookware Sets Under $200 We Tested
Advertisement - Continue Reading Below