Kitchen & Cooking
I made frozen yogurt using the 'Keurig for froyo'—and I'll never turn back
You're only 10 minutes and $299 away from perfect froyo at home
Froyo lovers, prepare yourselves: There's a brand new, game-changing home appliance on the market. Wim (MSRP $299) is a compact, countertop frozen yogurt maker that churns out a single dish of fresh frozen yogurt in just 10 minutes—with no setup and no cleanup. Yeah, I was skeptical too.
To make froyo, you need Wim-Bowls (the "pod," if we're sticking to the Keurig analogy). The bowls go for $3-4 a pop and are filled with freeze-dried ingredients in nine flavors like milk and cookies, passion fruit, and brownie batter. Add milk to the bowl (anything from half and half to almond milk works), place the bowl in the machine, and press a button to get it going.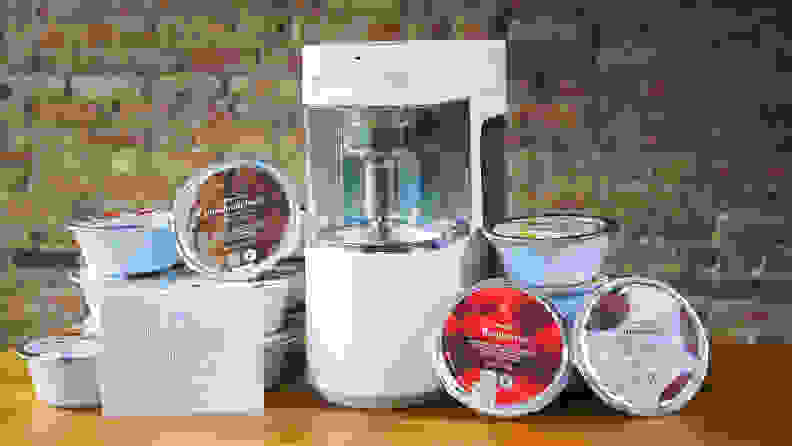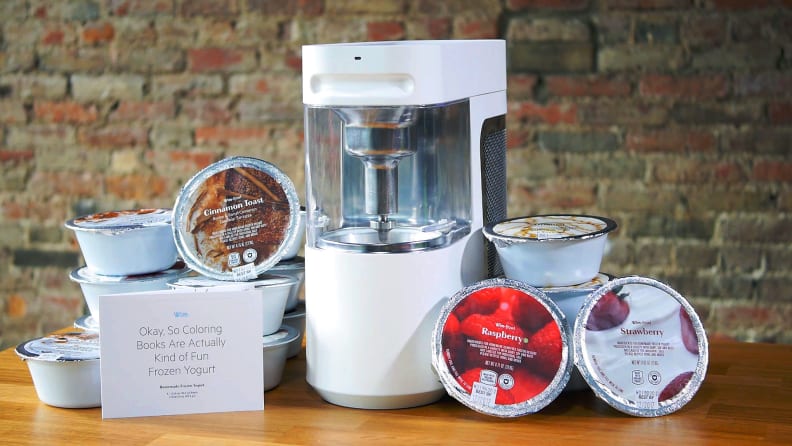 How it works
There is zero setup. For your inaugural use of the Wim, take the machine out of the box, plug it in, and it's ready to go. After you pour your favorite milk into the Wim-Bowl and put it in the machine, set it and forget it: When the froyo is ready (just under 10 minutes, by my count), a jovial alert sounds and a light ignites. The appliance has a "keep cool" mechanism that will chill your dish for about 5 minutes, so there's no stress for melted froyo if you can't dig in right away.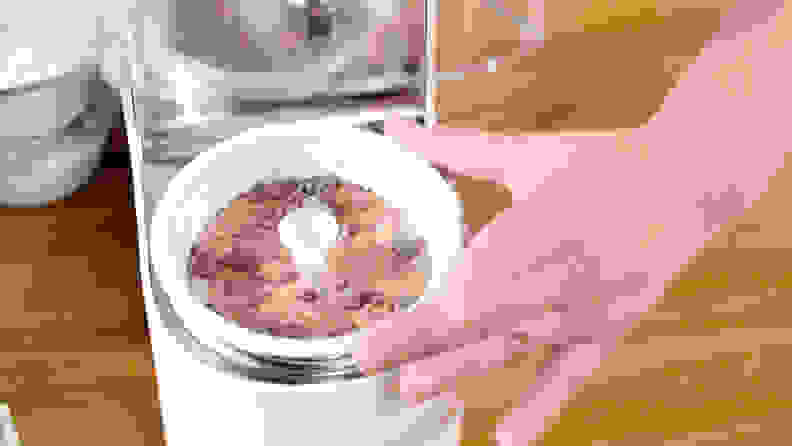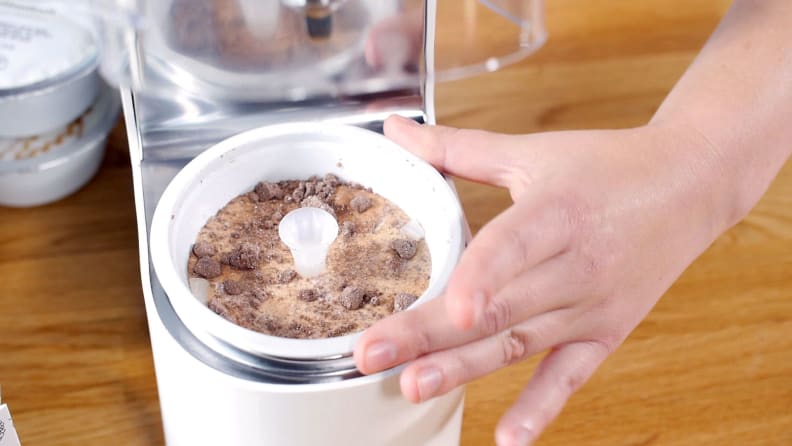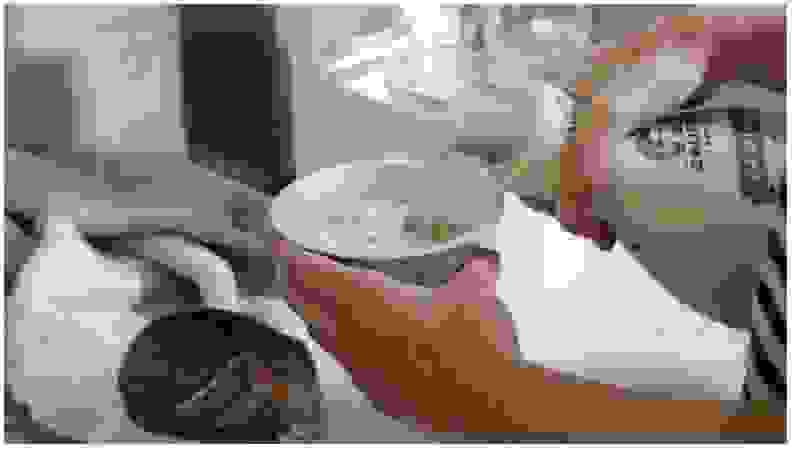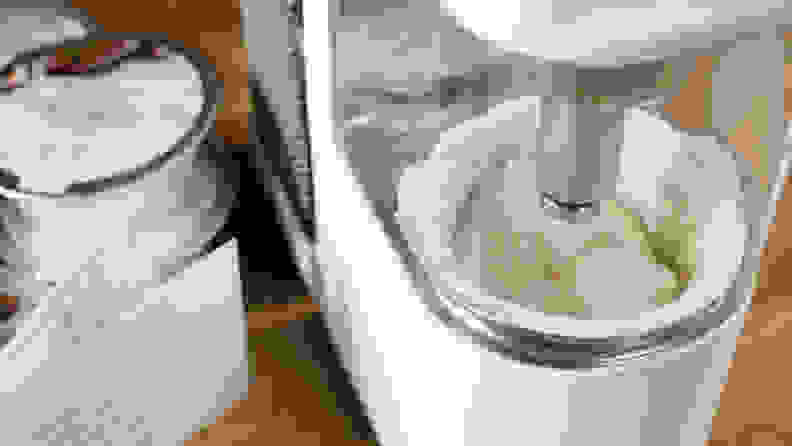 There's no cleanup because the yogurt is flash-frozen and churned within the dish. I carefully eyed the machine after half a dozen uses: It was spotless. No splatter marks on the surrounding metal or the plastic splash guard. No ice cream residue traveling up the mixer spindle. Worried how your laziness will impact your carbon footprint? Wim-bowls are entirely recyclable.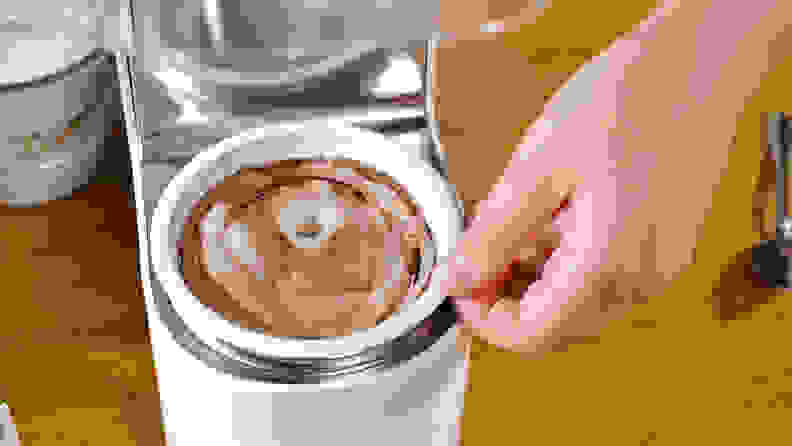 The Wim takes up about as much counter space as a personal-sized blender (5.5" x 12"), but sounds much quieter. If you've used a stand mixer or a Vitamix, it sounds like the gentle purr of the lowest setting on both of those machines. It's quiet enough to have a conversation over, and wouldn't spook a jumpy dog laying in the kitchen.
The flavors
Put simply, this froyo is really good in both taste and quality. The texture is as decadently smooth as what you'd find at a pricey yogurt shop. And the flavors are spot-on.
The base starts with fresh, 100% organic, locally sourced dried yogurt. It's sweetened with Nature Nate's Raw Honey (I tried it: it's drinkable, to be honest) which nets a lower sugar count than a cup of flavored Greek yogurt plus 1 billion cfu of probiotics for gut and immune health. I'm not saying this is health food, but I'm also not not saying that.
Wim created flavors with carefully sourced ingredients like Valrhona chocolate from France and earthy cinnamon from Zanzibar. There are also three vegan options (banana bread, chocolate peanut butter, raspberry), and every recipe is gluten-free, Kosher, and organic. The cups will run you from 120-180 calories each, if you care about that sort of thing.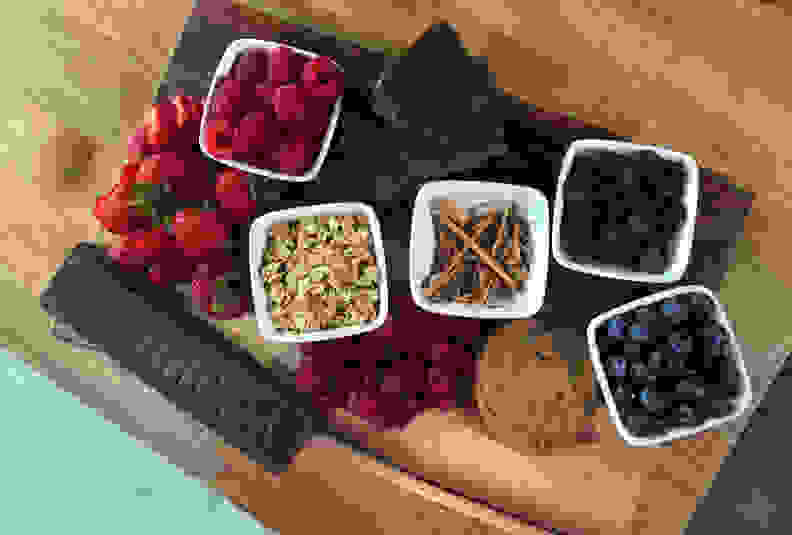 Is it worth it?
Convenience definitely comes at a price. At $299, the appliance isn't exactly a bargain. Add on the fact that each Wim-Bowl is $3-4 each, depending on how many you order at a time, and you're looking at an expensive habit.
Then again, if you were to visit Pinkberry, a medium yogurt with toppings would easily run you north of $6. The value of the Wim really has a lot to do with how much you eat froyo, how high you stack it with toppings, and how much convenience matters to you.
That being said, Wim essentially has the market cornered. Cuisinart's Mix It In soft serve machine is just shy of $80, which is substantially less than the Wim and makes delicious soft serve. But the convenience level is incomparable.
The Cuisinart requires you to pre-freeze the drum for at least 12 hours and a fair amount of babysitting and trial and error before mastering the right consistency. There are also at least five parts to wash after each use, and the machine is bulky with many clumsy parts. And of course, there are no pre-made pods.
For my lifestyle (read: lacking forethought, often crippled by sudden ice cream cravings, dreading bulky, hand wash only appliances), that makes Wim a better product—despite being more than triple the price. If that sounds familiar, the Wim might be for you. It's definitely for me.