It's noon on a workday and there's an eggplant burning on my stove. It rests directly on the grates, skin black and flaking, and it is literally on fire. The gas burner hisses as eggplant juice drips from the cracked surface of the vegetable. I wince where I stand beside it, nervous and sweaty, clutching a pair of tongs.
I did this on purpose. I have no one to blame but myself.
A tray of charred carrots and broccoli sits cooling on the counter, another product of today's experimentation. I am trying to coax smoky flavor from my oven, wooed by the concept of a world in which the end of grilling season does not mean an end of that delicious grilled taste. I want to believe that such a thing is possible.
Here I am, using my oven in ways I've never used it before.
So here I am, using my oven in ways I've never used it before: Cooking directly on the oven floor, and directly on the grates of the stove. It is stressful, but I am bold in my eagerness.
"How I Terrorized My Roommate, Ruined My New Stove, And Almost Set My Apartment On Fire In The Name Of Cooking Eggplant," I suggest to my editor as a possible headline for the resulting story.
"Oh no," he says.
Experiment One: Skip the racks—Cook on the oven floor
Food 52 recently suggested that the best way to get your veggies charred around the edges but still firm in the middle is to place the baking sheet directly on the floor of your oven. I don't know what to expect from this technique. I also don't know what to expect from my oven, which my landlord just replaced.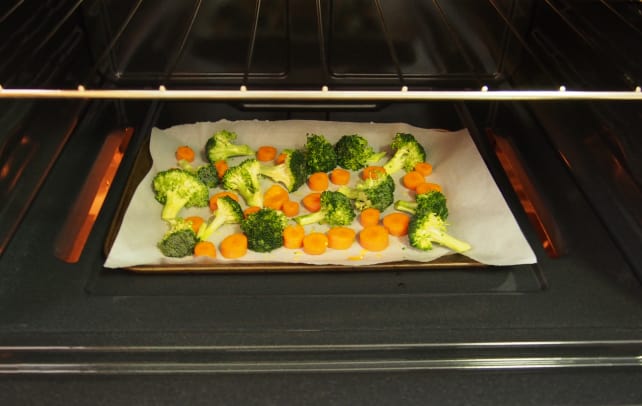 I preheat the oven to 500°F. Then I toss carrots and broccoli in a little olive oil, line a small pan with parchment paper, and place them on top.
The oven starts to stink of chemicals, as new ovens do. I open every window in the house, but the fumes are unavoidable.
The oven beeps. The veggies go in.
I leave them on the oven floor for 9 minutes, switching them to the middle rack for another 10 after they start to look too burnt. The whole experience is a hellish scene of torment, the kitchen sweltering, filling the apartment with the stink of new oven fumes and burnt carrots, fans whirring loudly in the windows to suck out that bad air. I cannot contain my relief when the bake time is up and I can finally turn off the new oven.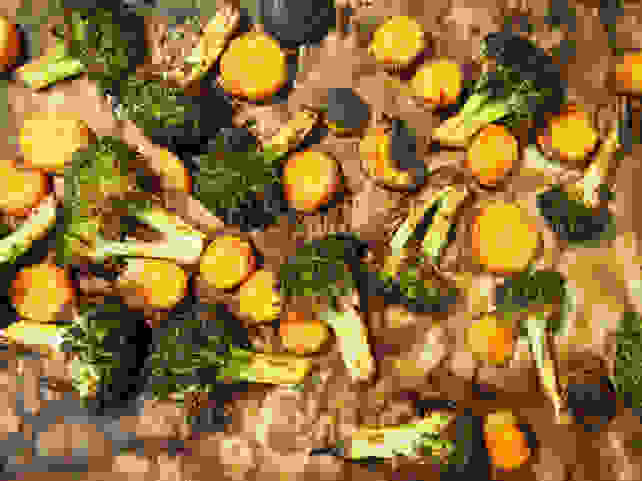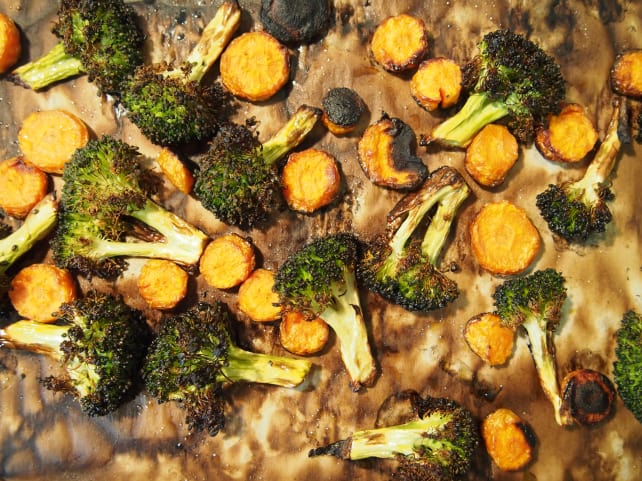 The broccoli is crispy, the carrots sweet. The bottoms are burnt black. My roommate enters the kitchen and picks up a few, wrinkling her nose. "Carbon is bad for you," she says. "You shouldn't eat that."
I munch through half the batch anyway, sitting on the front steps and sucking woozy lungfuls of fresh air. This method actually worked, but next time I'll reduce the bake time and flip the veggies mid-bake.
Experiment Two: Cook directly on your gas burners
I have no qualms toasting the occasional marshmallow over the blue flames of my stove, but I've long been curious to try famed chef Yotam Ottolenghi's technique for cooking eggplant in this manner, as detailed in his cookbook Jerusalem.
The method is simple: Buy a big eggplant. Place it directly on your gas burner on medium heat. Cook it for 15-18 minutes, turning occasionally with tongs.
"Piece of cake," I think to myself like an idiot.
I obtain the eggplant, place it on the stove, turn on the flame. At first, things seem to be working as planned. The eggplant's skin darkens, its flesh buckling and softening from the heat. But when I go to turn it with the tongs, they sink into the eggplant, leaving holes that drip juice onto the stove and burn there. The grates do something similar, further mangling the vegetable. Bits of ragged, blackened skin hang from the eggplant, then catch fire. I monitor the situation with growing anxiety, finally shutting off the flame when it's clear a kitchen fire is on the horizon.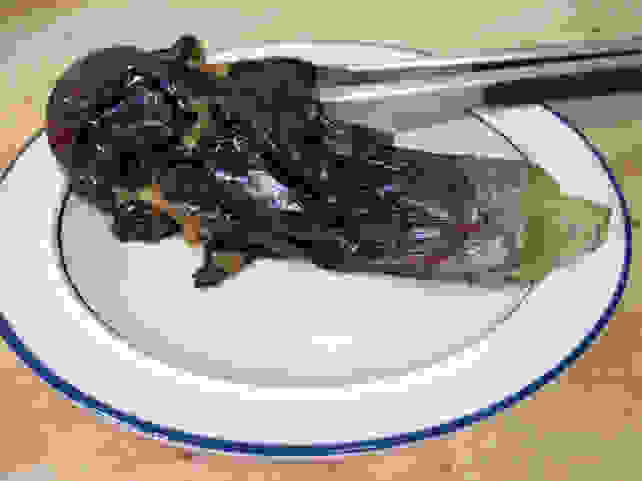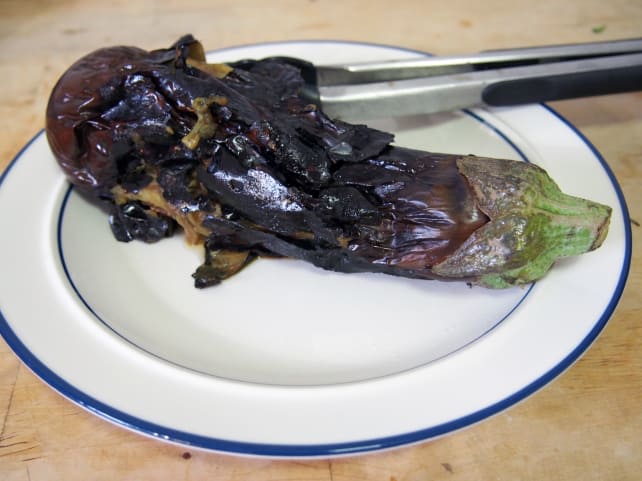 The eggplant sits on the grates, mutilated and stupid-looking. This is what I have to show for my efforts. This, plus a brand new stove top covered in burnt eggplant juice that I spend a good 20 minutes scrubbing away before giving up on the concept of "totally clean."
When it's cool, I scoop the eggplant flesh from the skin in strips, letting them drain for a while in a colander. Then they go into a bowl, where I mix and mash them with the juice from half a lemon, a minced clove of garlic, a spoonful of tahini, a good glug of olive oil, and a pinch of salt. The result is delicious—smoky, garlicky, complex—but not worth the stress of the process.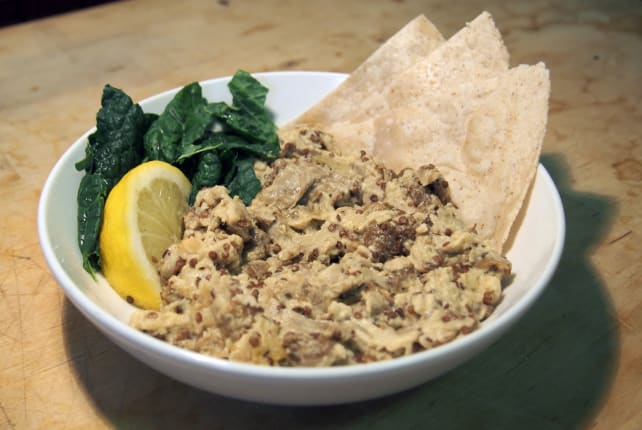 "I made really tasty baba ganoush!" I announce to my editor.
"And you only ruined one range?" he says.
What I learned
Come closer, my friends, for I have braved fire and fumes in the pursuit of knowledge (and food) and I have come out the other side singed but smarter. Let me share my wisdom. Let us use it in the pursuit of something tasty.
If you're planning to cook with a baking sheet on the floor of your oven, I say do it! Just check your oven's user manual to make sure it's okay—mine advised me not to cover the slits in the floor, so I had to use a smaller baking sheet. You should also give your veggies a good stir partway through, and pull them out before they burn too badly.
If you're planning to cook an eggplant directly on your stovetop, you'll get tasty results, but I think you'd be better off sticking it on a pan close to the broiler instead. It's a fun technique, but it felt a bit like throwing a party—enjoyable, except your fun is tainted by the knowledge that you'll have to clean up at the end and there's a slight possibility your guests will set your home on fire.
That baba ganoush was dope, though.
Our editors review and recommend products to help you buy the stuff you need. If you make a purchase by clicking one of our links, we may earn a small share of the revenue. Our picks and opinions are independent from any business incentives.