Kitchen & Cooking
I tried the reusable coffee cup that Jennifer Garner swears by—here's what happened
How well does it actually work?
Credit: Reviewed/Backgrid
Every morning I make an entire pot of coffee. No, I'm not making it for roommates or my family—I make it all for myself. All 48 ounces are going into my tired, sleep-deprived, "why did I stay up until 1 a.m. watching Netflix again" body.
Basically, I'm a woman who runs on caffeine.
That means I'm also a woman obsessed with finding—and buying—all of the best coffee-related accessories. Milk frothers, reusable pods, grinders—you name it, I've got it (or at least, got it in my cart). And every coffee addict knows that one of the most important accessories is a solid travel mug.
While there are plenty to choose from, there's one reusable cup in particular that recently caught my eye: the KeepCup. It's incredibly chic, yes, but more importantly, it's the cup that Jennifer Garner has been using nonstop for years. And since I trust Jenn's taste in most things (have you ever watched her Instagram cooking tutorials?!), I decided to try her KeepCup out for myself.
What is the KeepCup?
Touted as "the world's first barista standard reusable cup," the KeepCup is all about giving you a higher-quality coffee-drinking experience. Each mug is made with tempered soda lime glass (which is strong and shock-resistant), an upcycled cork band and a BPA-free plastic lid (which is hand-fitted to perfectly seal the cup itself).
While Jennifer uses the cork KeepCup (which is the one that I tested), there are a variety of styles and colors of KeepCups to choose from, including stainless steel and plastic ones. Some of the mugs are also dishwasher-safe and microwavable. You can even design your own KeepCup from scratch if you want a completely custom mug.
What I like about the KeepCup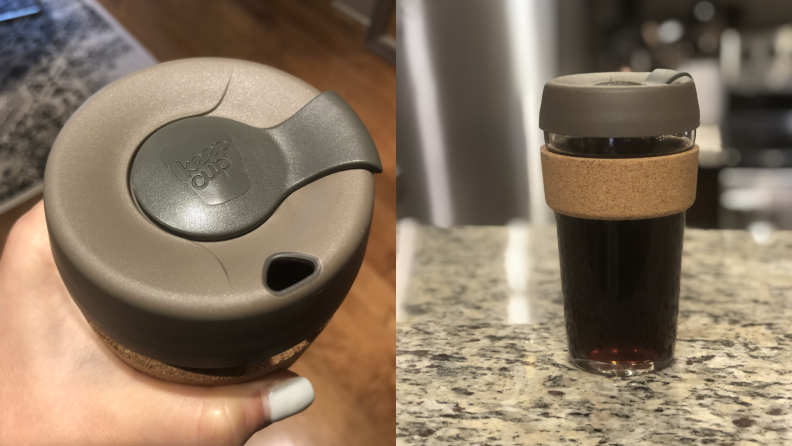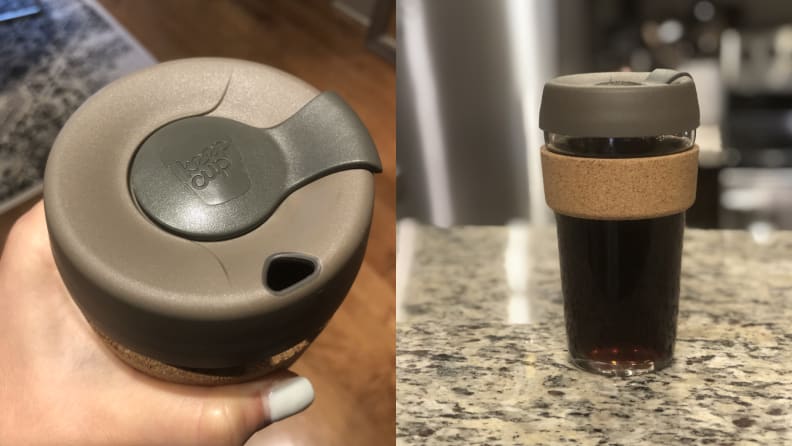 The KeepCup is like the cooler cousin of those boring stainless steel mugs everyone's dad used to carry to work. It's super stylish thanks to the matte, earth-tone lid and natural cork "sleeve." I also like that the lid is easy to open and close—you simply lift the rotating piece on top and swivel it around until it clicks neatly into place over the mouth hole. At the same time, however, said lid is also splash-proof so you don't have to worry about spilling when you're rushing around.
Another thing I appreciate is how easy the KeepCup is to drink from. There's no scalding hot drops dripping out onto your face (or worse, your clothes) and the cork band is comfortable to hold. Plus, the size fits perfectly in standard cupholders (unlike some of the bigger, bulkier mugs out there).
What I don't like about the KeepCup
Because it has zero insulation, the KeepCup didn't keep my coffee very hot for very long. I.e. within an hour, my cuppa was lukewarm. Yikes. Not only that but the non-insulated glass means you have to hold the KeepCup by the cork band or risk burning your hand (which I learned the hard way).
One more thing: Maybe it's laziness or maybe it's just personal preference but I don't like that the cork KeepCup isn't dishwasher-safe. While the glass itself is, the cork band is not so the mug has to be washed by hand.
Is the KeepCup worth buying?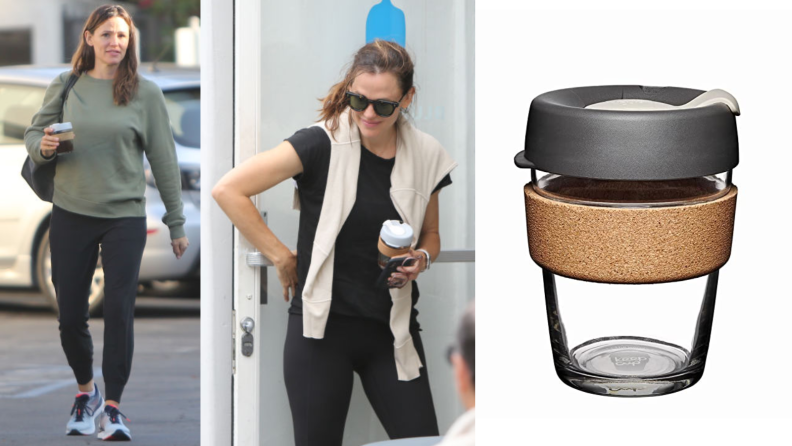 The KeepCup is stylish and chic, yes, but is it practical? Not so much if you want or need your coffee to stay hot for longer than an hour. To be fair, the cork KeepCup isn't advertised as an insulated cup—but I'm not sure what the point of a travel mug is if not to keep your drink warm/cold?
That being said, if you're looking for an attractive mug to carry your coffee for short periods of time, I do like the KeepCup's trendy design and practical features (especially the locking lid). But if you're looking for a heavier-duty mug that's actually insulated, we'd recommend one of these travel cups instead.
The product experts at Reviewed have all your shopping needs covered. Follow Reviewed on Facebook, Twitter, and Instagram for the latest deals, product reviews, and more.
Prices were accurate at the time this article was published but may change over time.