The Best Electric Coffee Grinders of 2019
By Ben Keough, March 29, 2018, Updated January 02, 2019
Coffee is a delicate thing. The light, floral, fruity flavors that define the most sought-after beans begin to dissipate the moment you open your vacuum-sealed, nitrogen-flushed bag, and the process only accelerates once you grind them to make your coffee. But oxygen isn't the only enemy of coffee flavor—a bad grind can do just as much damage.
The key to avoiding a bad grind is buying a good grinder. Ask any expert and they'll tell you to avoid cheap blade grinders, which indiscriminately chop beans into random-sized chunks. What you want is a burr grinder, like our favorite Baratza Encore (available at Amazon), which evenly grinds the beans between two serrated steel plates that can be moved closer or further apart to control the size of the grind. Burr grinders are typically more expensive, but they're worth it. An even grind promotes even extraction, which results in a smoother, cleaner-tasting cup of coffee whether you're making French press, pour-over, or espresso.
That said, we know not everyone wants to fuss over their coffee. Maybe you just want to pulverize some supermarket beans to stuff in your reusable K-cup, or maybe you're ok with less-than-perfect flavors from your French press. We get it. No judgment!
That's why we tested 11 of the most popular grinders out there to find the best burr and blade options for the average coffee drinker.
Here are the best electric coffee grinders ranked, in order:
Baratza Encore
Capresso 560 Infinity
Baratza Virtuoso
Breville Smart Grinder Pro
OXO On Conical Burr Coffee Grinder with Integrated Scale
Bodum BISTRO
Cuisinart DBM-8 Supreme Grind
Krups GX5000
Krups Fast Touch Electric Coffee and Spice Grinder
KitchenAid BCG1110B
Secura SP-7412
Updated January 02, 2019
Advertisement - Continue Reading Below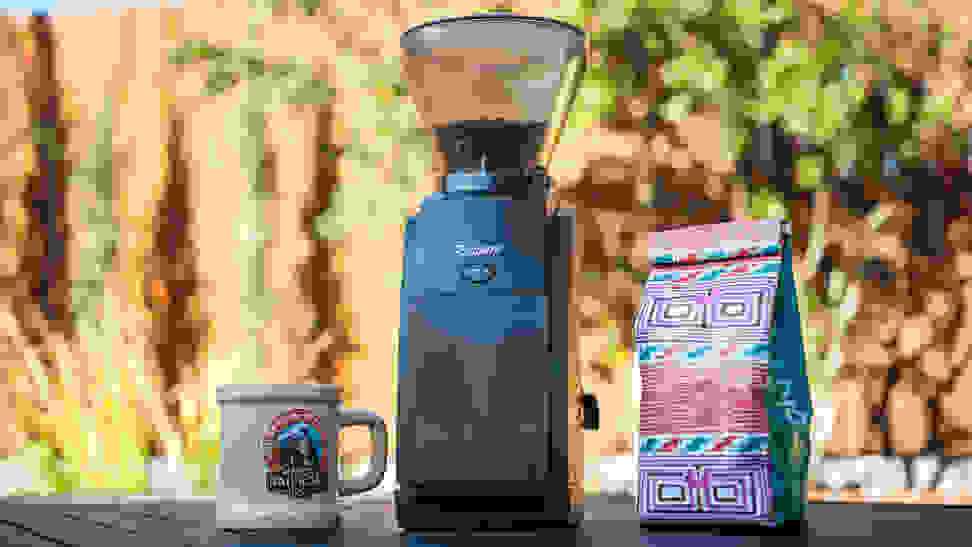 Baratza Encore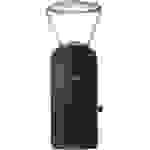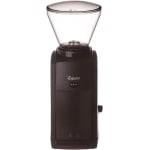 Baratza Encore
Best Overall
The Baratza Encore is simplicity defined. This burr grinder has a 40-setting grind size selector, an on-off switch for continuous grinding, and a push-button for manual control. That's it. Other grinders include complicated timers, built-in scales, strength adjustment sliders, and other doodads, but Baratza suggests that you don't need them—and they're right. Measure your beans using a separate scale, grind them fresh for each cup. That's the way to do it.
This grinder produced the most even grounds out of all the machines I tested, and its range of output is all-encompassing. The coarsest setting produces large flakes, while the finest setting produces puffy grounds akin to powdered sugar—perfect for Turkish coffee. In between, I was quickly able to find the ideal settings for my Hario Woodneck, Aeropress, and even mason jar cold brew.
The machine itself is large, but not as monstrous as some of the other grinders I tested. It's also very bottom-heavy, which makes it feel more durable than other machines and means it won't rattle all over your counter while grinding. The heavy-duty translucent plastic collection cup generates less static cling than the glossy clear plastic cups I tested, and the chute that connects the burrs to the cup collects less debris than other models. Cleaning is simple: Just remove the top burr and use the included wire brush to remove residual grounds.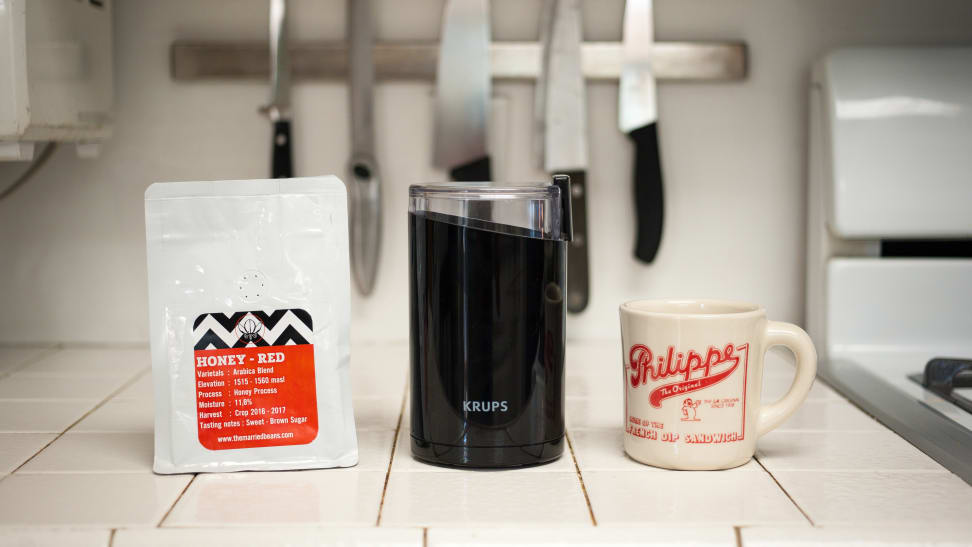 Krups Fast Touch Electric Coffee and Spice Grinder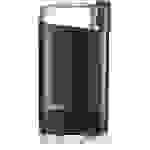 Krups Fast Touch Electric Coffee and Spice Grinder
Best Blade Grinder
You shouldn't buy a blade grinder. They're just not as good as burrs. But if you must, I recommend the Krups Fast Touch.
Though the grounds it produces aren't anywhere near as consistent as even the worst burr grinder I tried, it's capable of producing a decent cup. After grinding continuously for five seconds, the Fast Touch reduced two scoops of beans to a nearly uniform medium-fine grind—no huge chunks, no whole beans. With a little experimentation, I was able to hit a consistent medium grind that produced a bright, slightly acidic Aeropress cup. If you want an ultra-fine espresso grind, it can do that too. Simply hold the button down until all you have left is powder.
Like most cheap grinders, the Krups produces a ton of static cling, meaning you need to tap the lid or bang the grinder on your counter to keep grounds from going everywhere when you open it. If you grind ultra-fine, the particles tend to cake on the bottom of the bowl, too. Cleaning is relatively simple; just be sure to watch your fingers when working around the blades.
Who Am I?
I'm Ben Keough, and I've been testing and writing about consumer tech and home goods for more than a decade. I previously served as Reviewed's Editor in Chief of News and Features, where I covered everything from new oven announcements to cutting-edge developments in digital camera sensors. For the last year, I also owned and operated the #1-rated specialty coffee shop in Da Nang, Vietnam's third-largest city. There, I converted my love for drinking coffee into a passion for making coffee, and learned what it takes to produce a perfect cup.
How We Tested
Since the type of bean and the level of roast you're using can affect the quality of the grind (not to mention how easy your grinder is to clean), I looked for a middle of the road pick that would represent the average bean used by most home brewers. I ultimately chose Trader Joe's Kenya AA Medium Roast, one of the more highly-rated grocery store beans available nationwide. It's not too oily, but not completely dry like the single origin beans you'd get from most artisan roasters.
Blade and burr grinders differ drastically in how they're used, so I tested them in different ways. For the blade grinders, I first ground two Aeropress scoops of beans for five seconds, to assess how quickly and consistently they chopped the beans. After that, I did my best to grind two scoops to coarse, medium, and fine consistency. In addition to grind size and uniformity, I took note of stuff like static cling in the grinder cup, how much caking occurs with finer grounds, whether the blades spat ground coffee all over the machine and counter top, and how easy the grinders were to clean when I was done.


For burr grinders, I did two rounds of three grind size tests. The first time around, I ground two Aeropress scoops of coffee using the manufacturer-recommended settings for coarse, medium, and fine (or, depending on the machine, French press, pourover, and espresso). The second time, I ground using the coarsest and finest settings, plus the one that I thought would produce the best Aeropress cup. In each case, I examined the grounds for consistency and appropriateness for the brew method. Again, I took note of other stuff, like build quality, the space each grinder took up on the counter, static cling, grounds getting stuck in the chute, noise levels, speed, and ease of cleaning.
---
Other Grinders We Tested
Capresso 560 Infinity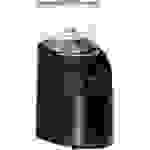 Capresso 560 Infinity
The Capresso Infinity is a solid, no-nonsense backup pick if the Baratza Encore is out of stock or rises unexpectedly in price. It's a little less expensive than the Baratza, a little smaller, and the plasticky build is a little less robust. The grounds it produces are just a little less uniform, and it has fewer grind settings. Like the Breville Smart Grinder, its coarsest setting isn't very coarse. There's also quite a lot of debris that gets left in the chute after grinding. You'll want to clean that out after every grind, unless you fancy having stale-tasting coffee the next day.
Still, on the whole it's a simple, supremely reliable machine. It's also the quietest grinder I tested (though still not exactly quiet). Capresso markets the Infinity as one of the slowest grinders on the market, which probably sounds odd to the uninitiated. Nevertheless, it's actually a sought-after trait among those in the know. The theory is that a slower grind is not only more precise, but also generates less heat, which can rob coffee of flavor. The coffee tasted pretty much the same as what I got out of the Encore, but I certainly won't complain about the noise reduction.
Baratza Virtuoso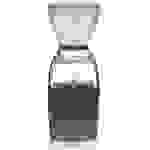 Baratza Virtuoso
For all practical purposes, the Virtuoso is nearly identical to the much less costly Encore. That means it's a great grinder, but not a great bargain.
What's the same? The range of grind sizes (listed at 250 to 1200 microns for both), the number of grind settings (40), the bean hopper capacity (8oz), and the size and style of the burrs (40mm conical steel).
However, they do differ in a few ways. The Virtuoso is a little heavier, thanks to the use of stainless steel on top and bottom; in comparison, the Encore is all plastic. The Virtuoso also has a 60-second mechanical timer, positioned in the same place where the Encore has a simple on-off switch. Last, and perhaps most important, the Virtuoso grinds at 1.5 to 2.4 grams per second, while the Encore is slower at 0.8 to 1.1 grams per second. I know, I know... Capresso said slower is better! Baratza disagrees. Anyway, in testing I found that there was little difference between the grounds each machine produced. They're both superb at their job.
Breville Smart Grinder Pro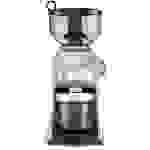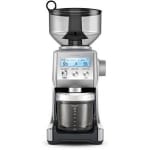 Breville Smart Grinder Pro
If you really like to fine-tune your grind and dosing, the Breville Smart Grinder Pro has enough tools to satisfy your OCD. You can choose from 60 grind size settings, and when it comes to dosing, you can set your grind time in increments of 0.2 seconds or simply choose your number of cups. The grinder comes with portafilter attachments in two sizes, reducing mess for those with home espresso machines, and is also designed to accommodate paper filters for drip coffee makers. A large digital display makes the settings easy to understand at a glance.
The machine is full of other thoughtful design flourishes. Both the top burr and the bean hopper include well-labeled locking mechanisms that ensure the machine won't run unless it's properly set up. The lid on the hopper has a pull-ring to make it easy to remove, as does the electrical plug. The grind collection cup includes a screw-on lid with a rubber stopper for airtight storage. I recommend grinding your coffee right before brewing, but if you have to store it, that's a nifty feature to have.
But how does it grind, you ask? Pretty well! The coarsest setting is too fine for my taste, but it does an excellent job at pour-over/Aeropress/cold brew sizes, and produces a beautifully fine espresso grind. Grind consistency is very good, though not quite as perfect as what you get from the Baratza Encore.
Of course, there are downsides. The Smart Grinder Pro is expensive, huge, heavy, and perhaps a touch over-engineered. I can't help but think that all those whiz-bang electronics behind the flashy display are more likely to give out than the Baratza's simple mechanical controls. That said, if you demand the shiniest tech and the most possible control over your grind, it's a great choice.
OXO On Conical Burr with Integrated Scale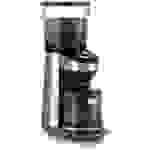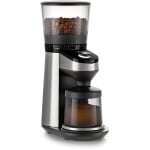 OXO On Conical Burr with Integrated Scale
OXO is known for producing innovative and supremely useful kitchen gadgets—seriously, get their can opener now—and the OXO On Conical Burr Coffee Grinder with Integrated Scale, part of its Barista Brain line of coffee products, is another solid effort.
Like the Breville Smart Grinder Pro, it's feature-packed yet easy to use, and it even offers one notable feature no other grinder on our list can claim: a built-in scale. Like the Breville, it has a handy locking system for the top burr and bean hopper, and the build quality is top-notch. It grinds quickly, if a little noisily, and there wasn't much static cling in the ground coffee cup. The grounds it produces are fairly consistent in size, though I did notice a lot of finer particles mixed in with the larger chunks at the coarsest setting. Grounds tend to build up in the chute, so when it comes time to clean the OXO, be sure to do it over the sink.
The scale works great, but I can't really get behind the idea of storing beans in the hopper and grinding the weight you need. Unless your household is going through a lot of coffee each day, it would be a better idea to leave the beans sealed in their bag in a cool dark place and grind the right amount each time you're ready to brew.
Bodum BISTRO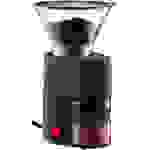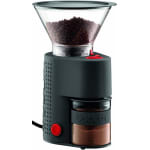 Bodum BISTRO
Bodum is best known to most coffee lovers for their iconic French presses, but the company makes a wide range of other coffee gadgets. The Bodum BISTRO burr grinder is a solid, uncomplicated machine that I enjoyed using, but there's little to recommend it over other more accomplished grinders.
Here's what I liked: The BISTRO is smaller and lighter than a lot of burr grinders, but it doesn't feel cheap. It includes helpful grind setting suggestions under the hopper lid. It's not too noisy when grinding, despite being pretty quick about it. The grind size range is broad, and the grounds are pretty consistent at all settings. The machine is also quite easy to clean, because the chute between the burrs and the collection cup is short and broad.
What didn't I like? The glass grounds cup feels premium, but it's small, prone to static, and more breakable than the plastic cups that come with other grinders. The machine's soft rubber coating—familiar to Bodum French press owners—gets dirty fast and is difficult to clean. The BISTRO also tends to spill grounds all over the place when you pick up the cup. That gets annoying fast.
Cuisinart DBM-8 Supreme Grind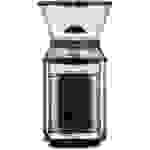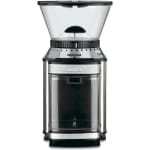 Cuisinart DBM-8 Supreme Grind
Cuisinart makes many of my favorite kitchen gadgets, but the DBM-8 Supreme misses the mark. Along with the Krups GX5000, it's one of the cheapest burr grinders available, and after using it, it's easy to see why. To begin with, the grounds it produces are reasonably uniform, but the range of grind sizes is quite limited. Its coarsest setting isn't very coarse and the finest setting definitely won't get you into Turkish territory. It also seems to have a pretty hard time grabbing onto beans, tossing them around the hopper almost like a popcorn maker. It's among the loudest grinders I tested, and the collection bin produces atrocious static cling that makes it annoying to empty. Cleanup is messy, but at least Cuisinart says all removable parts are dishwasher-safe. (I wouldn't recommend washing the top burr, though. Use a dry cloth or brush.)
Krups GX5000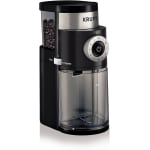 Krups GX5000
Is a $30 burr grinder too good to be true? Yes, yes it is. Featuring a plasticky build, a cut-rate disc-style burr, and just nine grind settings, this thing is the Tata Nano of burr grinders. It'll get you from point A to point B, but you won't enjoy the ride.
In my testing, there was remarkably little difference between the coarsest and finest grind settings, and consistency at the finest setting was particularly poor. The machine is particularly difficult to clean, since you can't remove the bean hopper and the lower burr is very difficult to access. No parts are dishwasher-safe, either, so, have fun with that.
KitchenAid BCG111OB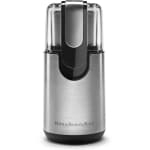 KitchenAid BCG111OB
Though more advanced than the simplistic Krups Fast Touch, this KitchenAid blade grinder doesn't grind coffee any better. Unlike the Krups, it includes a removable stainless steel cup, which makes it much easier to pour your ground coffee into your chosen receptacle. Unfortunately, it flunked the five-second grind test with chunky results that featured some very fine grounds mixed with nearly whole beans. Grind long enough and you'll get somewhat consistent results—especially for French press and pourover—but you never get the fine grind that the Krups can produce.
Secura SP-7412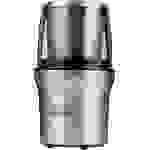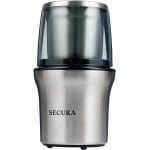 Secura SP-7412
Avoid
Buy this grinder only if you like having coffee grounds covering your counter and everything on it. Somehow, this thing got released without anyone noticing that the plastic dome you press down to grind the beans doesn't seal against the metal cup that contains the blades. End result? Coffee confetti all over everything. Pass.
Advertisement - Continue Reading Below