Kitchen & Cooking
The 10 best paleo Instant Pot recipes on Pinterest
Eating healthy has never tasted so good—or been so easy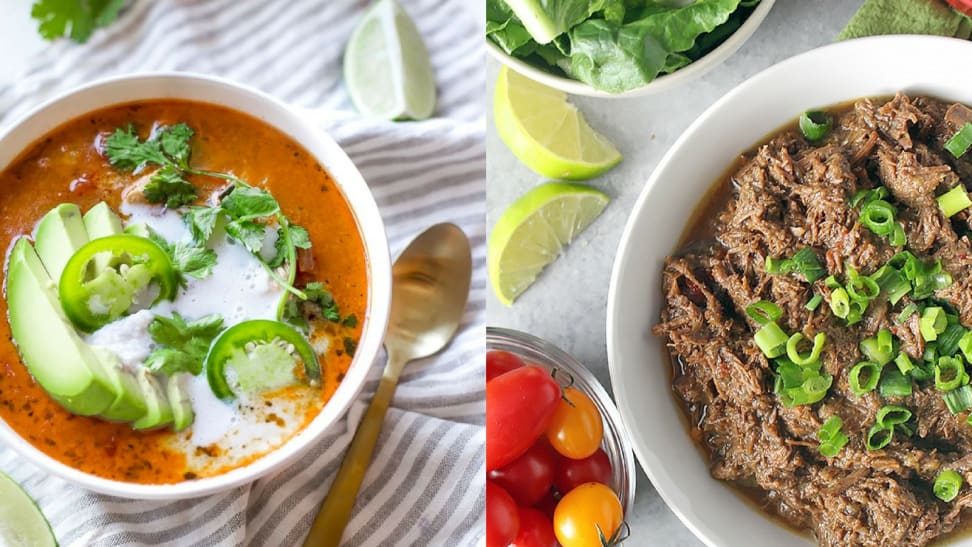 Credit: 40 Aprons / Wholesome Delicious
If you're following the paleo diet for the first time it can be quite tricky—not to mention time consuming. Between finding approved recipes to planning out meal prep, it's completely exhausting. No wonder why (some) people quit their newfound diet in a matter of weeks.
A paleo diet (a.k.a. the caveman diet) encourages us to eat the way our ancestors did a long, long time ago. Although you won't be hunting or gathering, this diet mainly consists of eating fish, nuts, leafy greens, regional veggies, seeds, and a lot of meat. That means that grains, dairy, legumes, refined sugars, and processed foods are all off the menu. These restrictions also mean that any paleo recipe is also Whole 30-approved, gluten-free, and dairy free.
Luckily, a handy and cult-favorite kitchen gizmo known as the Instant Pot is here to help you with all your meal prep needs. Since it can be used as a pressure cooker, slow cooker, steamer, warmer, rice cooker, and more, you can whip up all your favorite healthy meals in no time—making it that much easier to follow your diet. We dug through Pinterest (it's easy to get lost in there) for some of the best paleo Instant Pot recipes to get you started.

1. A steaming bowl of Whole 30-approved paleo chili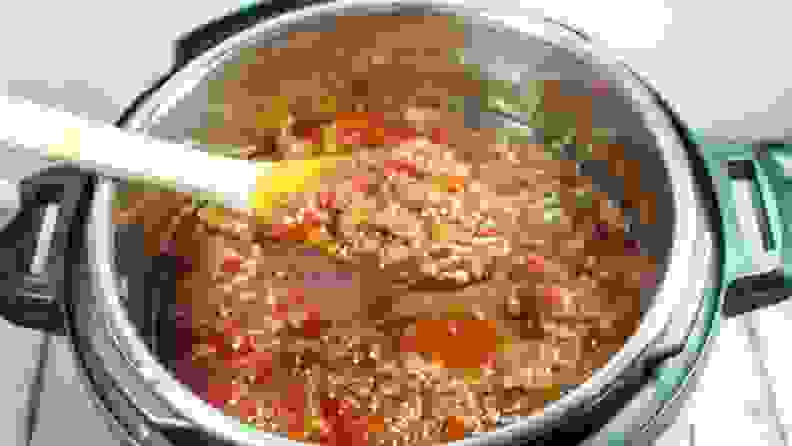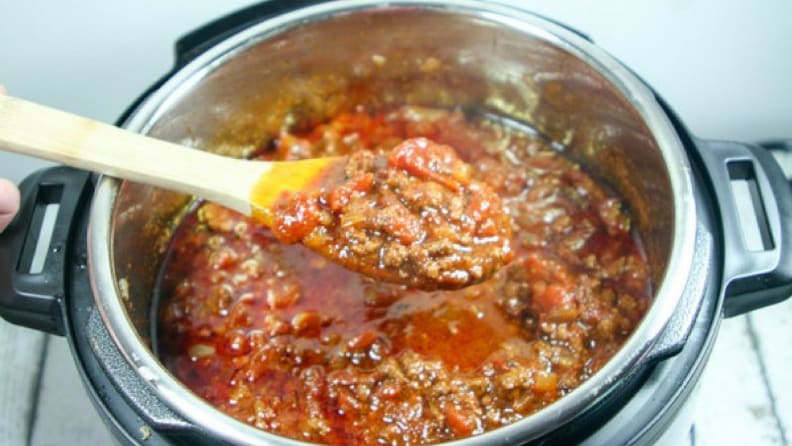 A big bowl of chili is the ultimate comfort food. This Instant Pot Chili from Farmstead Chic is loaded with delicious spices and comes together quickly in a pressure cooker. Plus, with no dairy it still fits in with your Whole 30 meal plan.
2. Chicken tortilla soup without the tortilla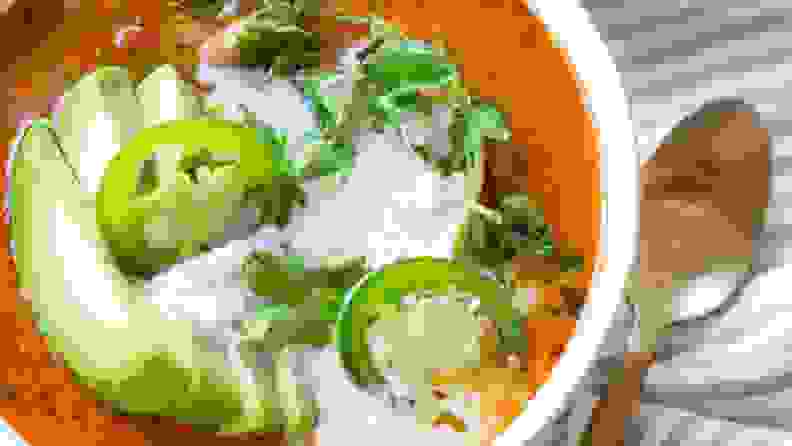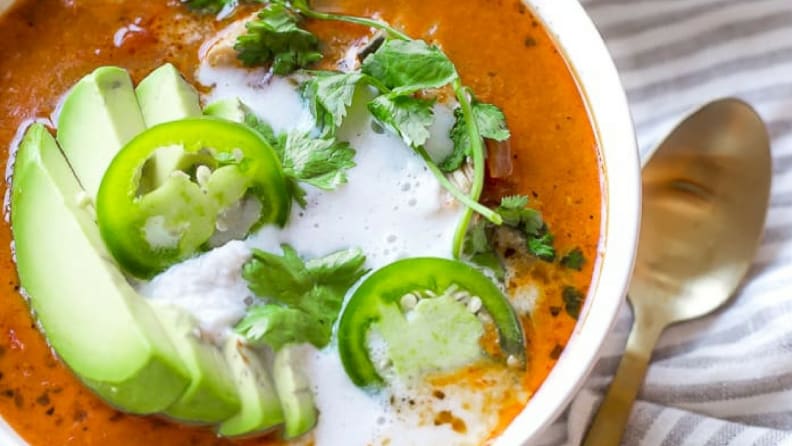 Chicken tortilla soup is a Mexican favorite that unfortunately doesn't fit with a paleo diet. But, this Whole30 Instant Pot Chicken Tortilla-Less Soup from 40 Aprons has so much flavor you won't miss the tortilla chips. Toss your ingredients together, set your multi-cooker to high pressure, and soup will be ready to serve in just 20 minutes.
3. Paleo meatballs that take half the cooking time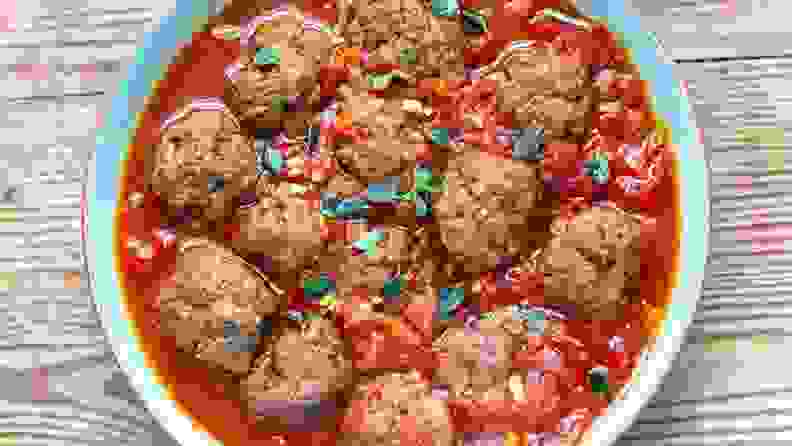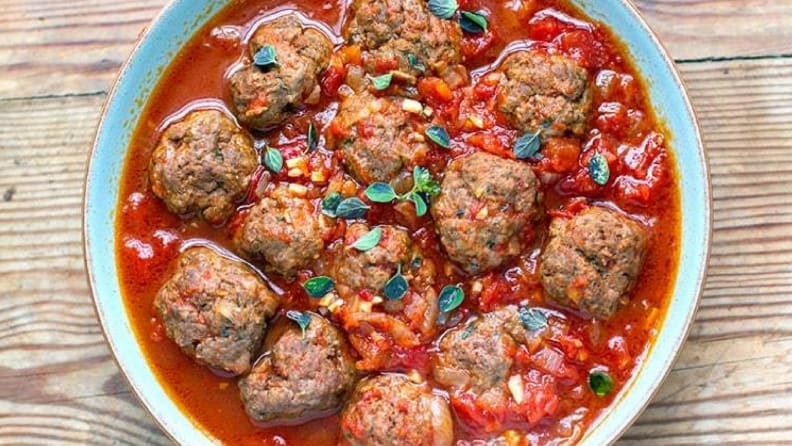 Homemade Italian meatballs usually require breadcrumbs and quite a bit of cooking time. But these gluten-free, paleo, and Whole30-friendly Instant Pot Italian Tomato Meatballs from Instant Pot Eats skip the breadcrumbs completely, so they're extra juicy. Serve them on top of a bowl of spaghetti squash or zoodles and you're good to go.
4. Spicy shredded chicken for Taco Tuesday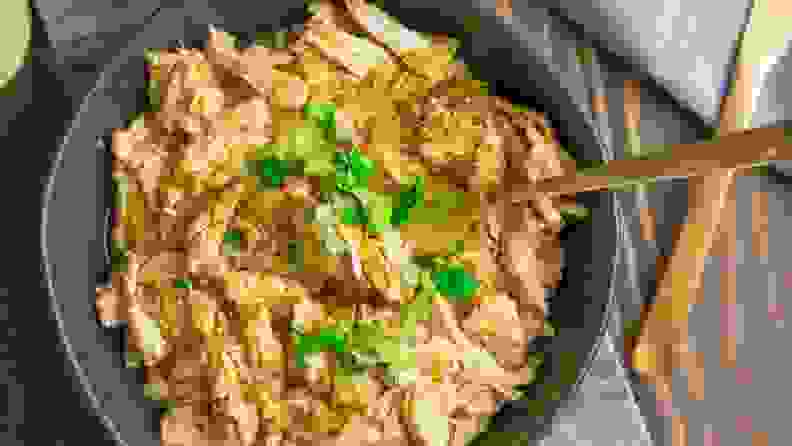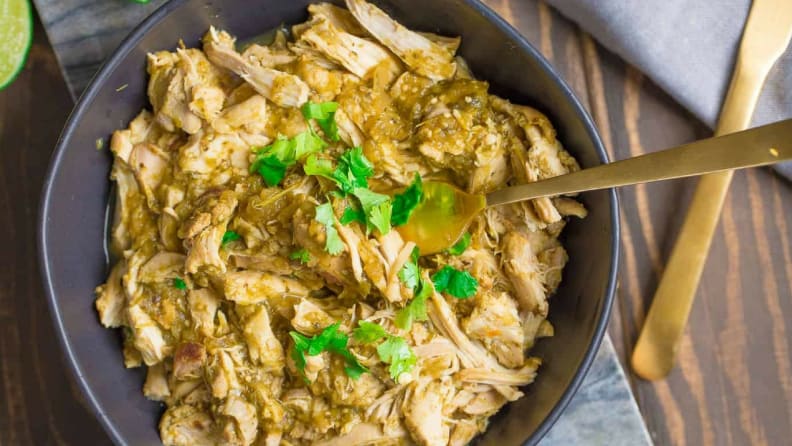 It's a challenge to maintain Taco Tuesday on a paleo diet. But this Instant Pot Salsa Verde Chicken from Wholesome Delicious with homemade tomatillo salsa is the perfect taco filling. Place them inside lettuce wraps for a paleo-approved twist on tortillas.
5. Chicken curry that's sweet and spicy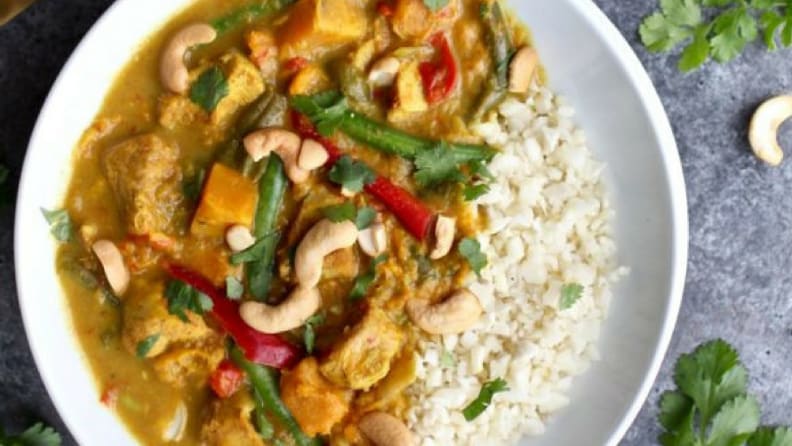 Serve this Instant Pot Sweet Potato Chicken Curry from The Real Food Dietitians over some for your very own Indian-style feast. You can even saute your veggies and cook the curry in one machine, which means less cleanup. Put some cauliflower rice as a paleo-friendly alternative to regular rice.
6. Simple spaghetti without the carbs
Spaghetti squash is a staple for the pasta lovers gone paleo—but it also typically takes four times longer to cook. Luckily, this spaghetti squash recipe from Raising Generation Nourished shows us how to cook it quickly in an Instant Pot. By using a pressure cooker, you only need to cook it for 12 minutes—possibly the fastest cooking method for this squash.
7. Barbacoa that tastes better than Chipotle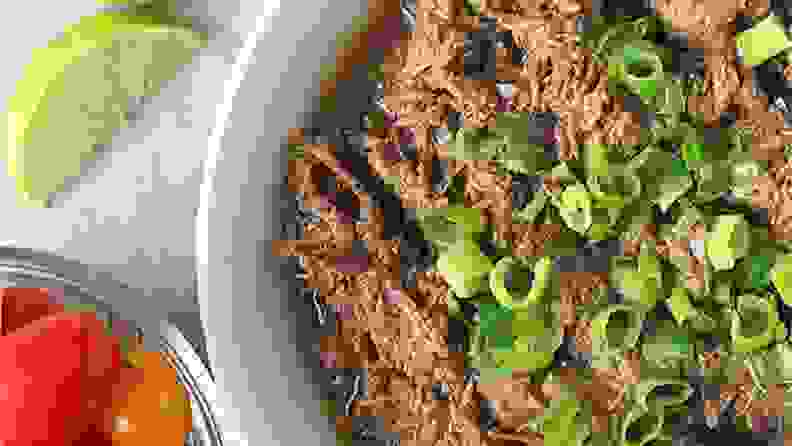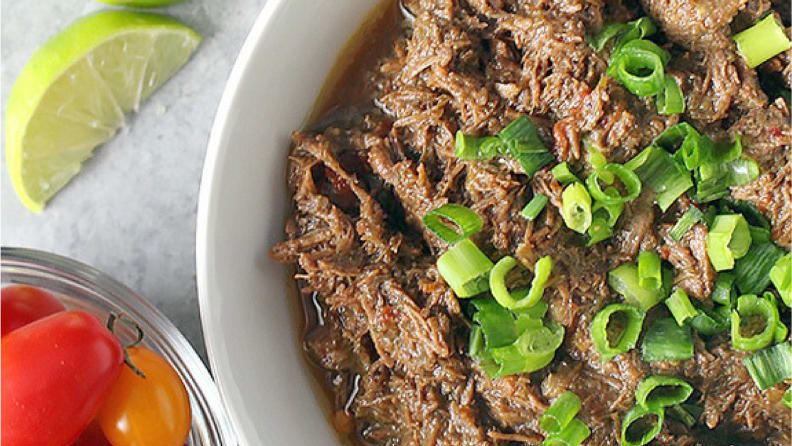 Create your own version of a (rice-free) burrito bowl from Chipotle with this copycat paleo beef barbacoa from Jay's Baking Me Crazy. It only takes one hour when cooked in an Instant Pot, not long to wait for super tender, fall-apart beef.
8. An entire paleo-approved chicken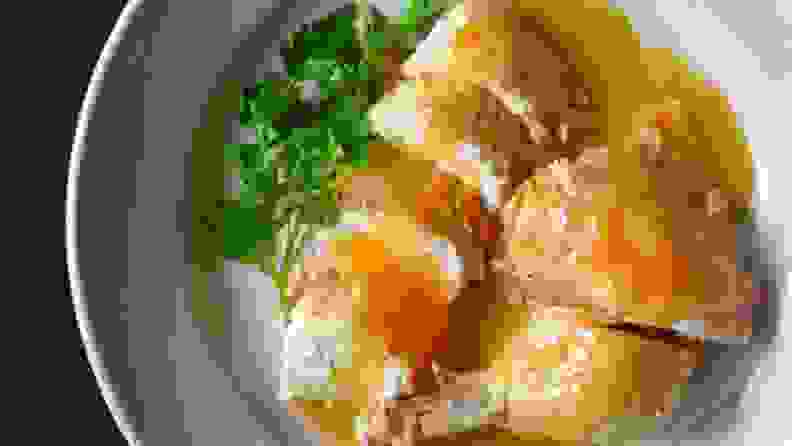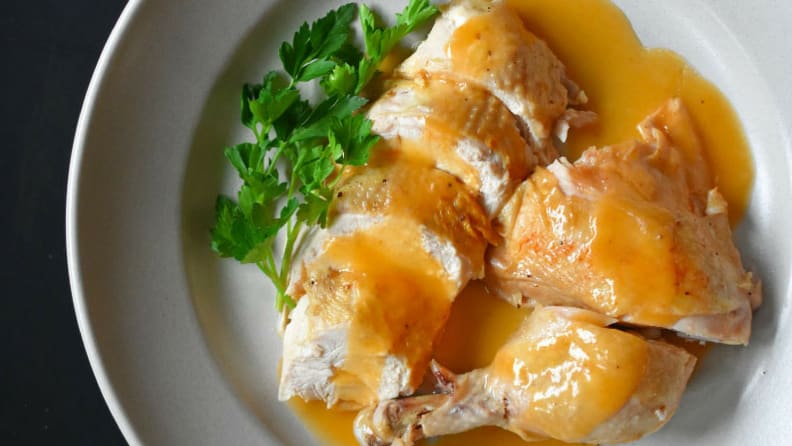 The rumors are true: You can cook an entire chicken in an Instant Pot. This Instant Pot Chicken and Gravy recipe from Nom Nom Paleo shows you how to cook a whole chicken, and make a paleo gravy at the same time. It's a one-stop recipe for a whole feast.
9. Asian-style chicken that's better than take-out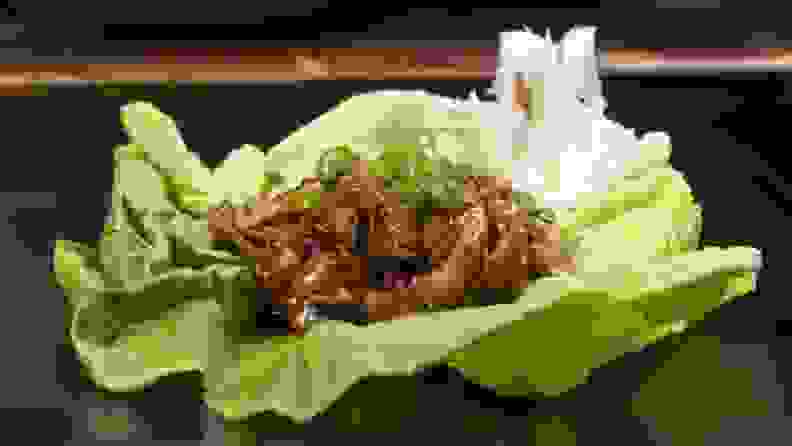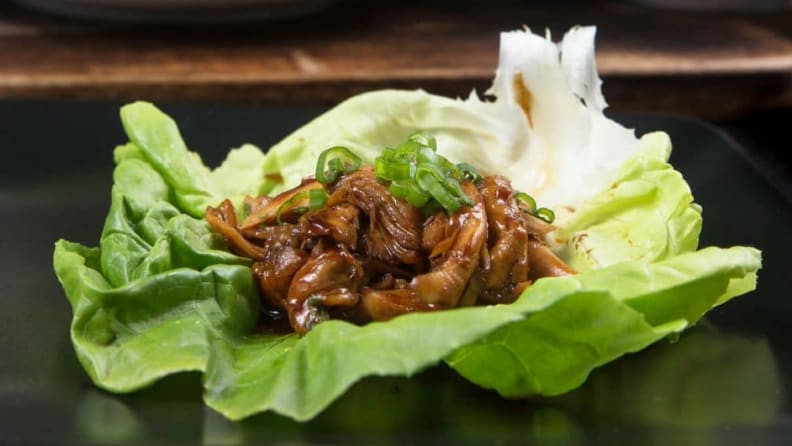 Chicken lettuce wraps make for a delicious appetizer or meal (if you eat at least three or four), and they're surprisingly easy to make in a pressure cooker. This General Tso's Instant Pot Shredded Chicken from Pressure Cooker Recipes only take 45 minutes for shredded chicken coated in a delicious brown sauce. It's arguably tastier (and obviously healthier) than take-out.
10. A roast that goes from frozen to cooked in almost an instant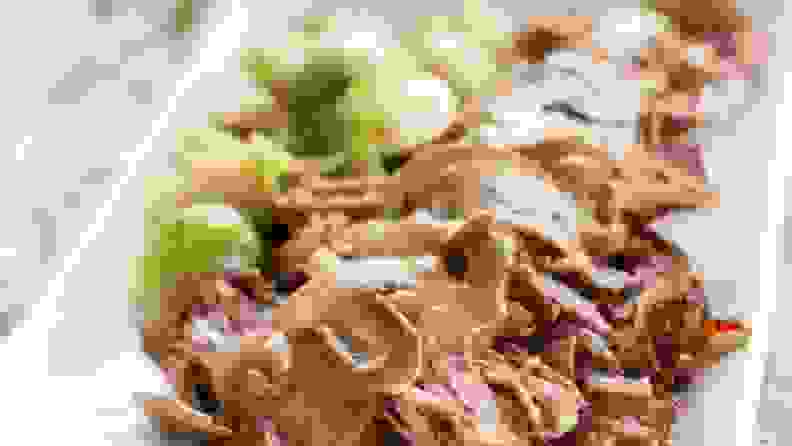 Even if the food you want is currently frozen, you can still manage to have dinner on the table in less than two hours when using the Instant Pot. This Low Carb Pork Roast with Mushroom Gravy from Health Starts in the Kitchen turns a frozen pot roast into a tender, succulent dinner. The vegetables are also cooked with the meat, so they're extra flavorful when blended into a gravy.
Prices are accurate at the time this article was published, but may change over time.