Deals
Dyson is having a major sale right now on these award-winning vacuums
Save big on select Dyson products now through Memorial Day.
Credit: Dyson / Amazon
Sometimes life can get a little messy. When it does, the right cleaning products make all the difference—and this is especially true when it comes to taking care of dust, dirt, and pet hair buildup around the house.
If you've been meaning to tackle your filthy floors but don't have the right vacuum yet to really get the job done, you're in luck. Right now, you can get up to $100 off select Dyson products—including cordless stick and upright vacuums—until June 8. And who doesn't want a Dyson?
From all-time favorites like the Dyson V8 Absolute to incredible cord-free models like the Dyson Cyclone V10 Motorhead, these vacuums are the perfect way to keep your floors looking like new throughout the year. Unsure which one is right for your home? Here are some of the best vacuums you can get on sale at Dyson now.
1. Our favorite lightweight vacuum: The Dyson V8 Absolute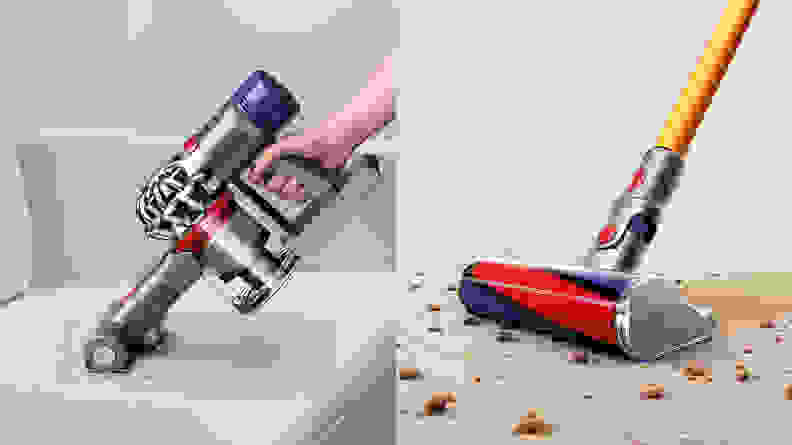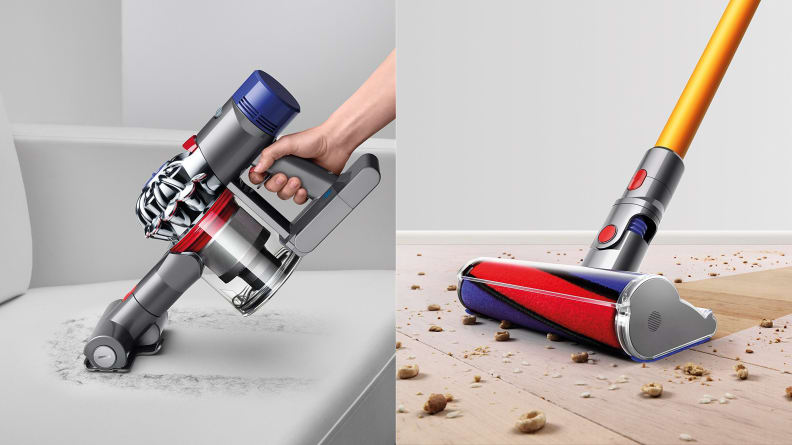 Finding a vacuum that's lightweight but still manages to be really powerful isn't as easy as it seems. The appropriately named Dyson V8 Absolute is absolutely the model that manages to be both. We named it the best lightweight vacuum because at just under 5.6 pounds, it offers the best suction and the least amount of weight, and that's just one of many features we loved about it.
This model is so efficient, you could replace your old heavy-duty upright vacuum or handheld device with it. Don't believe it? In testing, this model picked up 88% of dirt, which was not only better than almost every cordless vacuum we tried, but beat out most upright corded and handheld vacuums, too.
All in all, this is just a great vacuum. The V8 Absolute usually goes for $450, but you can save $100 now and get it for the lowest price we've ever seen. If you're really all about saving money, you can save an extra $20 and get the refurbished version of this unit on Amazon, but if you're looking for a brand new model, you can't find a better deal on it anywhere else.
Get the Dyson V8 Absolute (Iron) for $349.99 (Save $100)
2. Perfect for pets: Dyson Cinetic Big Ball Animal + Allergy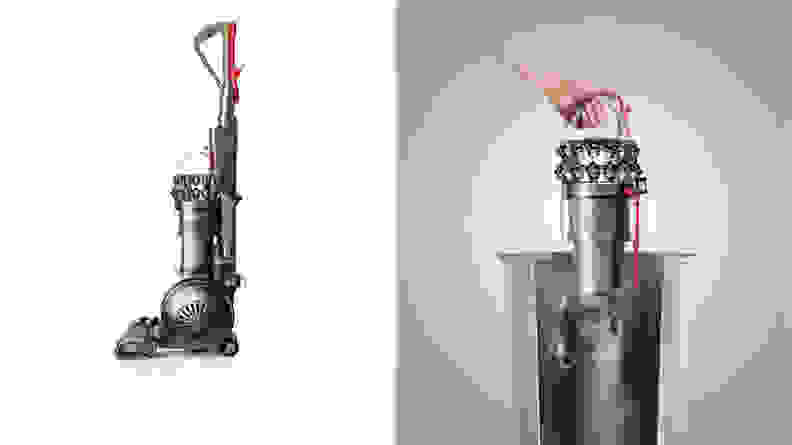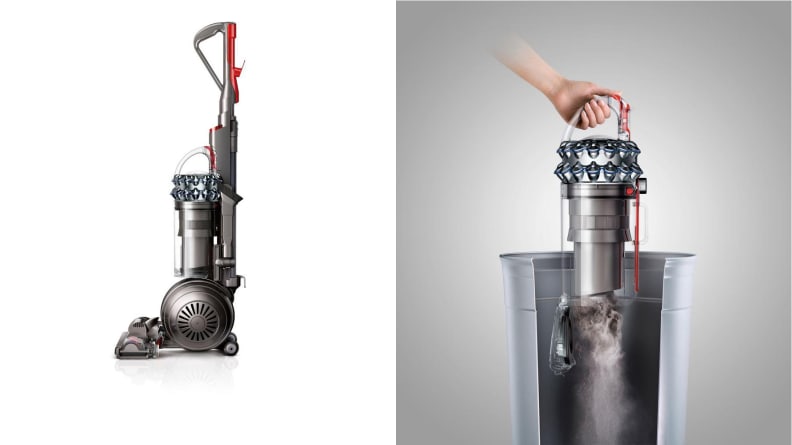 You can love your pets and still absolutely hate what they do to your home in terms of making a mess. Pet hair gets everywhere, especially if you have tons of dogs and cats. If you or someone you love struggles with allergies, that makes it even harder to be at home.
Enter this super-powerful upright vacuum cleaner from Dyson, which was specifically engineered with pet hair and allergies in mind. It comes with multiple tools for use on stairs and mattresses, under tight spaces, and more.
Even better, it offers whole-machine HEPA filtration and comes certified by the Asthma and Allergy Foundation of America, so it's great for those who might be sensitive or allergic to pets. Right now, you can save $150 and get this vacuum for its lowest price, so even though it's still an investment, you're actually getting a great deal here.
Get the Dyson Cinetic Big Ball Animal + Allergy vacuum cleaner for $549.99 (Save $150)
3. Best cordless vacuum: Dyson Cyclone V10 Motorhead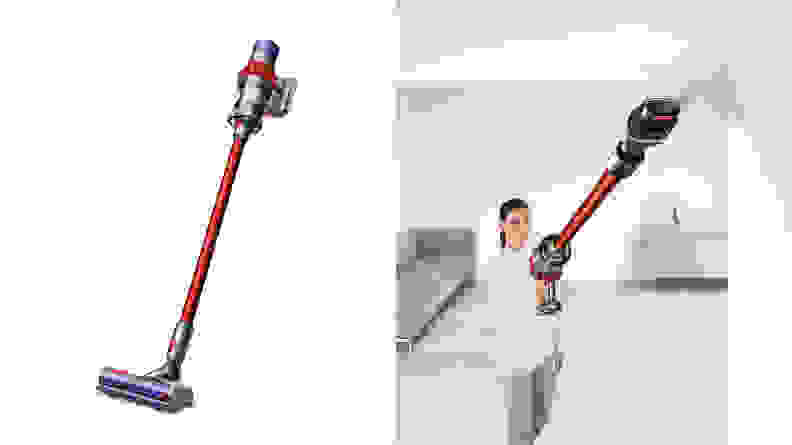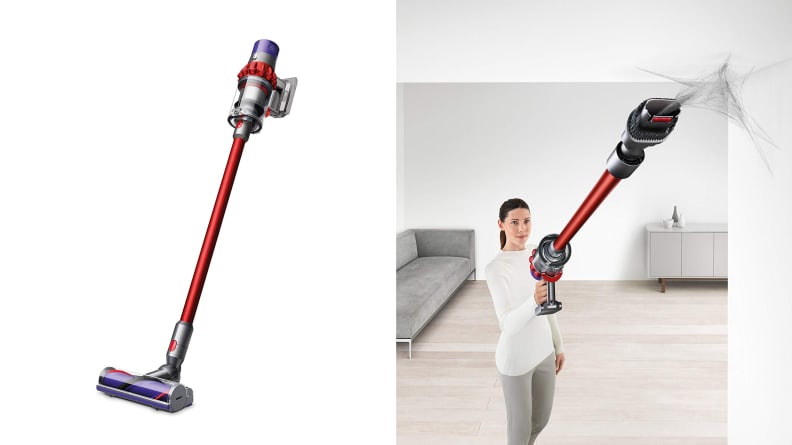 It's no secret that when it comes to cordless vacuums, the V8 Absolute is a favorite of ours. It's lightweight and fantastic at picking up dirt. But in our roundup of the best cordless vacuums, we actually liked the Dyson Cyclone V10 Absolute just a bit more—and right now, you can save $100 on the V10 Motorhead (a model almost exactly like the V10 Absolute) and get it for just under $400.
The V10 Motorhead isn't quite as lightweight as the V8, but in testing, it picked up slightly more dirt. It also offers superior run-time, lasting for 60 minutes on its lowest setting, and it comes with the works: handy attachments, drop-in docking, and more. Additionally, it can transform easily into a handheld. This unit is technically cheaper on Amazon right now, but with Dyson's price matching promise, you can reach out to their customer service with proof of the price difference. Since the Amazon seller is an authorized Dyson store, they'll refund you the difference. Or, you know, you can just buy it on Amazon now and skip the hassle.
Get the Dyson Cyclone V10 Motorhead for $399.99 (Save $100)
4. Best cordless vacuum on a budget: Dyson V7 HEPA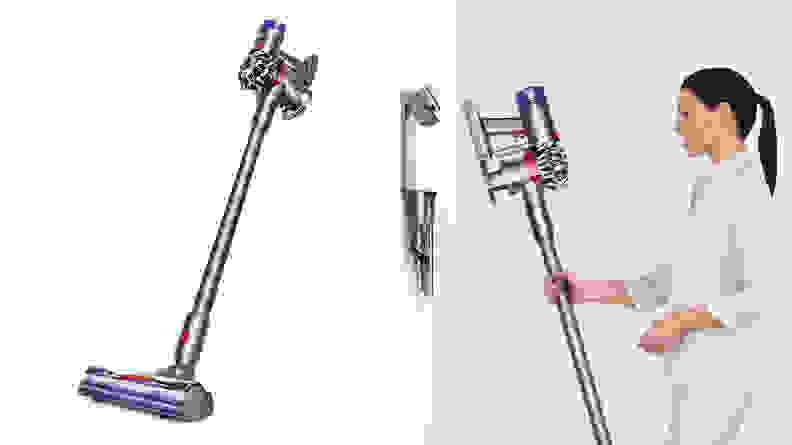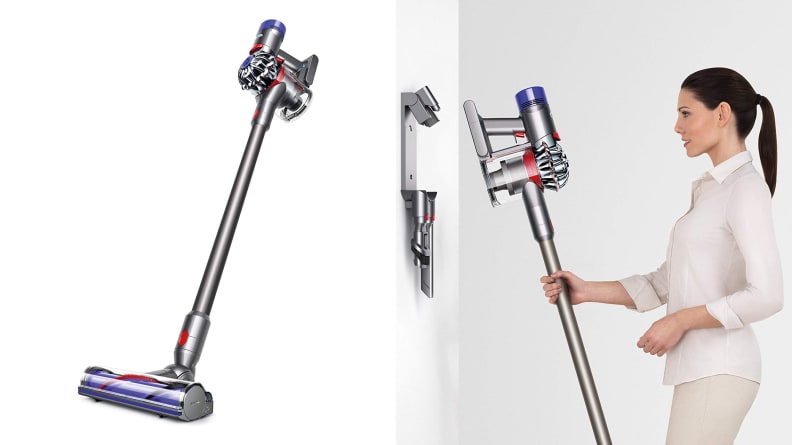 Even on sale, Dyson vacuums can be expensive, and it can be rare to find one under $250 period, let alone one that performs as well as this. This cordless vacuum comes with a ton of great features, including a powerful motor, whole machine filtration system, adjustable suction levels, and add-on tools for more precise cleaning, especially for tight corners and gaps. It's not as lightweight as the V8, but it's still a breeze to navigate with and it blows other cordless vacuums available for a similar price point just clear out of the water. It also comes with a lever-release dust bin for hands-free emptying. Thanks to this sale, you can really save on this unit, so if you've been thinking about transitioning to a Dyson, this is a good option to start with.
Get the Dyson V7 HEPA in White for $233.81 (Save $96.18)
5. Best upright vacuum on a budget: Dyson Ball Multi Floor 2 Vacuum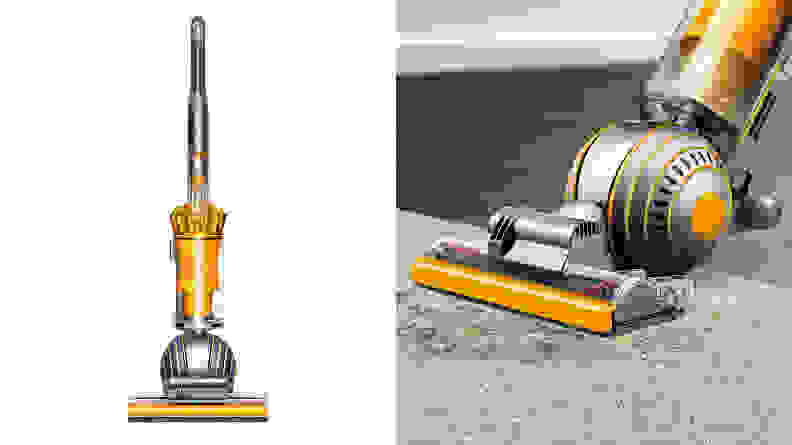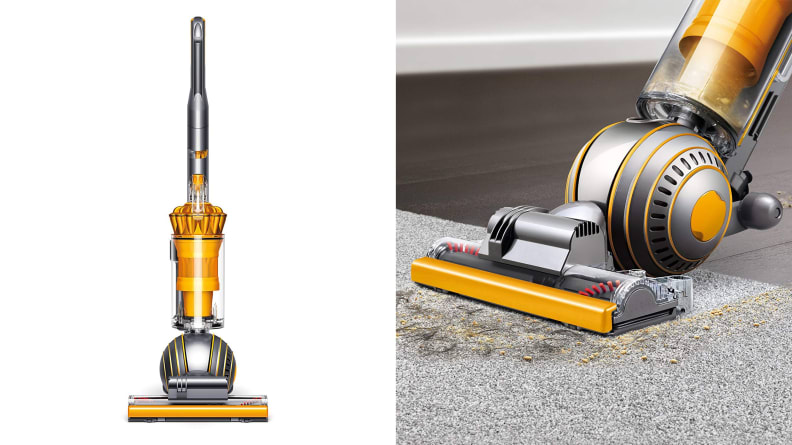 For an upright vacuum that can do all the heavy-duty cleaning you need on carpets, wood floors, vinyl, and tile, this upright vacuum is a terrific option. It offers powerful suction and does a good job of capturing microscopic dust and allergens. Plus, it can navigate around furniture gracefully thanks to its built-in ball design. This Dyson is under $300 now, which makes it one of the most budget-friendly picks on sale now. While this vacuum is slightly cheaper on Amazon, that unit is actually refurbished, so this is the best deal for a brand new one.
Get the Dyson Ball Multi Floor 2 Vacuum for $299.99 (Save $100)
The product experts at Reviewed have all your shopping needs covered. Follow Reviewed on Facebook, Twitter, and Instagram for the latest, deals, product reviews, and more.
Prices are accurate at the time this article was published, but may change over time.