Design & Usability
Spray jets everywhere
The GDT720SSFSS doesn't look much different from other high-end dishwashers from the outside. Blank, stainless steel and a thick, protruding handlebar make this machine look professional and competent—just what you want in a dishwasher. The controls are hidden on the top of the door and include a digital timer that counts down the remaining time in a wash cycle. Combined with bright green indicator lights and responsive buttons, the GDT720SSFSS's exterior wins in both form and function.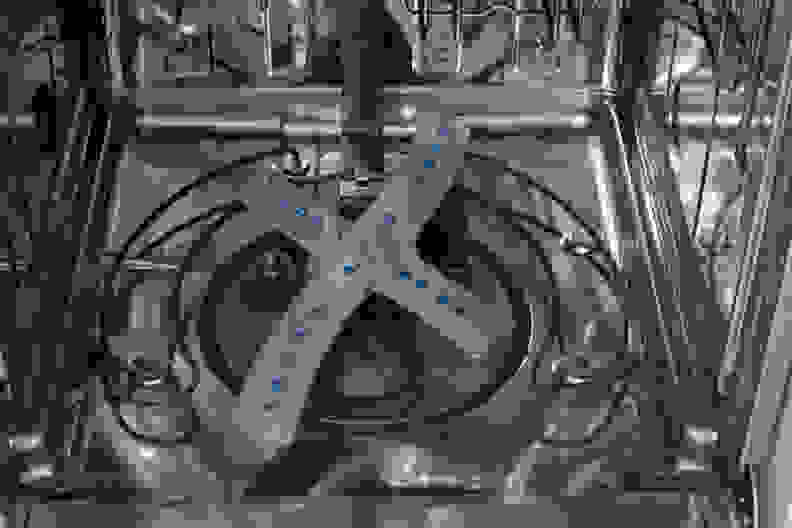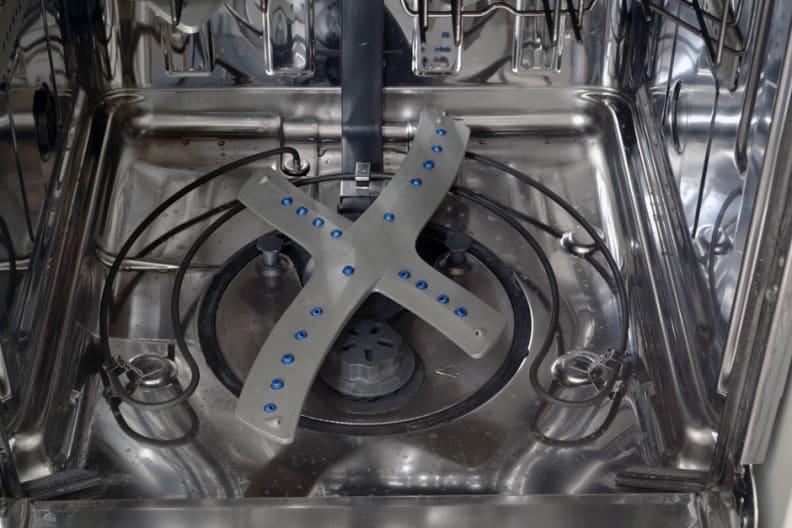 The inside of the GDT720SSFSS, though, is packed with unfamiliar features that distinguish this dishwasher from the others on the market. The wash arms on this GE have four blades (most dishwashers only have two), they can reverse direction during a wash, and they are loaded with water nozzles. A quartet of bottle wash jets resides on the top rack. These are basically upward-facing jets with clips on the side, allowing you to clean baby bottles and sport bottles with ease. Finally, there are rows of yet more spray jets on the sides of the tub, turning the entire interior into a water park. Gene Kelly would have a song to sing here: In total, there are 102 water jets.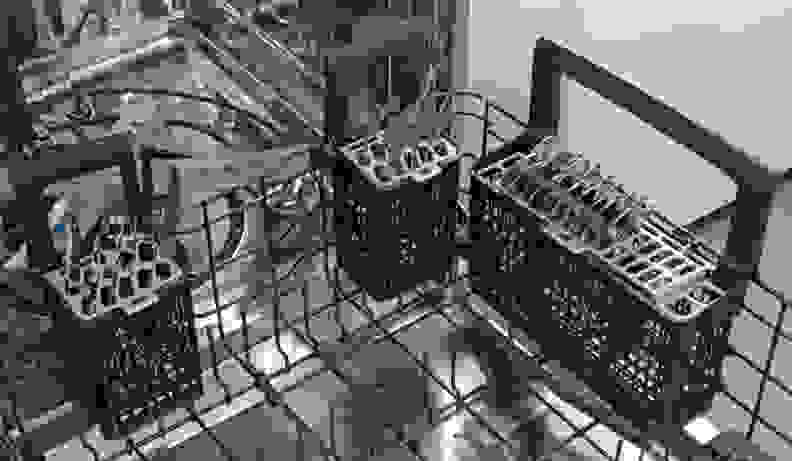 In terms of loading, the racks on the GDT720SSFSS are very flexible. Two rows of tines on the lower rack can be folded down, and another two rows can be removed entirely. On the smooth-sliding upper rack, two rows of tines can be collapsed, and the whole rack has an adjustable height of about two inches to accommodate tall items. The cutlery basket can be split into three parts, which really helps with maximizing the real estate on the lower rack. We were able to fit ten place settings and one serving setting within the GDT720SSFSS's highly-adjustable interior.
Features
Light on cycles, heavy on options
The GDT720SSFSS does not have too many cycles to choose from, but it has many ways to customize them. Light, Normal, Heavy, and AutoSense all do what their names suggest—just pick the cycle that corresponds with how dirty your dishes are, or let AutoSense decide for you. For dishwashing diehards, the real fun begins when it comes time to choose your extra wash options.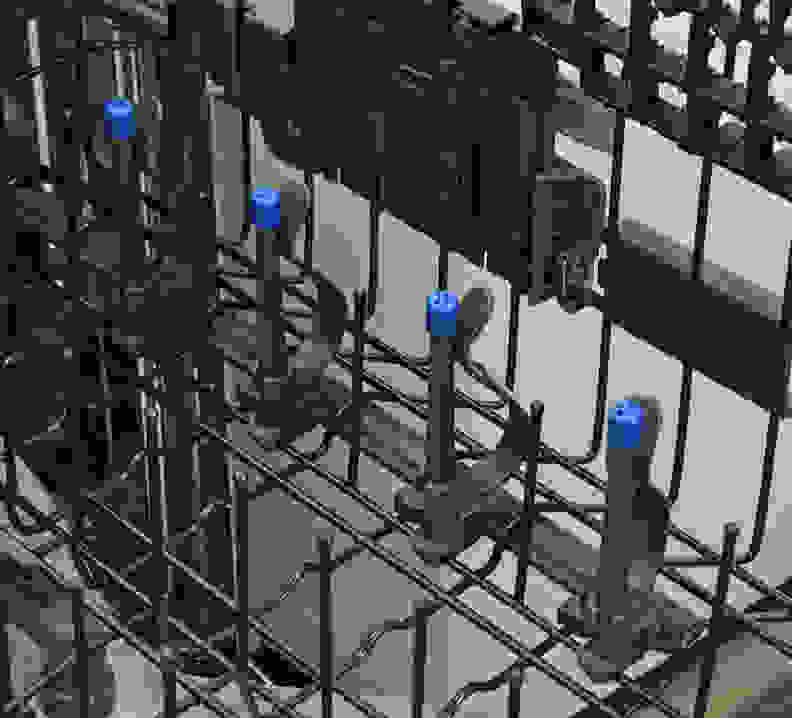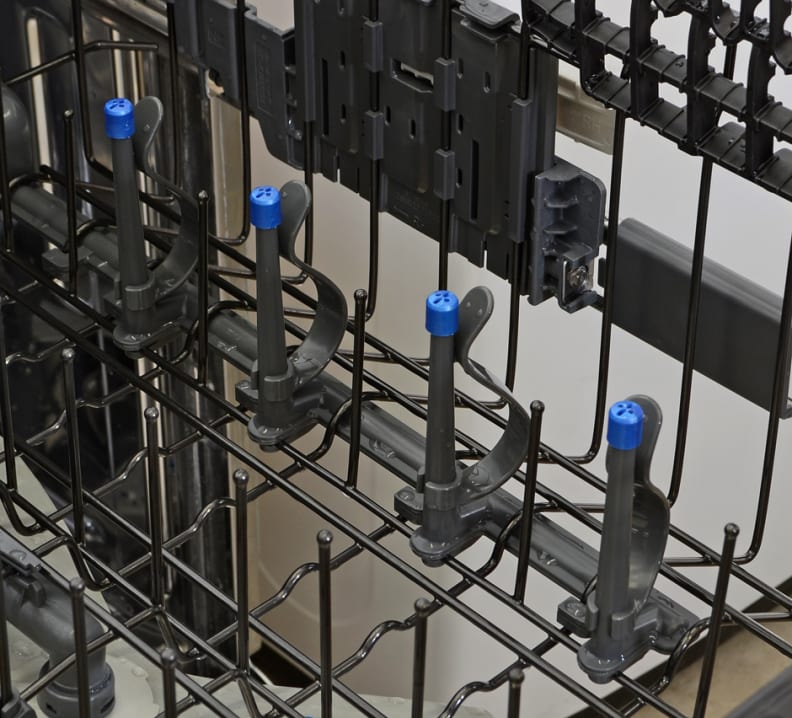 The Bottle Wash button turns on the dedicated bottle wash spray jets, which you can read more about here. For tough, dried-on, or baked-on soils, Steam can be used to loosen the dirt before the actual wash if you don't want to scrape the plates yourself. The Wash Temp option has two settings: Boost or Sani, and both raise the temperature of the water during the wash. If you only have half a load, Wash Zones lets you choose between washing only the upper or lower racks. Finally, more familiar features like Heated Dry and a 1-12 Hour Delay round out the list, along with an option to lock the control panel.
One thing to note about the GDT720SSFSS is its Energy Smart feature. You can read more about smart grid technology here, but the basic idea is that it saves you money on energy by running cycles at non-peak hours. The feature needs a smart meter in order to communicate with your electric company, and that technology isn't widespread yet. Of course, if you'd rather be in full control of when you want the dishes to be washed, you don't have to turn on Energy Smart.
Performance
Cleans up, especially inside bottles
While we were most impressed by the bottle wash feature, this dishwasher is by no means a slacker, and did a good job cleaning all around. We also found that in the Normal and Heavy cycles, redeposit (when food gets washed off of one dish and gets stuck to another) was minimal, but much more of a problem on the Light cycle. There was really only one issue: On all cycles we tested, we noticed that the dishes in the upper rack got marginally less clean than those in the bottom rack.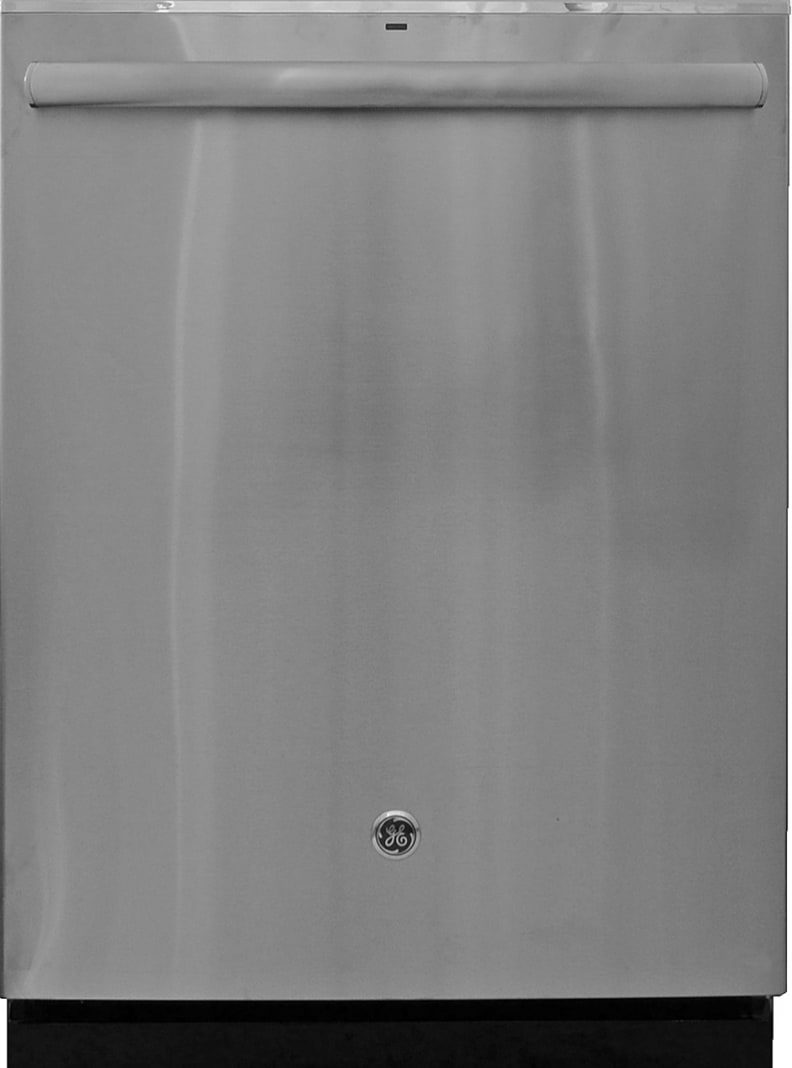 The GDT720SSFSS's cycles are also rather quick, with the Normal clocking in at 1 hour and 37 minutes and the Heavy taking just 2 hours and 26 minutes. That's mostly because none of the extra wash options are part of the standard cycles by default—not even Heated Dry. If you plan on having the GDT720SSFSS dry your dishes for you, expect to add about an hour to your wash cycle. On the subject of speed, this dishwasher does not have a designated quick cycle. We found that although the Light cycle could substitute for one, since it only takes 52 minutes, its cleaning power is pretty disappointing.
Overall, the GDT720SSFSS is quite efficient. Though the Normal cycle on this dishwasher used a bit more water compared to other machines, it was balanced by efficient Light and Heavy cycles. We estimate that the GDT720SSFSS will cost you $28.82 a year in total utility costs, which is below average. Bear in mind, though, that number is if you only use default settings. Your costs could rise drastically if you are constantly using this machine's toolbox of extra wash options.
For in-depth performance information, please visit the Science Page.
Why We Like It
The features make the difference
For most consumers, a dishwasher is a black (or stainless) box: Put dirty dishes in, take clean dishes out. The GE GDT720SSFSS lifts that veil a little bit with features that let you customize exactly what goes on inside. Good cleaning performance, excellent usability, and a handsome design are expected for a $1,049 MSRP. It's the impressive array of features— including steam prewash, smart grid, and of course, those cool bottle wash jets—that makes it a good choice for your kitchen.
By the Numbers
The GE GDT720SSFSS dazzled with its bells and whistles, and did a good job cleaning dishes, too. How do we know? We put it through a battery of scientific tests.
Performance
Lactose intolerant?
The GDT720SSFSS's Normal cycle posted good results. No stain test came out perfect, but enough of the stains were washed away that we didn't get any red flags. The most noteworthy observations about the Normal cycle are its speed (a swift 1 hour, 37 minutes) and the lack of redeposit. We also noted that the items on the top rack didn't get as clean as those below.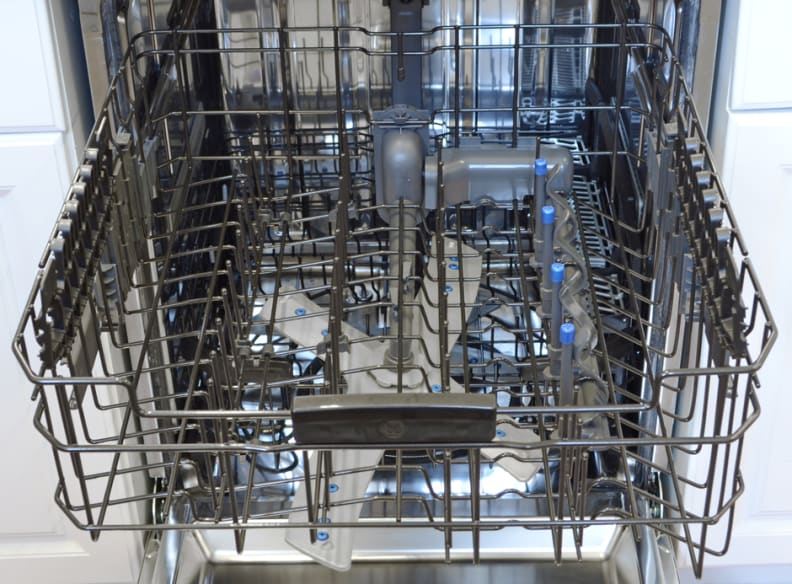 The Heavy cycle made up for many of the problems that the Normal cycle had. However, though it removed the burnt sugar from our "dessert mess" test without any problems, the GDT720SSFSS's Heavy cycle could not handle the "lasagna leftovers" burnt cheese test, leaving an average of 33% of the stain behind. The best dishwashers we've tested leave no stain behind.
The problems with dairy don't stop there. In the Light cycle, which only took 52 minutes, nearly 9% of the dried milk stains were left behind. All the other results came out only slightly worse compared to the Normal, but we still wouldn't recommend this cycle as a replacement for everyday loads.
Efficiency
Low yearly cost, but with a catch
The GDT720SSFSS's Normal cycle used more water than other dishwashers we've tested. At 4.75 gallons of water, it's a bit more than the 3-4 gallons we've recorded on other machines. The Heavy cycle counteracts this, though, using only 6.46 gallons. Most other machines use as much as 8 or 10 gallons of water. Energy usage for the two cycles is about average: Normal takes 0.60 kWh and Heavy uses 1.03 kWh per wash.
Although we estimate a low annual cost for this dishwasher (only $28.82), this is under the assumption of using only default settings. This means if you engage Steam or Heated Dry with every Normal wash, your utility costs may go up.
Capacity
Highly adjustable, holds ten place settings
We were able to fit ten place settings and one serving setting inside the GDT720SSFSS. The interior is very flexible, with collapsing tines on both racks, adjustable height on the smooth-glide top rack, and a splittable cutlery basket to let you make the most out of the space inside.
Meet the tester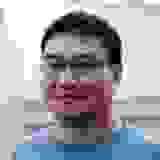 Johnny Yu
Staff Writer
@ReviewedHome
Johnny Yu writes news, features, and reviews for Reviewed.com. He graduated from U-Mass Boston with a Bachelor's in Social Psychology and spends much of his free time expanding his gaming horizons. Sometimes, he does his laundry at work.
Checking our work.
Our team is here for one purpose: to help you buy the best stuff and love what you own. Our writers, editors, and lab technicians obsess over the products we cover to make sure you're confident and satisfied. Have a different opinion about something we recommend? Email us and we'll compare notes.
Shoot us an email