UPDATE: May 31, 2019
We just updated this article to include our take on the Bosch SHEM3AY52N, a dishwasher in the Bosch 100 Series of dishwashers.
The name Bosch conjures up images of tasteful stainless steel dishwashers that can bring a sense of elegance to a kitchen. These German-engineered plate-cleaners come at a high price because they offer quiet operation, top-notch stain removal, and sleek features. That's why when you peruse real estate ads, the words "Bosch dishwasher" are used as a point of pride and a major selling point.
At our state-of-the-art labs in Cambridge, Massachusetts, we've tested every series of Bosch dishwashers, from the budget-friendly 100 series to the much vaunted 800 series. We take a holistic approach when it comes to scoring dishwashers—we assess everything from its stain removal performance to its control panel, ease of use, and features.
Amongst some stiff competition, we gave the Bosch SHPM98W75N (800 Series) (available at AppliancesConnection for $1,119.10) the gold medal as the best of the Bosch dishwashers. With its outstanding cleaning performance and a third rack deep enough to fit cereal bowls, how could we not?
Here are the best Bosch dishwashers we've tested, in ranked order.
Bosch 800 Series SHPM98W75N
Bosch 500 Series SHPM65W55N
Bosch 300 Series SHXM63WS5N
Bosch Benchmark SHE89PW55N
Bosch 100 Series SHEM3AY52N
Advertisement - Continue Reading Below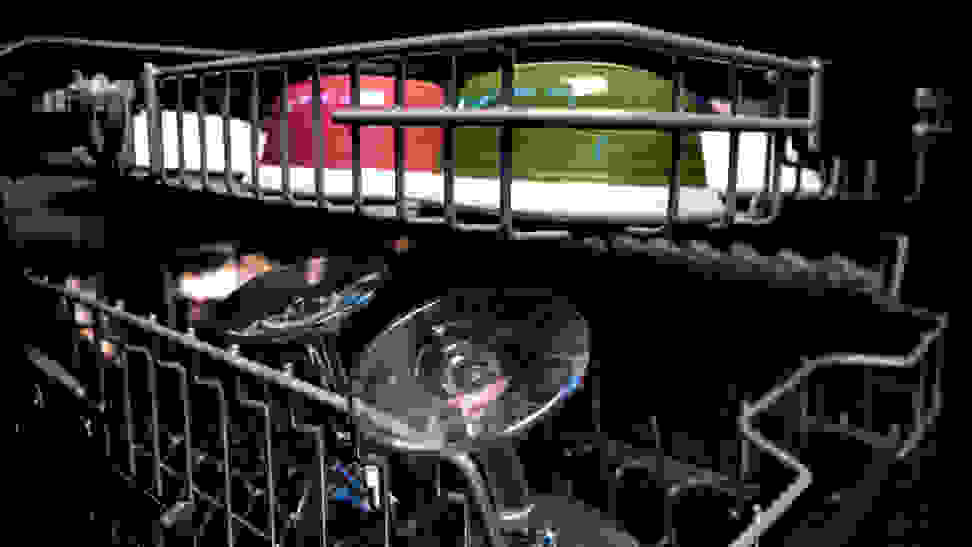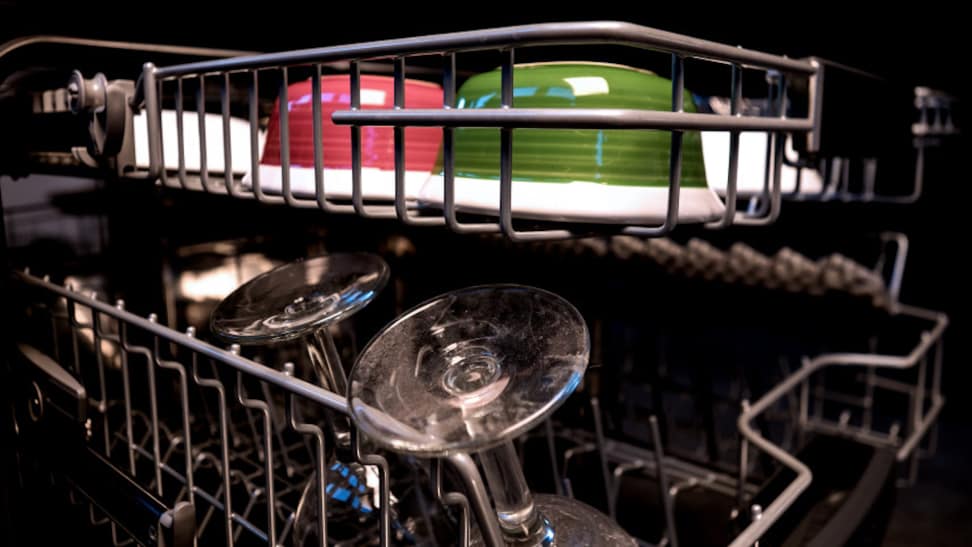 How We Tested
Testing dishwashers is a dirty job, and we're happy to do it. We assess each dishwasher on the three major parts of the dishwasher experience— Performance, Features, and Usability.
Performance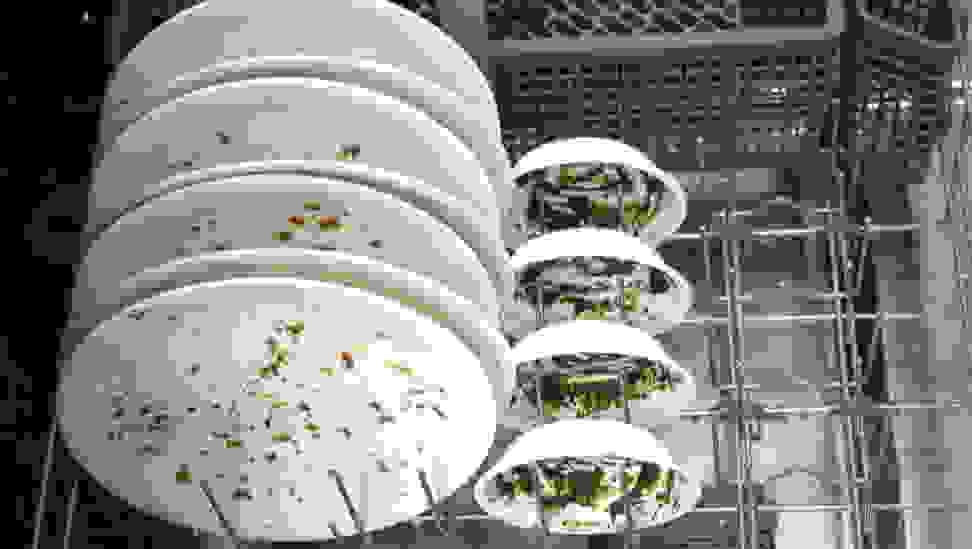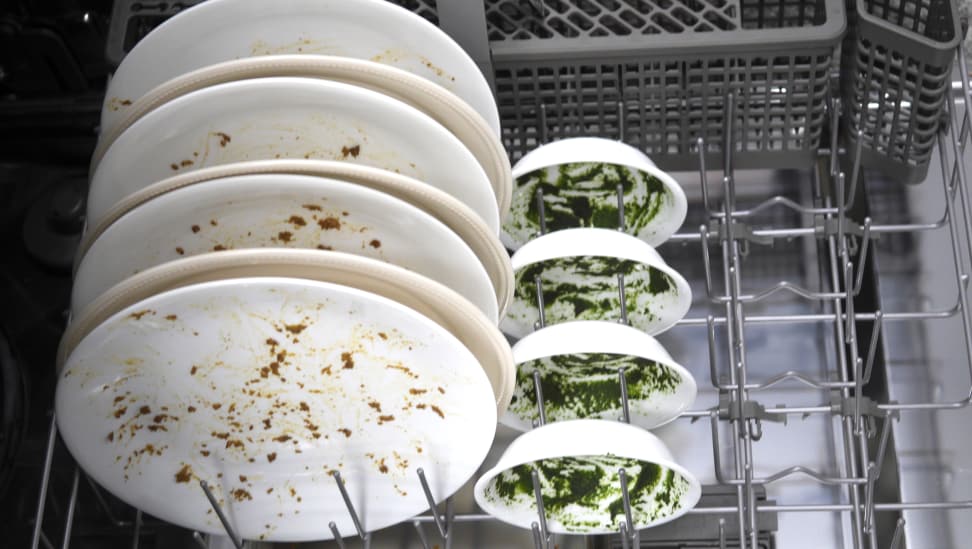 • Stain removal —We put the three major cycles on a dishwasher (Quick, Heavy, and Normal) to the test by baking food and beverage stains—including milk, spinach, egg, oatmeal, meat, and more—onto 15 to 20 dishes that are then loaded into the dishwasher per the manufacturer's loading directions. At the end of each cycle, we determine how much stain has been removed from each dish. Ideally, each dish is 100 percent clean, but that level of cleaning perfection can be harder to achieve in real life.
• Redeposit —Redeposit is the term for when, during the course of a dishwasher cycle, water jets remove bits of food from one dish, only to accidentally get it stuck on a second dish. Any dishwasher that shows little to no evidence of redeposit is a winner in our book.
• Number of dirty dishes —After a dishwasher cycle has finished, we count the number of dishes that are not 100 percent clean; if your dishwasher can't clean most of your dishes the first time, it's not doing its job correctly.
• Cycle Time —Dishwasher cycles can run the gamut from 30 minutes to four hours. Shorter cycle times are much more convenient, especially when it comes to large dinner parties, where you may need to reuse dishes from dinner when it's time for dessert.
• Drying —Whether it's accomplished with rinse aid, a built-in heater, or a built-in fan, customers expect their dishes to be dry as well as clean. We penalize the dishwasher every time a dish comes out wet, whether it's sopping wet or just covered in a few water droplets.
Features and Usability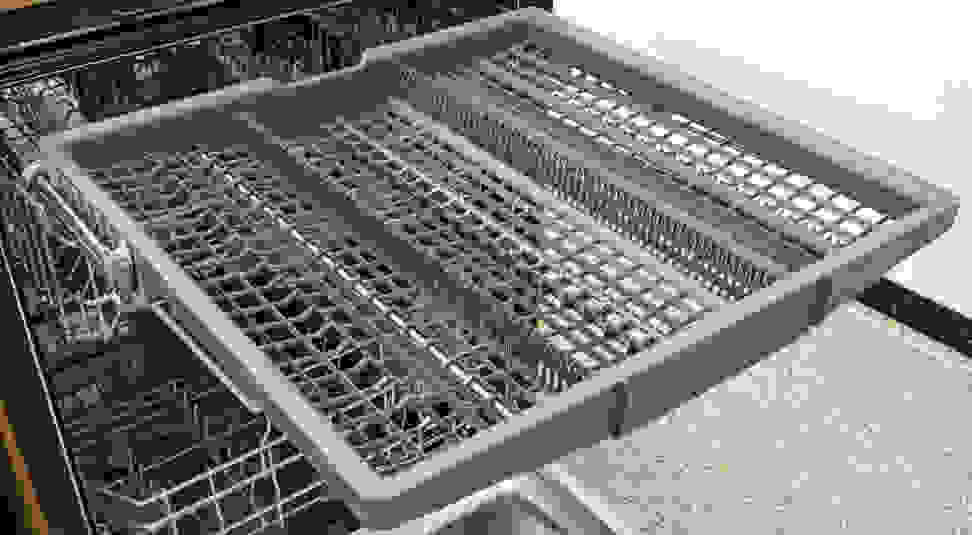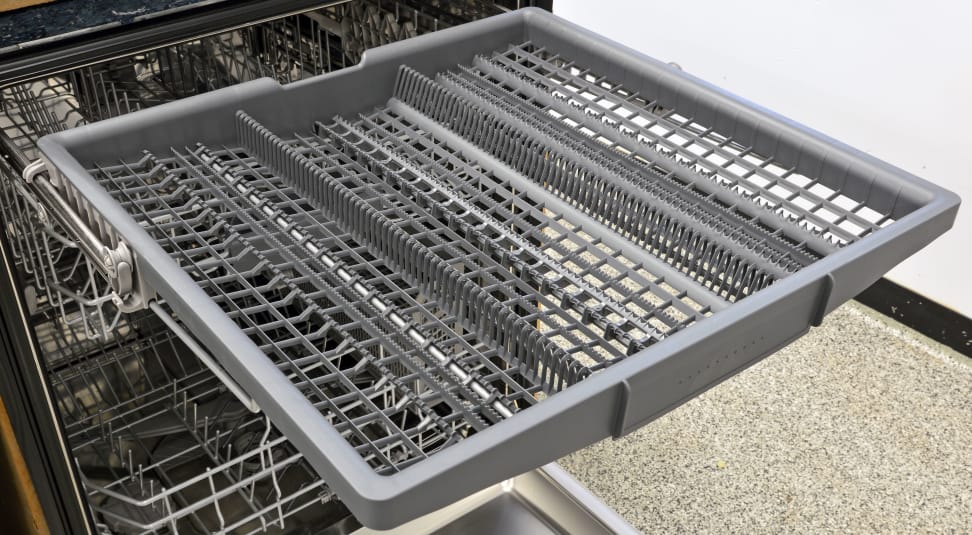 While all of the features in the world can't make a bad dishwasher better, they can really add the finishing touch to a dishwasher that does a killer cleaning job. We look at the various cycles, cycle options, and dishwasher specs and assess both how useful the features are, and how easy it is to actually use those features.
For example, a third rack that primarily holds cutlery can often be a game-changer when it comes to freeing up valuable real estate in the bottom rack. However, if the third rack is rickety, doesn't slide smoothly, or prevents the dishwasher from actually cleaning the cutlery, we would penalize the dishwasher, rather than reward it just for having a third rack. The whole point of a dishwasher is to save you from having to spend time scrubbing every dirty dish by hand; if a particular feature isn't going to make the process of using a dishwasher better or easier, then we don't want it.
The best dishwashers have short cycles, superior stain removal and drying power, and features that make the experience of using a dishwasher a painless one.
---
What Does dBA Mean?
When you see the dBA abbreviation, that is referring to "A-weighted decibels", which is the unit that dishwasher manufacturers use to measure how loud a dishwasher is during its operation. You've probably heard of decibels as a measure of loudness before, but the "A-weighting" basically refers to the fact that certain frequencies are more easily perceived by the human ear than others; for instance, a flute solo sounds louder than a bass solo played at the same volume because the human ear is naturally more attuned to mid- and high-range frequencies than it is to bass-range frequencies. As a result, when manufacturers report how loud a dishwasher actually sounds to someone in the same room of the dishwasher while it's turned on, they report that number in terms of A-weighted decibels (dBA), rather than just decibels (dB).
---
Other Bosch Dishwashers We Tested
More Articles You Might Enjoy
• The Best Ultra-Quiet Dishwashers
• How to clean your filthy dishwasher
Advertisement - Continue Reading Below