UPDATE: June 20, 2019
We've just updated this article to include the LG LDP6797ST. We're testing a lot of dishwashers right now, so stay tuned for further updates!
Until recently, a third rack was a premium feature only available on high-end dishwashers. But now, the rack is finding a place in more affordable dishwashers. GE Appliances has introduced a third rack for dishwashers with plastic interiors, and the Bosch 100 series models that replaced the company's old Ascenta line all rock the rack.
Not familiar with the third rack? It's a sliding tray that makes better use of the limited real estate inside your dishwasher. You might want the third rack because it accommodates those "where do I put this?" items like long-serving utensils or small shallow bowls. Plus, it provides an alternative to the bulky silverware basket that can take up a ton of space on the bottom rack.
After years of testing dishwashers, we've discovered that those with a third rack, at a variety of price points, can vastly improve the dishwashing experience.
Currently, our favorite third rack dishwasher is the Bosch SHPM98W75N (available at AppliancesConnection for $1,119.10), in the Bosch 800 Series. With its sleek, angled MyWay third rack, this dishwasher provides tremendous loading flexibility. Of course, beyond its spacious third rack, it also offers amazing stain removal and almost silent operation.
Here are the rankings for the best third rack dishwashers we tested:
Bosch SHPM98W75N (800 Series)
Bosch SHPM65W55N (500 Series)
Bosch SHXM63WS5N (300 Series)
LG LDP6797ST
Bosch SHE89PW55N (Benchmark Series)
Miele Lumen EcoFlex G6885SCVIK2O
GE Profile PDT855SMJES
Miele Crystal EcoFlex G6665SCVIAM
Electrolux EI24ID81SS
Also included:
• GE GDT605PSMSS
• GE GDF630PGMWW
Advertisement - Continue Reading Below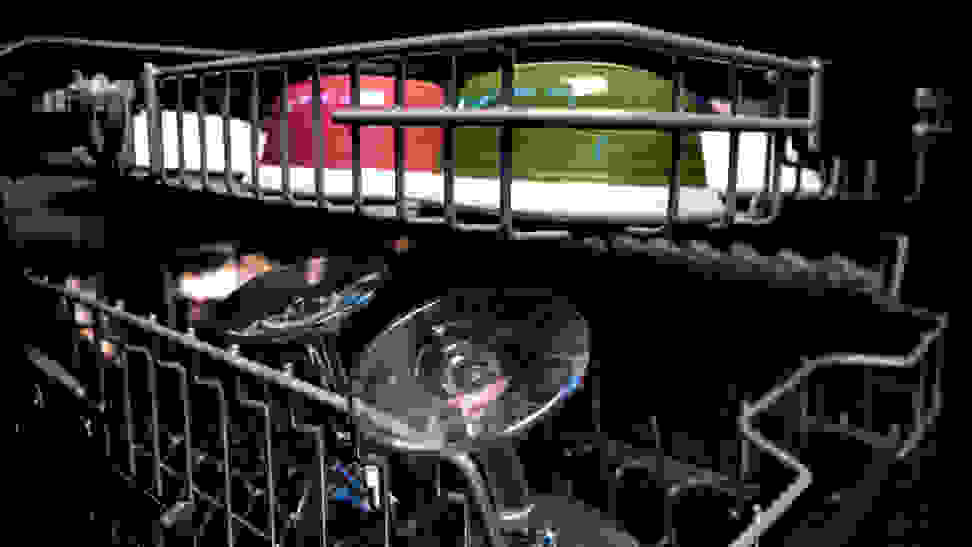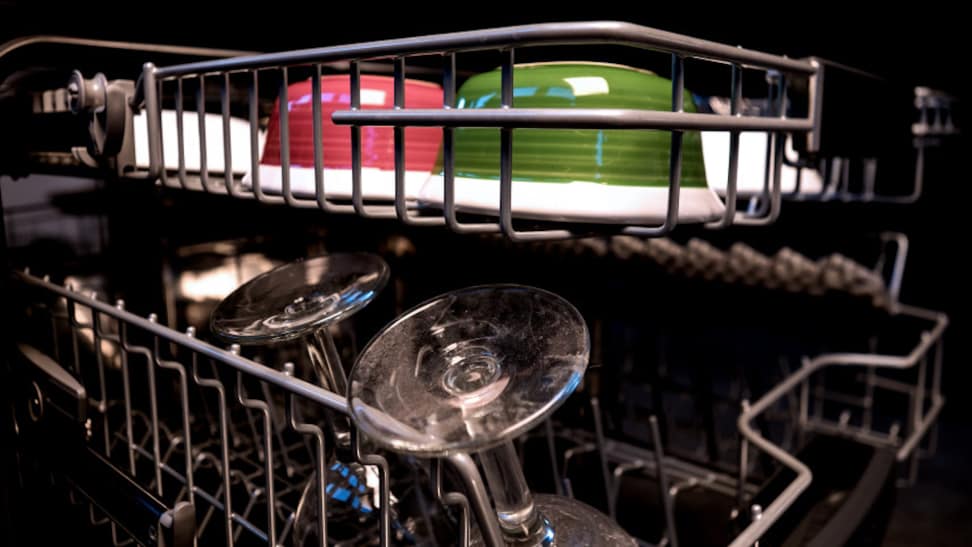 How We Tested
The Testers
Hi there! We're Reviewed's appliance testing team. Between the three of us (Jon Chan, Kyle Hamilton, and Julia MacDougall), we've spent many years testing major appliances including washers, dryers, refrigerators, dishwashers, vacuum cleaners, and robot vacuum cleaners.
We have plenty of experience testing these products in the lab, but we've also used them like normal people would in the course of their daily lives, which means that we have a great sense for what appliances are bargains at their price points, and which appliances have really useful extra features (as opposed to the kitchen-sink approach to features).
With all this in mind, you can feel confident that when we recommend a product, we're giving it our Reviewed stamp of approval, which means two things: firstly, this appliance performs well, and secondly, this appliance is easy to use. We're always reviewing new products, so stay tuned for our reviews and roundups of the latest products in laundry, refrigerators, dishwashers, and vacuum cleaners.
The Tests
Testing dishwashers is a dirty job, and we're happy to do it. We assess each dishwasher on the three major parts of the dishwasher experience— Performance, Features, and Usability.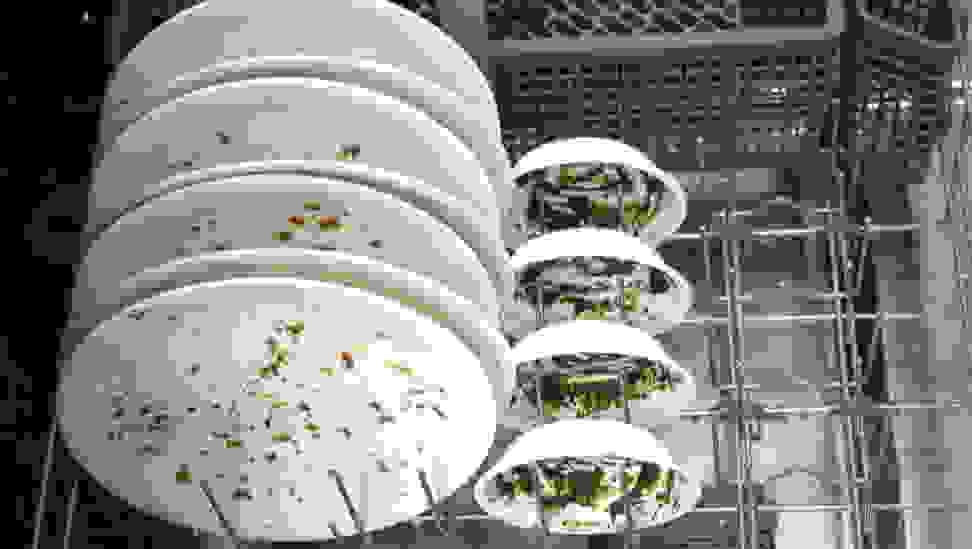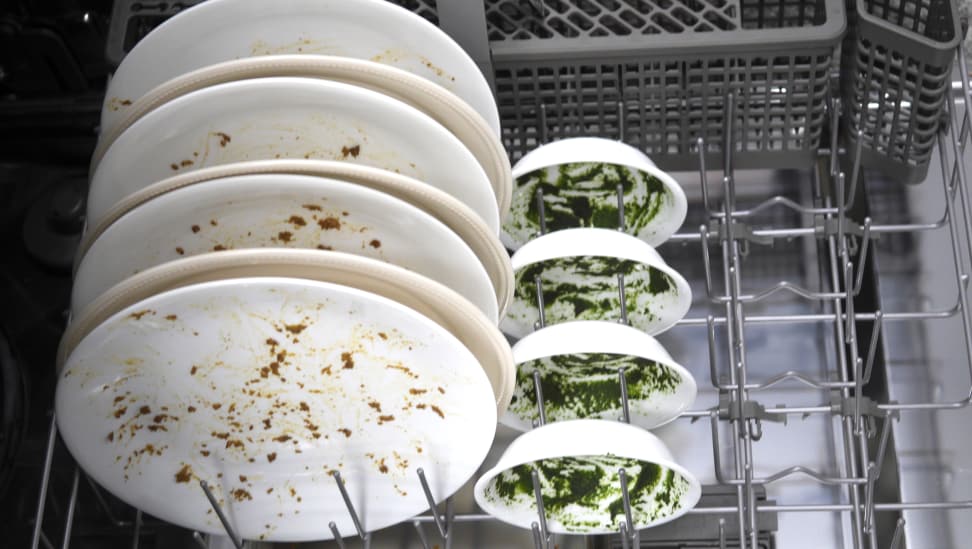 • Stain Removal —We put the three major cycles on a dishwasher (Quick Cycle, Heavy Cycle, and Normal Cycle) to the test by baking food and beverage stains onto 15-20 dishes that are then loaded into the dishwasher per the manufacturer's loading directions. The stains include milk, spinach, egg, oatmeal, meat, and more. At the end of each cycle, we determine how much stain has been removed from each dish. Ideally, each dish is 100 percent clean, but that level of cleaning perfection can be harder to achieve in real life.
• Redeposit —Redeposit is the term for when, during the course of a dishwasher cycle, water jets remove bits of food from one dish, only to accidentally get it stuck on a second dish. Any dishwasher that shows little to no evidence of redeposit is a winner in our book.
• Number of Dirty Dishes —After a dishwasher cycle has finished, we count the number of dishes that are not 100 percent clean; if your dishwasher can't clean most of your dishes the first time, it's not doing its job correctly.
• Cycle Time —Dishwasher cycles can run the gamut from 30 minutes to four hours. Shorter cycle times are much more convenient, especially when it comes to large dinner parties, where you may need to reuse dishes from dinner when it's time for dessert.
• Drying —Whether it's accomplished with rinse aid, a built-in heater, or a built-in fan, customers expect their dishes to be dry as well as clean. We penalize the dishwasher every time a dish comes out wet, whether it's sopping wet or just covered in a few water droplets.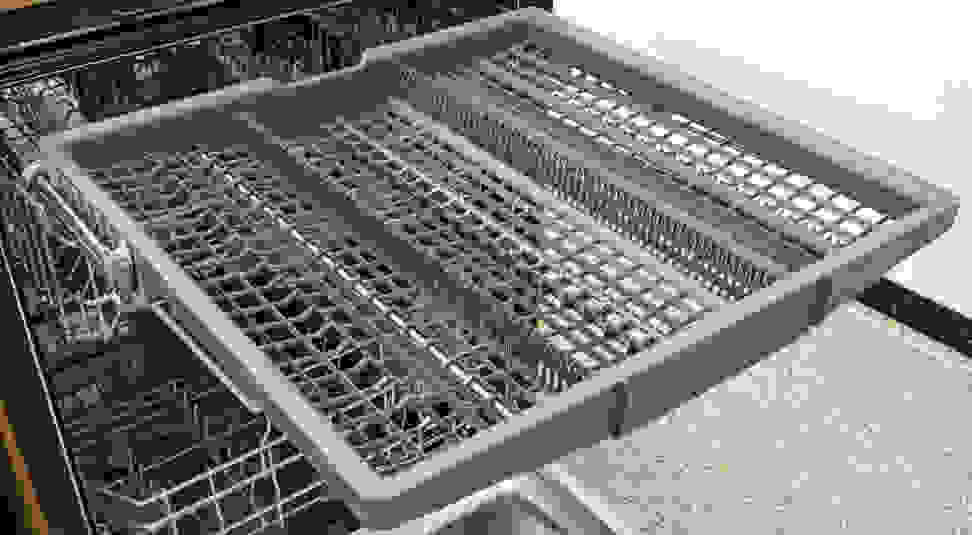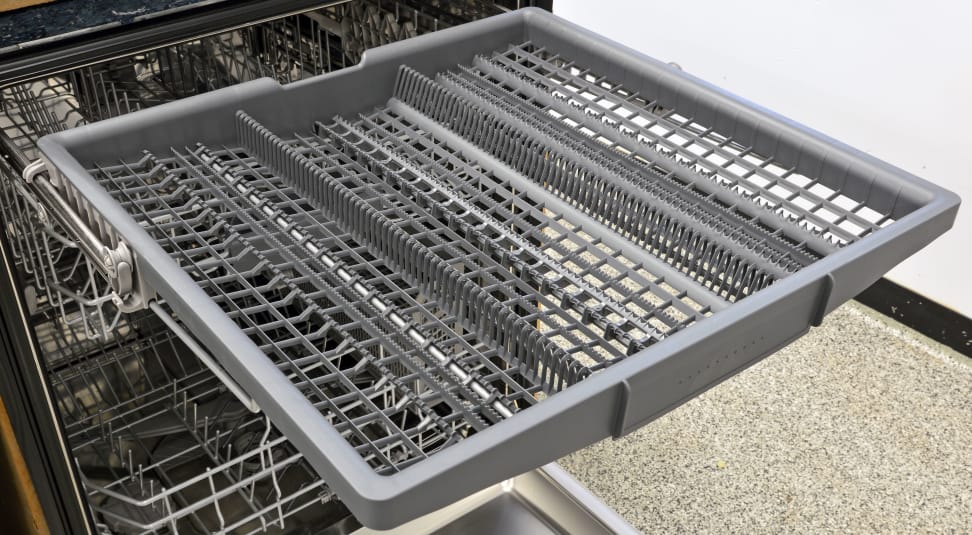 While all of the features in the world can't make a bad dishwasher better, they can really add the finishing touch to a dishwasher that does a killer cleaning job. We look at the various cycles, cycle options, and dishwasher specs and assess both a) how useful the features are, and b) how easy it is to actually use those features.
For example, a third rack that primarily holds cutlery can often be a game-changer when it comes to freeing up valuable real estate in the bottom rack. However, if the third rack is rickety, doesn't slide smoothly, or prevents the dishwasher from actually cleaning the cutlery, we would penalize the dishwasher, rather than reward it just for having a third rack. The whole point of a dishwasher is to save you from having to spend time scrubbing every dirty dish by hand; if a particular feature isn't going to make the process of using a dishwasher better or easier, then we don't want it.
The best dishwashers have short cycles, superior stain removal and drying power, and features that make the experience of using a dishwasher a painless one.
---
Other Third Rack Dishwashers We Tested
Budget Third Rack Dishwashers We Tested
More Articles You Might Enjoy
• The Best Ultra-Quiet Dishwashers
• The Best Affordable Dishwashers
• What actually happens inside your dishwasher?
Advertisement - Continue Reading Below