If you live somewhere without the space for a full-size or portable dishwasher, a countertop model might save you from dishpan hands. But with so many countertop dishwashers out there, which one should you choose?
Well, I'm going to let you in on a little secret: Every countertop dishwasher is basically the same, and they all clean well. Buy the one you like, and spend as little money as possible.
How do I know? I looked at shipping manifests, and saw that every popular countertop dishwasher was manufactured by a company named Midea (more on them later). With that knowledge, our testers tried out a few popular models and found out they all had identical cycles, interiors, and cleaning performance.
With that said, we recommend the SPT SD-2201W (available at Amazon for $205.00) because of its good looks and low price.
Updated January 18, 2019
Advertisement - Continue Reading Below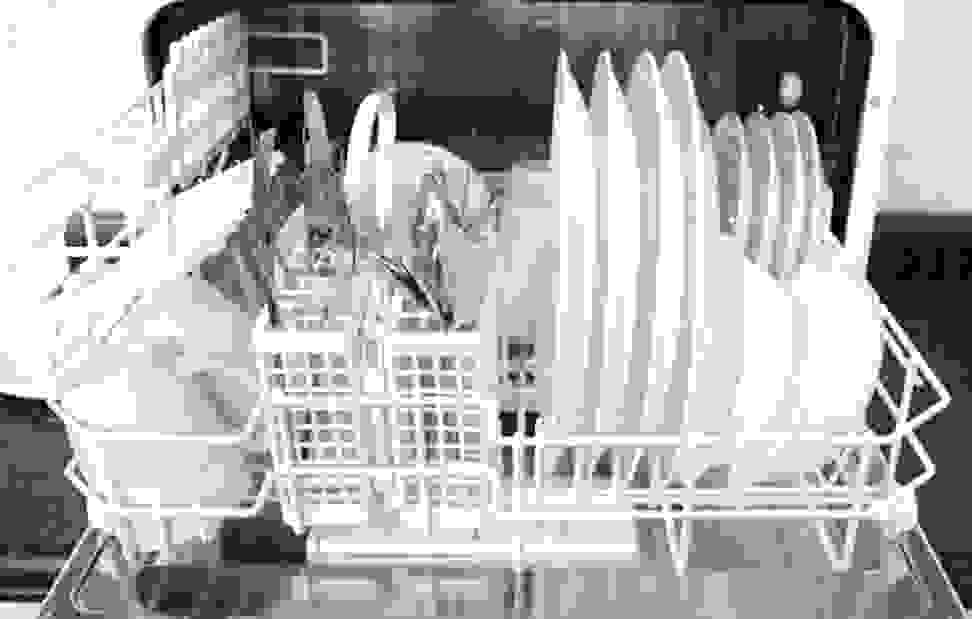 Do I need a countertop dishwasher?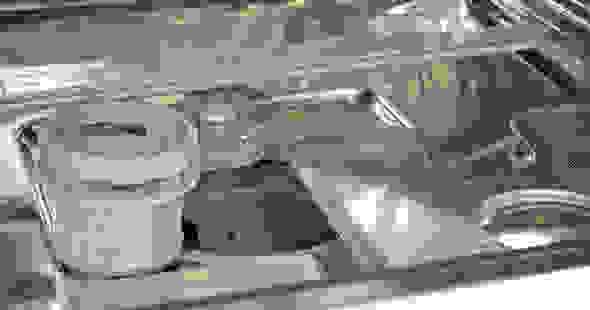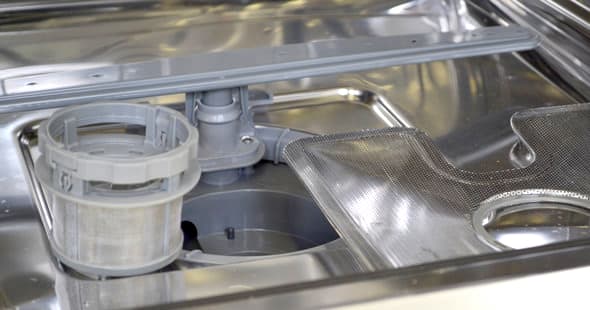 It depends. If you're concerned about wasting water, a countertop dishwasher uses less water than hand washing. This makes it an especially attractive option for an RV or somewhere else where you don't have the space for a fully-installed or portable dishwasher.
Using a countertop dishwasher also requires a lot less effort than it does to wash dishes by hand, and our tests show that it does a much better job cleaning. If you're a clean freak, buying a countertop dishwasher is a small price to pay to ensure that your dishes don't just look clean.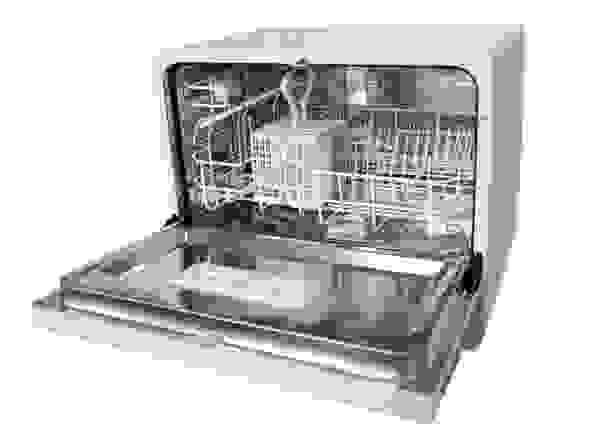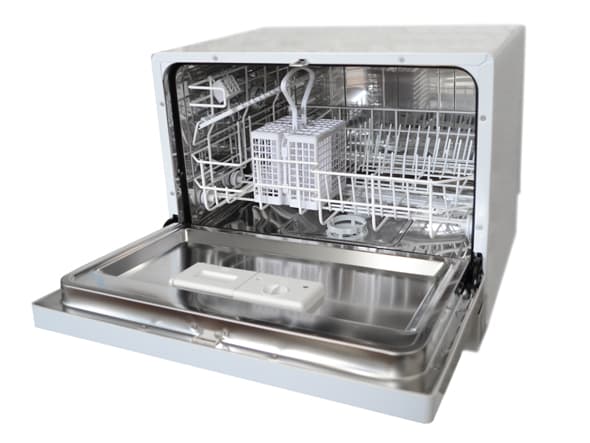 However, you'll still have to wash larger items in the sink; additionally, a countertop dishwasher can take up valuable space on your counter when it's not in use.
Larger portable dishwashers like this 18-inch SPT—which also hook up to kitchen faucets and wheel out of the way when they're not in use—can cost twice as much, but both more dishes and larger dishes.
---
How do countertop dishwashers work?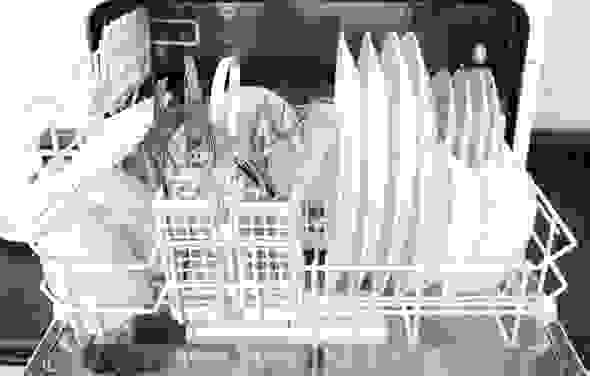 Nearly every countertop dishwasher works the same way: There are two hoses that join a "quick connect" mount that should attach to almost any faucet. One hose takes in fresh water, the other drains dirty water into the sink.
Inside, there's room for four full place settings in a single rack, a cutlery basket, a removable filter, and a stainless tub.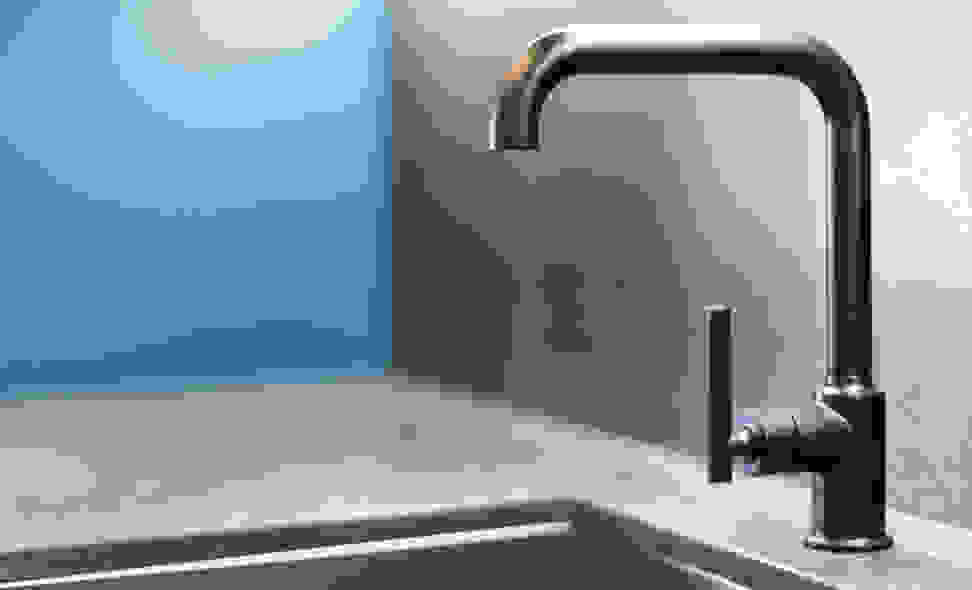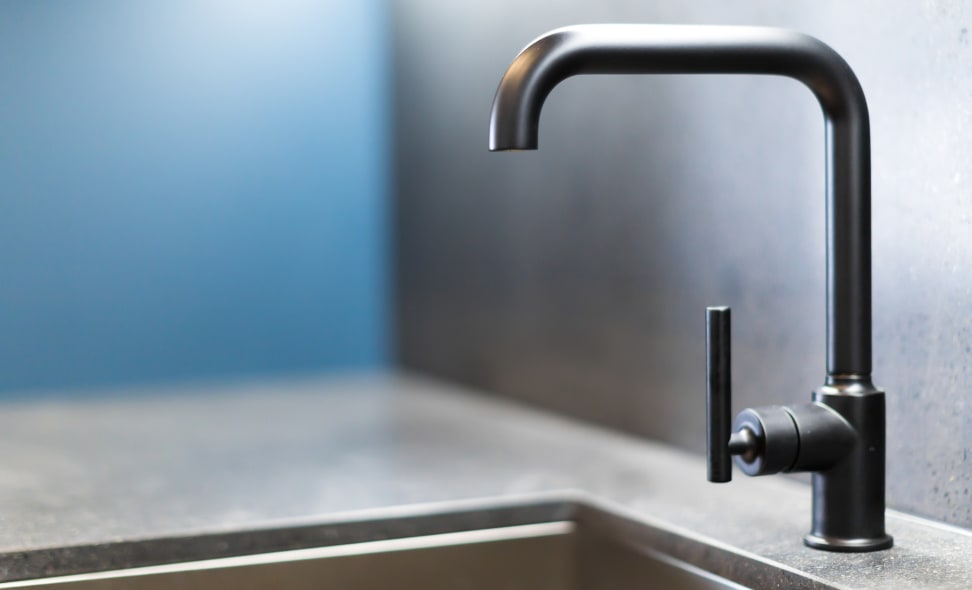 You can keep the dishwasher attached to your sink and press a bypass button to get fresh water, or you can disconnect it after use.
Be aware: Not every faucet works with a portable dishwasher. We had to purchase a small 15/16 inch to 55/64 inch faucet adapter at a hardware store. Stylish faucets with hidden "Cache" aerators may not fit a portable dishwasher at all.
It's possible to hook up a sprayer faucet to a dishwasher—several online guides exist that explain how to do so—but it's not recommended.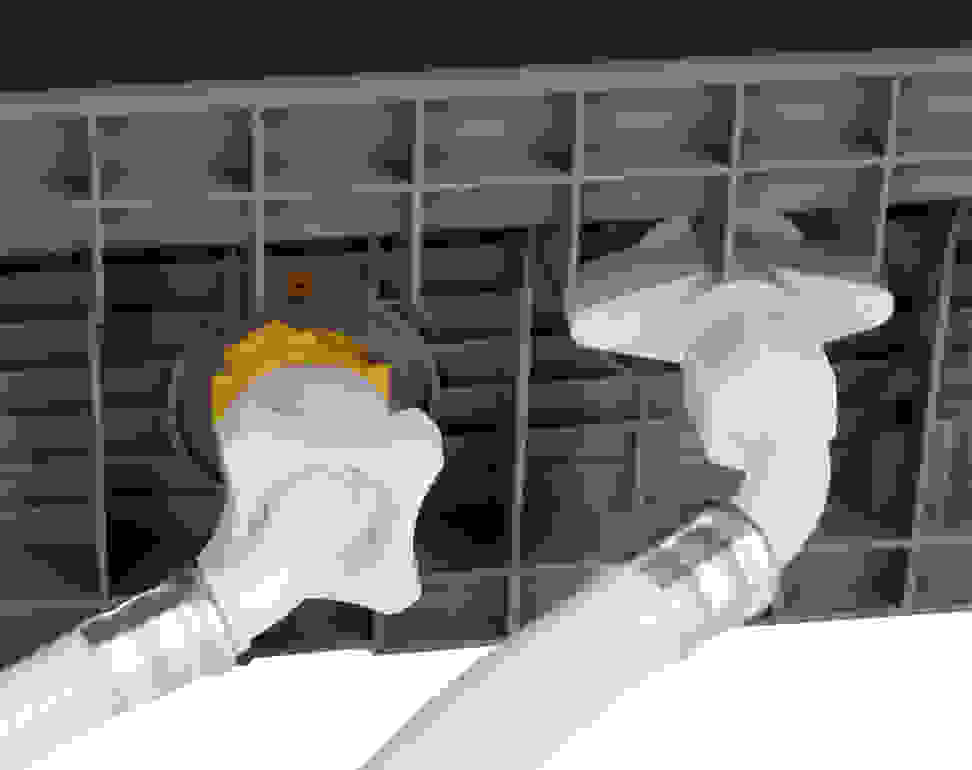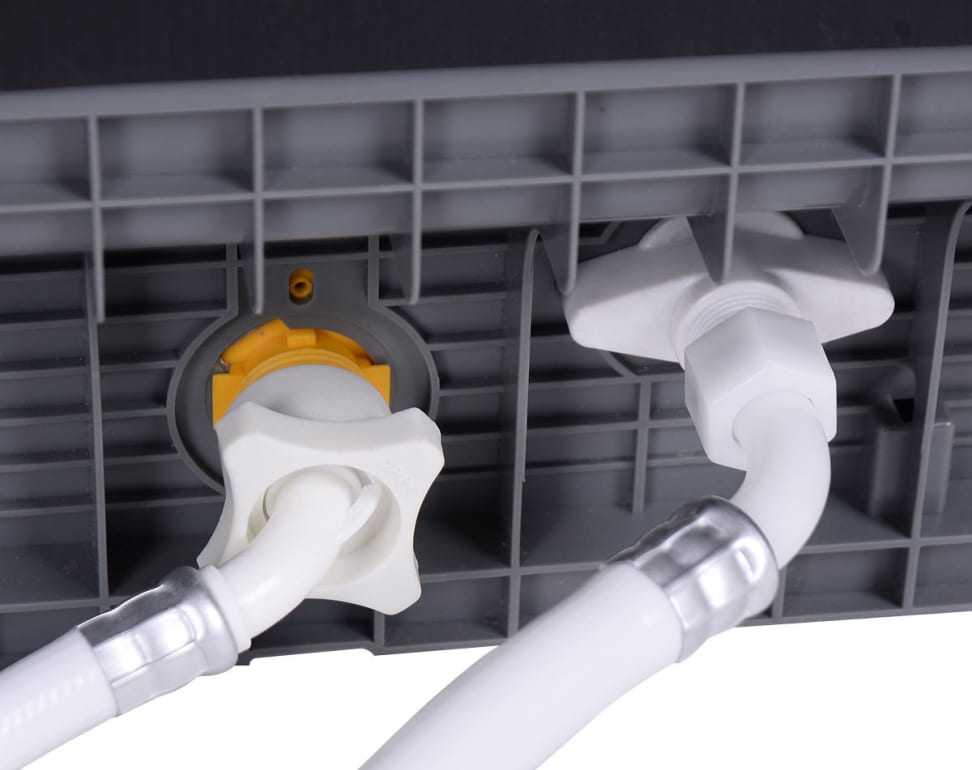 ---
Who makes these dishwashers?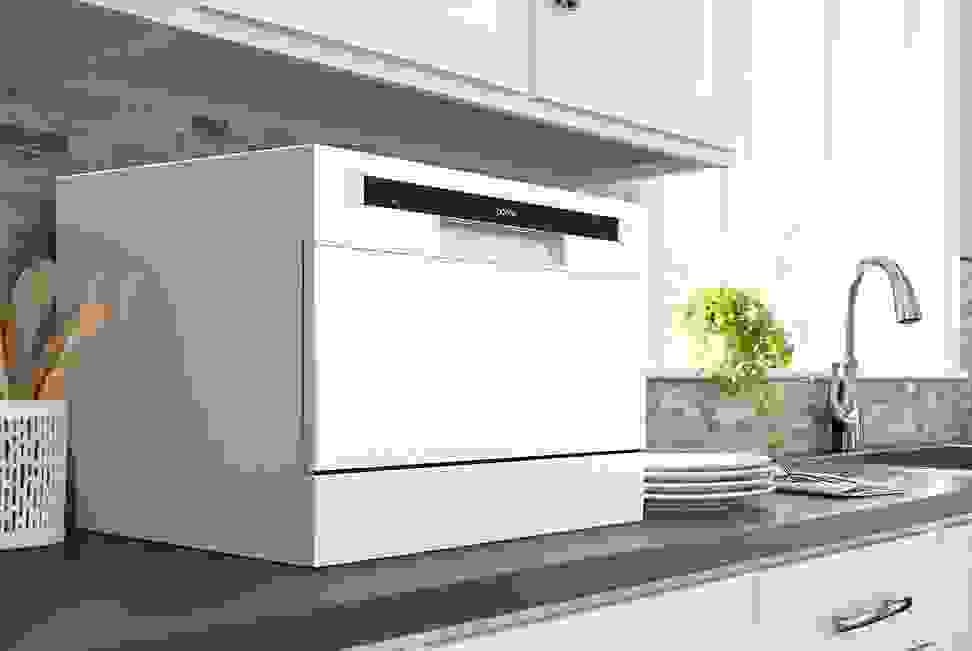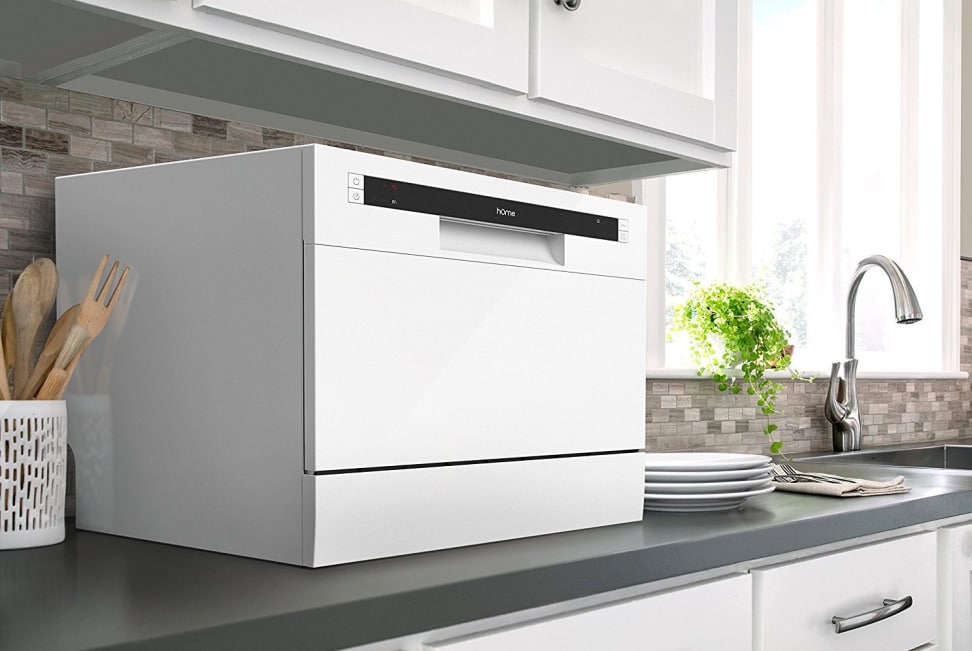 After looking at bills of lading and other import data, we learned that nearly every countertop dishwasher sold in the U.S. is made by Midea.
Midea, based in Guangdong, China, is one of the largest appliance companies in the world. It owns vacuum-maker Eureka, has the rights to use the Toshiba name on small appliances, and manufactures hundreds of products for companies like GE Appliances and even the Instant Pot.

Midea now sells appliances under its own name, and recently opened several research and development centers in the U.S. In fact, you can even buy a countertop dishwasher with the Midea brand name—but it's more expensive than its private-label competitors.
It makes sense that these products are imported from China, and not just because of lower manufacturing costs. Countertop dishwashers are much more popular in China, and it's a lot easier to import these rectangular, easy-to-ship boxes from an existing factory than to set up production in countries where they're more of a niche product.
---
How did we test them?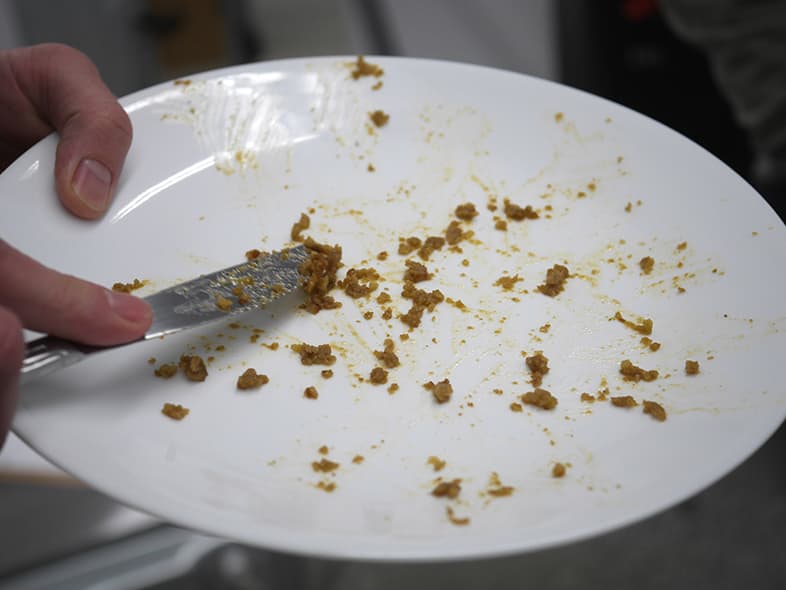 We have already evaluated hundreds of dishwashers in our appliance test facility in Cambridge, MA. We researched the most popular countertop models, and got five in: the SPT, Koldfront, Edgestar, HomeLabs, and Danby.
Then, we took the same tests we give full-sized dishwashers, but modified them by removing large pots and pans from our test loads, and skipping the Heavy Duty cycle.
---
Other good countertop dishwashers
Related articles
• The Best Portable Dishwashers
• The Best Affordable Dishwashers
Advertisement - Continue Reading Below