But after we put this dishwasher through our usual battery of tests, we found that the cleaning is just as good as its pricier brethren. If you hate hidden controls and don't mind a visible plastic panel, the 14743 is one of the cheapest ways to buy dishwashing of this caliber.
This video was recorded inside the Kenmore Elite 14763, which has the same main wash system as the Kenmore Elite 14743.
The Kenmore Elite 14743 was looking like a worse version of the 14753, but our lab tests found reasons why you should still consider this Elite. Despite compromises to features and looks, this Elite loses no ground in cleaning ability and efficiency.
Doesn't look the part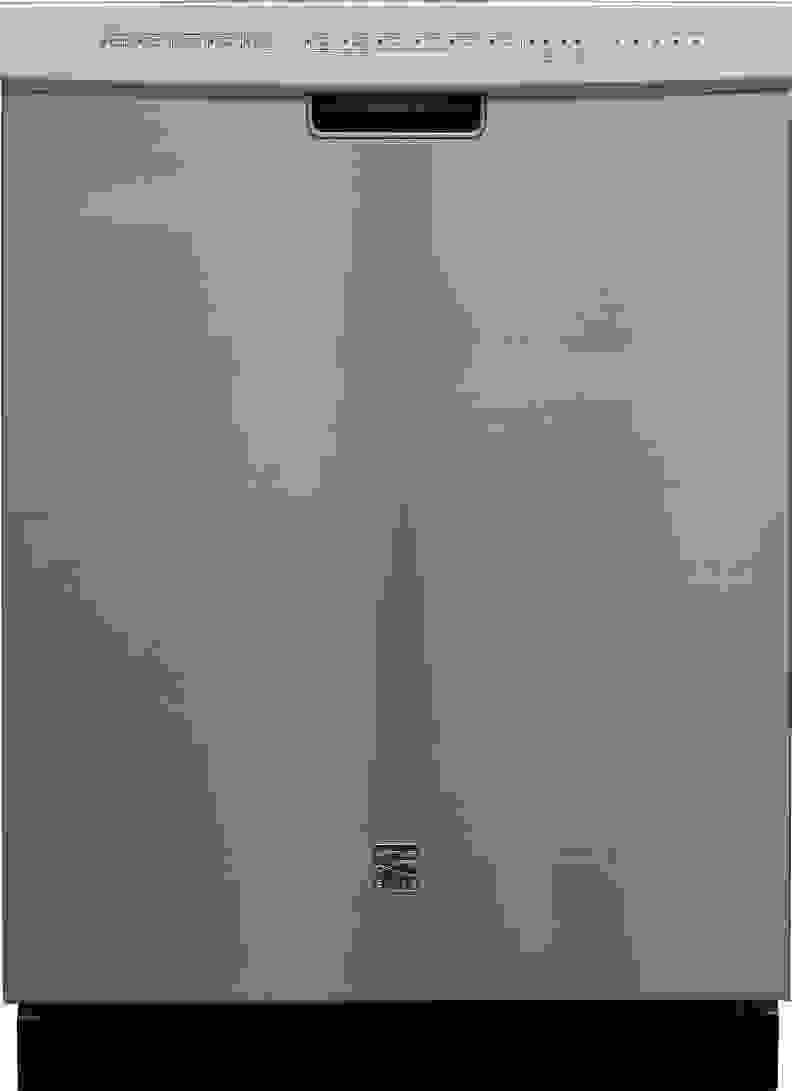 You'll have a hard time convincing onlookers that your new Elite costs over $1,000 MSRP—though, to be fair, we've spotted sale prices of around $699. Gray plastic on top of stainless steel isn't fooling anyone. The colors might match, but contrast between the two materials (one shiny, the other flat) makes it difficult to blend in with a sleek stainless kitchen. It might look like it blends in photos, but in person that plastic control panel really jumps out.
We don't like how the controls handle, either. The touch-sensitive buttons don't always respond, and they only work when the door is closed—eliminating one of the main benefits of a front-control model. Also, while the right side of the control panel has lights to indicate a cycle's progress, they don't distinguish between washing and drying stages. This, plus the lack of a countdown timer, makes it hard to guess when your wash is going to be finished. Whirlpool has dishwashers with similar controls that handle better, which is a bit of a surprise since Whirlpool makes most of Kenmore's dishwashers.
But if you can get past the cheapened exterior, you'll find that the 14743's interior is exactly the same as the 14753. This means a splittable, three-piece cutlery basket, a height adjustment mechanism on the upper rack, a motorized wash arm, and the powerful TurboZone high-intensity spray jets resting in the back. Say what you will about the lackluster exterior, but the 14743's innards are all business.
We could fit 11 standard place settings and a serving setting inside the 14743, and the highly flexible interior makes it easy to fit some non-standard stuff. Minus the control panel, this Elite's usability is impressive.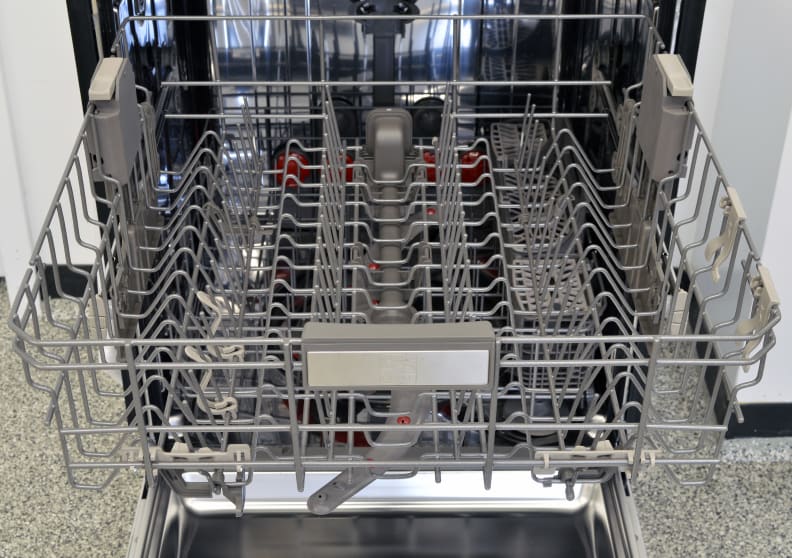 ×
Design Gallery
The 14743 cleans well. Normal Wash had no trouble with our baked-on eggs or oatmeal, and it removed a majority of the dried milk stains. We were especially impressed by the lack of redeposit, which means either the filter is very thorough or the cycle uses a lot of repeated washes and rinses. Judging by other data we gathered, we're leaning toward the latter.
Pots & Pans left almost every dish spotless. Once again, there was no redeposit, and even the baked-on spinach stains were almost entirely obliterated. This cycle scored a 72.36% removal rate against the burnt cheese and left a very visible mess, but we've found many other dishwashers can't even pass the 50% mark against this tough stain.
Our scores are slightly adjusted depending on cycle duration, and the 14743 was penalized as a result. The typical Normal cycle should require between 2 and 2.5 hours, but Normal Wash on the 14743 lasted 2 hours 52 minutes. Similarly, a Heavy Duty cycle should finish in around 3 hours, and Pots & Pans took 3 hours and 33 minutes.
All the important stuff is still there.
The wash cycles and extra wash options on the 14743 are almost identical to the selection on the 14753. Even though the aesthetics have been scaled back, core functions are the same. Normal Wash, Pots & Pans, Express Wash, Quick Rinse, and Smart Wash are all present and accounted for, while China Gentle is the only cycle that got the axe.

There are still many ways to customize your wash, including TurboZone for blasting off tough stains. The difference here is the 14743 only has a 4 Hour Delay option, where the 14753 had a more robust Delay that could be set from 1 to 24 hours. Still, given the price difference between the two dishwashers, we think buyers should be willing to give up China Gentle and Delay to save a few hundred bucks.
The average consumer dishwasher will cost you around $30 per year in utility costs. We've calculated an annual cost of $33.83 per year for the 14743, based on the average cost of water and electricity in the U.S. This figure is high because, according to our meters, this Kenmore uses extra water.
Broken down by cycle, Normal Wash used 0.75 kWh of power and 5.66 gallons of hot water, Pots & Pans used 1.08 kWh and 7.52 gallons, and Express Wash used 0.39 kWh and 5.81 gallons. No cycle uses less than 3 gallons of water, which is the average amount consumed by Normal cycles on other dishwashers.
Still cleans like an Elite
Looks and features matter, but cleaning power matters more. After all, an Elite that doesn't actually wash your dishes hasn't earned its name. The 14743 may be a cheaper version of the 14753, but one thing it didn't cut back on is cleaning. In our tests, the Normal Wash and Pots & Pans cycles both removed stains very thoroughly.
Our only complaint is that both cycles ran long. Normal Wash took nearly three hours and Pots & Pans needed three and a half. If you simply run your dishwashers overnight, then this shouldn't be a problem, but there are those who prefer to put their dishes away before they go to bed. For them, three hours may be too late.
Express Wash finished in a speedy 57 minutes, but we wouldn't recommend using this as an everyday cycle. It fared terribly against baked-on stains, and we found pieces of dried milk, oatmeal, and meat left over. But if your messes are relatively light and you need clean dishes ASAP, Express Wash will get you there.
With an estimated utility cost of $33.83 per year by our calculations, the 14743 is more expensive to run than the average consumer dishwasher—by a few cents a month. Normal Wash performs so well because it uses multiple washes and rinses, leading to more water consumption and time. We found one run of the Normal Wash uses 5.66 gallons of water on average, compared to the more reasonable 3 gallons of most other consumer dishwashers.
For in-depth performance information, please visit the Science Page.
We were able to fit 11 place settings and a serving setting inside the 14743. The adjustable height on the upper rack makes it possible to load taller items, while the three-piece cutlery basket means you can break it up and maximize the space on the lower rack. All in all, we were satisfied with this Elite's interior flexibility.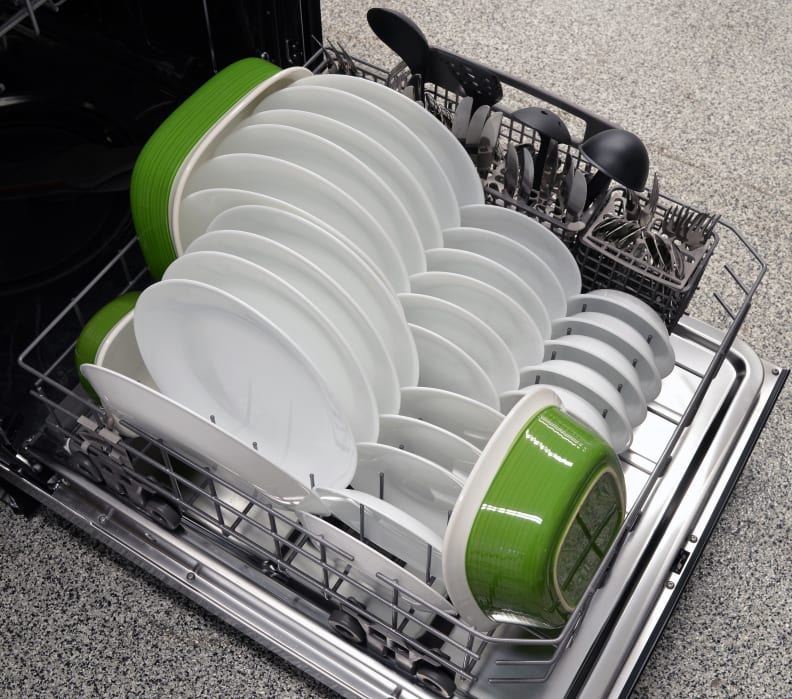 ×
Capacity Gallery
The 14743's warranty covers repair and replacement costs for the first year of ownership, which is the industry standard. Kenmore continues to cover the cost of replacement parts for the second year of ownership, but not the labor costs. Specific dishwasher parts are protected even further beyond the second year mark: The racks are protected against rust for the first five years and the stainless steel tub and inner door panel are covered for the entire life of the machine.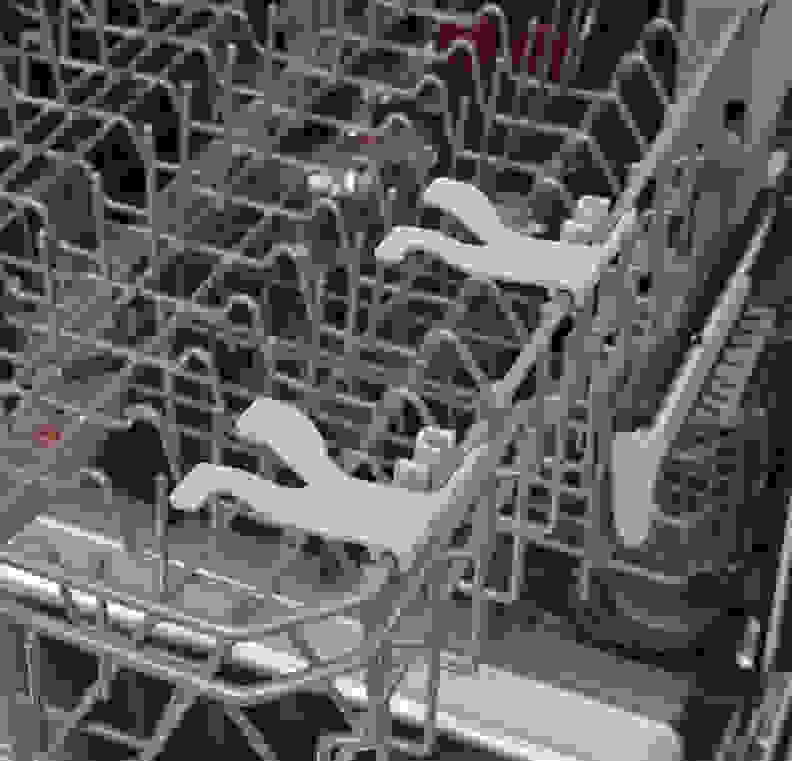 It's good to have options.
The beauty of the Elite series is the range of high-performing dishwashers to choose from. Thanks to our lab tests, we know all Elites clean dishes well, and the 14743 is no exception. We're not fans of the plastic control panel—but you might feel differently. That's why an appliance's looks don't factor into its score.
If you want clean dishes and hate hidden controls, and you'd rather not spend extra cash on stuff you don't need, this Elite is the one to get.
But if you want those extra features—China Gentle cycle, a more robust Delay option, and a fully stainless steel front—you're better off jumping up to the 14753. And if you want to go all-in on features (and money is no concern), you might as well spring for the sweetest of the Elites: the 14793.
Meet the tester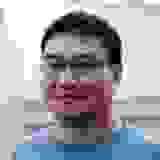 Johnny Yu
Staff Writer
@ReviewedHome
Johnny Yu writes news, features, and reviews for Reviewed.com. He graduated from U-Mass Boston with a Bachelor's in Social Psychology and spends much of his free time expanding his gaming horizons. Sometimes, he does his laundry at work.
Checking our work.
We use standardized and scientific testing methods to scrutinize every product and provide you with objectively accurate results. If you've found different results in your own research, email us and we'll compare notes. If it looks substantial, we'll gladly re-test a product to try and reproduce these results. After all, peer reviews are a critical part of any scientific process.
Shoot us an email