Just as a spy might have to blow up an underwater lair or wreck a few supercars to save the world, this Kenmore makes a few sacrifices to get your dishes spotless.
Specifically, those drawbacks include long cycle times, high energy costs, and cycles that use more than twice as much water as equivalent cycles on other dishwashers. Yes, efficiency and brevity are clearly afterthoughts. But with sale prices at $899.99 and the near-guarantee of clean dishes, we can see why many buyers will find this Elite exceedingly attractive.
This video was recorded inside the Kenmore Elite 14763 dishwasher, which has a very similar wash system to the 14753.
Design & Usability
And looks good while doing it.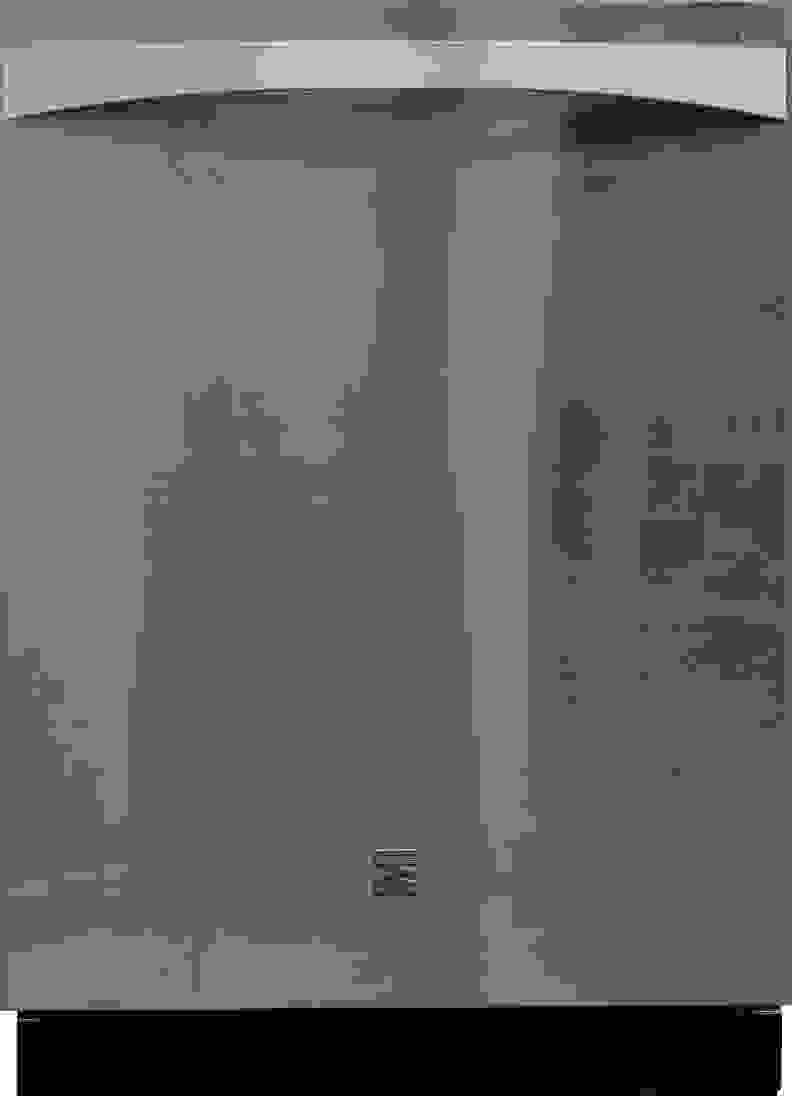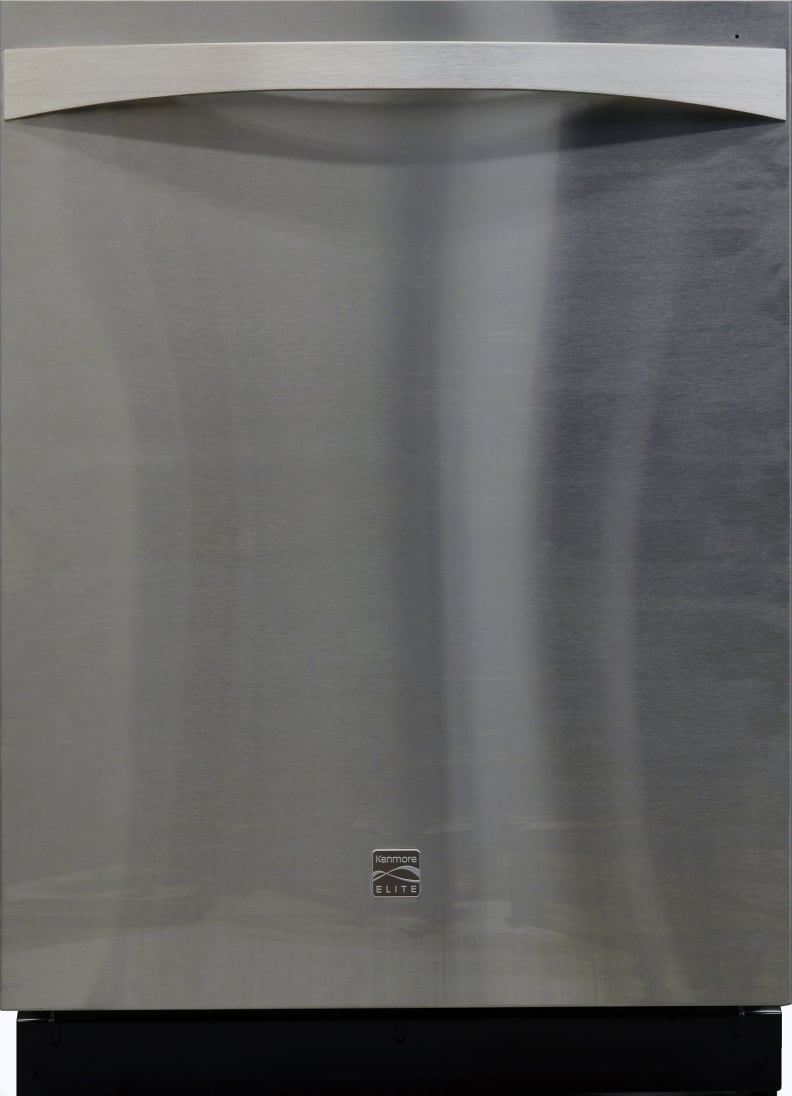 Regardless of which actor plays James Bond, he has to be handsome—and the 14753 is, similarly, quite the looker. Stainless steel inside and out, the thick, protruding handlebar gently curves outward, while the red trim on all the interior water jets show that this machine is ready for action. If that was ever in question, the proudly displayed Elite badge hints at this dishwasher's strong pedigree.
And it proved functional, too. Given the 14753's extremely flexible three-piece cutlery basket, its height adjustment mechanism on the upper rack, and its foldable tines, we were mostly satisfied with how this Elite felt in our hands. The upper rack did not glide very smoothly when we pulled it out. However, as rough as it was, it felt sturdy and stable as it moved along its track.
Capacity matters, and the 14753 held 11 of our standardized place settings and a serving setting—which is about average. All the little adjustable bits mentioned earlier make it easier to load the non-standard stuff, so bring on your novelty plates and champagne flutes. And since every spy needs a touch of elegance, this Elite's upper rack has a pair of stemware holders.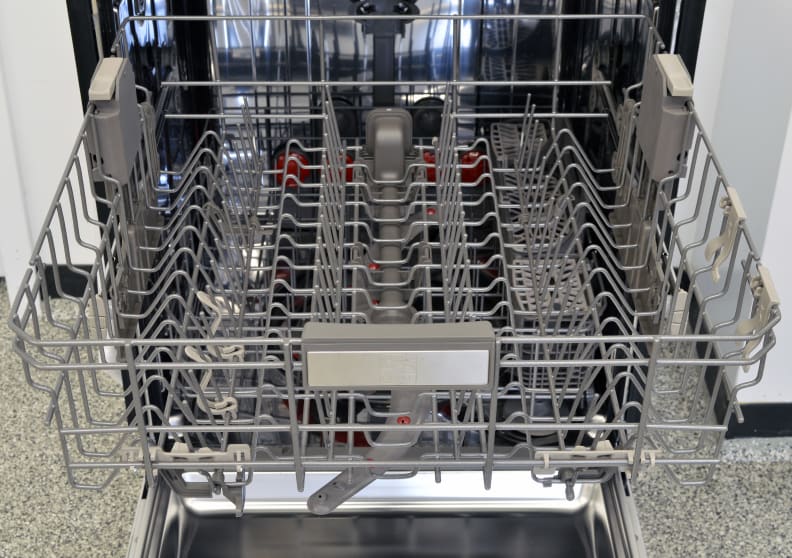 ×
Design Gallery
Features
The right tool for every situation.
As fun as it is to watch reruns of MacGyver, we prefer a hero who comes prepared. For its part, the 14753 has six cycles and a huge selection of additional wash options to handle any dishwashing need. Smart Wash is a cycle that adjusts itself depending on how dirty your load is and Express Wash is locked in at an hour. The other cycles perform exactly the way their names suggest.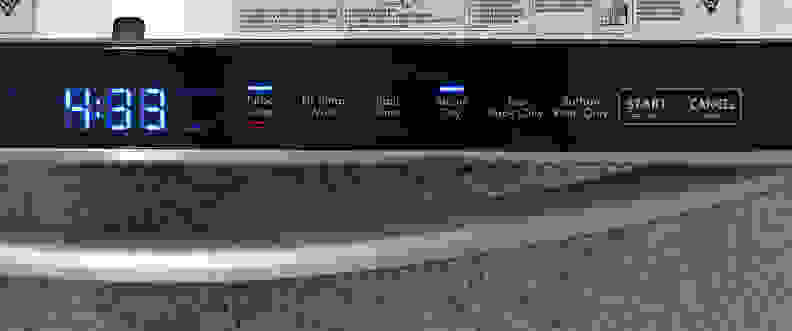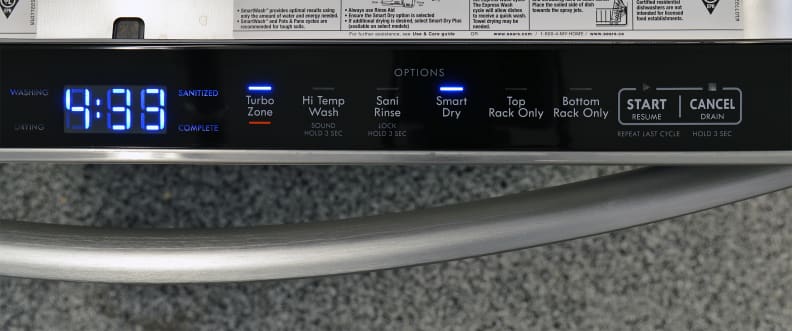 Options like TurboZone, Sani Rinse, Hi Temp Wash, Smart Dry, and Top Rack/Bottom Rack Only directly affect how the cycle behaves. This gives a lot of control to the user, which can matter if you only have a handful of lightly soiled glasses to clean or if you need the TurboZone's power to blast off particularly stubborn stains. Delay, which can be set for 1-24 hours, Control Lock, and Sound Off are convenient extra features that further grant the user control over how the dishwasher operates.
Performance
Effective, but not efficient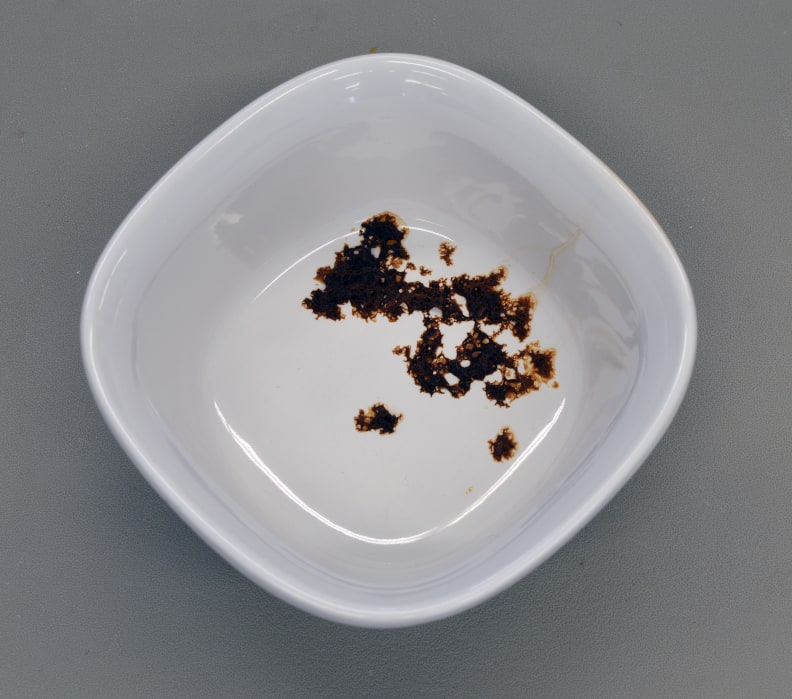 In every spy movie, no one cares about stray bullets or the millions of dollars of property damage the hero inflicts, as long as he saves the world/catches the thief/gets the girl. Likewise, this Elite does whatever it takes to get your dishes spotless.
The Normal and Pots & Pans cycles both cleaned extremely well on our tests, but they each took a long time and used a lot of water and electricity. Normal, for instance, took more than three hours to wash our test dishes.
Over the course of a year, the 14753 will set you back $39.67 per year in utility costs due to how much water and power each Normal cycle uses. Many of the dishwashers we've tested only cost around $30 per year at most. But since the 14753's Normal cycle used more than 8 gallons of water and 930 kWh of power per run when we tested it, the costs added up quickly. If $10 a year is worth it to you for clean dishes, you won't be disappointed.
There is some good news, though: The Normal cycle is sensor-based, which means for light loads (lighter than our test loads, at least), the cycle will behave differently. If the 14753's internal soil sensors find that a load of dishes isn't very heavily soiled, it will use less time, water, and electricity to complete. Since our test dishes are far filthier than anything you'd likely encounter in your home, you should expect a quicker, more efficient wash.
For in-depth performance information, please visit the Science Page.
Warranty
The 14753's warranty is rather extensive. Other manufacturer warranties usually cover repair and replacement costs just for the first year of ownership and nothing else. Kenmore's warranty offers the same coverage for the first year, but beyond that point, it will also cover the costs of any parts, up to the second year of ownership. The only difference is Kenmore will no longer cover the labor costs associated with installing those parts after the first year.
Certain individual parts have additional coverage. For example, the dishwasher's racks are specifically protected against rust for the first five years. Also, the stainless steel tub and inner door panel are covered for the entire lifetime of the machine. In both cases, if it's past the first year of ownership, you will have to pay the installation costs (but not the part costs).
Why We Like It
The Jack Bauer of dishwashers.
Kiefer Sutherland's character may not hold as much relevance nowadays, but the comparison is very apt here: This Elite will do whatever it takes to get your dishes clean. If you believe the ends justify the means and that clean dishes are all that matter, the 14753 is for you.
Of course, utility costs aren't the same everywhere, and the 14753 may cost you more per year than our estimated amount (which is based on the average cost of water and electricity in the U.S.). For buyers in areas where electricity and water costs are high, this dishwasher may cost far more than its $899 sale price.
We tested the similar Kenmore Elite 14793 and found it to be more efficient, but it's also pricier. You'd be getting the TurboZone Reach wall-mounted jets and a handful of interior features to compensate, but it's definitely not the Kenmore you want if your goal is to save money.
The similarly priced Bosch SHP65TL5UC is a happy balance, with a low upfront cost, lower annual cost, and many of the same features as the 14753. It has a stainless steel interior and a splittable cutlery basket of its own, but also includes a third rack. Make sure to check these other dishwashers out before you make a decision.
By the Numbers
Many dishwashers find a balance between cleaning power and resource efficiency, but the Kenmore Elite 14753 took specialization to a whole new level. A machine that uses more than twice as much water as its competitors to guarantee clean dishes is admirable in its dedication, but painful on the wallet.
Performance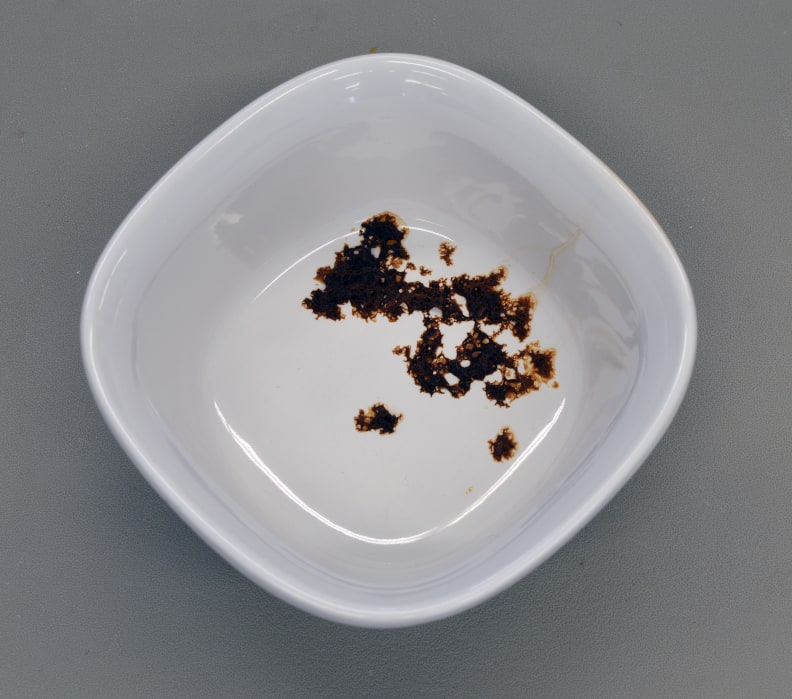 The 14753 takes its sweet time, but ultimately leaves dishes spotless. Its Normal cycle blasted off all the baked-on meat, oatmeal, and milk we threw at it. Even the baked-on spinach, which proved problematic for many of the dishwashers we've tested, was reduced to small green flakes. The drawback? Each run lasted an average of 3 hours and 34 minutes (one test run was actually just minutes away from the 4-hour mark) and used more than 8 gallons of hot water.
This Elite's Normal cycle behaves differently depending on how heavily soiled the load is. According to the manual (and when we ran it with no dishes inside), a run can take as little as two and a half hours. But this means unless you have a very good idea of how dirty your dishes are, it's hard to predict whether this cycle will finish before you go to bed or if you'll have to wait until morning to unload your dishes.
Pots & Pans is supposed to be the heavy duty cycle on the 14753, but we actually found it finished slightly faster than the Normal cycle most of the time. Clocking in at an average of 3 hours and 30 minutes, this cycle worked just as well as the overpowered Normal cycle. Impressively, this cycle removed an average of 82% of the burnt cheese stain. This is a particularly stubborn stain that most dishwashers can't even score 50% on.
If you'd rather not wait forever, the 14753 does have an Express Wash cycle. It only takes 65 minutes to run, but it is nowhere near as thorough as the other cycles. Still, this is perfect for when you know you have a load of lightly stained dishes and need them cleaned quickly. It also helps that you don't really have to guess how long this cycle will take.
Efficiency
In contrast to the great stain removal scores, the 14753's efficiency numbers are pretty awful. We've calculated an annual utility cost of $39.67 per year to run the Elite under normal usage frequency. This means the Normal cycle will see the most action, and given how much power and water it uses, those utility costs really add up.
According to our meters, the Normal Wash used 0.96 kWh of electricity and 8.09 gallons of hot water per run. Because it's a sensor-based cycle, those numbers will vary depending on how dirty your dishes are.
Pots & Pans, which is designed for heavy duty messes, used 0.84 kWh and 8.42 gallons. Finally, the swift Express Wash used 0.44 kWh and 6.37 gallons.
Capacity
There was room to fit 11 standard place settings and a serving setting inside the 14753. While there aren't any shelves or trays to create extra loading space, the interior offers a fair deal of flexibility. The top rack's height can be adjusted and there are multiple foldable tines on both racks, and the cutlery basket can be split into three if you don't have much silverware and would rather have space for more dishes.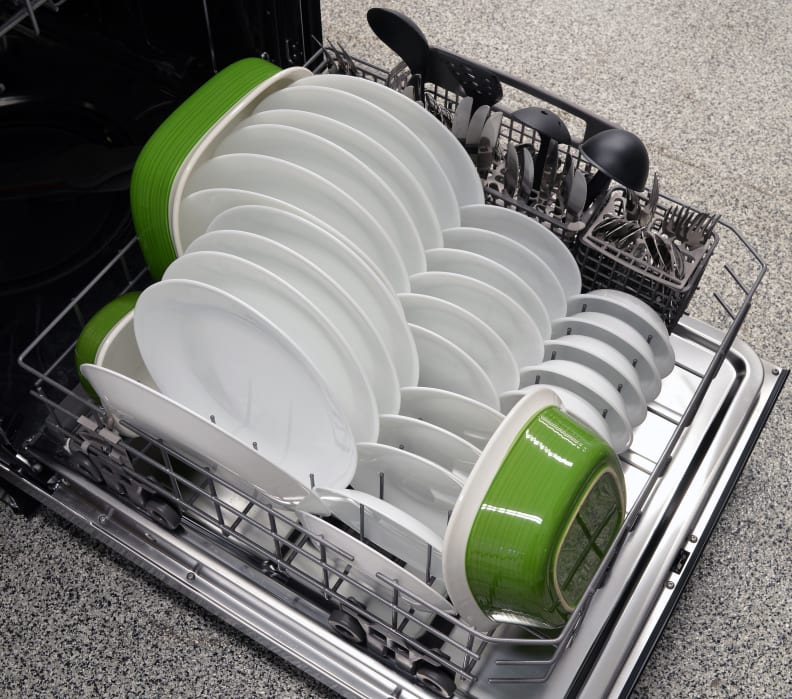 ×
Capacity Gallery
Meet the tester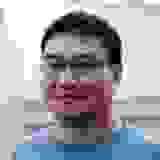 Johnny Yu
Staff Writer
@ReviewedHome
Johnny Yu writes news, features, and reviews for Reviewed.com. He graduated from U-Mass Boston with a Bachelor's in Social Psychology and spends much of his free time expanding his gaming horizons. Sometimes, he does his laundry at work.
Checking our work.
Our team is here for one purpose: to help you buy the best stuff and love what you own. Our writers, editors, and lab technicians obsess over the products we cover to make sure you're confident and satisfied. Have a different opinion about something we recommend? Email us and we'll compare notes.
Shoot us an email