The KDTE404DSS does have a great selection of cycles and wash options, and its heavy duty cycle left very few stains behind during our tests. It's stainless steel inside and out, with plenty of adjustable parts to make loading dishes easier. This would be a fine package if it were in the $800 range, but the lowest sale price we could find was just north of $1,000.
Fortunately, bargain hunters who want this KitchenAid may be in luck. KitchenAid recently replaced this model with the KDTE404ESS, which features KitchenAid's new design language. If you prefer the KDTE404DSS's more transitional look instead, or just want one at a more reasonable price, it's not difficult to find this dishwasher on clearance.
The above footage was captured inside KitchenAid's Architect Series II KDTE304DSS, a similar model.
There's a constant tug-of-war between cleaning power and efficiency. After all, any dishwasher can clean well if it sprays a lot of water on the dishes. The KitchenAid Architect Series II KDTE404DSS is definitely part of that camp.
Keeping things on track.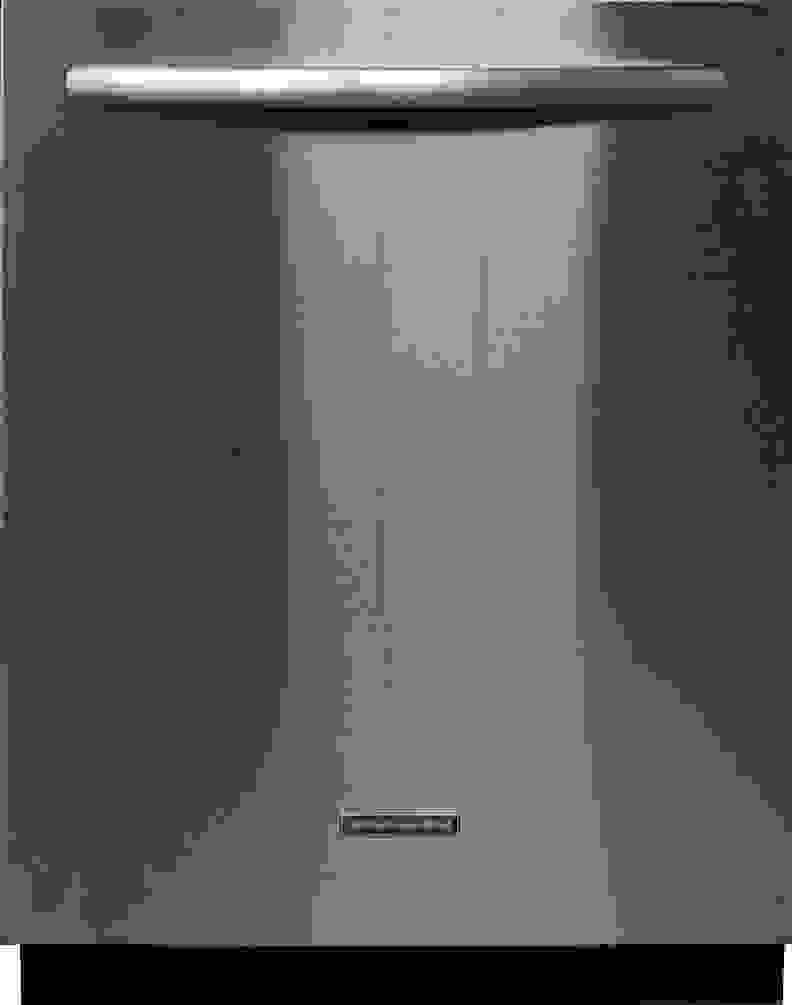 The KDTE404DSS is stainless steel inside and out. It has a neat, uniform look that blends well into most kitchens. The control panel is hidden on the top of the door and features responsive touch-sensitive buttons. Its transitional-style handlebar gently curves outward and offers a solid grip, and the door opens and closes easily.
Both of the KDTE404DSS's racks glide out smoothly, even when weighed down with dishes. This is thanks to a set of rails and ball bearings on both. On nearly every other dishwasher out there, the bottom rack is on wheels, which can make for a rougher ride. There is a drawback to the 404's setup, though: You can't simply lift the entire bottom rack out of the way, making it harder to remove the filter or clean the tub.
Although we found room to fit 11 place settings and a serving setting while testing the KDTE404DSS's capacity, the long cutlery basket was cumbersome. It fits in only one designated area on the bottom rack and takes up a lot of room. If you only have half a basket's worth of eating or serving utensils, you still have to put the whole basket in there, occupying a lot of unused space.
The upper rack is loaded with features. A couple of rows of supports can be folded down, and a pair of shelves and a mini-basket provide more loading space. The entire rack can also be raised or lowered, making room for taller items like fancy stemware or beer steins.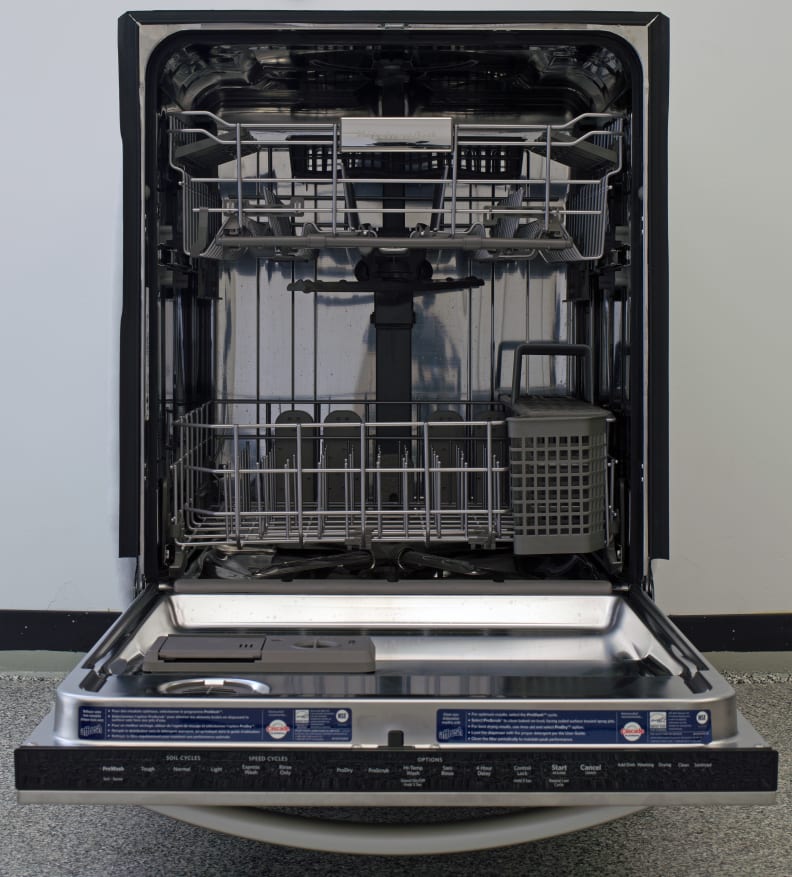 ×
Design Gallery
The KDTE404DSS's cycles took a long time and used a lot of water. As a result, most of the stained dishes we threw in there came out clean, and redeposit was negligible. However, the scores were far from perfect.
The Normal cycle did well with most stains, but only removed 97.07% of the meat stains we tested with. Many other dishwashers can easily score 99% on this stain, so the result came as a surprise. Dried milk also scored rather low in this cycle, and many gooey chunks were left behind after each run. While a normal consumer's dishes won't be so heavily soiled as the ones we test with, many other $1,000+ dishwashers we've tested didn't have as much trouble as the KDTE404DSS.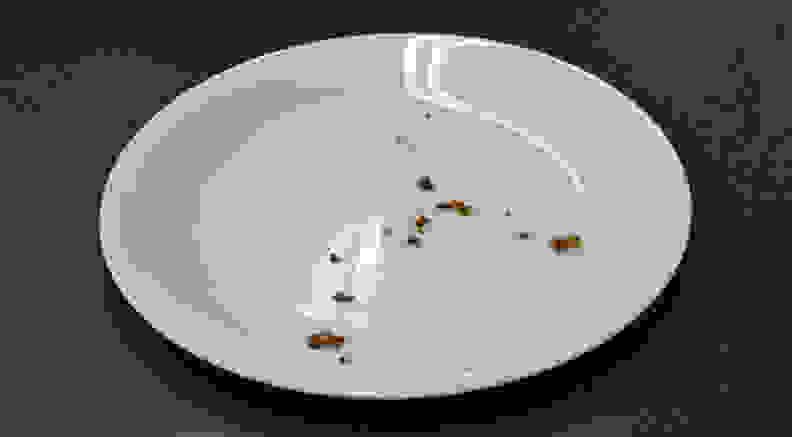 None of this was a problem on the KDTE404DSS's Tough cycle. The Tough cycle took close to four hours, which leads to this dishwasher's other problem: long cycle times. Many users run their dishwashers overnight and don't worry about cycle duration, but if you prefer to run multiple loads in a day, or if you're entertaining guests, the three hour Normal cycle makes this difficult.
Express Wash took 66 minutes to complete, which isn't as fast as the quick cycles on other dishwashers. Most of them stay under an hour, even if it translates to terrible cleaning performance. However, this cycle had mediocre stain removal scores regardless, so it's a disappointment all around.
More "Pro," less "Scrub"
Many middle-to-top-end dishwashers are equipped with high-intensity spray jets as an option, and the KDTE404DSS is no exception. Dubbed "ProScrub" on the KitchenAid, these jets can be engaged after selecting a cycle, and they're designed to blast off tough stains. Other cycle customization options include wash temperature boost, sanitizing rinse, and an internal heating element to dry dishes.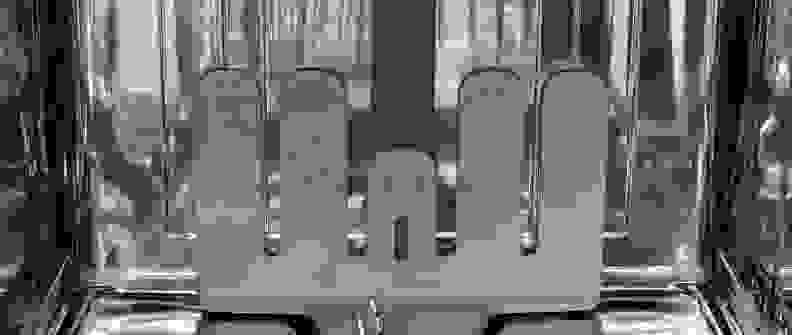 The wash cycles are fairly standard, with Normal, Tough, and Express Wash handling most users' dishwashing needs. There's also a convenient Rinse Only cycle for a quick spray without detergent, and a Light cycle for delicate items. Finally, ProWash is a soil-sensing cycle that adjusts itself according to how dirty your dishes are.
There are also a few options that don't affect how a wash works. You can lock out the controls, delay the start of a cycle for four hours, or disable all the machine's beeps and chimes.
The long cycle times and high water usage added up to an annual utility cost of $40.35 per year for the KDTE404DSS. Many other consumer dishwashers cost around $29-30 per year to run, and don't use nearly as much water.
By cycle, Normal used 0.90 kWh of electricity and 7.37 gallons of hot water, Tough used 1.18 kWh and 8.78 gallons, and Express Wash used 0.45 kWh and 6.65 gallons. Since most Normal cycles on other dishwashers use 2-4 gallons per run, and the KDTE404DSS uses significantly more than that, it's easy to see how the costs add up.
We were able to fit 11 place settings and a serving setting inside the KDTE404DSS, with some difficulty thanks to the long, bulky cutlery basket. We did notice that, even when filled to capacity, the KDTE404DSS's racks were still easy to pull out and push in. Some fold-down shelves and a mini-basket on the upper rack provide some extra loading space, which is always a plus.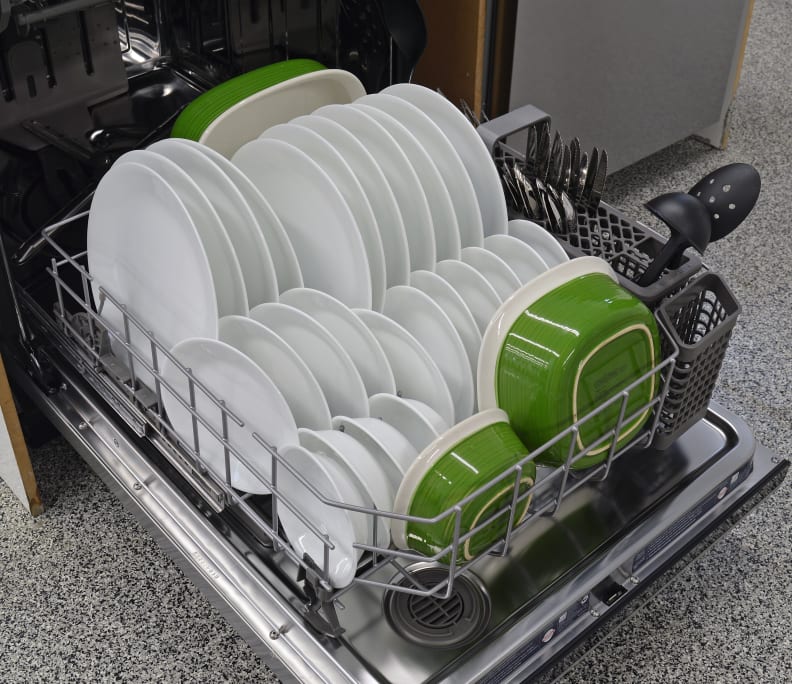 ×
Capacity Gallery
As thirsty as a camel in a sweater
This dishwasher uses a ton of water. Most other dishwashers we've tested use between 2-4 gallons on their Normal cycles, and KitchenAid's AquaSense dishwasher uses just 1.6 gallons.
But our meters recorded an average consumption of 7.37 gallons across our multiple tests of the KDTE404DSS's Normal cycle. We estimate an annual cost of $40.35 per year in utility bills, which is about ten bucks a year more than usual.
At least that water is being put to good use. The Normal cycle had some trouble against meat and milk stains, but otherwise cleaned thoroughly. The Tough cycle didn't leave much behind at all, and is the best cleaning cycle this dishwasher offers.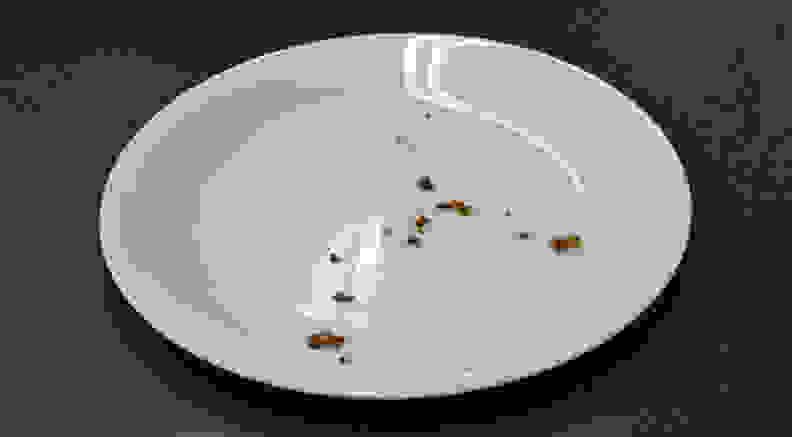 There were virtually no instances of redeposit, where food particles spread to other dishes during the wash. Dishwashers normally avoid redeposit with strong filtration, but we suspect the KDTE404DSS used a lot of water to flush those stains away, which may explain its heavy water usage.
It also paints a rosier picture of real-world efficiency. Our dishes are dirtier than anything you'd likely put in your dishwasher at home. Since the KDTE404DSS's cycles rely on sensors to figure out if dishes are clean yet, those dirtier dishes will require more water.
For in-depth performance information, please visit the Science Page.
KitchenAid provides a standard one-year warranty on repairs due to manufacturer defects—something you'll find on every other appliance. On top of that, KitchenAid's warranty also covers the nylon dish racks and electronic controls for the first five years and the stainless steel tub and inner door liner for the life of the machine.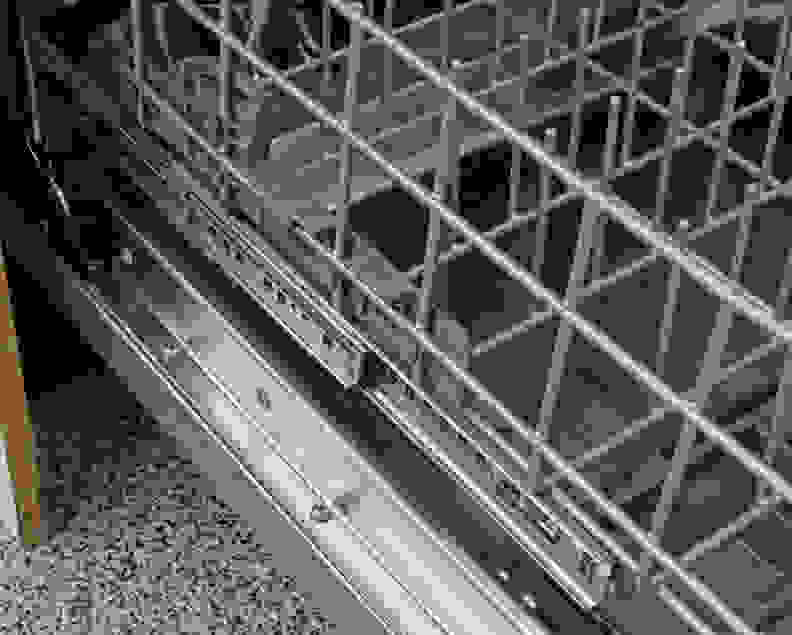 There's a way better KitchenAid for less.
If you're thinking of purchasing a high-end, high-performing, high-priced KitchenAid, we're going to stop you here and direct you over to the KitchenAid KDTM354DSS. Also part of the Architect Series II, this dishwasher has ProFilter, a recent KitchenAid development that significantly improves food particle filtration. And we tested it, so we know it works. In fact, at MSRP, the KDTM354DSS is $50 cheaper than the KDTE404DSS, so the choice is clear.
Some kitchens call for a KitchenAid, especially if it matches the other appliances. Since the KDTE404DSS is no longer in production, you might be able to find it at a significant discount. If you like this dishwasher's look more than its replacement and you spot it in the wild for $800 or less, go ahead and pick it up.
Meet the tester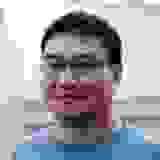 Johnny Yu
Staff Writer
@ReviewedHome
Johnny Yu writes news, features, and reviews for Reviewed.com. He graduated from U-Mass Boston with a Bachelor's in Social Psychology and spends much of his free time expanding his gaming horizons. Sometimes, he does his laundry at work.
Checking our work.
Our team is here for one purpose: to help you buy the best stuff and love what you own. Our writers, editors, and lab technicians obsess over the products we cover to make sure you're confident and satisfied. Have a different opinion about something we recommend? Email us and we'll compare notes.
Shoot us an email