After running this dishwasher through multiple tests, though, we learned that it isn't a great value. In fact, it isn't even that good a dishwasher. Even with a hard-food disposer and a wash cycle named PowerBlast, this dishwasher had more bark than bite when it came to actually washing dishes. Even the 10 year warranty won't pay for the labor to replace the components it covers after the first year.
With poor water filtration, spotty cleaning, and long cycle times, we can't recommend buying this appliance.
Shiny stainless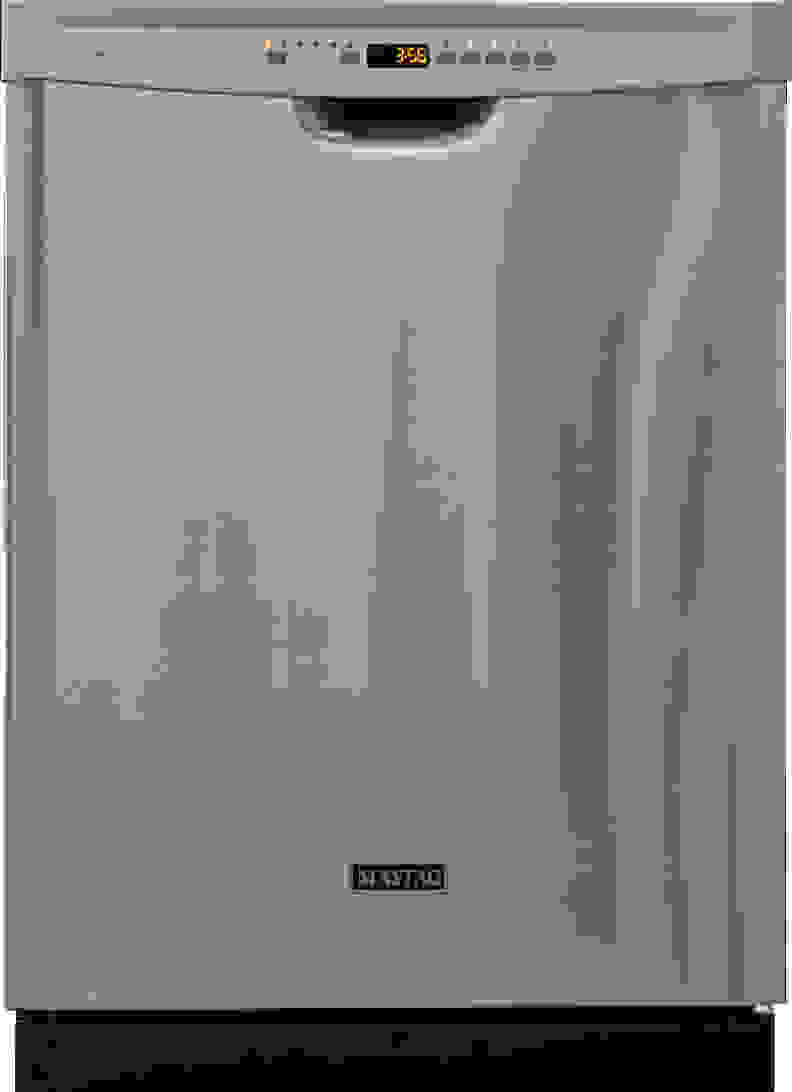 The MDB4949SDM's biggest draw is its stainless steel. You'd be hard-pressed to find another dishwasher that's stainless inside and out for under $500. The material provides better sound-proofing, heat retention, and aesthetics than plastic. If all other things are equal between two dishwashers, including price, you should opt for the stainless steel over plastic every time.
This Maytag's front-facing control panel has a convenient timer display. While plastic next to stainless does cheapen the look, the grey helps it to blend together. The interface itself is clean and simple to use, although the Cancel button is a double-edged sword: On other machines that have such a feature, you'd have to hold it down for a few seconds to activate it, ensuring that you want to stop the cycle. On this Maytag, the cycle is killed as soon as you press Cancel. Thankfully, the Control Lock can stop unwanted interruptions from happening.
Inside, the MDB4949SDM's racks are simple... but not in a good way. We were able to fit ten of our standard place settings and a serving setting inside this Maytag, but the lack of adjustable parts will make it harder for consumers with odd-size items. Fitting in chunky mugs or thick, decorative plates will be a challenge.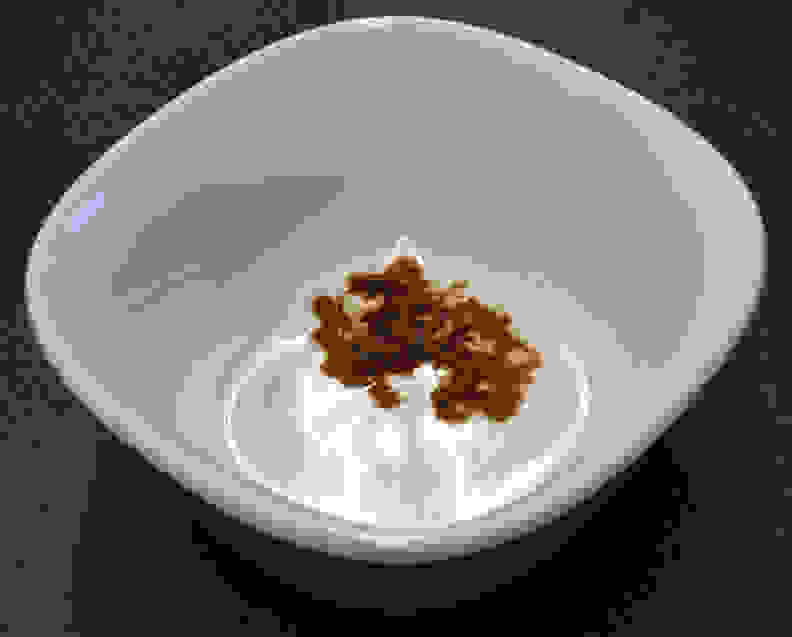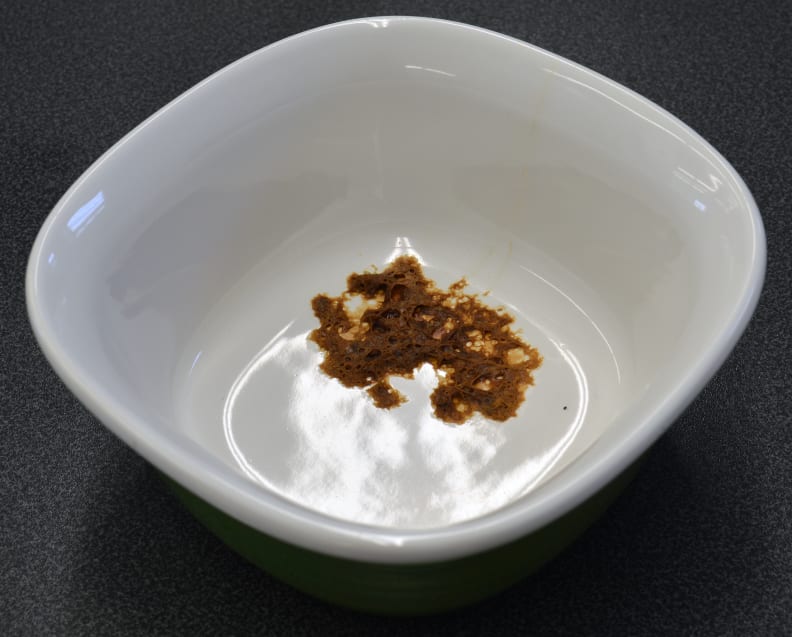 We load a variety of stains and score cleaning performance based on the percentage of stains removed. The MDB4949SDM's percentages were generally lower than those of other dishwashers, including budget models that cost hundreds less.
The MDB4949SDM's Normal cycle scored an average removal rate of 96.56% with baked-on spinach, one of our toughest stains. This would usually be good news, except much of that spinach was then found on other items in the dishwasher, including glassware and mugs that were loaded far away. The cycle was good at removing spinach, but it wasn't good at keeping it off.
The Normal and PowerBlast cycles both struggled with meat and egg, scoring much lower than other dishwashers have on the same tests under the same conditions. Overall, this Maytag just didn't do a thorough job when it came to washing dishes, and it left visible chunks of just about every stain behind.
We also found the cycles to be a bit longer than we would like, which matters to some buyers. The Normal wash takes two and a half hours and PowerBlast lasts three and a half, making it tough for this Maytag to handle multiple loads in one night. The Quick cycle only took an hour, though, so it's well-suited to refreshing plates and glasses during a party.
####Ordinary, useful options
The MDB4949SDM doesn't complicate things, and its wash cycles and customization options are all straightforward and useful. In addition to Normal, Quick, and PowerBlast—the name for this dishwasher's heavy duty cycle—there's Rinse for quickly refreshing dusty dishes, as well as Auto, a soil-sensing cycle that adjusts the number of washes and rinses according to how dirty your dishes are.

Hi Temp, Sanitize, and Heated Dry are all options you can add to a cycle, and they do exactly as their names imply. In fact, Heated Dry is on by default for most cycles, so you may actually want to turn that off if you're trying to save power or would rather air dry your dishes. There's also a Delay that can postpone a wash for up to 24 hours, and a Control Lock.
The MDB4949SDM's estimated annual utility cost is $39.62 per year, which is about 33% higher than average. This dishwasher uses large amounts of both water and power to run its cycles, and those quickly add up. According to our meters, Normal used 0.86 kWh of power and 4.9 gallons of water, PowerBlast used 1.56 kWh and 9.74 gallons, and the Quick cycle used 0.67 kWh and 5.89 gallons.
The MDB4949SDM's interior had room for ten of our standardized place settings and a serving setting, but there was no room for flexibility. Nothing can be collapsed, rearranged, or otherwise manipulated to load tall or oddly-shaped items. The upper rack has a single fold-down cup shelf, but we found it to be of little use for anything but the smallest of drinking vessels (such as teacups and shot glasses).
Poor cleaning in general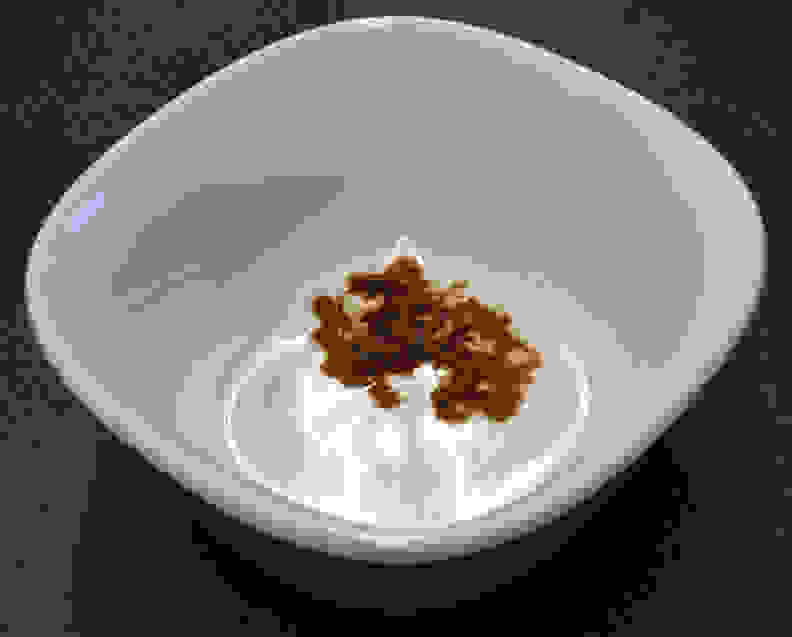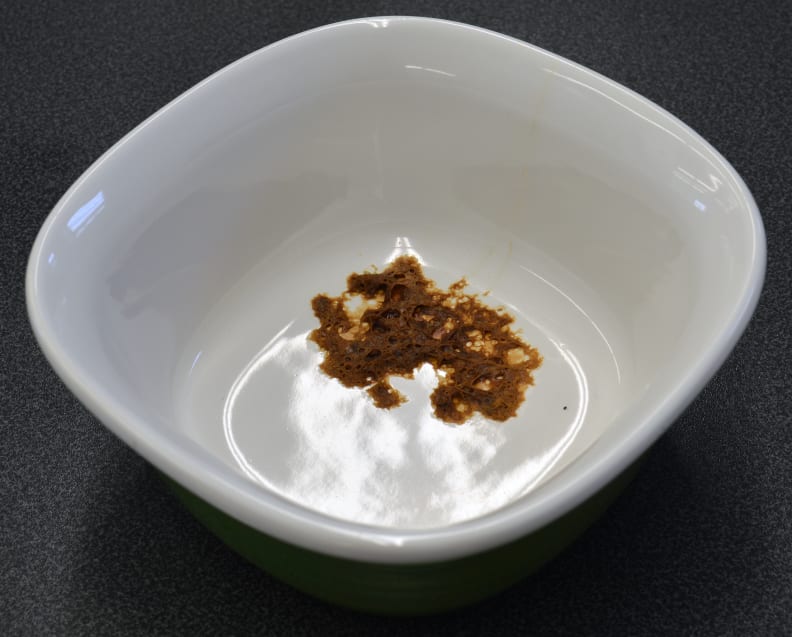 None of the MDB4949SDM's cycles cleaned well in our tests. We consistently found small bits of food left behind on every dish, regardless of the stain type, which isn't atypical for budget dishwashers.
However, this Maytag had a real redeposit problem. We found bits of spinach on items that were nowhere near where spinach-stained dishes sat, including glasses and mugs loaded on the upper rack.
PowerBlast was anything but powerful, exhibiting the same spinach-spraying tendencies while also struggling to remove meat, egg, and burnt cheese stains. This is supposed to be the heavy duty cycle for cleaning pots and pans, and is meant to take down the toughest, greasiest, most burnt-on gunk you can cook up. Sadly, after our tests, most of our items still came out dirty.
Other than the Quick cycle, which took only an hour, the MDB4949SDM's cycles ran rather long. Normal took nearly two and a half hours, while PowerBlast took three and a half. Given how poor of a job they each did cleaning, you'll be left wondering what the machine does with all that time.
After all, time is money, right? The MDB4949SDM's long cycles translate to high water and power consumption, and its annual utility cost—according to our lab's water and power meters—is around $39.62 per year. Most consumer dishwashers have a figure in the $29-30 range, meaning this dishwasher uses about 33% more resources than average. In the grand scheme of things, $9 a year isn't a lot, but it's yet another strike against the MDB4949SDM.
For in-depth performance information, please visit the Science Page.
This Maytag's warranty covers repairs and replacement parts for the first year of ownership, which is standard among major appliances. There's also additional parts coverage for the first ten years on the upper and lower racks, the food disposer blade, and the stainless steel tub and inner door liner. However, the cost of labor to replace those parts is not covered.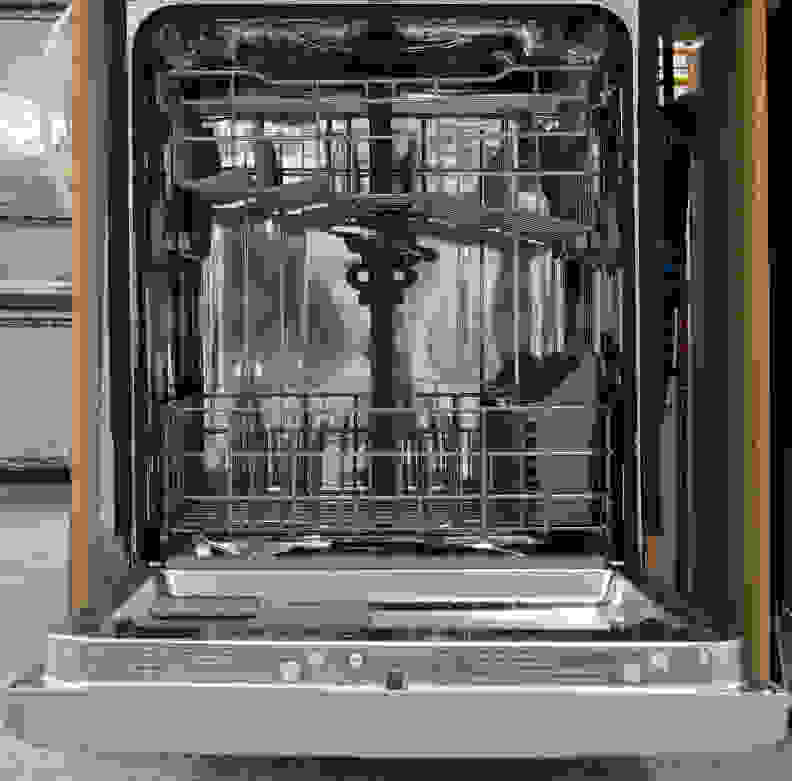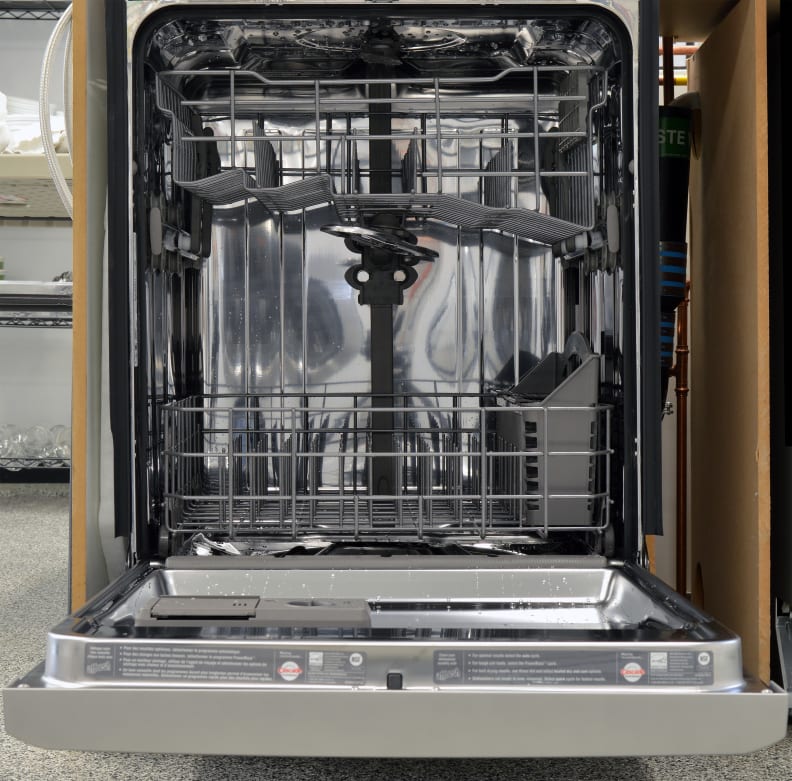 If you really, really need stainless…
The one and only advantage the MDB4949SDM has over other $500 dishwashers is its stainless interior. In this price range, you will easily find other dishwashers that clean better or cost less. But if you want stainless on a budget, then this Maytag is one of the cheapest options out there.
Of course, if you want stainless and you want a dishwasher that actually does its job, you're better served shelling out a few more dollars and getting the Frigidaire Gallery FGID2474QS. While the Gallery is far from the perfect dishwasher, it can usually be found on sale for $600 and did a much better job cleaning than the MDB4949SDM. It also has the Maytag beat on efficiency, cycle and wash option choices, and interior flexibility.
Meet the tester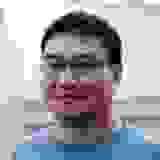 Johnny Yu
Staff Writer
@ReviewedHome
Johnny Yu writes news, features, and reviews for Reviewed.com. He graduated from U-Mass Boston with a Bachelor's in Social Psychology and spends much of his free time expanding his gaming horizons. Sometimes, he does his laundry at work.
Checking our work.
We use standardized and scientific testing methods to scrutinize every product and provide you with objectively accurate results. If you've found different results in your own research, email us and we'll compare notes. If it looks substantial, we'll gladly re-test a product to try and reproduce these results. After all, peer reviews are a critical part of any scientific process.
Shoot us an email