The black exterior is highly reflective, and while most consumers tend to prefer stainless steel these days, the unassuming design makes the a decent fit for a wide range of uses. There are also detachable wheel casters for easy maneuverability—hence, "portability."
The finish is not dent- or scratch-proof, but it's dark tone ensures that blemishes will be easily overlooked. The material is also very sturdy.
Not exactly awe-inspiring, the black control panel features five buttons, three of which are devoted to cycle selection (?). The appearance is pretty underwhelming, but for a portable machine it serves as much of a purpose as it needs to.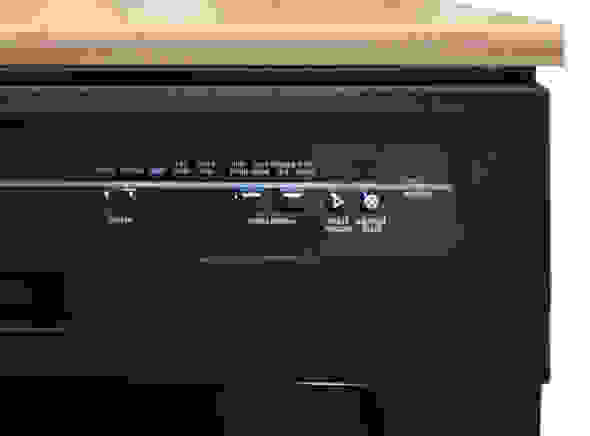 The plastic white interior contrasts with the black exterior. While the material feels somewhat cheap, it doesn't seem to impinge on the machine's overall cleaning power.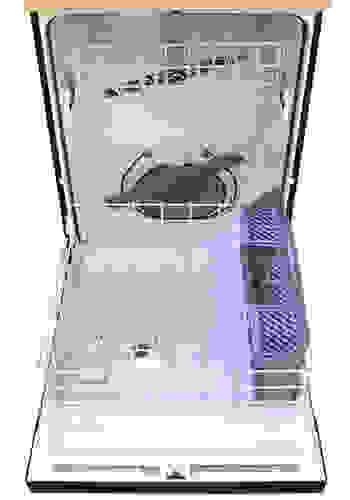 Both racks are coated with a vinyl material to help hold dishware in place. The top rack lacks adjustable tines and holders, but we didn't have much trouble fitting large dish loads.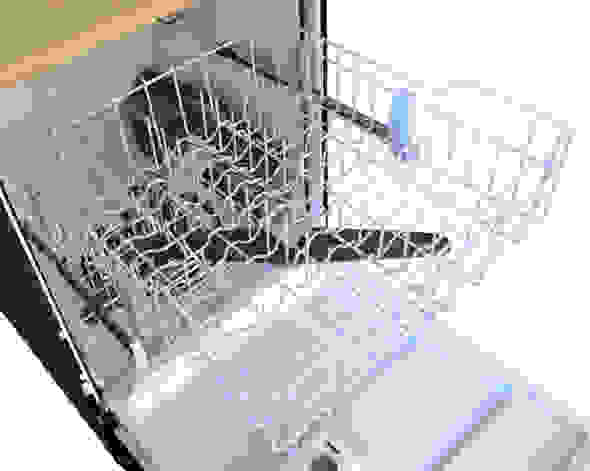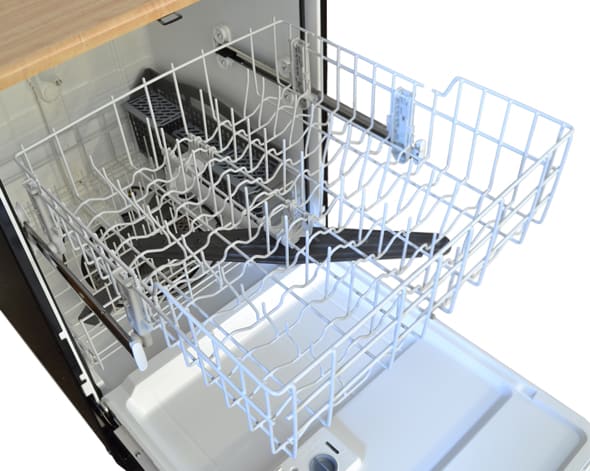 The bottom rack is slightly less flexible, but its overall appearance is the same as the top rack. It's fairly spacious, but the straight tines make it difficult to load more bulky or oddly-shaped objects.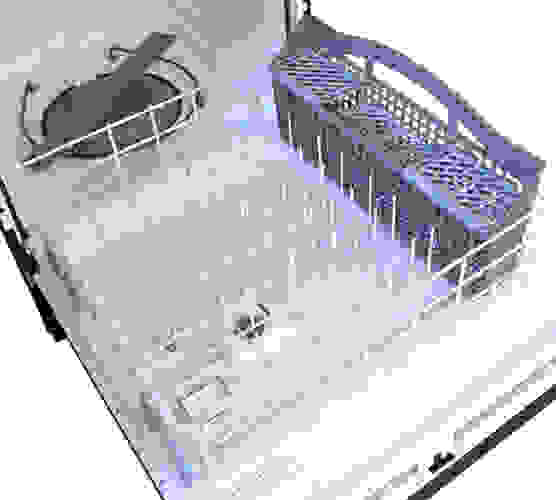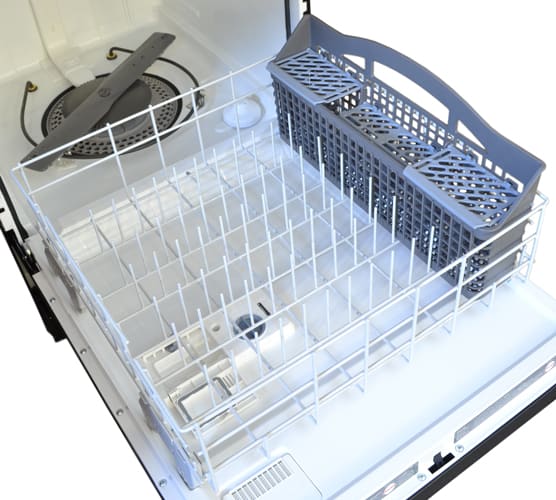 The spacious cutlery basket includes four interior bays with lids over each. There are also utensil holders in each of the lids to help hold silverware in place during the wash.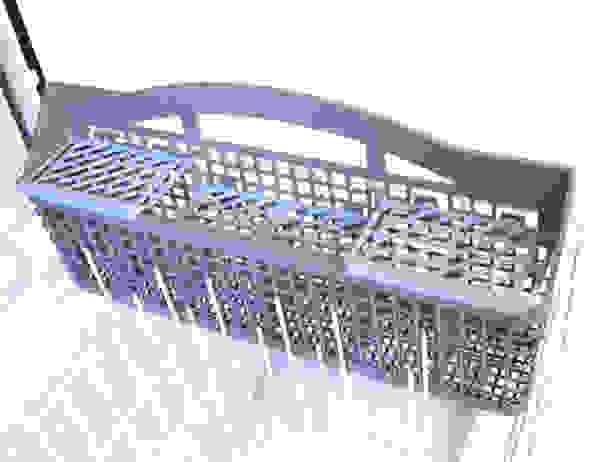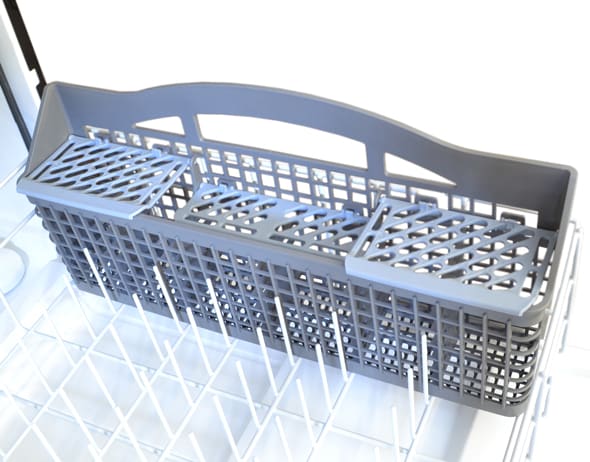 We found the used between 0.6 and 1.07 kWh per cycle. A fairly average finding, this translates to electricity costs of roughly 6 to 11 cents per wash.

Water consumption was slightly higher, depending on the chosen cycle. (Of course, efficiency also depends on how hot you run your faucet during operation.) While the Normal wash's command of just 3.91 gallons is pretty impressive for a standard cycle, the 1-Hour Wash used a slightly above-average 5.02 gallons of hot water. Including the Heavy wash's consumption of 7.02 gallons, these figures averaged out to a water bill of about 4 to 7 cents per cycle.
The above efficiency data make for individual costs of 12 to 21 cents per cycle. Averaged through the course of a year—with the Normal cycle used 50 percent of the time—we found the will cost roughly $30.34 to operate.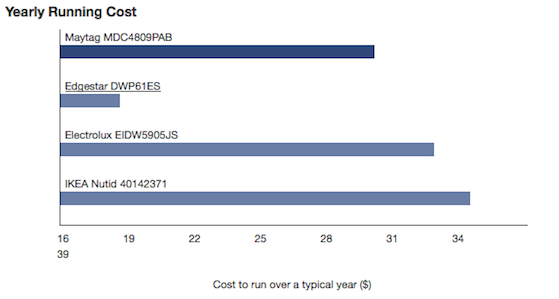 The cycle speeds were pretty average—nothing to frustrate on-the-go consumers who like to be present when their dishes are finished being cleaned, for whatever reason. The 1-Hour Wash, not surprisingly, took an hour to complete (62 minutes, to be exact), while the Normal and Heavy cycles took 96 and 134 minutes, respectively.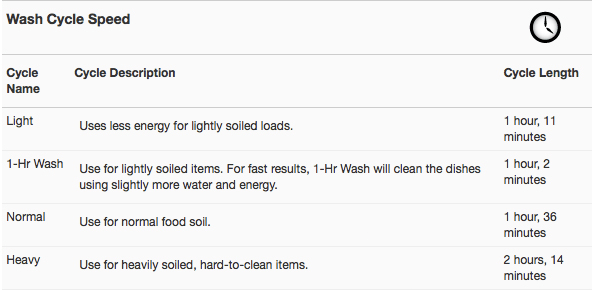 Everything about the was just… meh. Once again, the fact of its portability is important, but it's still a pretty expensive machine, and it's not justified by the wash performance.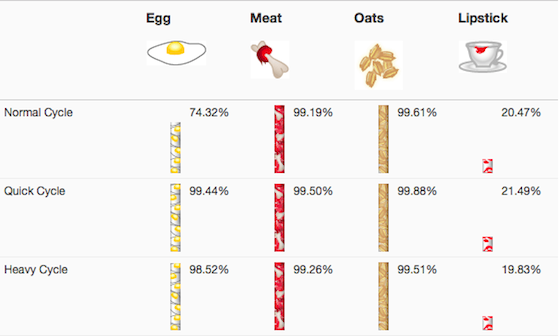 For a quick cycle, the 1-Hour Wash was pretty decent, but it still wasn't ideal; it had trouble with our spinach, milk, and tea stains, and nothing seemed to be completely cleaned. However, when scaled to the expectations of all three cycles, the 1-Hour Wash performed better than both the Normal and Heavy cycles.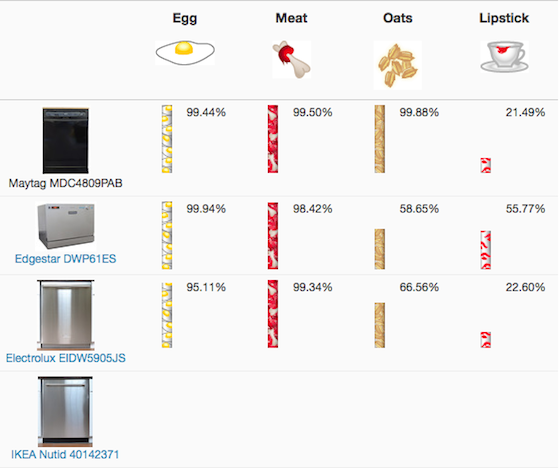 We were surprised by how much trouble each of the wash cycles had with our tea stain (in which we dry English breakfast tea to the bottom of a mug). This is usually one of our easiest tests. More surprisingly, it did alright in most other categories. Still, spinach and milk proved difficult, and there was a notable degree of inconsistency across multiple runs.
Normal Cycle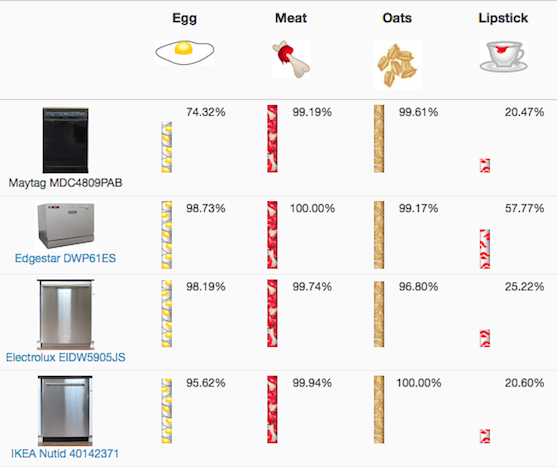 The Heavy Cycle did surprisingly well on our baked lasagna test—at least, better than other machines of its class. This wash also saw considerable improvement in our protein tests (milk, meat, and egg), but for whatever reason it still had trouble with our tea stains. For context, note that the vast majority of the dishwashers we've tested are essentially perfect on this test.
Pots & Pans Cycle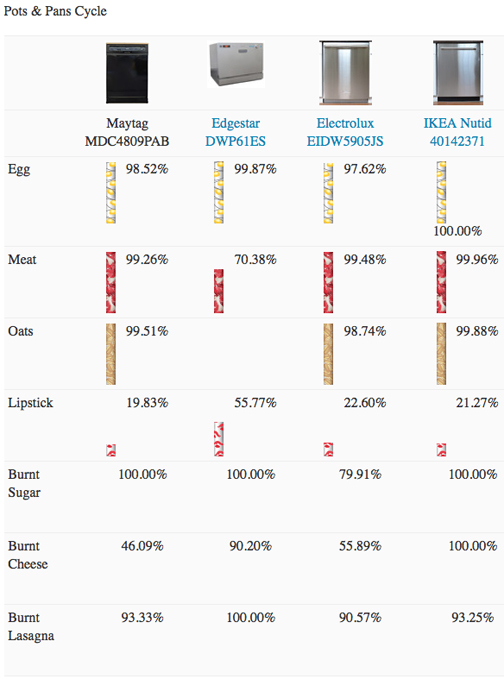 There are three mains cycles—Light, Normal, and Heavy—plus a 1-Hour Wash (the quick cycle). These four options should satisfy most washing needs.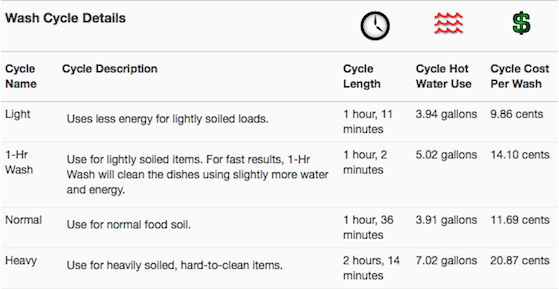 Three features can be added to individual washes: a high-temperature rinse, a sanitize wash, and a heated dry option. We tested the sanitize feature and found it was able to reach a sufficiently high wash temperature of 156 degrees Fahrenheit (a minimum of 155 degrees is needed to kill bacteria).
In addition to the above-mentioned customization options, there is a four-hour delay feature. There's also a display that indicates when a cycle is cleaned and/or sanitized, but that's really it when it comes to extra features.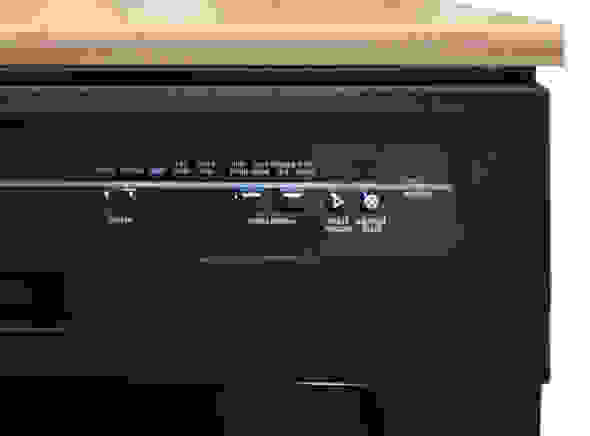 We were able to fit 10 place settings in the , including a serving setting. This is a standard capacity score by any measures.
Top Rack
Bottom Rack
The two linear wash arms are plastic and situated beneath each rack. Aside from feeling a little flimsy, there's nothing unique about them.
The filter is fitted in place and cannot be removed. This was frustrating when trying to clean out the base of the wash tub, as large food particles easily became stuck in the gills of the filter.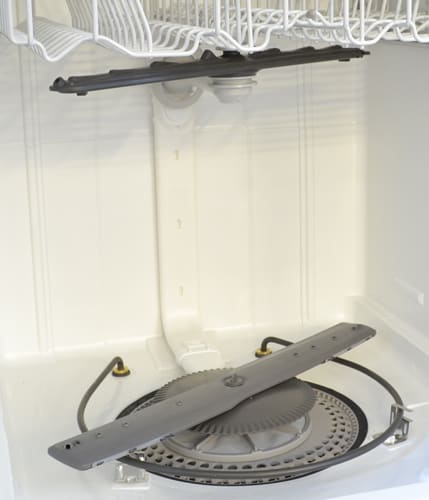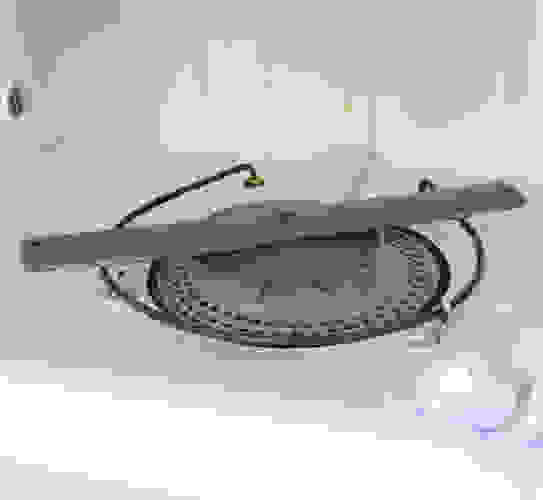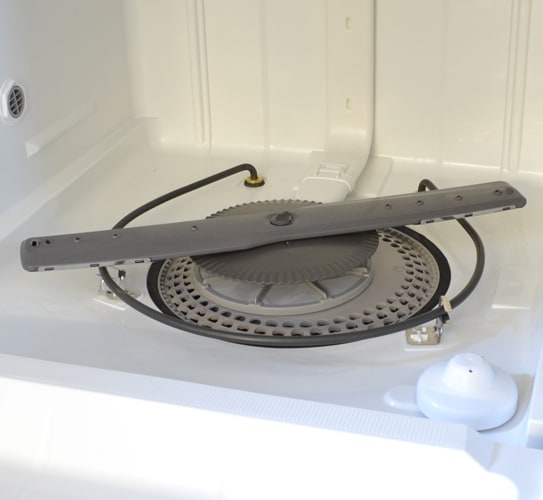 The lack of adjustability in both racks was a bit frustrating, but each was spacious enough to allow for a decent capacity score. The lower rack slid easily enough, and the vinyl coating ensured that dishes held firmly in place.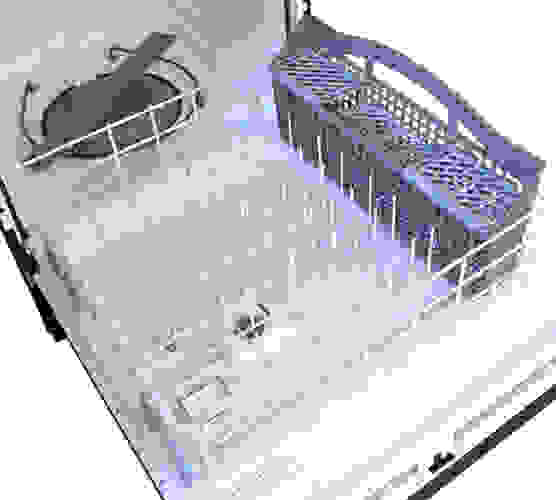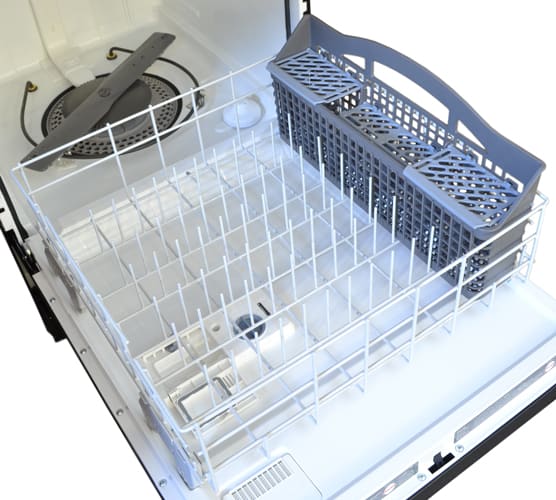 The upper rack also lacked adjustability, but its layout made sense and created a considerable amount of space. Our one (minor) complaint was that the two rows of tines were angled in such a way to limit space along the perimeter of the rack.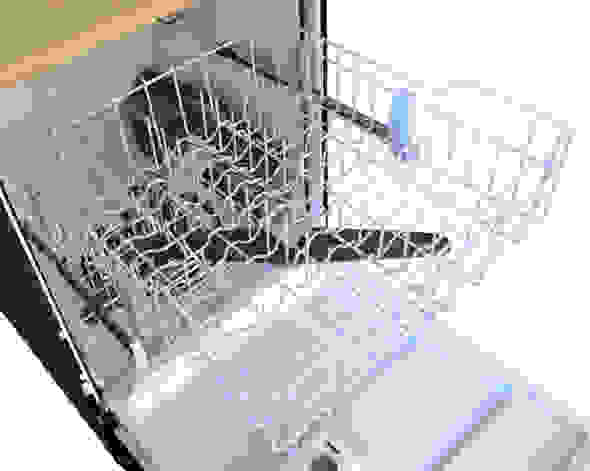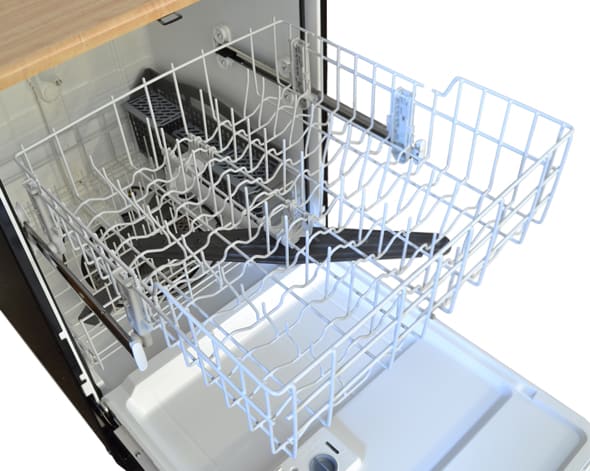 The cutlery holder is the only part of the that offers any sort of adjustability. It's also spacious and includes holders for individual utensils. And because these lids can also be folded up, the basket scored well on our usability test.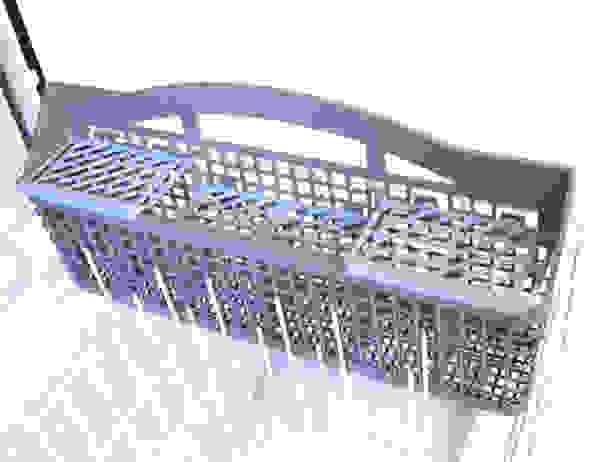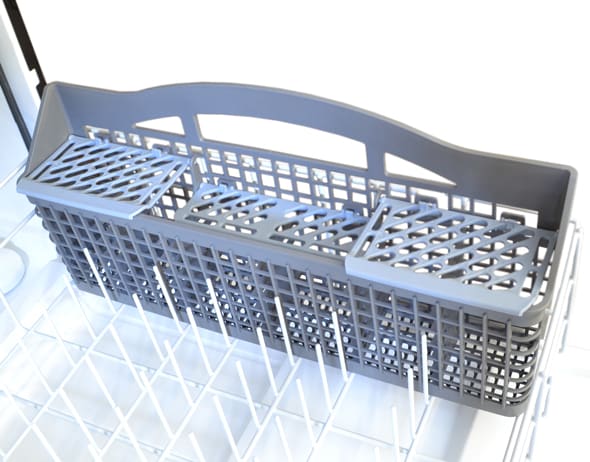 Nothing special here: a standard plastic latch and removable rinse aid cap, although we did appreciate the meter that indicates how much rinse aid is left.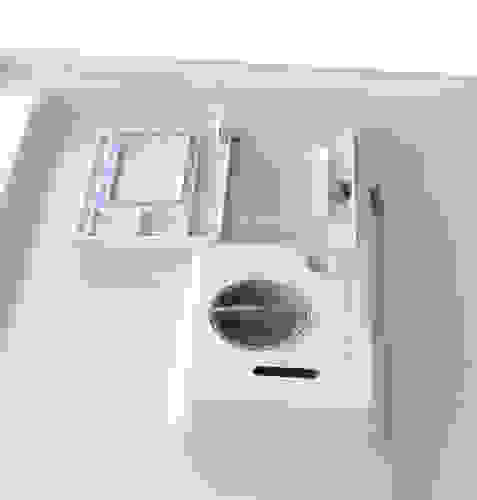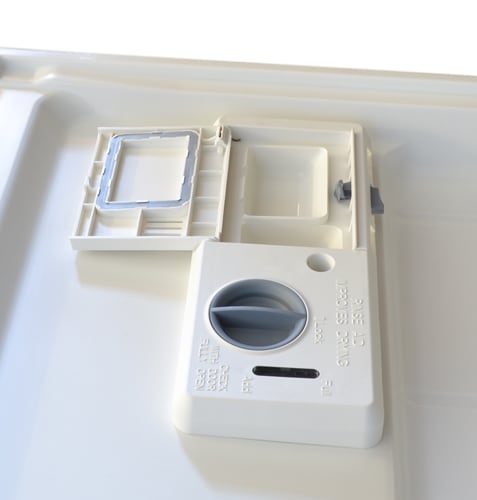 As any portable dishwasher should, the makes sense. We would've appreciated more versatility in the dish racks and the sparse nature of the control panel was odd, but neither of these complaints did much to hurt its overall score.
The is not exactly quiet, but its whooshing sound is nowhere near abrasive. Unless you're in the market for a super quiet machine, nothing about the sound of this dishwasher should deter you. It's also worth noting that most portable machines are somewhat noisy due to the lack of surrounding cabinetry.
The buttons are a bit heavy to the touch, and the cycle selection is a bit counter-intuitive (why use two different select buttons to choose between a mere four options?). Overall, though, it makes sense and we don't imagine anyone will complain much about how to operate this confounded contraption.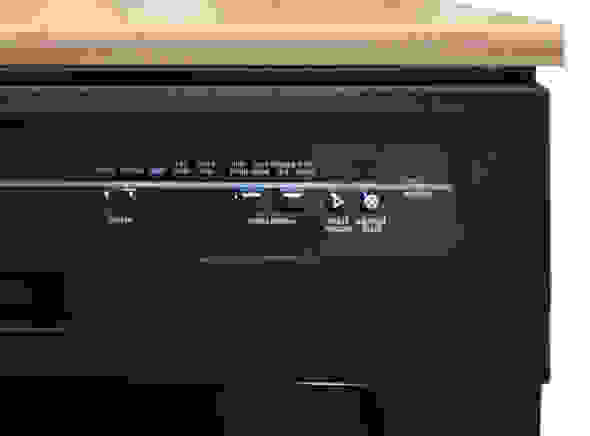 With an average yearly operating cost of $30.34, the is fairly efficient. This calculation is based on water consumption of 3.91 to 7.02 gallons of hot water, and electricity use of 0.60 to 1.07 kWh per wash. While this is not market-driving performance, it certainly justifies the label "efficient."
We were not very impressed by the 's overall performance. For a cheap portable machine we'd probably be satisfied, but it fell short in a few key tests. It was surprisingly bad at handling our tea stains, for example. It also struggled in our protein tests (baked egg, dried milk, meat). Once again, though, it wasn't terrible—we just expected more for the price.
There isn't much in terms of features. Beyond the four main cycles—Light, Normal, Heavy, and 1-Hour Wash—there's the standard high-temp wash, sanitize rinse, heated dry and four-hour delay.
Meet the tester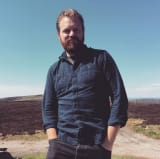 Tyler Wells Lynch
Contributor
@tylerwellslynch
Tyler Wells Lynch is a freelance writer and journalist whose work has appeared in Vice, Wirecutter, Gizmodo, The Rumpus, Yes!, and the Huffington Post, among others. He lives in Maine.
Checking our work.
We use standardized and scientific testing methods to scrutinize every product and provide you with objectively accurate results. If you've found different results in your own research, email us and we'll compare notes. If it looks substantial, we'll gladly re-test a product to try and reproduce these results. After all, peer reviews are a critical part of any scientific process.
Shoot us an email