Dishwashers
10 Reasons We're Jealous of European Kitchens
Americans may have the superior version of football, but Europeans rule the kitchen.
Credit:
We Americans excel at many things: muscle cars, primetime dramas, and fast food are just a few of our greatest hits. Like recent Adam Sandler movies, however, our kitchens could be much better.
Europeans don't have to worry about lackluster kitchen design, though—they have a habit of turning these rooms into showcases. When it comes to aesthetics, efficiency, and functionality, we'd much rather cook and eat in a European kitchen any day of the week.
Here are 10 reasons why we're still playing kitchen catch-up with our friends overseas.
Handle-free design is the definition of "sleek."
What's the deal with handles on kitchen cabinets? No, this isn't a Seinfeld bit—we really want to know. Sure, handles help avoid fingerprints, but c'mon now. This is the 21st century; it's basically the future! Why do we need those primitive aids? Ditching knobs and handles for a flush design lends a clean-cut finish to any kitchen. When it comes to looks, sometimes less is better.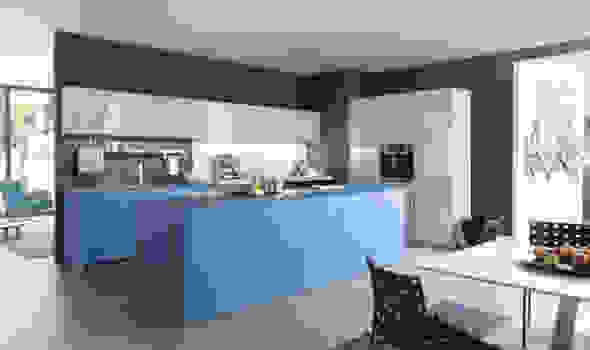 Modular kitchens equal more freedom.
With modular kitchens, you can move to a new home and bring your kitchen with you—as long as you live in Europe, anyway. Basically, things like cabinets are connected to a rail on your wall, and they share their design aesthetic with your furniture and appliances. Ikea is one of the few companies that bring affordable, modular kitchens to the U.S. They're far more common in European countries.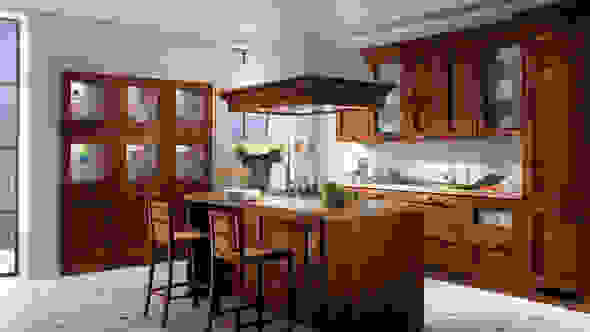 Over-the-sink drying racks are brilliant.
Unless you plan to eat on paper plates forever—or hand-dry the plastics that even a dishwasher can't handle—a dish rack is an essential item for your kitchen. Now if only these items didn't take up so much counter space...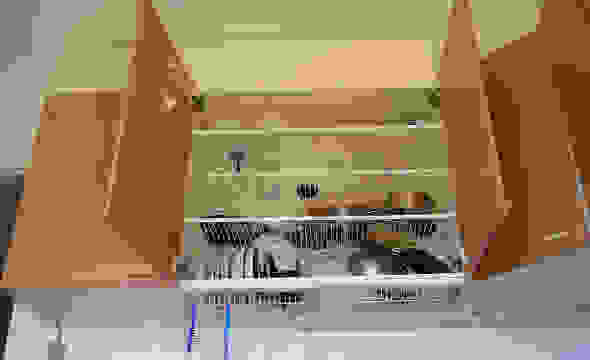 Over-the-sink drying racks are a total "Why didn't I think of that?" invention. Washed dishes drip down into the sink, which in turn frees up precious counter real estate. Some variations—mostly in Finland—are enclosed in a cabinet. No one has to know you're drying wet dishes!
They can clean more than dishes.
You know what would save a lot of time? Being able to toss your dishes into the dishwasher, turn around, and then do a load of laundry. This isn't a novelty in Europe—many kitchens have this functionality, because space is usually at a premium. There often isn't enough room to spare for a dedicated laundry closet. Just try not to mix up the laundry detergent and dish soap.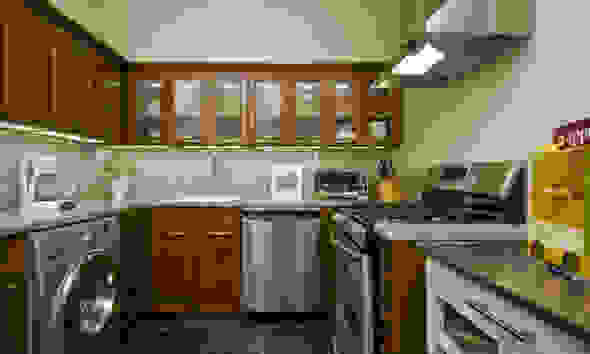 Induction ranges are popular.
The benefits of cooking with an induction range are numerous: They heat up quickly, stay cool to the touch, are easy to clean, and are incredibly energy efficient. They're also very popular overseas. So why don't we see more of them in the States?
Price is the biggest barrier at the moment: Induction ranges cost more than gas or electric. With all the major appliance brands coming out with magnet-powered models, though, it's only a matter of time before this technology hits the mainstream over here.
Energy efficiency is in.
In addition to the efficiency that induction ranges bring, other European appliances all have an energy efficiency rating labeled on the box. Since energy costs are higher in Europe, those ratings can make for some serious savings.
Aside from induction, other cutting-edge appliance innovations are saving Europeans some coin at the meter. Heat pump dryers and Bosch's Zeolite dishwashers are just two exciting examples. Because Americans pay so much less for energy, most of these appliances don't make economic sense. But if energy costs go up, or the innovations become more affordable, they probably will.
Range hoods are fashion statements.
A range hood—or extractor hood, as they call it in Europe—is an essential device that filters the air while you attempt to "cook" and just smoke up the kitchen. In the good ol' USA, these products are usually more function over form. In Europe, they're things of beauty. Range hoods across the pond come in many shapes and sizes—just check out this modern beauty from AEG:
Appliances are smaller, so you can fit more.
Europeans who live in cramped, one bedroom apartments can still enjoy the same accommodations as larger homes. Sinks, cabinets, dishwashers, fridges—they all come in small sizes that are just adorable to McMansion-dwelling Americans. But hey, if you absolutely must live in a major city and can only afford a closet-sized apartment, at least you can live in the 21st century.
Fridges are way more fun.
Italian appliance manufacturer Smeg must have decided that refrigerators were too mundane. Some of its new models, like a Swarovski-encrusted fridge, will turn your midnight snack run into an art show. The denim-themed fridge might be a bit much, though.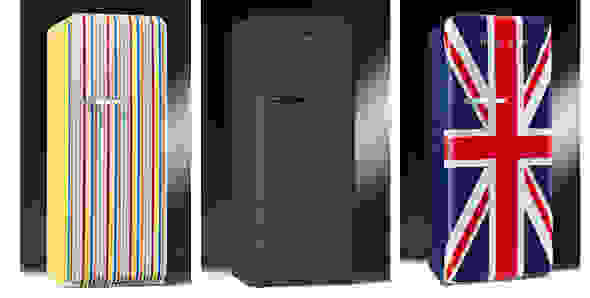 Black and stainless aren't the only colo(u)rs.
We Americans love us some stainless steel, and there's absolutely nothing wrong with that. But who doesn't want more options? Why not banana yellow, Prince purple, or candy apple red? Kudos to European designers for realizing that the kitchen doesn't have to be the most boring room in the house.
Who knows—if American appliance makers offered more colors, maybe stainless steel really would die.