Dishwashers
Kitchen and Bath Design in 2015—What's Hot, What's Not
Quartz, polished chrome, and gray rule in 2015—but purple?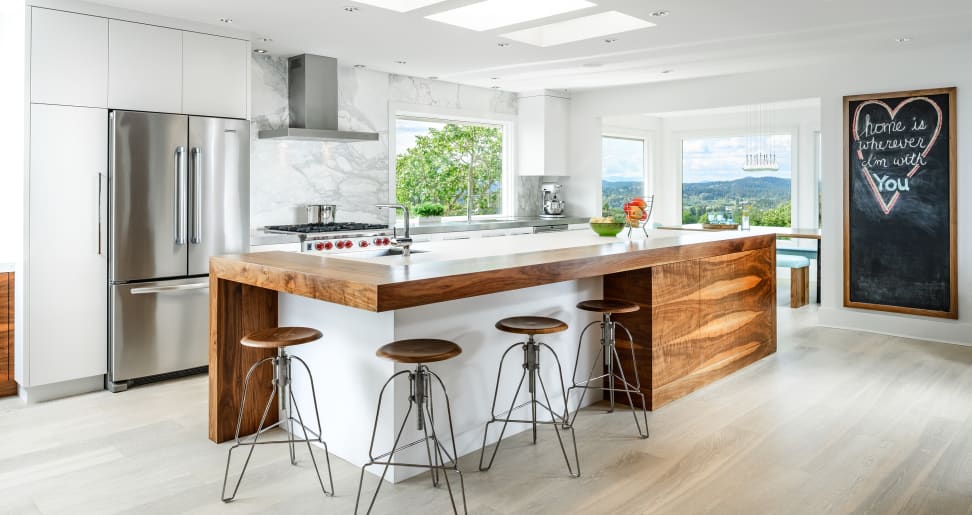 Credit: NKBA / Jason Karman
When it comes to kitchen and bath remodels, the trend toward clean, contemporary design will continue its ascendency in 2015, while rustic, country, and Tuscan styles that were once favored will be shown the door.
At the annual Kitchen & Bath Show in January, the National Kitchen & Bath Association (NKBA) released the results of its annual member survey that tracks design trends in kitchen and bathroom remodeling. The survey reflects full projects—not item replacements or D.I.Y. projects—so the results help identify emerging trends, as well as note styles that are falling out of favor.
"It's a unique point of view as to what will flourish and what will fade," explained Maria Stapperfenne, president of NKBA, a nonprofit trade association with more than 60,000 members.
"We're seeing the rise of industrial chic and mid-century modern."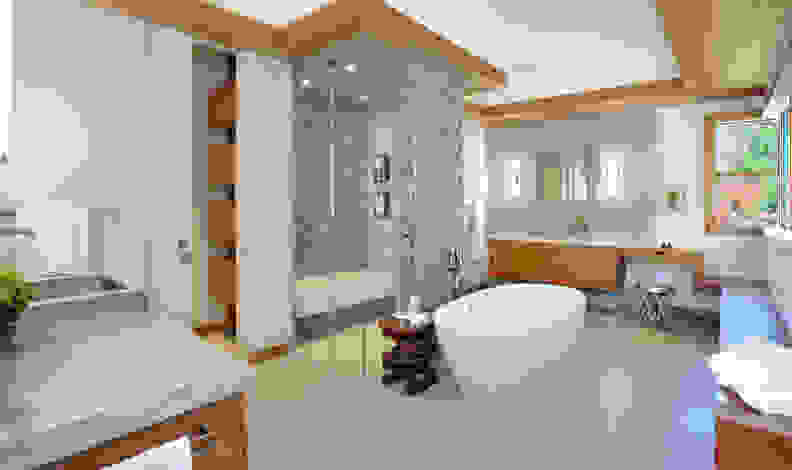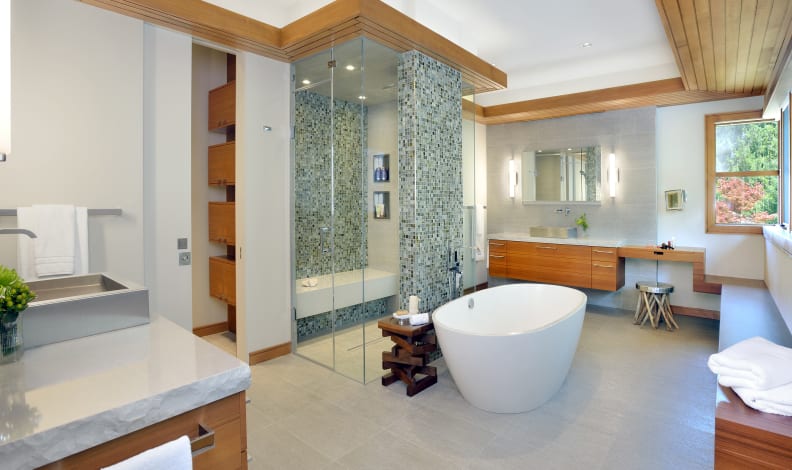 In both kitchens and bathrooms, the number one trend the NKBA cited for 2015 was the rapid adoption of contemporary design. Also expected to grow in popularity is transitional design, along with shaker—a style that lends itself well to both traditional and contemporary kitchens.
Whites and off-whites are the preferred color backdrop for today's kitchens and baths, but gray is projected to take the lead going into 2015.
As you zero in on the more granular aspects of the survey, kitchen and bathroom preferences start to go their separate ways.
Kitchen trends
The number one trend NKBA members expect to see in 2015 kitchens is a surge in the clean, simple lines of contemporary designs. Right behind was the use of sleek, European-style cabinets.
"We're also seeing the rise of industrial chic and mid-century modern," added John Petrie, immediate past president of NKBA. "Though it's a small part of the overall market, there's a definite rise. And mixed colors and mixed styles are playing a role we didn't see just a year ago."
Although traditional kitchens were the fourth most popular style in 2014, they're on the decline. Highly ornamented rustic, Tuscan, and Provincial looks—think distressed and/or glazed finishes—were dubbed "passé" by the NKBA.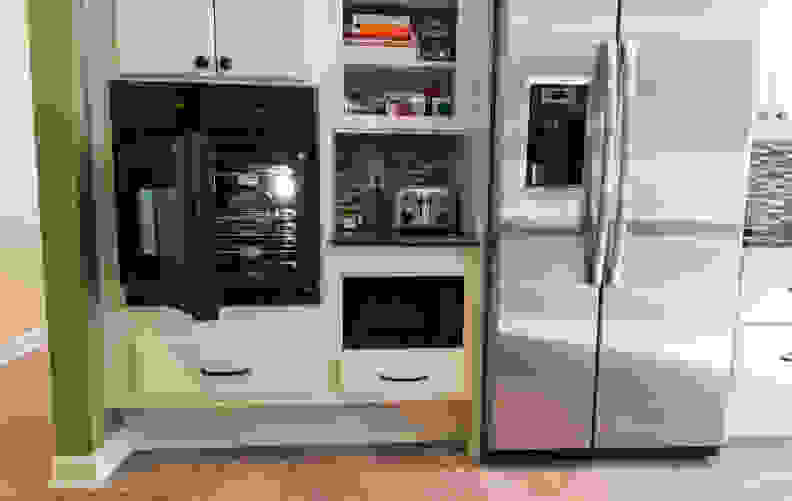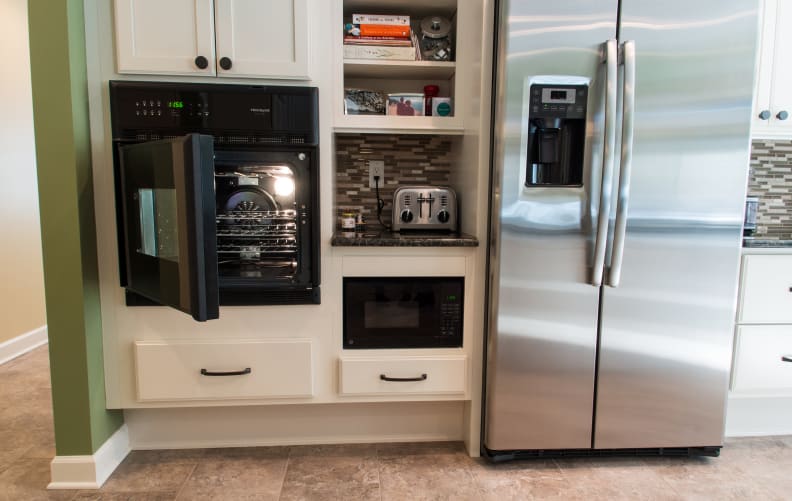 The survey also noted a trend toward multiple appliances, likely to accommodate the need for simultaneous cooking and cleaning.
"That's right—that means more than one dishwasher," explained Petrie. "Maybe you'll have a column fridge in one place and a freezer in another location."
Standard kitchen tables are being replaced by counters and tall gathering tables.
Steam ovens, an appliance incorporated by 39 percent of NKBA's designers in 2014, are growing in popularity, as wellness becomes an increased priority for homeowners. Furniture style pieces, TVs and docking stations, and wine refrigerators are on the rise, while standard kitchen tables are being replaced by counters and tall gathering tables. In general, more attention is being paid to the user experience—from storage to maintenance to accessibility.
"Anything that makes storage easier," said Stapperfenne, who also noted that cabinet configurations are now being built with more drawers than doors.
Other trends coming or going in kitchen remodels: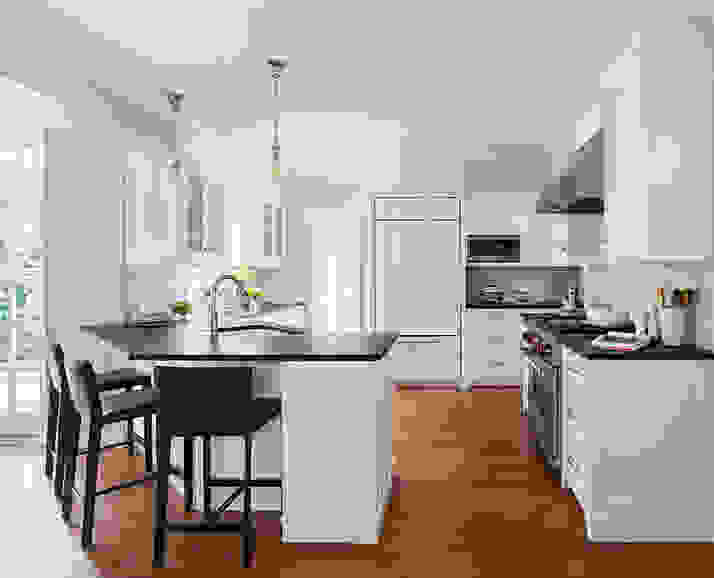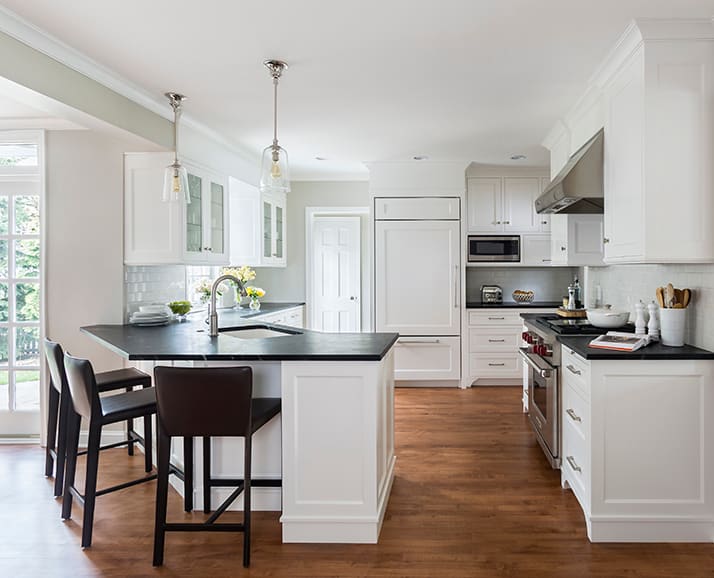 In: Painted cabinets
Out: Distressed cabinets
In: Quartz countertops
Out: Laminate countertops
In: Wood flooring
Out: Vinyl or linoleum flooring
In: Microwave drawers
Out: Freestanding microwaves
In: French door refrigerators
Out: Freezer-top refrigerators and side-by-side refrigerators/freezers
In: Polished chrome faucets
Out: Bronze/oil-rubbed bronze and polished brass faucets
Bathroom trends
As with kitchens, bathrooms are increasingly styled with a contemporary, spa-like feel, with white and gray being the most popular colors. White is also the most popular color for fixtures. But this isn't to say vivid colors have been ditched—several designers noted preferences for purple, lavender, and lilac in bathrooms. On the way out, however, are browns, bronzes, and terra-cotta color schemes.
"People want to integrate color, but maybe they're a little afraid to do it on their own," said Stapperfenne. "When they work with a designer they have less of a fear."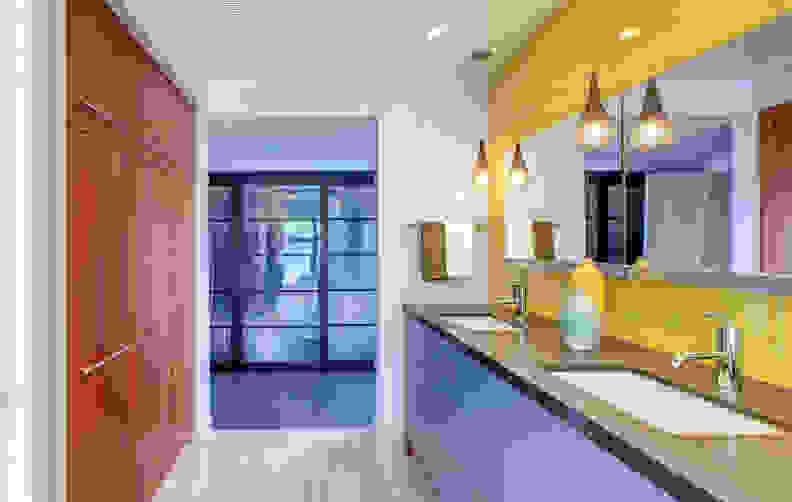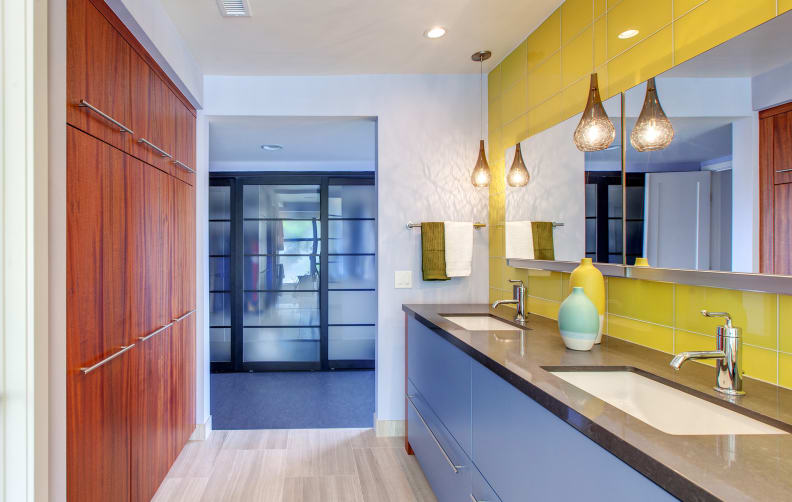 Other design trends the NKBA cited include an increase in floating vanities, open shelving, and electrically heated flooring. And while undermount sinks are far and away the top choice for many homeowners, "trough" sinks are finding a new audience.
"It's a new twist on the old side-by-side vanity sinks," suggested Stapperfenne.
There's growing interest in walk-in or roll-in showers with grab bars, shower seats, or even benches.
There's a continued focus on user experience and accessibility, along with abundant amenities—everything from steam showers to charging stations. As with kitchens, innovative storage, pullouts, and rollouts—for hair dryers, styling products, and makeup—is increasingly in demand.
Showers are far more popular than bathtubs, and there's growing interest in bathrooms that utilize universal design features—walk-in or roll-in showers with grab bars, shower seats, or even benches.
"More than 60 percent of our members designed bathrooms with no-threshold showers in 2014," added Petrie. That represents an increase of eight percent from the previous year, with further growth expected in 2015.
More bathroom trendspotting for 2015: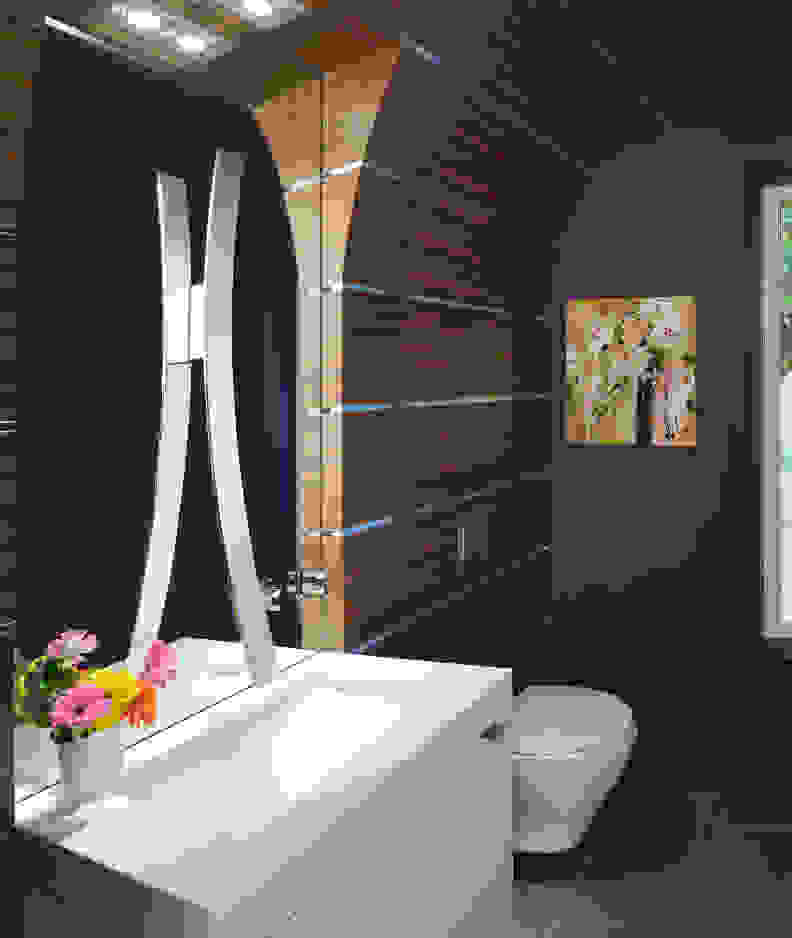 In: White fixtures
Out: Beige/bisque/bone/almond fixtures
In: Polished chrome faucets
Out: Bronze/oil-rubbed bronze faucets
In: Undermount sinks
Out: Vessel or drop-in sinks
In: Ceramic or porcelain tile flooring
Out: Vinyl or linoleum flooring
In: Quartz vanity tops
Out: Solid surface and cultured marble/onyx vanity tops
Related Video