Dishwashers
Gaggenau's New Dishwasher Offers High-Tech Luxury
High-end brand innovates in all corners of the kitchen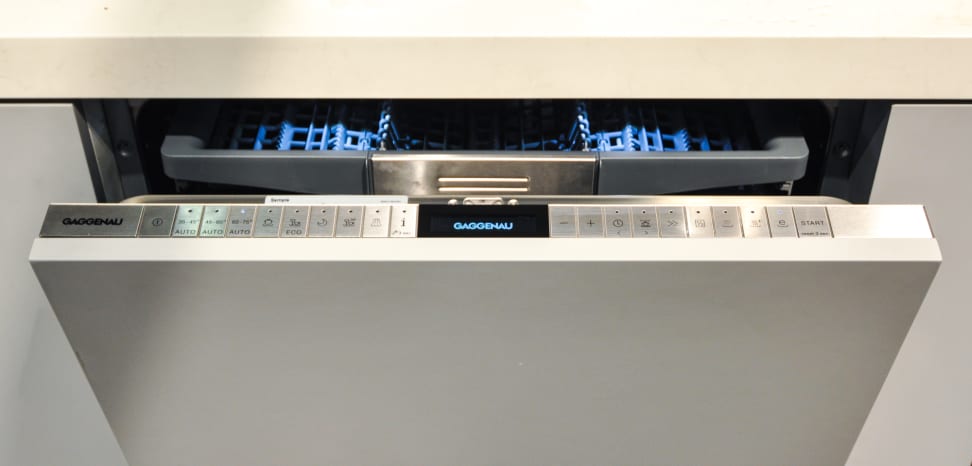 Credit: Reviewed.com / Dave Swanson
Ultra-high-end European appliance maker Gaggenau came to the Architectural Digest Home Show in New York City last month with a pair of aces up its sleeve: a new super-luxe dishwasher and an equally impressive speed oven.
Gaggenau's 400 Series Dishwasher (DF280/DF281) won't be available stateside until October, but it's set to stun upon arrival.
For one thing, the fully integrated appliance is handle-free—a feature that's a must-have with the custom cabinet designs found in many high-end European-style kitchens. The controls are also tucked into the top of the door, keeping them out of sight when the dishwasher is closed.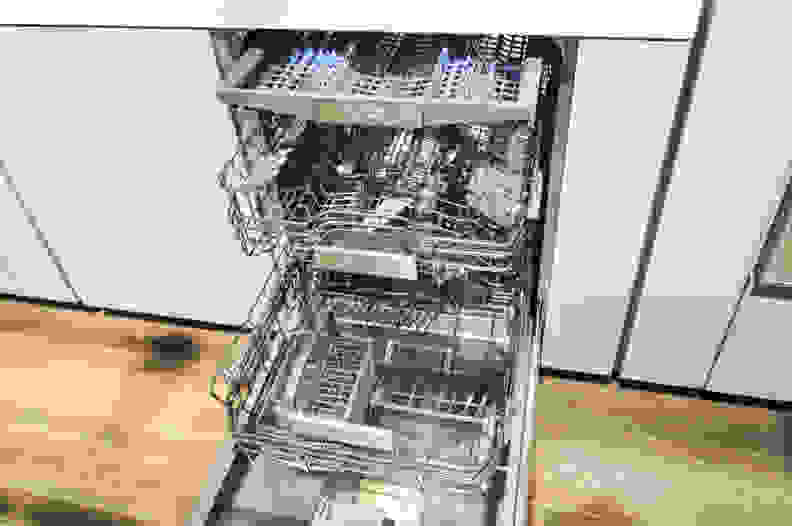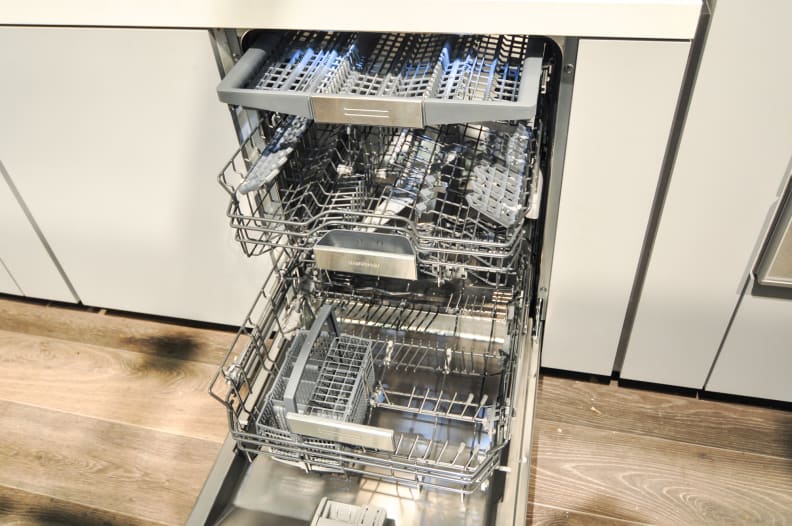 But if the dishwasher is designed to hide anonymously among other kitchen cabinets, how do you get in? Easy: The 400 Series dishwasher offers push-to-open access. You just give the front panel a gentle nudge and it swings smoothly open.
Want a good-looking dishwasher for a more traditional kitchen? Gaggenau has you covered there, too. The company will also offer the 400 Series dishwasher with a traditional handle and stainless façade.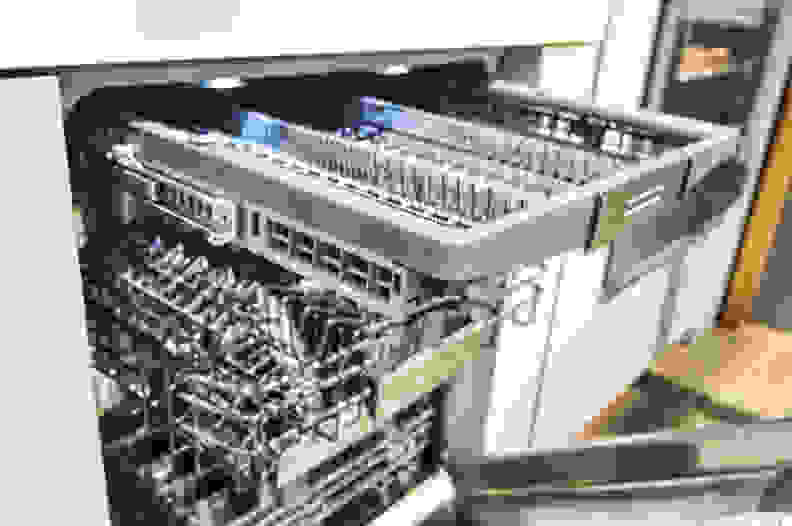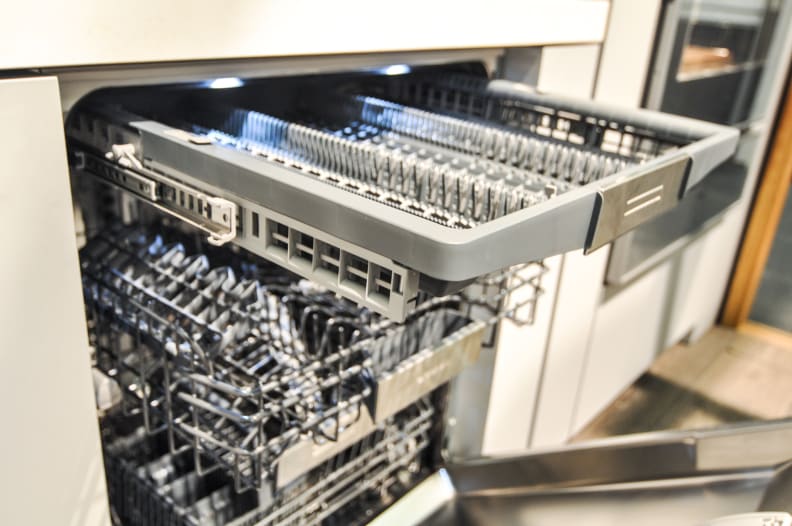 With this model—which replaces the DF260/DF261—Gaggenau is also introducing top LED interior lighting, and soft-closing, smooth-gliding racks. The control panel has been redesigned with a TFT display for more intuitive operation, and the dishwasher offers eight different program wash settings plus Aqua Sensor technology, which detects how dirty your dishes are to optimize water level and temperature.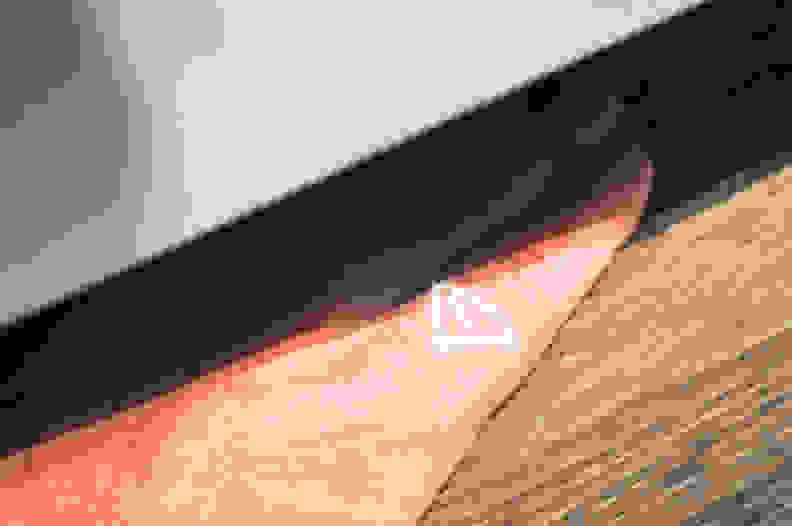 Another nifty feature is a built-in LED projector, positioned under the door, that displays a penny-sized status icon on the floor. It's a discreet way to keep tabs on your dishwasher's status—something guests probably won't be distracted by if you're entertaining in the kitchen. If the feature sounds familiar, that's because it's borrowed from sister company Bosch, which debuted the technology in 2012.
---
400 Series Speed Microwave
Also debuting at the show was Gaggenau's new 400 Series Speed Microwave Oven, which will be available in both 24-inch (BM450/BM451) and 30-inch (BM484/BM485) models.
Speed microwaves (aka speed ovens) accelerate cooking times by incorporating a microwave within a traditional convection oven. Microwave power is added gradually (up to 1000 watts), allowing cooks to avoid some of the pitfalls of pure microwave cooking. Gaggenau's implementation also includes a full-surface, top-mounted broiler element for roasting.
Like the dishwasher, the new speed ovens are push-to-open, and they're a perfect aesthetic match for Gaggenau's 400 series ovens. They feature a side-swinging door, which can open to either the left or right.
Set to arrive in stores later this month, the 24-inch speed microwave retails for $5,749, while the 30-inch variant will be priced at $6,599.
Related Video