Dishwashers
You'll Never Guess The Purpose Of This Dishwashing Rack
Special shelves give this dishwasher a local flair.

Credit:
While IFA's reach is international, some of the products on display are decidedly regional. We found one dishwasher made by AEG that could be from nowhere other than a particular region of Germany.
When the AEG representative opened the door to show off the dishwasher's interior, we immediately noticed the curiously shaped fold-down tray you see above. What was it for? Wine glasses?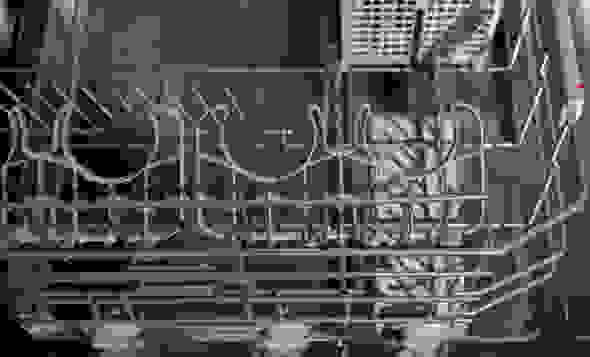 As the representative let us know about the dishwasher's energy efficiency and cleaning prowess, the question lingered—just like the pungent aroma of the currywurst on sale at a nearby concession stand.
"And this is a very special feature," she finally said, pointing to the curved shelves. "Are you familiar with wheat beer?"
Of course we are. And immediately, we knew why the dishwasher had those shelves. Wheat beers—also called "white" or "weissbier"—mix wheat with barley malt. The resulting beer is traditionally left unfiltered and, when poured, has a foamy head. Traditionally, those beers are served in curved glasses and goblet-shaped schooners, which won't fit in the top drawer of most dishwashers. The fold-down shelves on AEG appliances are there to keep the glasses standing upright and protected on the bottom shelf. They're available on the highest-end dishwashers the company sells in Germany.
Though AEG is owned by the Swedish appliance giant Electrolux, their headquarters are still in Bavaria, and they're true to their heritage—which includes over a thousand years of brewing some of the world's best wheat beers. The world may be getting smaller—heck, Electrolux owns Frigidaire in the US—but it's nice to see that some appliances are still tailored to individual markets.
Photo: Dan4th, Flickr [CC-BY-3.0]