Dishwashers
Samsung's New Appliances: The Coverage That Matters
Today Samsung showed off some big new appliances. We've got reviews for the ones you can actually buy.

Credit:
Samsung pulled out all the stops today at an industry event called the "The Living Atelier" in New York City's Meatpacking District. Though the event was held to celebrate the one-year anniversary of Samsung's Club de Chefs, and to induct new member Daniel Boulud, the company also took the opportunity to show off some hot new products.
The reveals included a tiny "baby washer," new gas and induction slide-in ranges, a series of new vacuums, and some updates to its existing smart fridge platform.
CEO BK Yoon also announced that Samsung is now shipping three groundbreaking appliances first unveiled at CES 2014 earlier this year. And not to toot our own horn too hard, but we've already reviewed all three.
---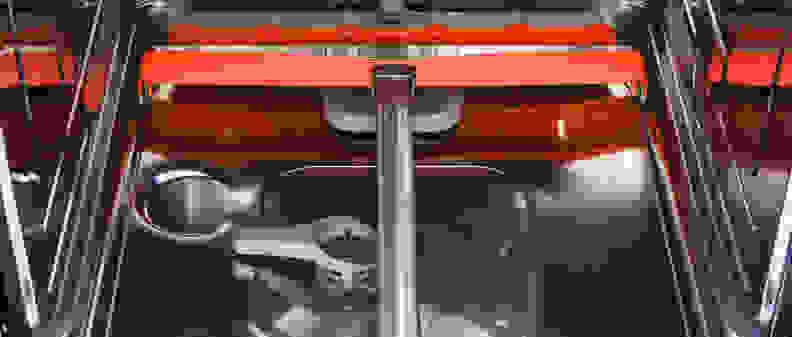 Samsung bills the WaterWall as a revolution in dishwashing. Why? Ironically, it's because its namesake washing arm doesn't revolve—it slides back and forth, hitting all the corners of the tub. It's a simple innovation, but our tests show it works well:
"After a week of testing, we observed excellent outcomes. The Normal cycle did an especially impressive job with removing stains. Although it wasn't perfect, the cycle still posted results that were worthy of a high-end dishwasher. It also took less than two hours to run, which is always a plus."
In other words, it was a lock for an Editor's Choice award.
Not content to simply review the WaterWall, we also crammed it full of GoPro video cameras and let it rip, recording the unique spray arm in action. And you can check it out for yourself:
---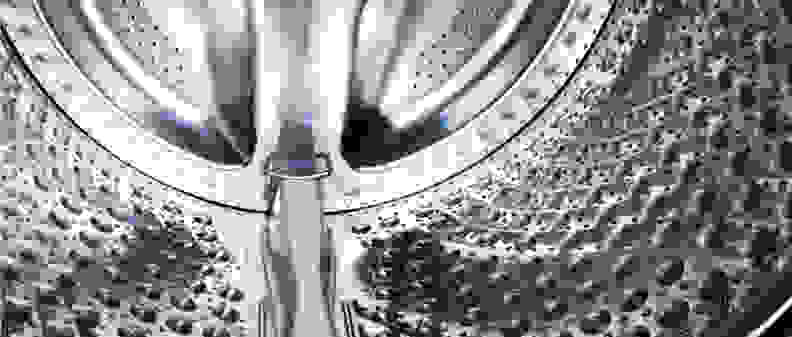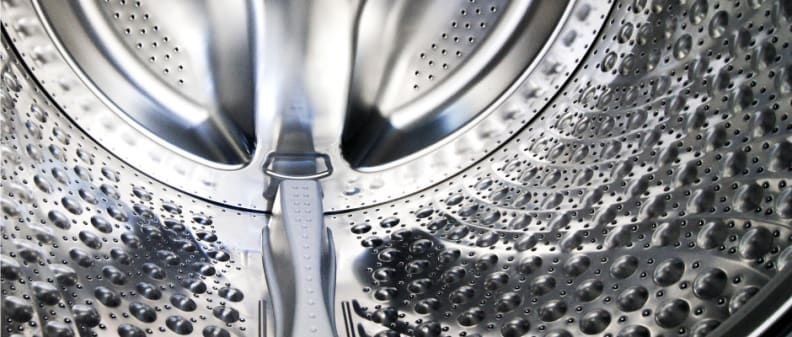 The U.S. loves big washers. Loves 'em. So Samsung went ahead and made the biggest consumer washing machine the world has ever seen.
The WF56H9100AG, as it's called, can fit a whopping 5.6 cubic feet of laundry and tips the scales at 267 pounds. It measures 30 inches across, 42 inches tall, and 33 inches deep. That's a whole lotta washer. And the performance?
"The most useful feature is Super Speed. It uses a unique spray pattern to make cycles faster, and knocked off about 15 minutes from the already-brief 46-minute Normal cycle. That means you can get an 8 lb. load of laundry washed in just a half hour. Both cycles are faster than the 48-minute Normal cycle on the TurboWash-equipped, 5.1 cubic foot LG WM8000HVA."
Despite slightly underwhelming cleaning performance compared to other high-end washers, the WF56H9100AG's sheer volume and great features earn it a coveted Editor's Choice.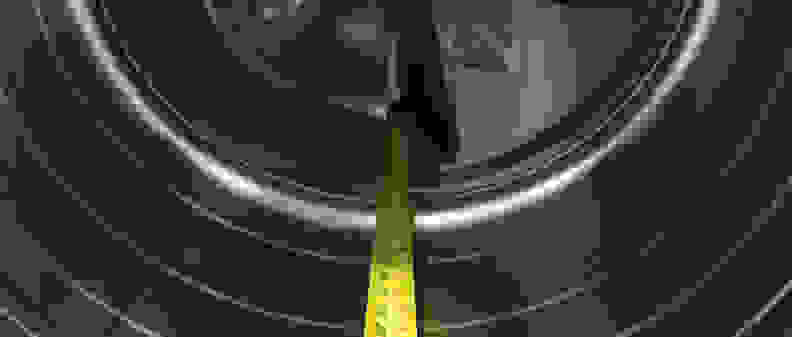 We ask you: What use is a huge washer without an equally huge dryer?
None, says Samsung.
The DV56H9100EG dryer is meant to be paired with the WF56H9100AG washer, but does it perform as well?
"The performance of the DV56H9100 is excellent in specific ways. It bested a wet comforter, getting it 77 percent dry. That's impressive since it's considered common practice to flip a comforter and run the Bedding cycle again. This dryer also did extremely well on the Delicates cycle. It got fabrics dry without getting too hot, which can damage them."
That all sounds great, but there's a fly in Samsung's soup:
"However, the DV56H9100EG's Normal cycle lagged behind other dryers when it came to drying a medium-sized load. The Normal cycle took, on average, an hour and twenty-three minutes to dry eight pounds of laundry. Although it did get laundry completely dry, that's a long time—especially considering that Samsung has advertised this machine as a time saver."
Turns out, the dryer indeed fits more clothes but takes longer to finish drying them. To find out our thoughts, check out the in-depth review.
And keep an eye on Reviewed.com for all our ongoing coverage of Samsung's new product announcements.