Dishwashers
These Valves Are Nicer Than Your Wedding Ring
Get some bling for your sink.
Credit:
Walking into the Flühs Drehtechnik booth at Design and Construction Week is kind of like walking into your nearest Tiffany's. The company's collection of luxury sink and shower valves twinkle like the contents of a Fifth Avenue jewelry store, right here in the middle of the Las Vegas Convention Center's North Hall.
If you're wondering how the 1% does their plumbing, here's the answer.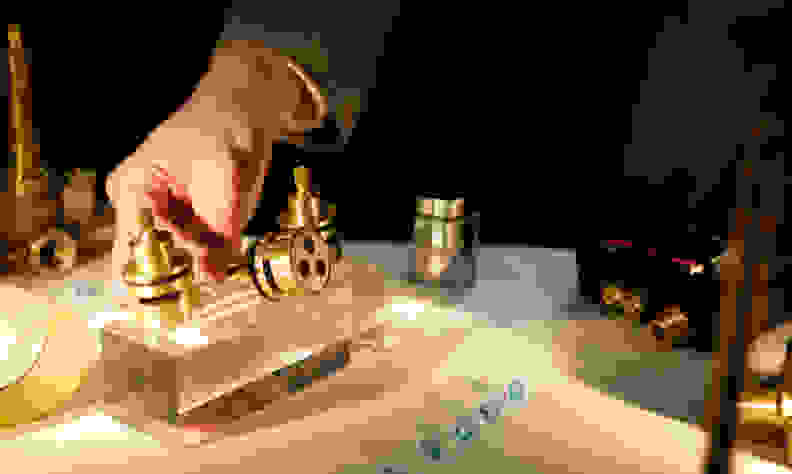 Shiny brass and chrome valves are locked in clean glass display cases. If you like, company reps may remove certain pieces, let you hold your favorites, see if they're the right fit, the right style... for your sink.
The German company is an OEM—it sells directly to other manufacturers and commercial builders—so this isn't the sort of bling you can buy off the rack. But if your contractor utters the phrase "we use Flühs," rest assured you're about to experience the caviar of plumbing valve manufacturing.
The idea here is to offer a precisely engineered, European alternative to the cheap valves made in China and elsewhere. Since we rarely see them, it's easy to assume sink and shower components are all the same. But think of how often you use these two fixtures and you'll soon realize why there's a rising demand for high-quality parts.
---
---
Flühs valves aren't just pretty. According to company literature, they're free of leaks, corrosion, and imperfect turning action. Your handles and faucets will move smoothly for—well, forever, hopefully.
Still, there's an irony inherent in these eye-catching components: They're destined solely for the dark spaces below vanities and behind walls, where no one (except your plumber) will ever behold their beauty. But for today, at least, we can put them in the spotlight.
---
Related Video